If you've got hibiscus in your garden, especially red ones, you've got to try this tea. Don't worry, you don't have to pick too many of your pretty blooms.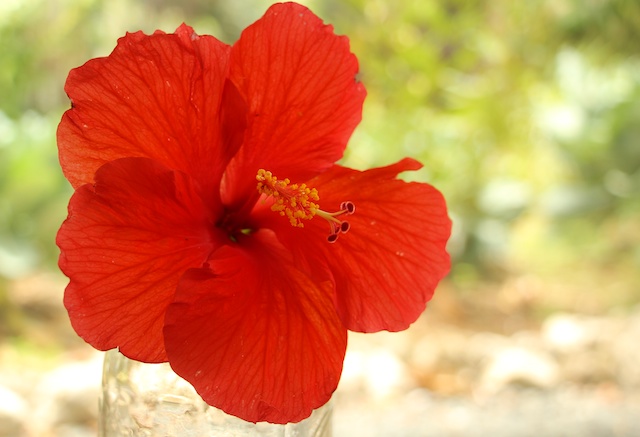 It's a little tart, as sweet as you like, and very refreshing.  But here's the real reason you have to try this:  you won't believe the beautiful color changes.  Good fun for kids (and grown-ups).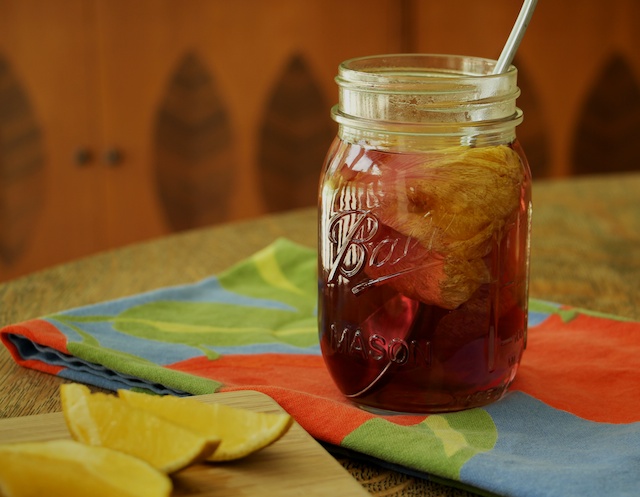 When you pour boiling water over the flowers, the color leaches out of them.  The water becomes deep purple and the flowers turn yellow.  But the magic doesn't stop there:  add some lemon or lime and it suddenly it turns a shade of pink that makes pink lemonade pale in comparison.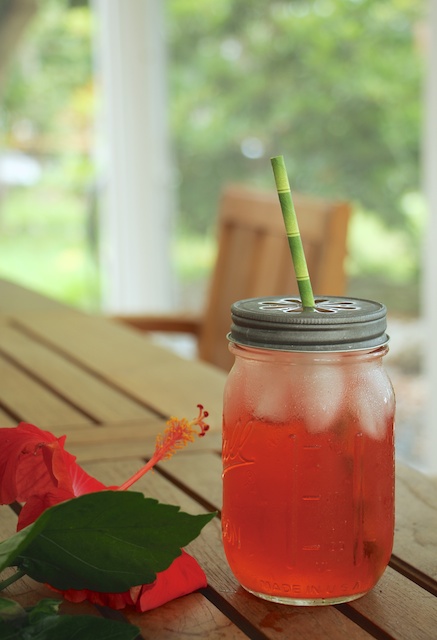 I haven't tried it with other colors of hibiscus.  If you have, I'd love to know about the taste and color.
---
Hibiscus Tea
Serves 2.
Ingredients:
3 red hibiscus flowers
boiling water
1 tablespoon agave nectar (or to taste)
1 tablespoon lemon or lime juice (or to taste)
Directions:
Remove the stamens (the long part that sticks out of the middle with pollen on the end of it).  Also remove the stem and protective leaves at the base of the flower.  Put the flowers in a glass jar and cover with 1 1/4 cups boiling water.  Let it steep for about 5 minutes.  Give it a little stir and remove the flowers.  Stir in the agave nectar, then the lemon or lime juice.  Ta-da:  pink!  Fill two glasses with ice.  Pour the tea over the ice.  Add straws, mint leaves, fruit garnishes, or whatever tickles your fancy.