Mangrove snapper is a common catch here in Florida.  It's a delicate, white-fleshed fish.  Complimenting flavors are endless.  The problem with most snapper recipes isthat, while the flavor is great, the texture is too soft and mushy.  If you're dealing with a sturdier fish, like grouper, you can sear it long enough in the pan to get a crust on the outside.  This fish cooks way too fast for that.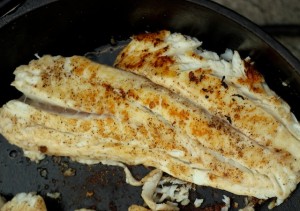 That's why I love amandine.  Almonds add a crunchy texture and toasty flavor.  I like to use a lot of parsley because it tastes so fresh, but you can certainly use less.  I usually use one tablespoon of butter, but if that seems too dry to you, add another.  I don't recommend adding more lemon juice.  Another tip:  when you toast the nuts, don't multitask.  Just be zen-like and stir them or they will burn.
Amandine fell out of favor during the low-fat craze, but I think it's time for this classic to make a comeback.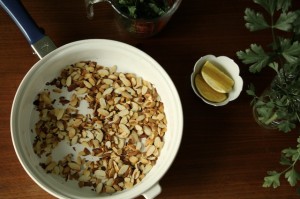 Mangrove Snapper Amandine
Ingredients:
1 1/2 pounds snapper fillets
1/2 cup sliced almonds
1/2- 2/3 cup chopped flat-leaf parsley
1 1/2 tablespoons coconut oil
1-2 tablespoons butter
1 tablespoon lemon juice
salt and pepper
Directions:
Toast the almonds in a dry pan over medium-low heat, stirring constantly until they begin to turn golden brown.  Reduce heat to low and stir in the butter.  Once the butter is melted, add the lemon juice, parsley and a sprinkle of salt.  Remove from heat and set aside.
Heat the coconut oil in a cast iron skillet over medium-high heat.  Sprinkle a little salt and pepper on both sides of the snapper fillets.  Cook them 2-3 minutes per side, or just until the fish is cooked through.  Transfer to a serving plate and top with the almond mixture.