Last year I had enough Meyer lemons to freeze juice for the year, make limoncello, and share with the neighborhood. And still I had more lemons.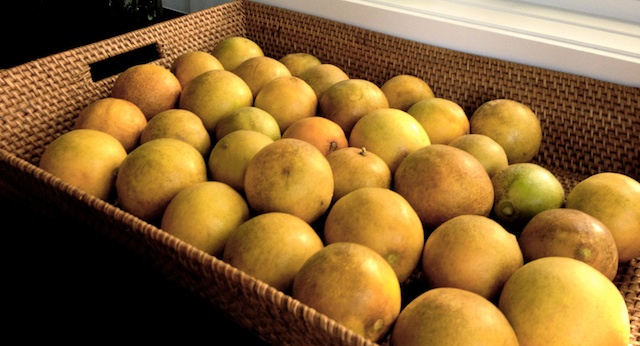 I've come across recipes for preserved lemons in cookbooks. The only ones I've ever tasted were the ones you find in the bottom of a jar of olives. Those are good, but what would I do with a lot of them? I finally decided to give it a try last December. The longer they sit in the fridge, the better they get. I'm making relishes and martinis and salads with them. Now I wish I had another jar.
---
Preserved Meyer Lemons
Ingredients:
Meyer lemons (enough to fit in a jar, plus more for juice)
1 cup kosher salt
5 bay leaves
1 tablespoon peppercorns
optional spices: mustard seeds, juniper berries, allspice, coriander, dill seed, star anise, cloves, cinnamon sticks, ginger, cardamom
Directions:
Wash the lemons. Fill a wide-mouth 1/2 gallon canning jar with boiling water and drain. Put the lemons in the jar just to see how many you can fit in to fill it. Take the lemons out of the jar. Place a lemon stem-side up on a cutting board. Make a slice from top to bottom, only 2/3 of the way through. Turn the lemon 90 degrees and make another vertical slice 2/3 of the way through. You will have a lemon that is partially quartered. Repeat with all the lemons that fit in the jar.
Sprinkle salt generously in the openings of each lemon and place in the jar. I used about 2 teaspoons per lemon. Put the rest of the salt and spices in the jar. Squeeze enough lemon juice to cover the lemons (or you can add water). Put it in the back of your refrigerator and forget about them for a couple months. Try them in this white bean salad or a Dirty Lemon Martini.