I borrowed this old community cookbook from my mom. We used it all the time growing up. It was printed when she was a kid, and she's very proud of her oatmeal cookie recipe under the 'junior cooks' section.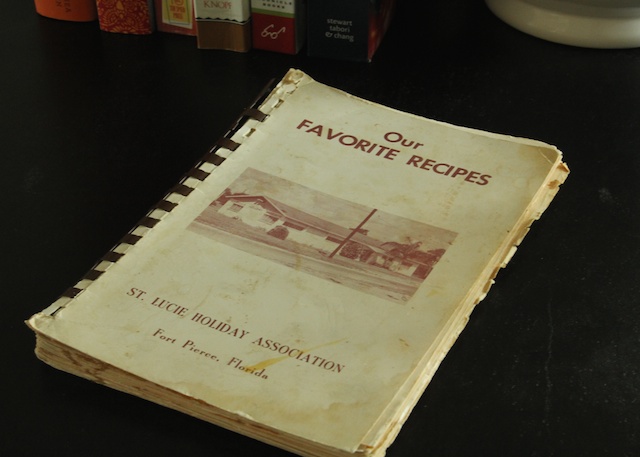 That's where I came across my grandma's recipe for fish and red rice. It was the first fish recipe I learned to make. I started making it for friends in college, often without bacon. That wouldn't go over well back home.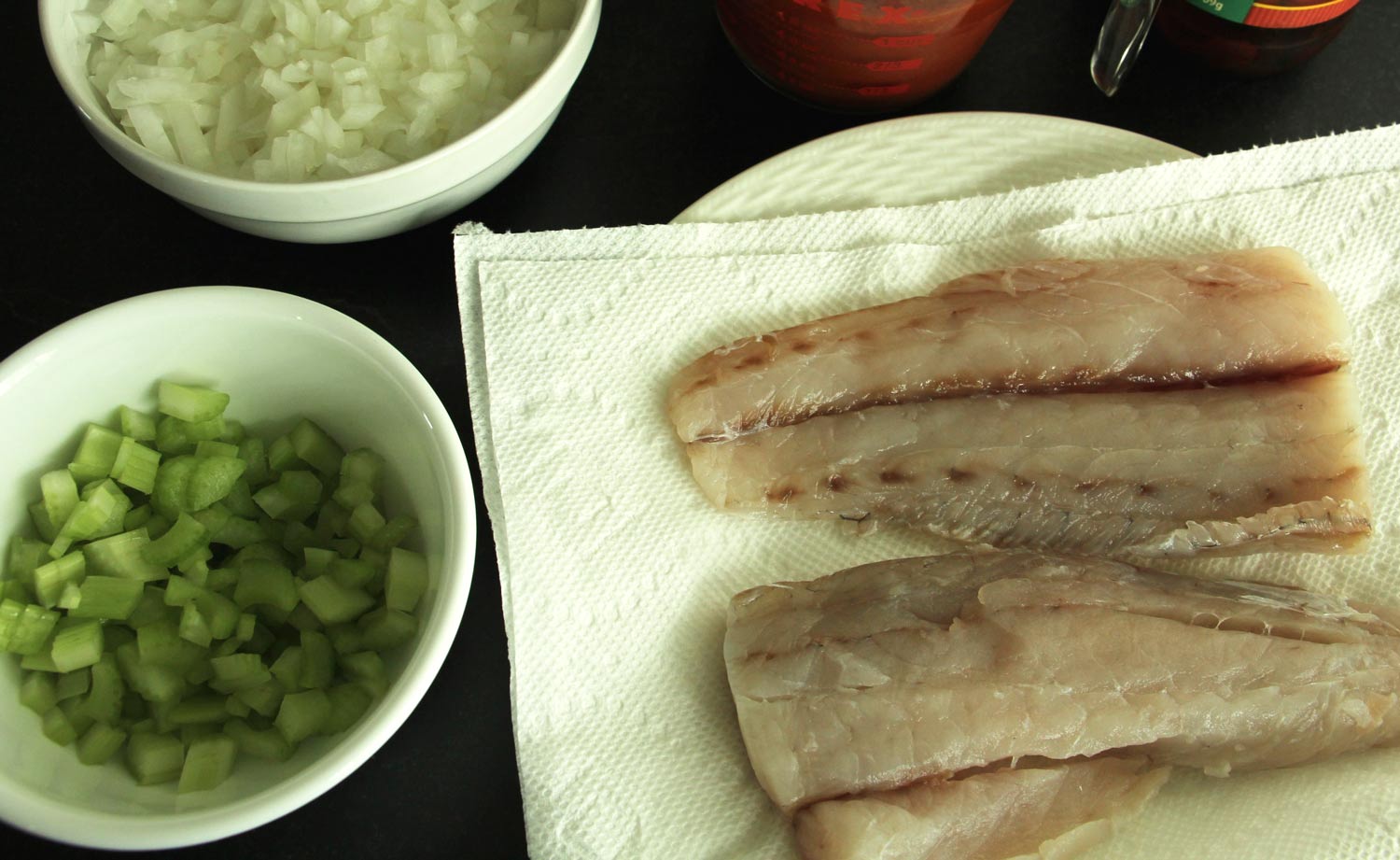 I made it for my grandparents when they visited me about 5 years ago. My grandma helped me in the kitchen. I had out the bacon, of course. I chopped up a few slices and was about to put the rest of the pack away. She said, oh just go ahead and use all of it. Lay the rest of those slices across the top of the pan before you bake it. I did. It was very meaty. That's the extra-bacon variation.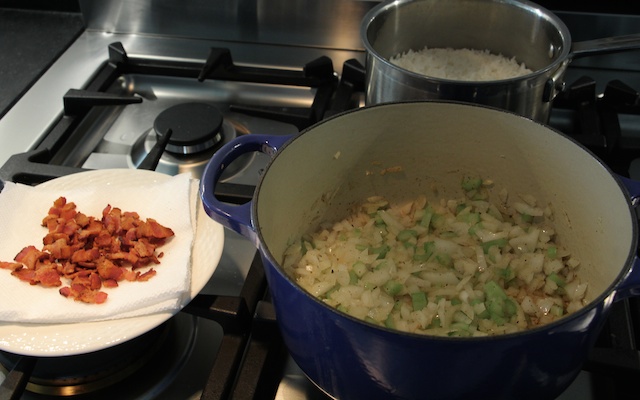 My less popular, no-bacon variation is at the end of the recipe. The main recipe is my best rendition, which lies somewhere in-between. I used redfish this time, but grouper, snapper and dolphin are all good options. This is a great way to serve fish to a crowd. Just double it and bake it in a 9×13 pan. Be careful not to overcook it. Like Julia Child said, if fish flakes easily with a fork, it's overdone.
---
Fish and Red Rice
Serves 4
Ingredients:
2 cups cooked rice
2 fillets fish (any firm white fish)
3 thick slices uncured bacon, cut into 1/4″ pieces
1 1/2 cups crushed tomatoes
1 vidalia onion, diced
2 ribs celery, diced
1 bell or cubanelle pepper, diced (optional)
1 teaspoon Crystal hot sauce
1/4 teaspoon kosher salt
1/4 teaspoon garlic powder
2 bay leaves
salt, pepper and smoked paprika for sprinkling
flat-leaf parsley or other fresh herbs, for garnish
Directions:
Preheat the oven to 350.
Oil a 9×9 baking pan.
Fry bacon in a dutch oven until crispy. Remove the bacon with a slotted spoon and place it on a paper towel-lined plate. Reserve one tablespoon of bacon fat in the pan. Sauté the onion, celery and pepper over medium-low in the bacon fat until the onion becomes translucent. Stir in the crushed tomatoes, salt, garlic powder, Crystal hot sauce and bay leaves. Simmer for 10 minutes on low. Stir in the rice and half of the reserved bacon and remove it from the heat.
Pat the fish fillets dry and sprinkle with salt and pepper. Spread the tomato and rice mixture into the baking pan. Top it with the fish. Sprinkle with smoked paprika.
Bake it for 10-15 minutes, depending on the thickness and density of the fish. Keep an eye on it at the end. It will be opaque and springy to the touch when it's done. If you're unsure, you can stick a fork in it. It should slip through easily, but the fish shouldn't break apart as you do it (that means it's overdone). If there is a bit of give, let it bake a little longer.
To serve, crumble the rest of the bacon over the top and garnish with fresh herbs.
*No Bacon Variation: Sauté the vegetables in 1 tablespoon oil. Proceed with the recipe as directed above, omitting bacon and adding 1/4 teaspoon smoked paprika to the tomato and rice mixture.