What's for dinner tonight?   Probably not fish, according to Paul Greenberg, author of American Catch:  The Fight for Our Local Seafood.
We are an ocean nation, a country that owns more sea than land and more fishing grounds than any other nation on earth, yet we have systematically reengineered our landscape, our economy, and our society away from the sea's influence.  As of 2012, Americans ate less than 15 pounds of seafood per person per year… in comparison with the 202 pounds of red meat and poultry we consume.
He goes on to say that 91 percent of the seafood we actually do eat is imported, and less than 2 percent of that is inspected.  But don't get me wrong, this book is not all statistics or environmental doomsday.  It's obvious that Paul Greenberg is a passionate fisherman himself.  He takes us on exciting fishing expeditions and sneaks in reality along the way.
Greenberg makes his case with three fisheries: New York oysters, Louisiana shrimp and Alaskan salmon.  Each demonstrates the environmental impact of pollution and industry and the disconnect of communities and local fishermen.  Our seafood economy has the potential to sustain us, but we are not sustaining it.
Americans would prefer to spend less money on Asian farmed shrimp despite the chemicals they're bathed in and their lack of flavor.   Americans also want their fish un-fishy and cheap, as we see in the growing preference for tilapia, which Greenberg says is  "odorless and virtually tasteless, with very little omega-3 content."
Researchers studied why Americans don't eat much fish at home and found three reasons:
They don't want to touch it.
They don't know how to prepare it.
They don't want it smelling up the kitchen.
I would like to offer some suggestions for each of those excuses.
Fresh fish is not 'dirty'; it can be eaten raw. Chicken and beef are much less sanitary.
Want some ideas for what to do with fresh seafood?  Click on the 'fish' category on the right side of this blog for lots of recipes.
Eliminate fishy odors by cooking outside, which you can do year-round in Florida.  Use a grill or a propane burner with a cast-iron skillet.  Or try baking it; the smell won't linger like it would on the stove top.
Another important focus of this book is on community.  There are far fewer fishermen these days because they can't compete with all this foreign, farmed seafood.  When they can sell their catch directly to their own communities, rather than having their fish brokered and sold abroad, their profits increase significantly.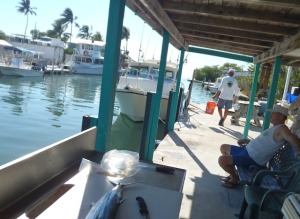 The local food movement has sparked a few creative ways to support local fisheries.  In Louisiana, fishermen post their daily catch online for locals to come buy directly.  Check out Delcambre Direct Seafood. It has become so popular there are lines waiting when the boat reaches the dock.  Another is community-supported fisheries, just like community-supported agriculture.  This allows people to buy a share of a local fishermen's catch for the season in order to get weekly deliveries of fish.   In Florida, a program called Gulf Wild allows us to track fish from markets.  Enter the code from the tag online and you can find out where that fish was caught, who caught it, and even locate the dock where it was brought to shore.
I hope you'll read this book. It's a fast-paced fishing adventure that will help you make informed choices about seafood.  It will also make you want to go fishing.  It inspired my latest recipes which I'll be posting soon.