This was my last pineapple of the season. It was a nice big one with a funky hair-do. I had to make something special out of it.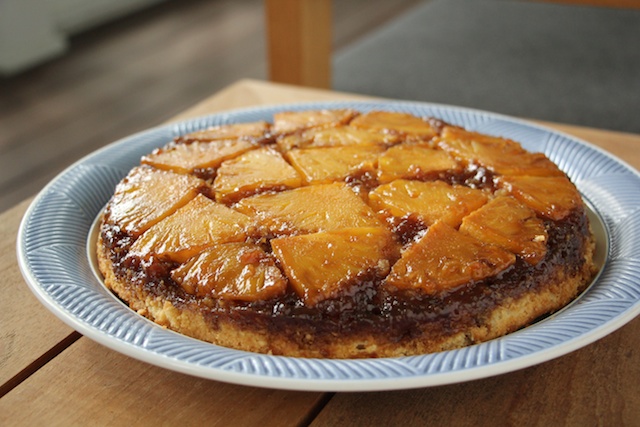 Pineapple upside-down cake is the only cake my husband is interested in. He goes months without eating dessert. I guess he doesn't care about sweets, but he does love fresh fruit. I don't think it's the pineapple that makes this his favorite, though. I think it's the butter and rum.
I like to add grated coconut to the cake batter. You can't go wrong with the pina colada trilogy of pineapple, rum and coconut.
---
Pineapple Upside-Down Coconut Cake
Ingredients for the pineapple part:
1 fresh pineapple, peeled and sliced into 1/4-inch thick rounds, then quarter each round (you'll use about 2 1/2 cups)
4 tablespoons butter
1/2 cup brown sugar
1/4 cup dark rum
Ingredients for the cake part:
1 1/3 cups flour
2/3 cup sugar
1/2 cup finely shredded coconut
2 teaspoons baking powder
1/4 teaspoon salt
1/4 teaspoon nutmeg
1/4 teaspoon ginger
1/2 cup milk
1 egg, room temperature
1/3 cup butter, room temperature
1 teaspoon vanilla
1 teaspoon dark rum
Directions:
Pineapple part: Melt 4 tablespoons butter in a 10-inch cast iron skillet over low heat. Stir in the brown sugar with a wooden spoon. When the mixture begins to caramelize and become darker, remove from heat. Stir in the rum. Arrange the pineapple triangles over the mixture.
Heat the oven to 350.
Cake part: Sift the flour, baking powder, salt, nutmeg and ginger into a bowl. Stir in the shredded coconut.
In a large mixing bowl, cream the butter and sugar. Add the vanilla and rum. Add the egg. Alternate adding a bit of the milk with a bit of the dry ingredients until they are all incorporated.
Spread the batter over the pineapple. Bake for 40 minutes, or until the top is golden brown and a toothpick comes out clean.
Cool for 15 minutes. Run a knife around the edges. Invert onto a serving plate.