The best green papaya salad I've ever had happened by chance. Some friends were celebrating their honeymoon with a road trip around Florida, and our house was one of the stops. We were going to make them the house special for dinner: blackened redfish. The new bride and I walked around the yard talking about cooking and gardening. She reminisced about growing up in Thailand and the similarities of the climate and vegetation here. She pointed out the papaya trees, loaded with green fruit, and asked if I liked green papaya salad.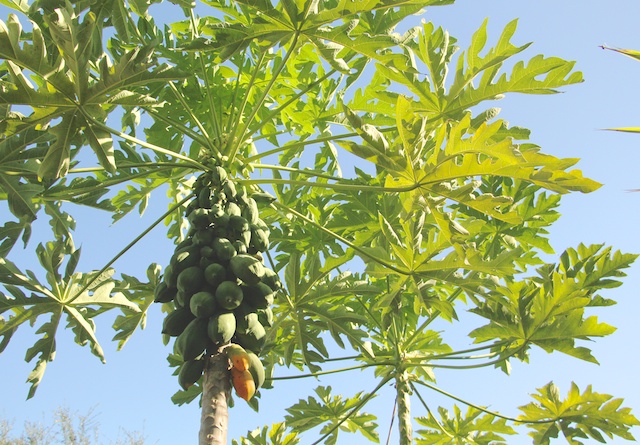 I absolutely love green papaya salad. She asked if we should make some. Yes, of course we should! We picked a couple and headed inside to find the rest of the ingredients.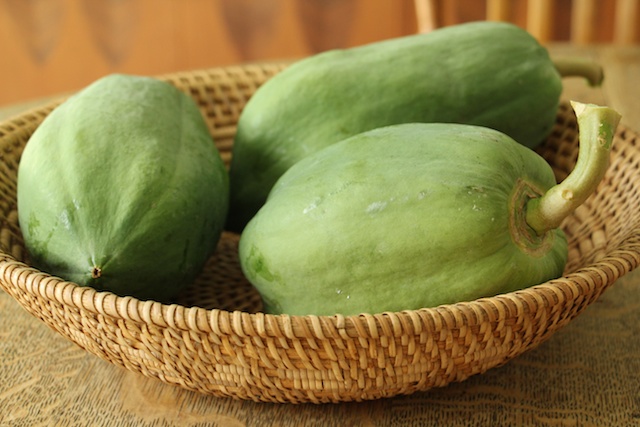 Before long, the best papaya I've ever had was happening in my kitchen. The flavors were bold, vibrant, and perfectly balanced. It went surprisingly well with the blackened redfish. The dinner was outstanding.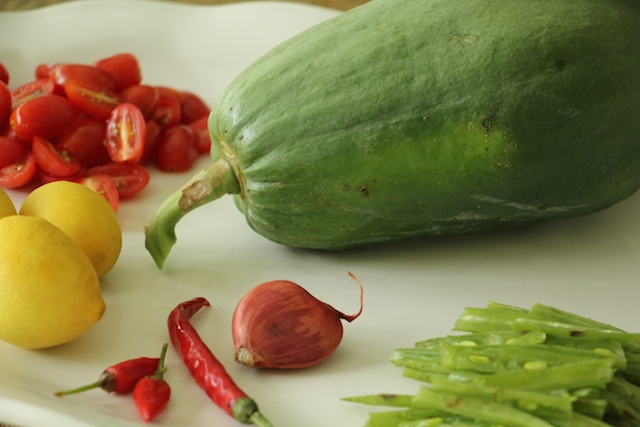 My friend used a technique to shred papaya that I had seen before in my favorite Thai cookbook: Pok Pok, from Chef Andy Ricker of Pok Pok restaurant. Pok Pok is a funny name. It comes from the sound made when you shred papaya Thai-style. It takes some practice, but it creates these long, thin, angled shreds that make up the very best of green papaya salads. Once you've peeled and seeded a papaya, slice it in half horizontally. Place it in the palm of your hand, hollow-side down. Begin chopping at the surface at different angles with a large knife. It will begin to shred perfectly, although slowly and laboriously for those of us unpracticed. Pok, pok, pok.
You can grate the papaya with a box grater or shred it with a handheld vegetable shredder.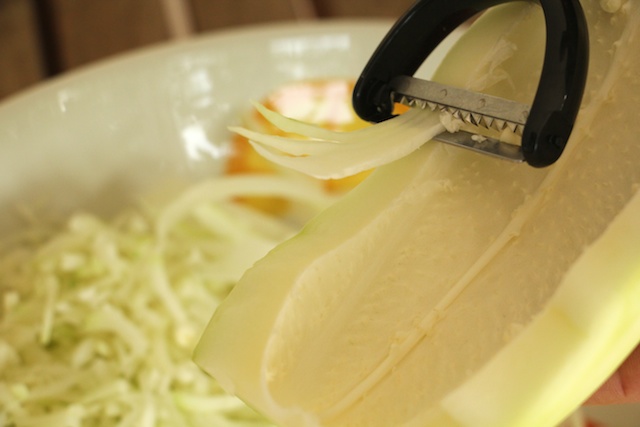 If you really want to cheat, use the disc grater of a food processor. Cut the papaya in long strips that will fit in the chute. You'll zip through them in seconds.
Unfortunately, these shreds are very uniform and not quite as light, but a quick green papaya salad is better than none at all.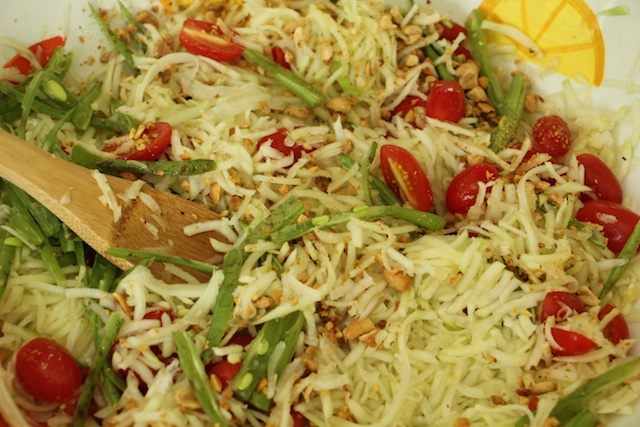 ---
Green Papaya Salad with Crispy Shallots
Ingredients:
1 large green papaya (about 6 cups) peeled, seeded and halved
2 cups fresh herbs (basil +/- mint +/- cilantro)
1 cup cherry tomatoes, sliced in half
1 cup green beans, thinly sliced
3/4 cup unsalted roasted peanuts
3 shallots, thinly sliced
hot chili peppers, to taste (I used 2 Thai chilis and one cayenne)
1 clove garlic
5 tablespoons lime juice (key lime is outstanding)
3 tablespoons fish sauce
3 tablespoons coconut or brown sugar
1 tablespoon oil
Directions:
Heat the oven to 350.
Make the dressing: whisk garlic, hot chili peppers, lime juice, fish sauce and sugar.
Place the peanuts in a plastic bag and crush them with a wine bottle or rolling pin. Place them in a single layer on a baking sheet. Bake them 3 minutes, stir them, and continue baking for another 3 minutes or until they darken to a deep golden brown. Transfer them to a plate as soon as they're done (or they'll continue to cook and possibly burn).
Heat the oil in a small fry pan over medium-low. Add the shallots and cook, stirring constantly, for 6-8 minutes or until they're brown and crispy. Transfer them to a plate lined with a paper towel.
Shred the papaya (refer to above post for methods).
Toss the shredded papaya with green beans, tomatoes, fresh herbs, 1/2 cup of the peanuts and the dressing. Sprinkle the top with remaining peanuts and crispy shallots and serve.