My mom went scalloping with some friends recently. It was a relaxing trip, and a great way to explore a beautiful part of Florida. This year's scallop season has ended, but I'm planning my trip next year.
So here is a guest post from Mom, who doesn't even like scallops, but will use any excuse to snorkel all day:
My husband and I were invited to join friends on their annual scalloping trip in Homosassa. They and their two children, a 10 year old girl and 12 year old boy, have been going for 7 years. We love to snorkel for lobster and stone crab in the Florida Keys and were ready for a new adventure. We trailered our boats across the state. We stayed at Homosassa Riverside Resort, right on the Homosassa River. The resort is very family friendly and laid back.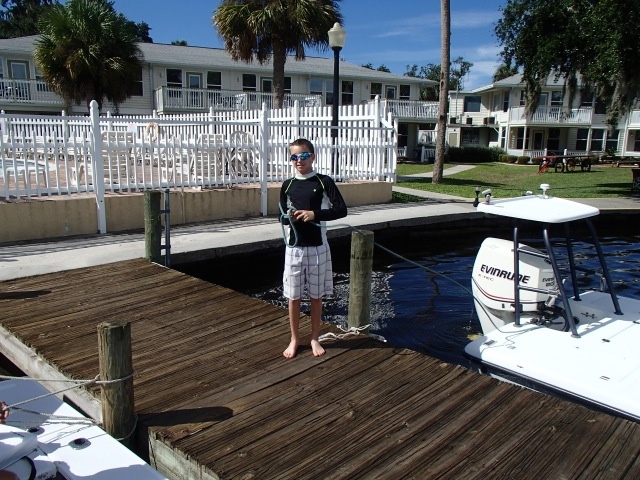 The next morning we headed out to 'catch' scallops. Leaving the resort, you take the river west to the Gulf of Mexico where the scallop grounds are. On the way we saw manatees, a Bald eagle, and lots of shore birds.
Once in the Gulf, we stopped a few times on the grass flats, and had one of the kids jump in to see if there were any scallops in the area. Once one of them came up with a couple we anchored and headed in. The scallops are in the grass and on top of it, and visible from the surface in the crystal clear water about 6 feet deep.
We were surprised how pretty they are with bright blue eyes! When you pick them up sometimes they will scoot out of your hand and you have to catch them again. It was like the most fun Easter egg hunt ever! At the end of the day we had a five gallon bucket full on both boats and we headed in. Back at the dock there are scallop cleaners that clean your catch.
After dropping off the catch to be cleaned, we headed east on the brackish water to Homosassa Springs. It is a fresh water spring that creates the river that heads west to the salt water of the Gulf of Mexico. The cold fresh water from the spring is so refreshing after snorkeling all day in the warm salty water! The kids dove and jumped off the boats while the adults floated on noodles. After cooling off for a while we headed back to pick up the results of our hunt, only to learn that a five gallon bucket yields about one quart of tiny scallops! We were surprised at that, but it was so much fun that we did it all day for three days!