Holidays at our house are not traditional feasts. We like a few classic trimmings, but the highlight is always fresh catch. At some point we nixed the roast beast in favor of bushels of oysters and fancy fish recipes like this one. Now I can't remember the last time we had turkey. But don't worry, we still have pie.
I've simplified my mom's special flounder here. Hers is better, but it requires the better part of a day. First, she only makes this when she has some nice big flounder fillets. She goes to a secret spot near her house to catch some blue crabs. Then she cooks them and spreads them on newspaper on the back porch table. Those who want dinner have to help with the tedious task of picking crabmeat. She makes the stuffing with lots of seasonings that make the house smell so good. The stuffing is rolled inside the flounder fillets and baked. It's a beautiful dish.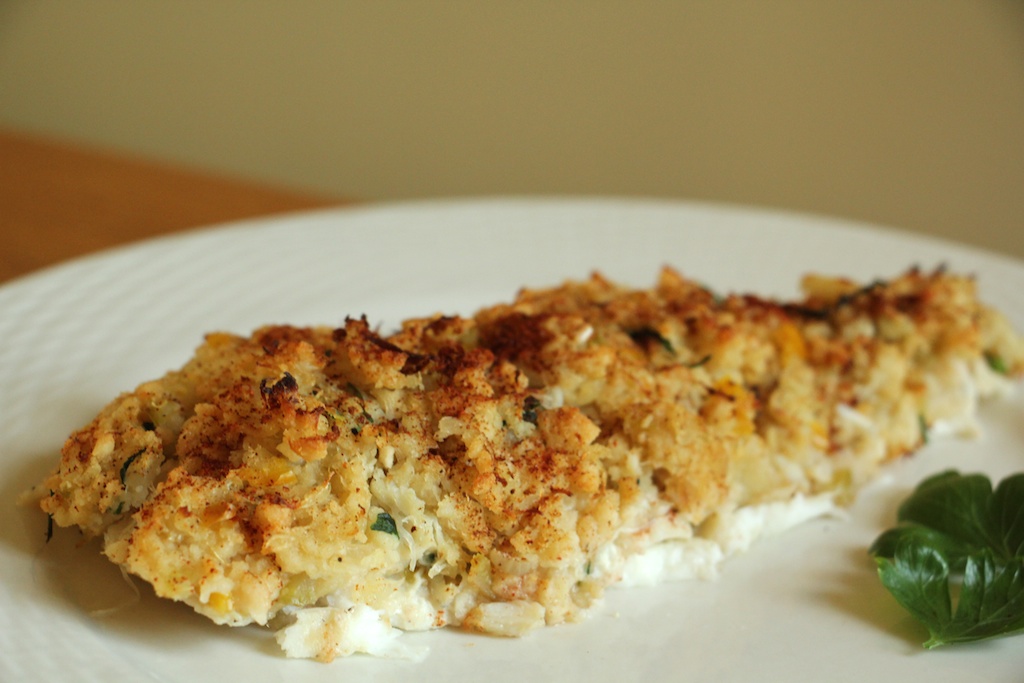 If you don't have a secret crabbing spot, skip right to the lump crabmeat at the seafood market. We tend to catch smaller flounder, so I usually just layer the stuffing over the top of the fillets. It's like flounder smothered in a big crab cake. Mmm. Who needs turkey?
---
Flounder with Crab Stuffing
Serves 4.
Ingredients:
4 fillets flounder
1/2 pound lump crabmeat (always check it for cartilage or shell)
2 tablespoons butter
1 cup minced onion
2/3 cup minced celery
1/2 cup minced yellow pepper
2 cloves garlic, minced
1 cup white wine, divided
3/4 cup whole milk
1/2- 2/3 cup cracker meal or panko
1/2 cup chopped parsley
1/4 cup parmesan
1/4 teaspoon seafood seasoning (Penzeys Chesapeake Bay or Old Bay)
salt, pepper, paprika
lemon
Directions:
Preheat oven to 350. Heat the butter in a dutch oven over medium heat. Add the onions, celery and yellow pepper, stirring occasionally for about 5 minutes. Add the garlic and stir for another minute. Raise the heat. Deglaze with 1/2 cup of wine and allow it to cook until the liquid has reduced to half. Pour in the milk and reduce it to a simmer for 3 minutes. Blend in the crabmeat. Stir in seafood seasoning. Sprinkle in just enough cracker meal or panko to absorb the liquid and hold the mixture together. Remove from heat and fold in the parmesan and parsley. Add salt and pepper to taste.
Place flounder fillets on a rimmed baking sheet that has been oiled. Sprinkle with a little salt and pepper. Divide the stuffing over each fillet, packing it evenly on top. Squeeze a little lemon juice over each. Dust the top with paprika. (If you have large fillets you can roll them up and place them seam-side down on the pan and sprinkle the outside with paprika). Pour the remaining wine in the bottom of the pan. Bake 16-20 minutes, or until the fish is just done and the stuffing begins to turn golden brown. You can test the fish by inserting a skewer into the thickest part. It's done as soon as the skewer slides through easily.