I love this time of year in Florida. We may not have changing leaves, but it's porch season. The heat of summer has finally lifted and we can sit outside without breaking a sweat. But I still find the colors and flavors of a true autumn very alluring.
I decided to make a 'seasonal' salad for the Halloween block party. It's a take on my tropical quinoa salad. I chose jewel-toned ingredients with varied flavors and textures. And I added one key ingredient that really made the flavors pop: Surinder's Kitchen cranberry orange chutney. Surinder is our local 'chutney lady'. She makes incredible, well-balanced Indian chutneys with local ingredients. You can find her at farmer's markets and local markets around Tampa and St. Pete. I was even impressed with her mango chutney, and I'm very picky about my mangos. Come to find out, she only uses local Kent mangos because they're fiberless and tasty. Yes, this woman knows good food.
I mixed the cranberry orange chutney into the dressing and served extra on the side. It was a big hit at the block party, and I got some very appreciative comments from the vegan and gluten-free folks (it was the only thing they could eat). You can serve this at home inside roasted acorn squash, or cube the squash and toss it in if you're feeding a crowd.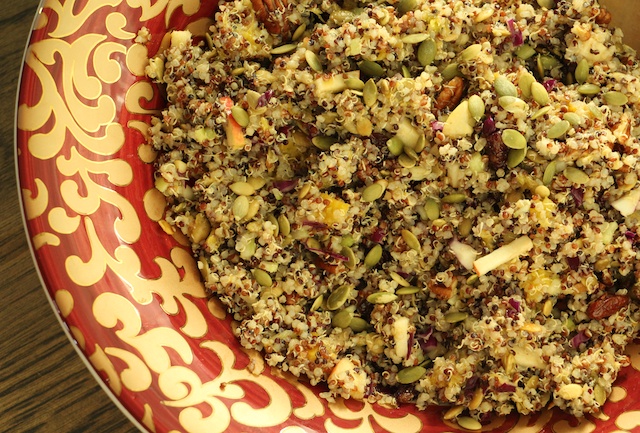 ---
Harvest Quinoa Salad
Ingredients:
1 cup tri-color quinoa
1 acorn squash, sliced in half and seeded (or peeled and cubed)
1 apple, diced
2 ribs celery, sliced
1/2 cup shredded red cabbage
1 cup pecans
3/4 cup dried cherries
3/4 cup pepitas (divided)
2 tablespoons Surinder's Kitchen cranberry orange chutney
2 tablespoons olive oil
1 tablespoon lemon juice
salt and pepper
Directions:
Heat the oven to 350.
Rinse the quinoa in a fine mesh sieve. Bring 2 cups of water to a boil in a saucepan. Add the quinoa. Return to a boil, stir, cover, and reduce the heat to low. Simmer for 15 minutes, or until the water is absorbed. Remove from heat and allow it to stand for another 10 minutes. Put it in a large mixing bowl and fluff it with a fork. Refrigerate while you prepare the rest of the ingredients.
Roast the acorn squash halves on an oiled baking sheet, hollow-sides down, for about 35 minutes. If you've cubed the squash, place them on an oiled baking sheet and roast them for about 25 minutes, stirring occasionally, until they begin to brown. Remove from the baking sheet and allow to cool.
Place the pepitas and pecans on separate baking sheets. Toast them for 5-8 minutes, stirring every couple minutes. You want them to get lightly browned and crunchy. Once they're perfect, transfer to a shallow bowl and allow to cool.
Whisk together the chutney, olive oil and lemon juice.
Remove the quinoa from the refrigerator. Sprinkle with salt and pepper to taste. Add the apple, celery, red cabbage, cherries, pecans, 1/2 cup pepitas, and acorn squash (if cubed). Drizzle the dressing over it and toss everything. Adjust the salt and pepper if necessary. Serve in a large bowl, or scoop the quinoa into the acorn squash halves. Sprinkle the top with the reserved pepitas. Serve a small bowl of cranberry orange chutney on the side for those who would like a little more on top (like me).