My favorite Thanksgiving was spent at Cayo Costa State Park.  My brother joined us for a sail to the island and we met a group of friends who were camping there.  They invited us to their campsite for a Thanksgiving feast with all the fixings. We had none of the traditional Thanksgiving foods on board.  Instead, we brought our typical contributions: I had some vegetables to grill over the campfire, my brother had a bottle of whiskey, and Toby caught a Spanish mackerel that day.  I scrunched up my nose at the thought of bringing Spanish mackerel to a Thanksgiving dinner, but it turned out to be the most delicious part of the meal.
So I didn't scrunch up my nose when Toby caught one yesterday.  We put it on the grill and made the best fish tacos ever.  Never underestimate fresh Spanish mackerel.
Once you try mango chutney on fish tacos you won't want to eat them without it.  I didn't have enough mangos to make my own this year, but that's okay because I found Surinder's Kitchen.  Almost all her chutneys work well here, but the mango pineapple was our favorite.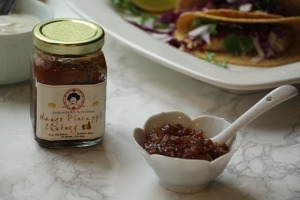 ---
Spanish Mackerel Tacos with Mango Chutney
Ingredients:
6 corn tortillas (recipe for homemade)
1/2-3/4 lb Spanish mackerel (or other white fish)
1 teaspoon grapeseed oil
lemon slices
1/8 teaspoon paprika
1/8 teaspoon garlic powder
salt and pepper
1 cup shredded purple cabbage
3/4 cup thinly sliced jicama
3/4 cup loosely packed cilantro leaves
juice of 1 lime
1 avocado, sliced
sour cream
mango chutney (Surinder's mango pineapple)
Directions:
Preheat a grill until it's hot.  Season each side of the fish with salt, pepper, garlic powder and paprika. Brush with grapeseed oil.  Place on aluminum foil.  Put a few lemon slices on top.  Grill the fish for 5-7 minutes with the lid on.  The fish is done when a skewer slips through easily, but is still juicy (not flaky).
For the slaw:  Toss the cabbage, jicama and cilantro in a bowl.  Sprinkle with salt to taste and squeeze the lime juice over the top.
Heat the tortillas over the grill or in a pan over medium-high.
Divide the fish among the tortillas and serve them on a platter with the slaw, sliced avocado, sour cream and mango chutney on the side.