Black sapote is a unique tropical fruit.  It's often called "chocolate pudding fruit" because the pulp is the color and texture of chocolate pudding.  It's a type of persimmon native to Central America. They grow in Florida, and you can find them at farmer's markets from December-March.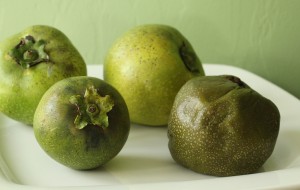 The black sapote is bright green when picked, ranging in size from an orange to a grapefruit.  It's completely inedible until it turns olive green on the outside and feels very soft, like a marshmallow.  Inside it's silky smooth with a mild, sweet taste.  It may have a hint of chocolate, or maybe that's expectation.  I think eating a black sapote alone is a novelty.  But whip it up into chocolate mousse and you're in for a real treat.
---
Black Sapote Mousse
Ingredients:
1 ripe black sapote
1 can full-fat coconut milk, refrigerated at least 24 hours
3 tablespoons cocoa powder
2-4 tablespoons powdered sugar, to taste
1/4 teaspoon vanilla or coconut extract
pinch of salt
coconut chips or shaved chocolate, optional
Directions:
Place a large metal bowl and the beaters from a hand-held mixer in the freezer for at least 30 minutes.
Slice the black sapote in half.  Remove the seeds and the membrane around the seeds.  Use a spoon to scoop out the pulp.
Remove the coconut milk from the refrigerator, being careful not to shake it.  Open the can. Use a spoon to scoop out the firm coconut cream from the top, usually about half a cup.  Leave the liquid at the bottom and reserve it for another use.
Combine the black sapote, coconut cream, cocoa powder, powdered sugar, vanilla and salt in the cold metal bowl.  Beat with a hand-held mixer on low for 30 seconds.  Slowly increase the speed and continue beat until the mixture becomes very smooth and light, about 3 minutes.  Top with coconut chips or shaved chocolate, if desired.  Best eaten within 24 hours.