The tequila sunrise is one beautiful cocktail.  It's a combination of tequila, orange juice, and grenadine, which is served unmixed.  The gradation of colors in the glass resemble those of a rising sun.
The Hula Sunset adds a fresh, tropical twist with mangos, grapefruit, and strawberries.  These look like sunset in a glass, and they go very well with tequila.
I made this to celebrate a good old boat that found a new owner today.  Here's to all the sunsets we've spent on the Hula, and hoping our friends enjoy many more.  Cheers!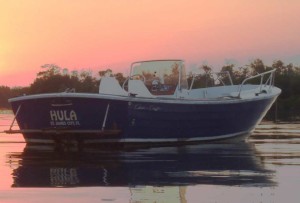 ---
Hula Sunset
Ingredients:
3/4 cup fresh grapefruit juice
8 strawberries, hulled
1/3 cup silver tequila
1 1/4 cup fresh or frozen mango chunks
2 tablespoons lime juice
Directions:
Fill two tall glasses with ice.
Puree the grapefruit juice, strawberries, and tequila in a blender.  Pour into two glasses.
Puree the mango chunks and lime.  Pour it over the strawberry mixture in the glass.  Garnish with lime wedges or strawberries.  Sip and enjoy the sunset.