It has only been officially summer for a week, but we've had hot weather and high humidity since March. The first step to enjoying summer is to accept the fact that you're going to sweat, and so is everyone else. Have some fun and forget about it. Ride your bike, grill some fish, lounge in a hammock, watch fireworks, and drink lots of iced tea.
Everyone has their favorite kind: weak or strong, sweet or unsweet, whatever grandma makes. I love my grandma's take on sweet southern tea. It's traditional black tea, brewed on the strong side, sweetened with fruit juice, and always served with twist of key lime.
Here's my summer mango version. It makes enough for a crowd. If you find yourself feeling sluggish, grab a glass and sit under the fan. The mango and mint will remind you why Florida summers are worth all the sweat.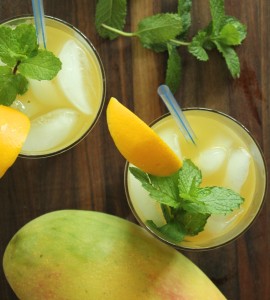 Fresh Mint and Mango Iced Tea
2015-06-29 12:23:05
Ingredients
3 cups water
1/2 cup sweetener of choice*
3 cups mint leaves
3 tablespoons loose-leaf black tea
1 1/2 cups sliced mango
3/4 cup Meyer lemon juice
3 cups cold water
6 cups ice
mint sprigs and Meyer lemon wedges, to serve
Instructions
Bring 3 cups of water to a boil. Add the sweetener and stir until it dissolves. Add the tea and mint leaves. Let stand 5 minutes. Strain into a gallon-sized beverage dispenser or pitcher and add 3 cups cold water.
Puree the mango slices and lemon juice in a blender until smooth and liquid. Stir into the tea.
Add 6 cups ice. Cover and refrigerate.
Serve the tea over ice, garnished with fresh mint sprigs and Meyer lemon wedges.
Notes
*The sweetener is optional. I recommend raw sugar for a crowd-pleasing tea, or agave if you want a lower-glycemic version.
Suwannee Rose https://www.suwanneerose.com/