We love Vietnamese food for lunch– pho, bánh mì, and my favorite, bún. Bún is a noodle salad. It's a bold mix of contrasting of flavors and textures: crunchy vegetables, aromatic herbs, cool rice noodles, spicy sauce, and crushed peanuts.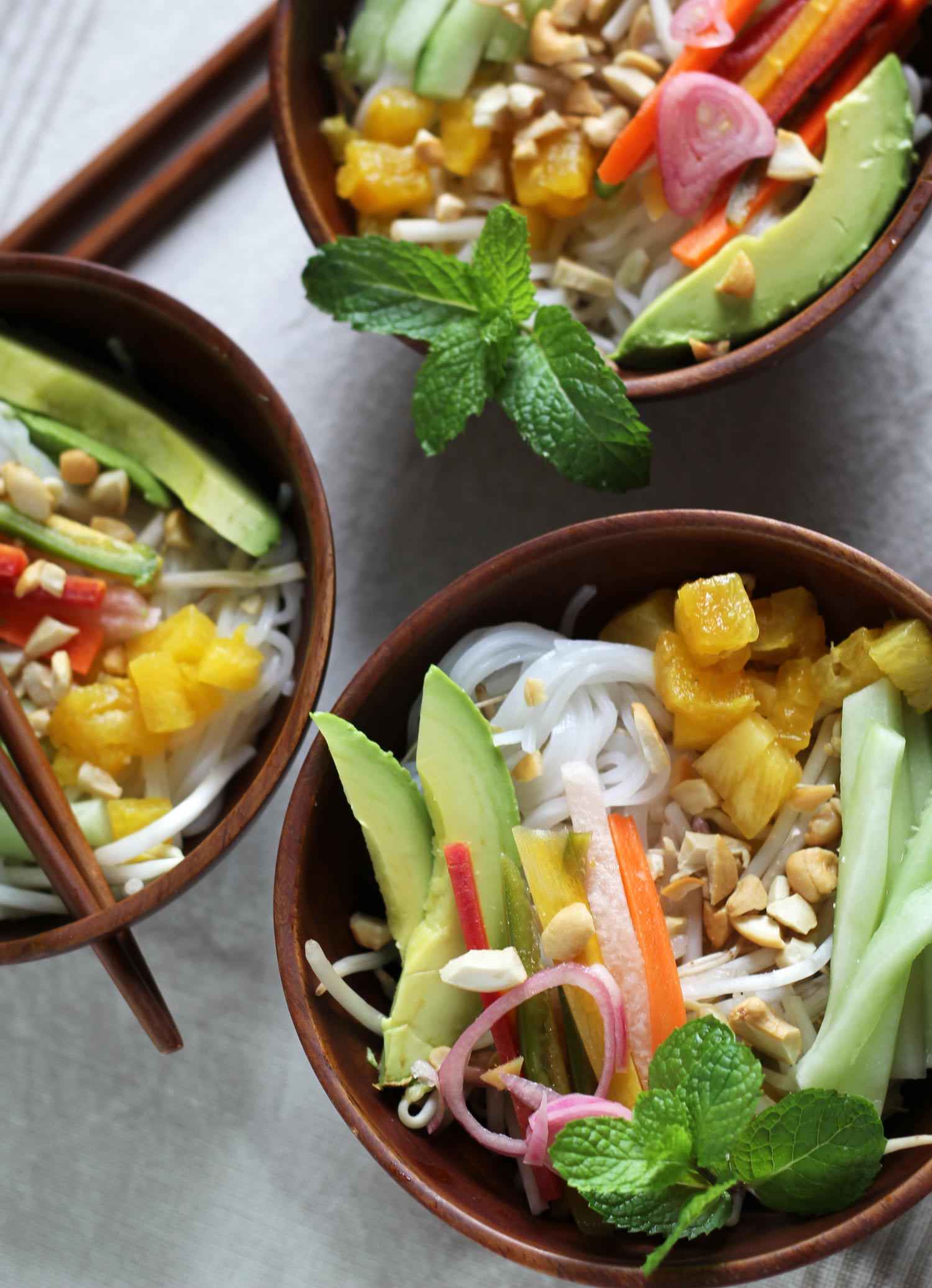 This is something you can throw together at home, using whatever you have on hand. It's also easy to pack in a lunchbox. Separate the veggies, noodles, and sauce in containers or ziplock bags, then toss together when you're ready to eat.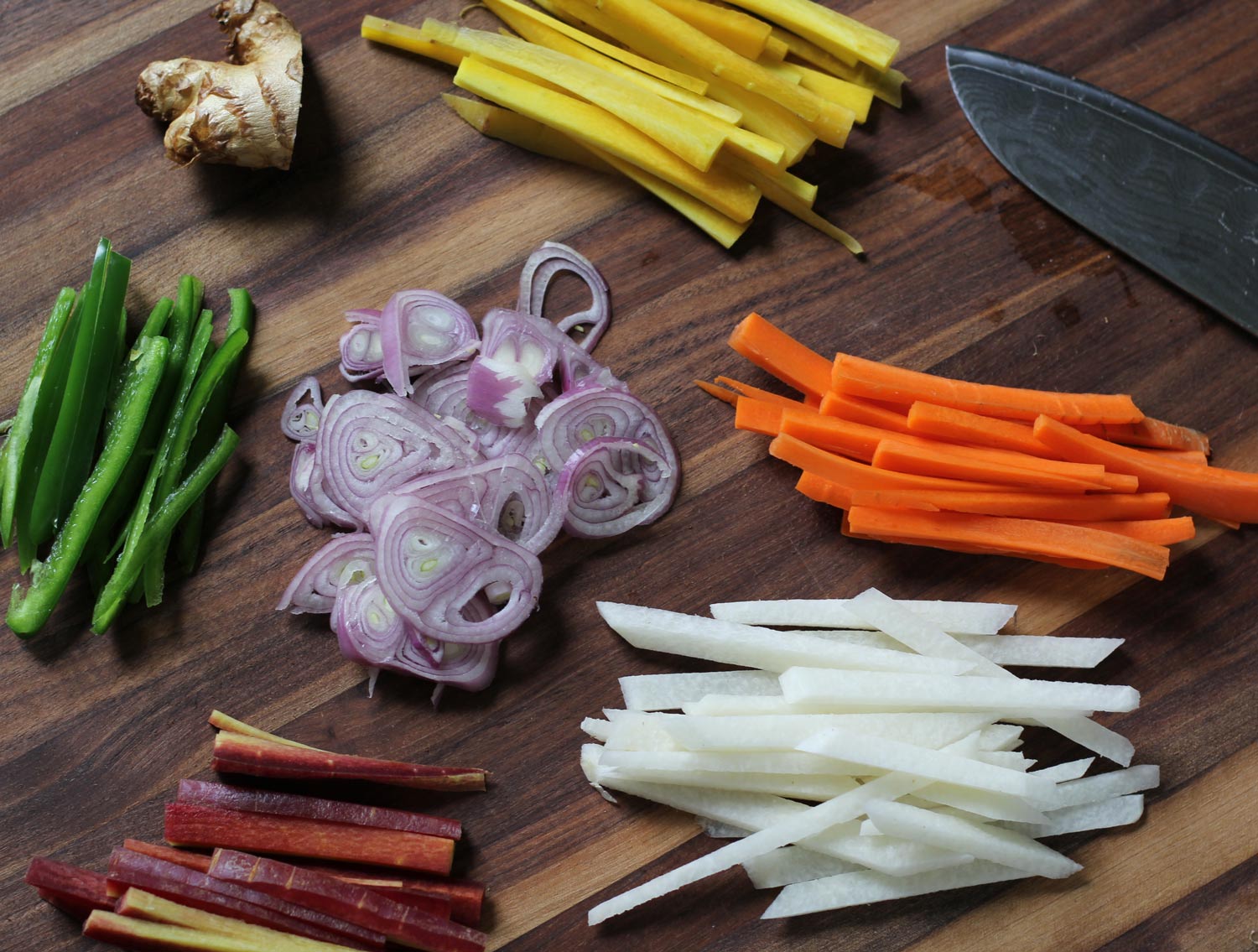 It's best with a combination of fresh vegetables and pickled vegetables. The pickled vegetables add a spicy kick. I used jicama instead of the traditional daikon for this batch. It's mild and stays crisp even after weeks in the brine. Next I grab a handful of herbs from the garden. I also cut up a little mango or pineapple. The fruit is completely optional, but I think a little sweet, juicy fruit goes well with the rice noodles.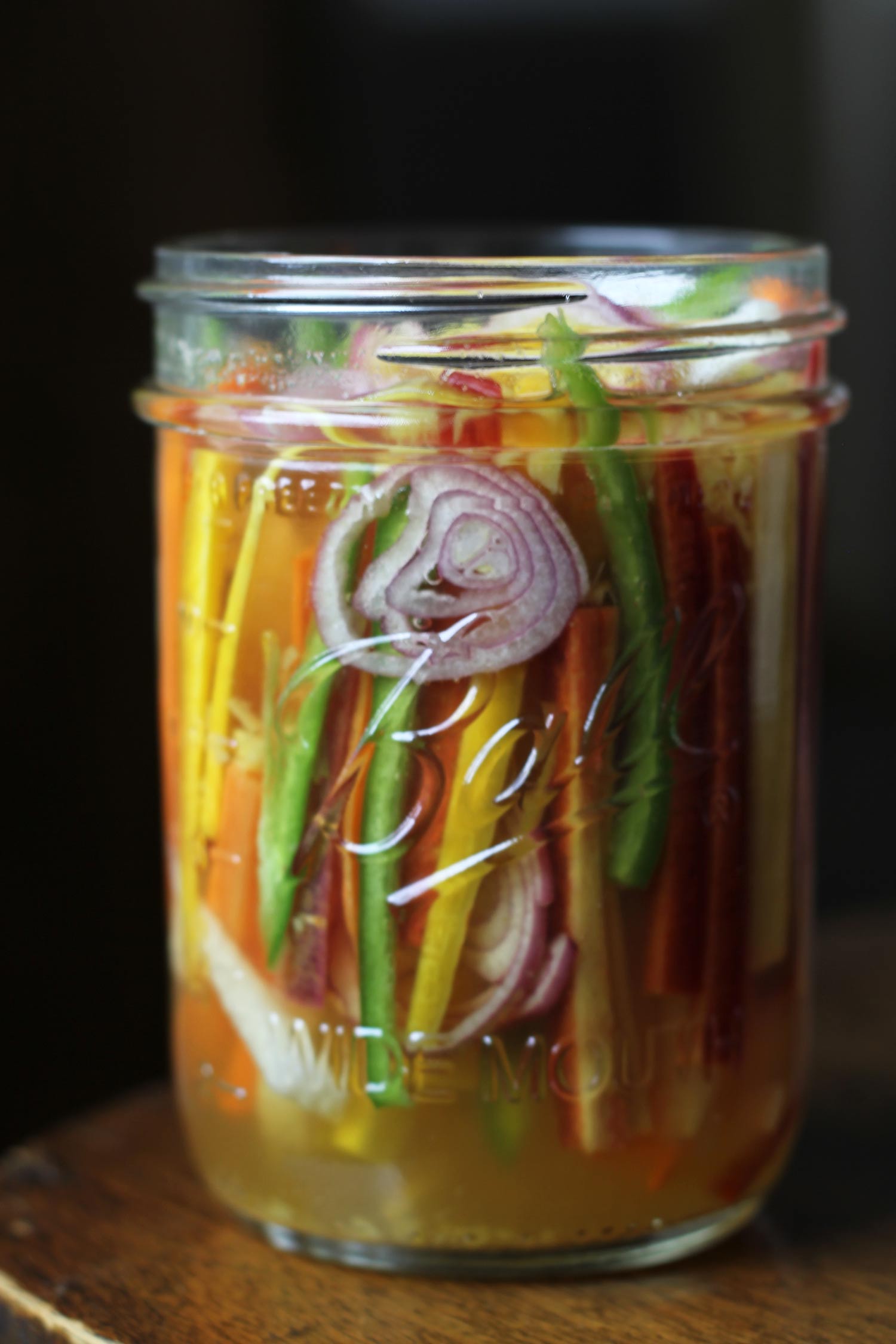 Bún is usually served with stir-fried tofu, shrimp, or meat, served hot, which contrasts with the cool rice noodles and vegetables. Right now I just want all the cold stuff, but I sprinkle the whole thing with lots of roasted cashews to make it more satisfying.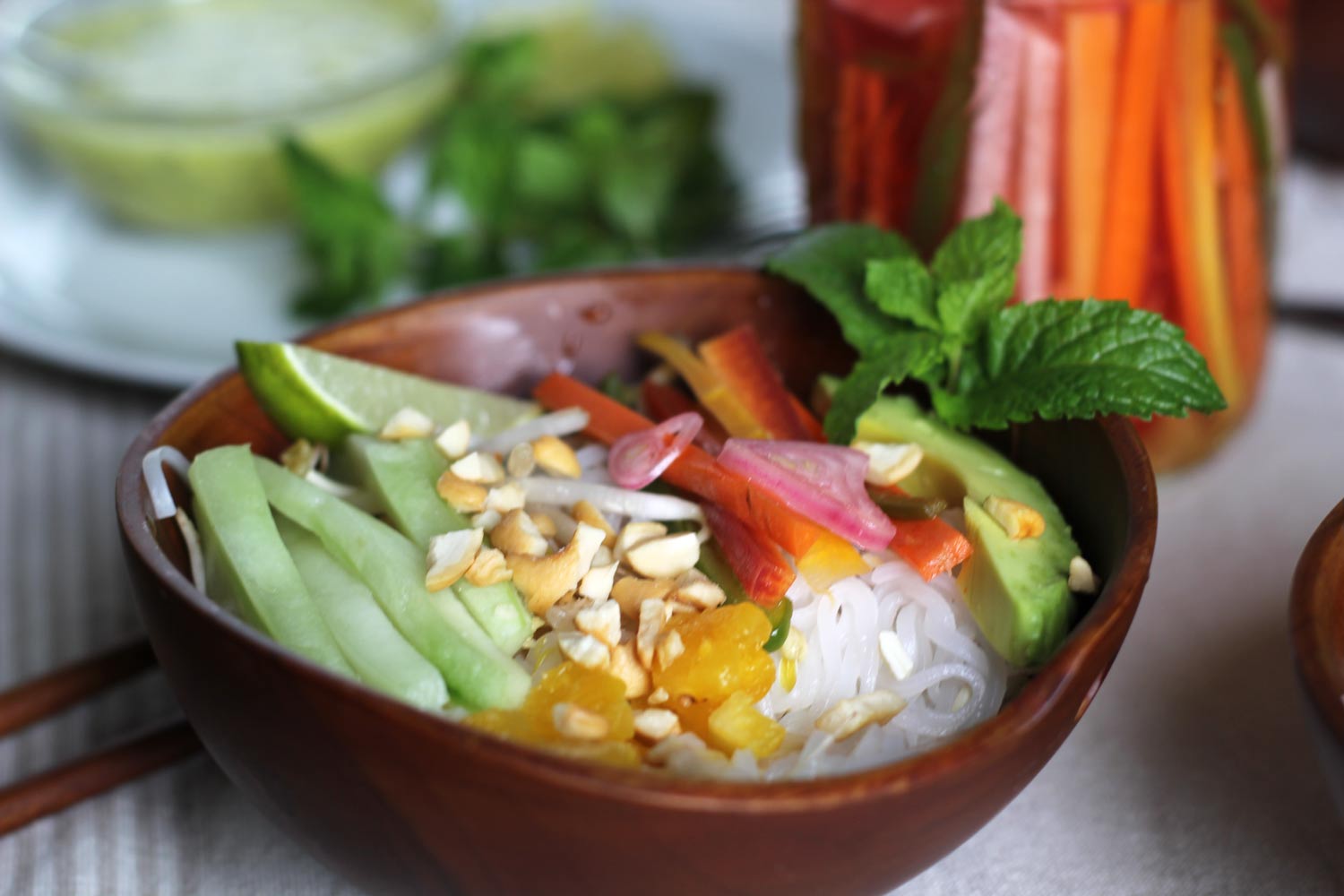 Next, choose a sauce. Nuoc cham is traditionally served with bún. It's Toby's favorite, but not everyone shares his love of those wicked hot Thai bird's eye chiles. For a mild sauce, try it with my mango and kaffir lime vinaigrette.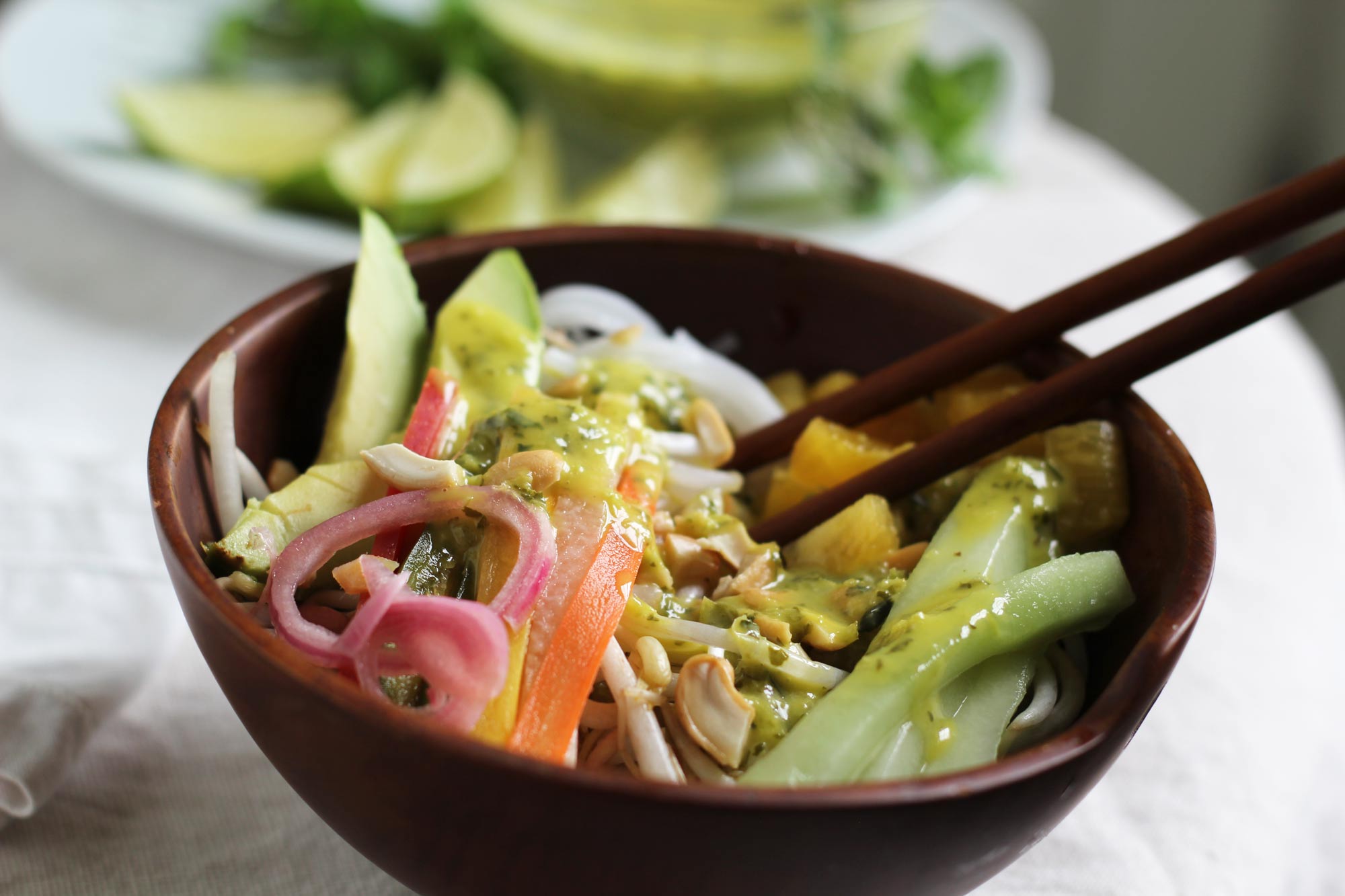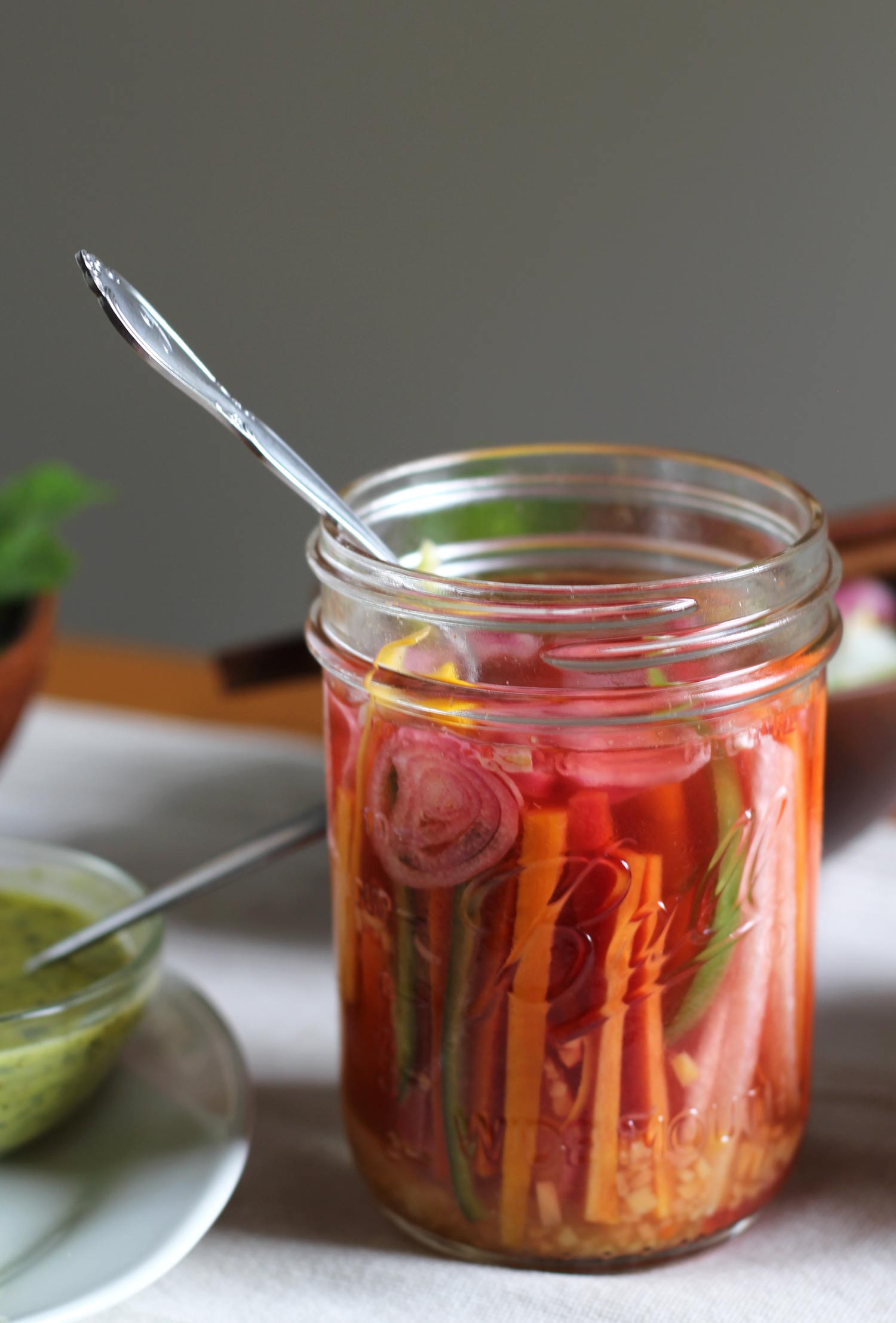 The pickles and sauce will keep for weeks in the fridge. Once you make them, you're only minutes away from a noodle salad lunch. You can slice the fresh vegetables and even cook the rice noodles ahead of time (they're supposed to be cold anyway). When hunger strikes, it's only a matter of assembly.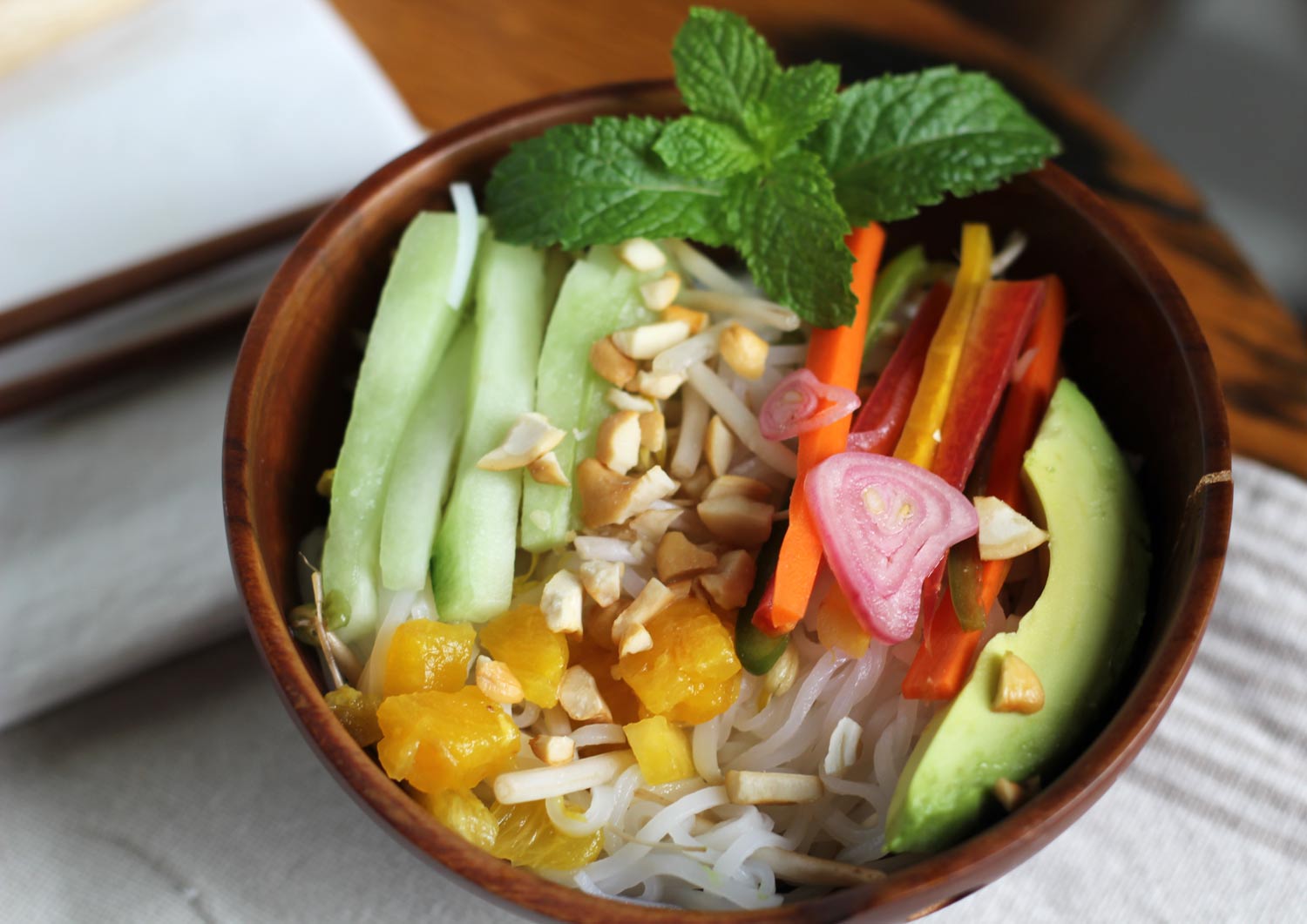 Vietnamese Noodle Salad
2015-08-05 06:30:44
For the pickles
3/4 cup rice vinegar
1/2 cup water
3 tablespoons honey
2 teaspoons kosher salt
1 " piece of ginger, minced
1 shallot, thinly sliced
1 jalapeno, julienned
2/3 cup julienned carrots
1/2 cup julienned jicama
For the sauce
1 tablespoon lime juice
1 tablespoon fish sauce
1 tablespoon water
2 teaspoons coconut sugar
1 garlic clove, minced
2-3 Thai bird's eye chiles, thinly sliced
For the salad
1/2 pound rice stick noodles
1/2 teaspoon olive oil
2 cups bean sprouts
1/2 cucumber, sliced
1 avocado, sliced
1/2 cup pineapple or mango, diced
1/4 cup crushed roasted cashews
handful of fresh herbs (mint, Thai basil, cilantro)
lime wedges
Make the pickles
Boil the water, vinegar, sugar, salt, and ginger. Reduce the heat and simmer for 5 minutes. Remove from heat and allow to cool slightly.
Pack the shallots, jalapeño, carrots, and jicama in a pint-sized mason jar. Pour the vinegar mixture over the vegetables. Once it has cooled to room temperature, cover and refrigerate.
Make the sauce
Combine the lime juice, fish sauce, and water. Add the coconut sugar and whisk until it dissolves. Stir in the garlic and chiles. Keeps for 1 month.
Make the rice noodles
Cook the rice noodles according to package directions. Rinse with cold water and drain well. Drizzle with the olive oil to keep them from sticking. Toss them with the bean sprouts. Set them aside or refrigerate until you're ready to make the salad.
Make the salad
Combine 1/4 of the noodles and bean sprouts with 1 tablespoon sauce. Top with 1- 2 tablespoons pickles, a few slices of cucumber and avocado, 2 tablespoons pineapple, and 1 tablespoon cashews. Garnish with fresh herbs and lime wedges.
Suwannee Rose https://www.suwanneerose.com/