My nieces and I have decided to be real pen pals. Email is a quick and easy way to stay in touch, but they've recently discovered the beauty of a handwritten note by snail mail. These letters are special. Lindsey's are colorful and creative, with adorable drawings that reflect her personality. My latest letter from Rachel included this recipe for mango muffins.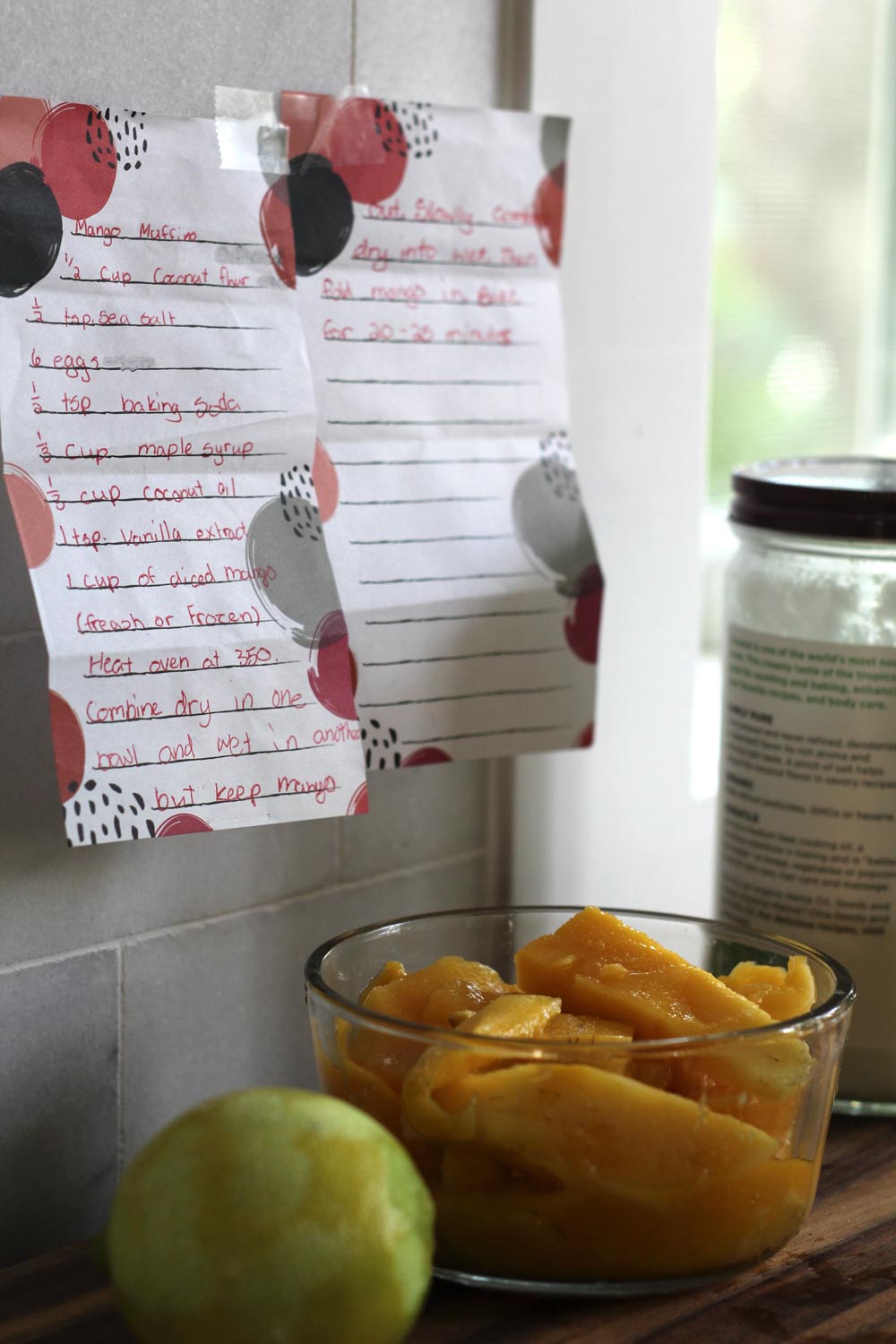 I doubt many 12-year-olds share recipes with their aunts. Rachel has always had grown-up taste. She prefers Thai curry over pizza, and although she doesn't go for sweets, she loves a good mango. Every recipe she shares with me is very healthy (the last one was breakfast quinoa), so I wasn't surprised by the ingredients in these mango muffins. They're made with coconut flour so they're gluten-free, and they're sweetened naturally with mango and maple syrup.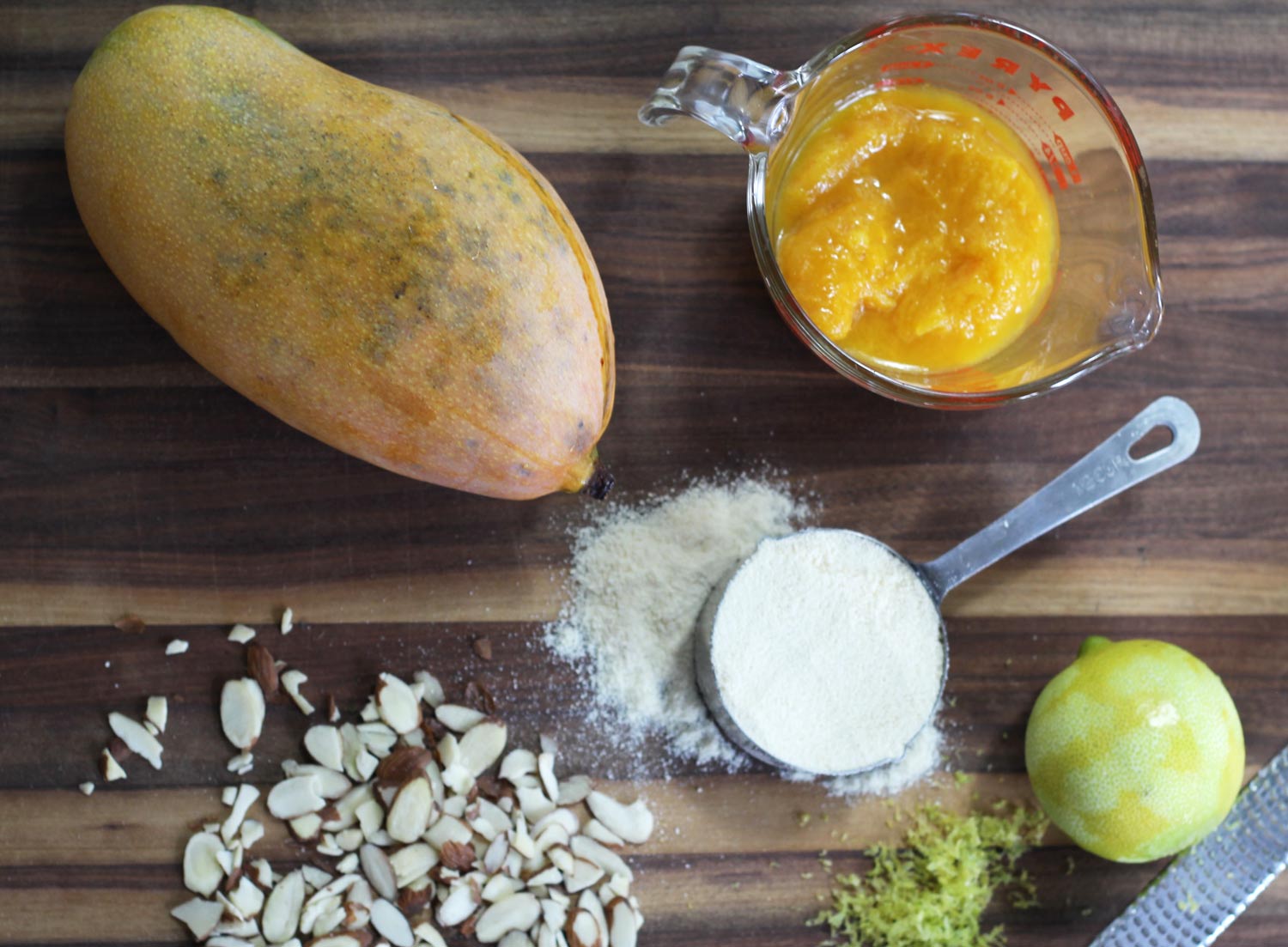 This recipe came just in time. I have a couple mangos left in the fridge.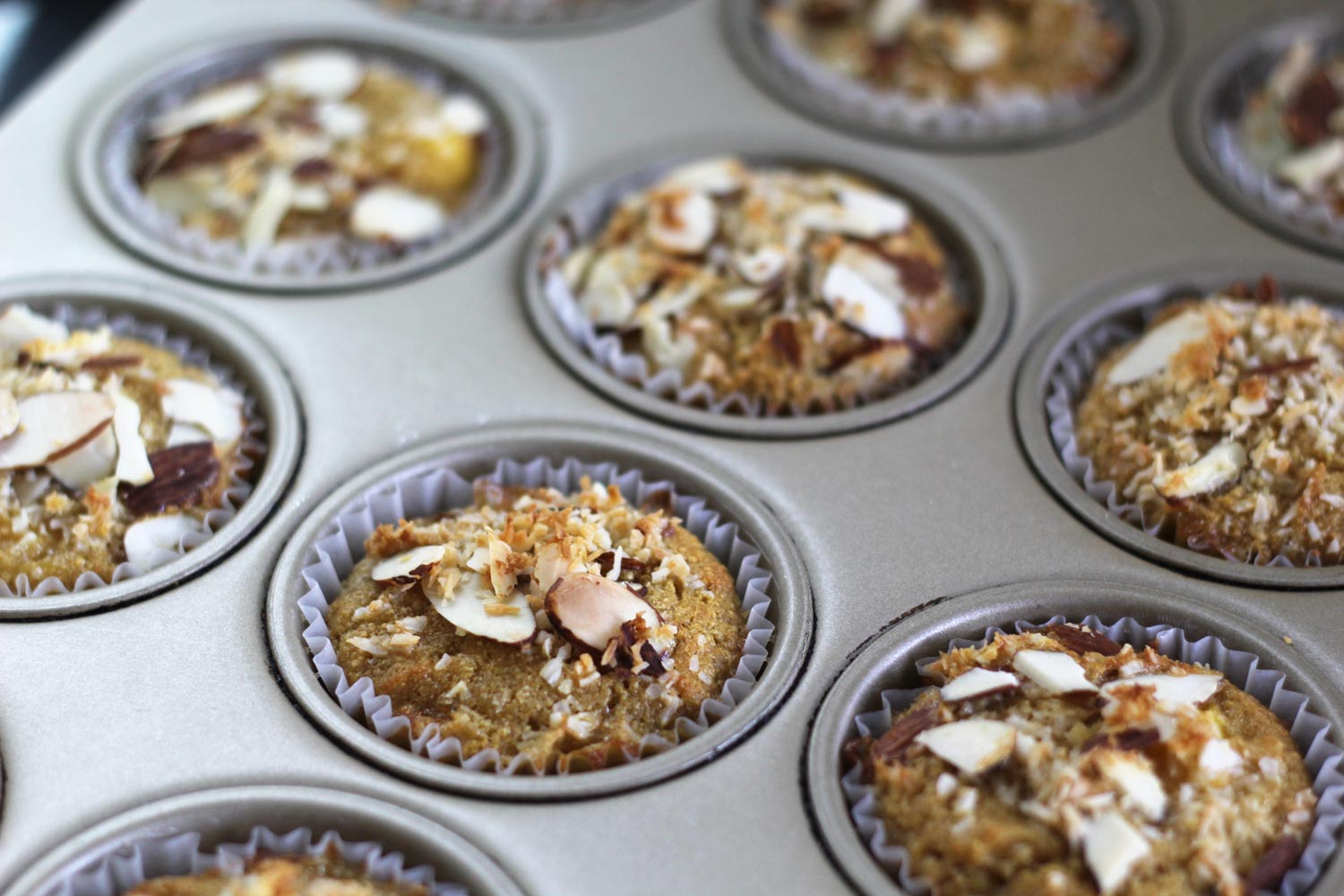 I'm savoring them because I'm never quite ready to say goodbye to mango season. These muffins are worthy. They don't have that typical muffin texture. They're more like little tropical sponge cakes with smooth, sweet bites of mango. They've got toasty coconut and crunchy almonds on top, plus a drizzle of coconut-lime glaze.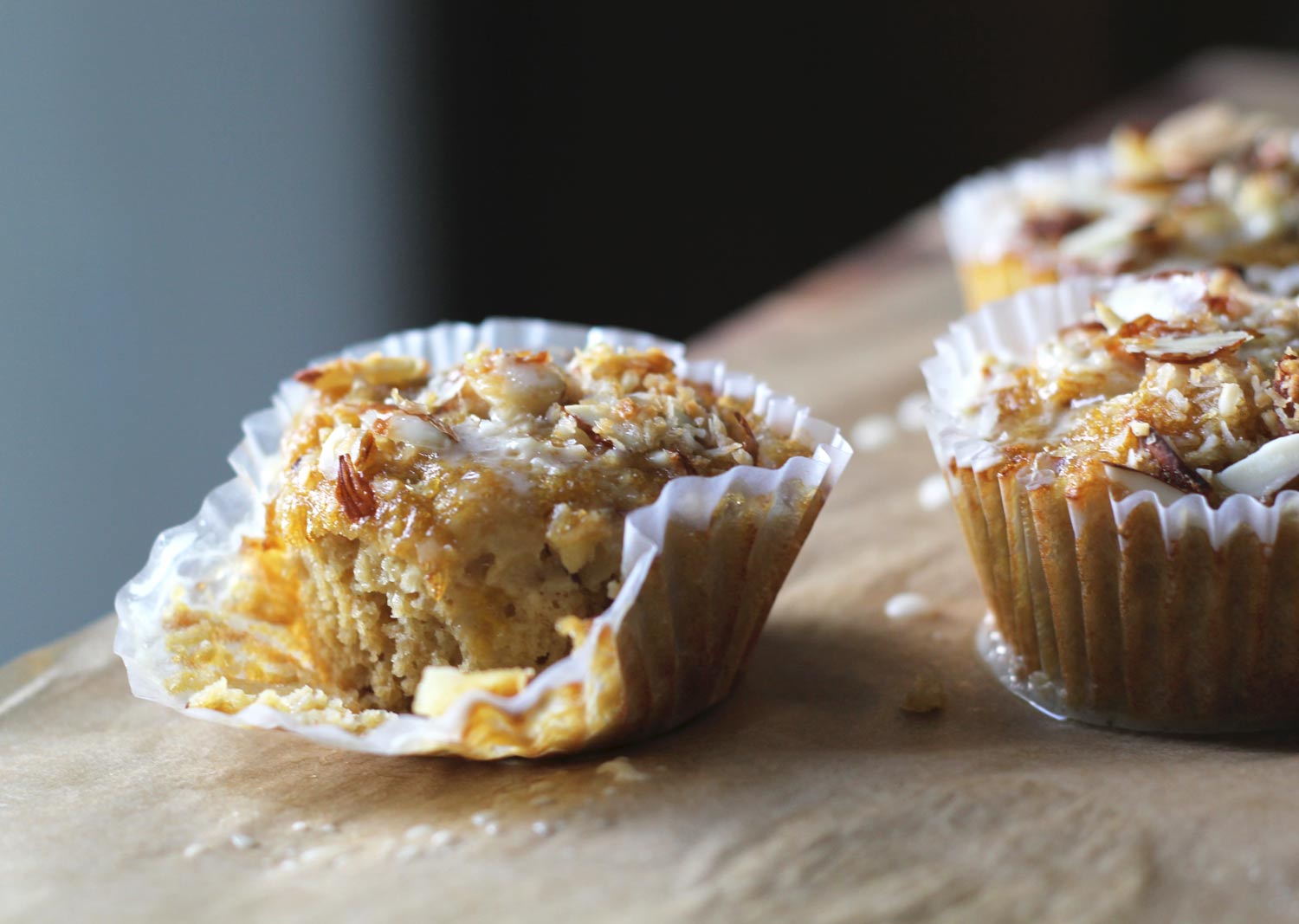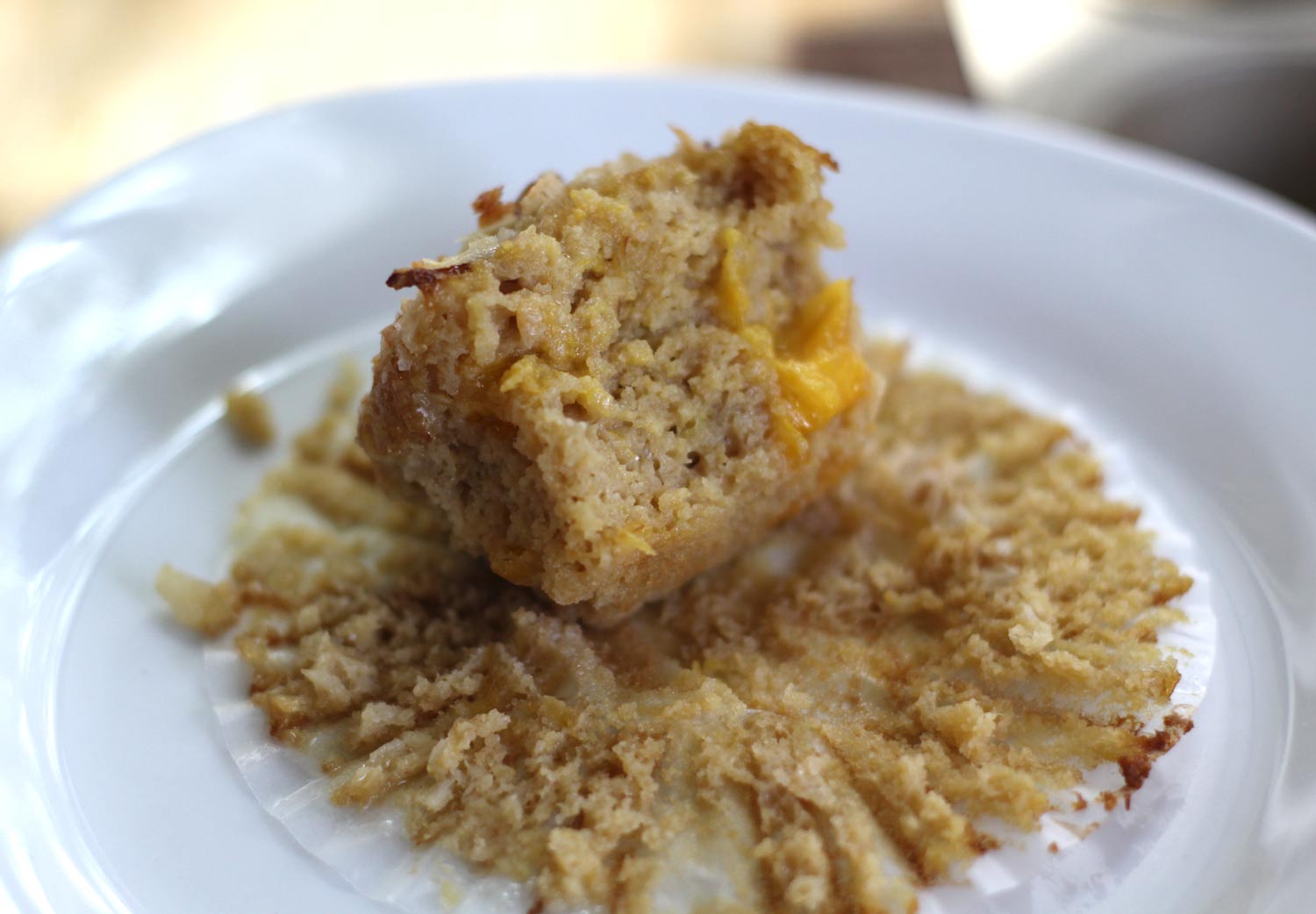 This is a good treat to mark the end of mango season. I'm already working on recipes for next year.
Rachel's Mango Muffins
2015-09-23 08:18:36
Ingredients
1/2 cup coconut flour
1/2 teaspoon fine sea salt
1/2 teaspoon baking soda
1/2 teaspoon baking powder
1/2 teaspoon lime zest
1/2 cup mango chunks, pureed
4 eggs, room temperature
1/3 cup coconut oil, room temperature*
1/3 cup maple syrup
1 teaspoon vanilla extract
1 cup diced mango
1 1/2 tablespoons sliced almonds
1 1/2 tablespoons unsweetened shredded coconut
For the Coconut Lime Glaze (optional)
1 tablespoon coconut oil, room temperature
1 tablespoon maple syrup
1 tablespoon coconut milk
1 teaspoon lime juice
1/2 teaspoon lime zest
Instructions
Heat the oven to 350. Line a muffin pan with paper liners or grease with butter or coconut oil.
In a medium bowl, whisk the coconut flour, salt, baking soda, baking powder, and lime zest with a fork.
In a large bowl, whisk the mango puree, eggs, coconut oil, maple syrup, and vanilla.
Slowly add the dry ingredients into the wet ingredients. Fold in the diced mango.
Divide the batter evenly among the muffin cups.
Sprinkle the almonds and coconut over the tops.
Bake for 23-28 minutes, or until a toothpick comes out clean. Allow them to cool in the pan for 10 minutes. Remove from the pan and allow them to cool completely.
Stir together the glaze ingredients and drizzle over the top.
Notes
*Coconut oil needs to be very soft or liquid. If it's solid, warm it and allow it to cool before adding. It's best if all the ingredients are room temperature. Anything cold will harden the coconut oil and make it more difficult to combine.
Suwannee Rose https://www.suwanneerose.com/