We pass miles of neighborhoods on our way to the Florida Keys, and I think everyone's got a papaya tree in their backyard. Maybe they just stand out to me because they tower high above the fences and rooftops with big, snowflake-shaped leaves and rows of fruit.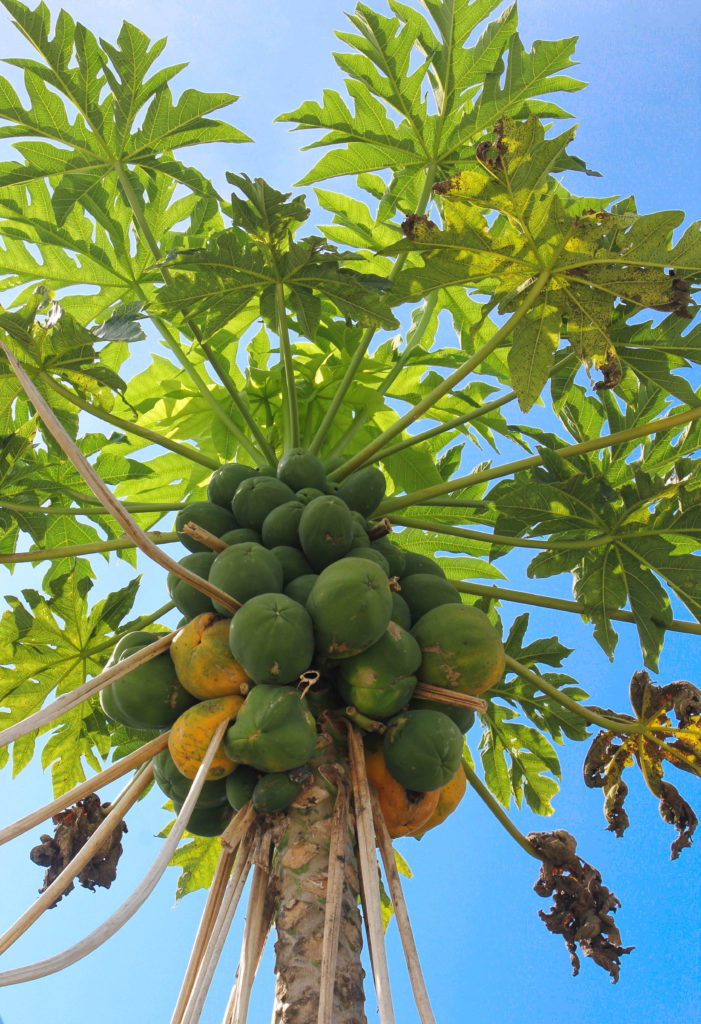 We've had dozens of our own trees over the years. Any unripe papaya works in Thai green papaya salad, and we love it enough to grow them just for that. Unfortunately, most of them were bland once they were ripe. A friend gave us some from Hawaii, and that changed everything. Now if we let them ripen on the tree we're rewarded with super sweet fruit, as long as we manage to pick them before critters do.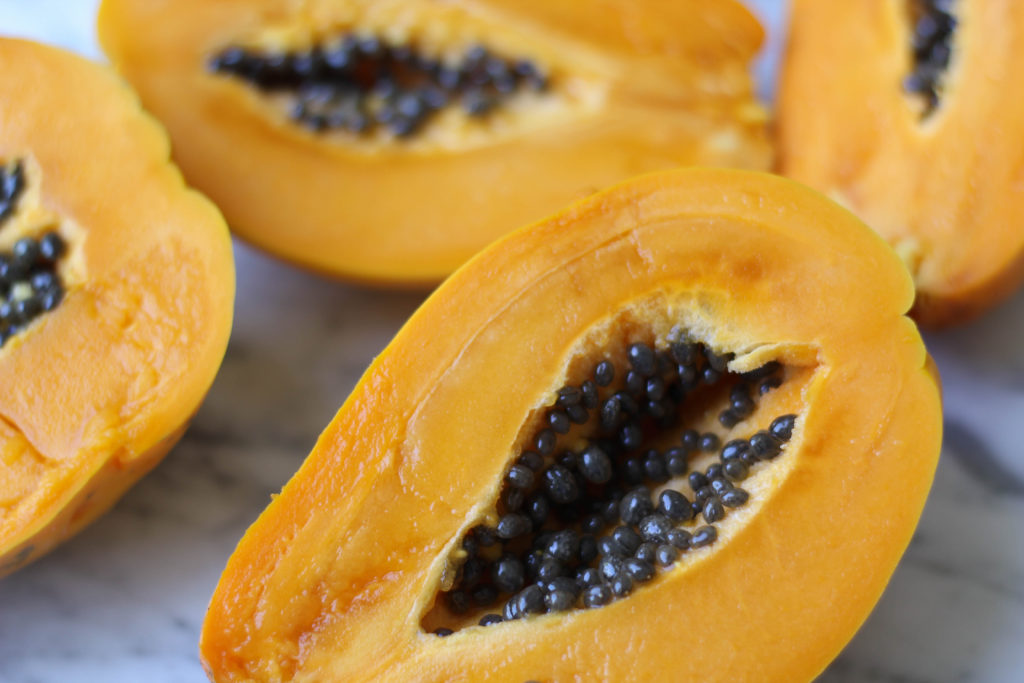 If you find a papaya you like, go ahead and plant those seeds! Unlike most fruit trees, papayas grow and bear fruit from seed quickly. They don't live long, but you'll likely have new ones sprout beneath the old tree. Once they flower, use this guide to determine what you have. Cut down any male trees. Those will never bear fruit.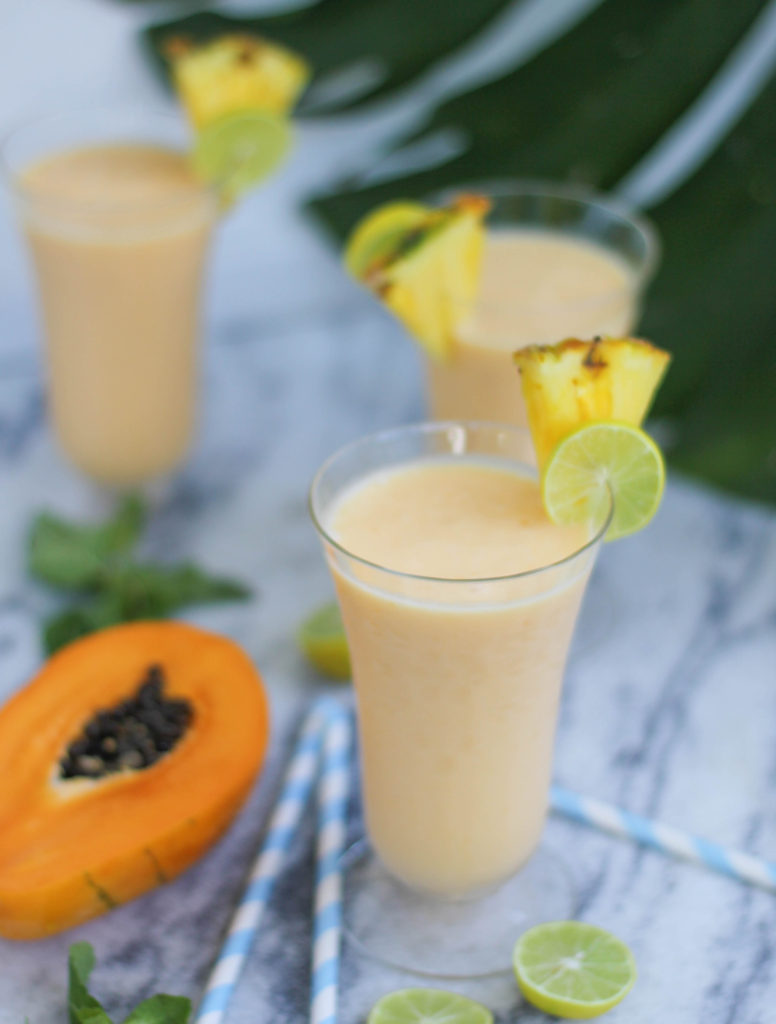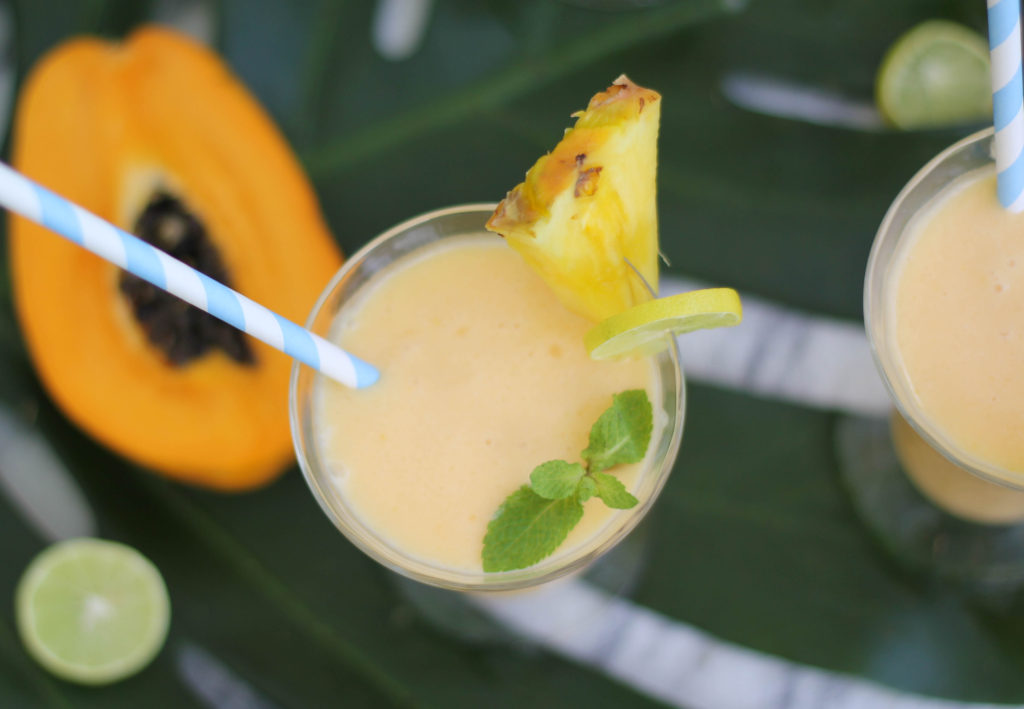 Papayas are great in smoothies and even better in frozen rum drinks. This papaya colada is a twist on my mom's decadent, nap-inducing piña coladas. It's a smooth blend of coconut, papaya, pineapple, and key lime juice, along with plenty of rum, and it tastes like tropical paradise.
Papaya Coladas
2016-04-13 09:01:48
Ingredients
1 1/2 cups cold or frozen papaya chunks
1 1/2 cups rum*
1 can Coco Lopez cream of coconut
1 cup fresh or canned pineapple juice**
juice of 1 key lime
3 cups ice
optional garnishes: lime wheels, pineapple wedges, mint leaves, umbrellas
Instructions
Combine papaya, rum, cream of coconut, pineapple juice, and key lime juice in a blender. Top it off with ice. Blend until smooth. Serves 8.
Notes
*Mom uses Cruzan Aged Light Rum
**Make fresh pineapple juice by blending 2 cups of pineapple chunks in a blender until liquified, then strain through a sieve.
Suwannee Rose https://www.suwanneerose.com/