Cooking and eating whole fish is revered all around the world… except here. Americans are taught to fear bones and favor fish that looks and tastes like chicken. No reminders of what we're actually eating, no scales or fins, and definitely no eyeballs on our plates.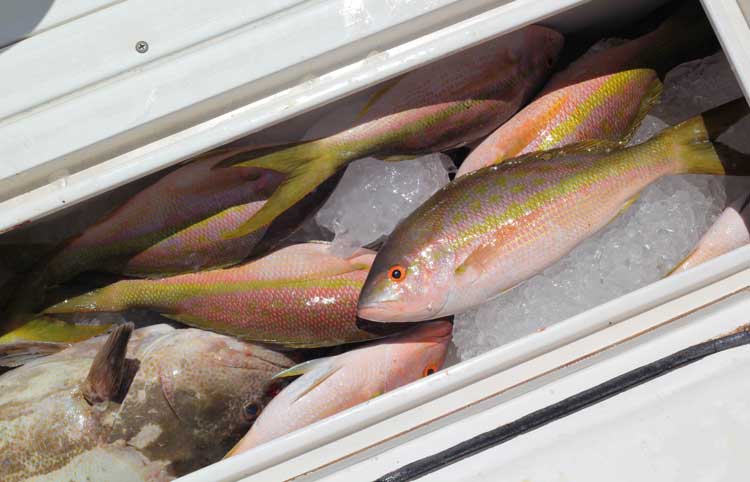 Because of this, we're missing out on some of the best fish on the planet. Whole fish recipes utilize fish that are smaller, more sustainable, and often less expensive.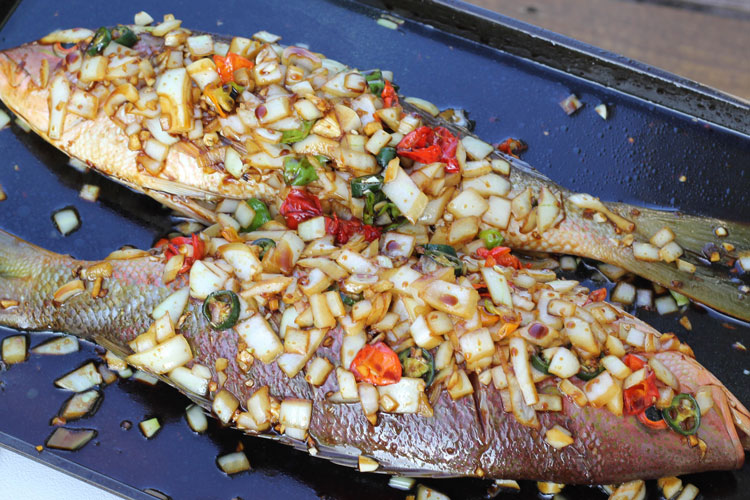 When cooked whole, the bones and skin retain heat and the fish is infused with moisture. It has a sweet taste and pillowy texture you won't experience in a fish fillet.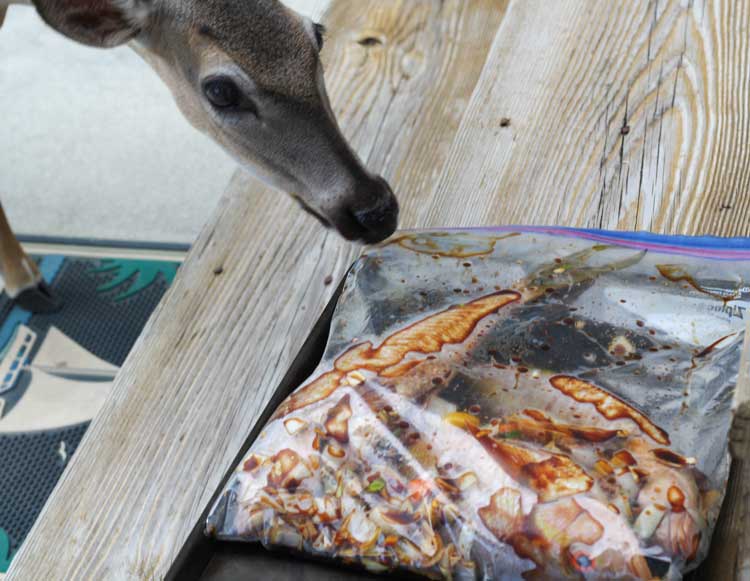 (As you can see, key deer like whole fish recipes, too. I was supposed to be guarding it. Sorry, Mom.)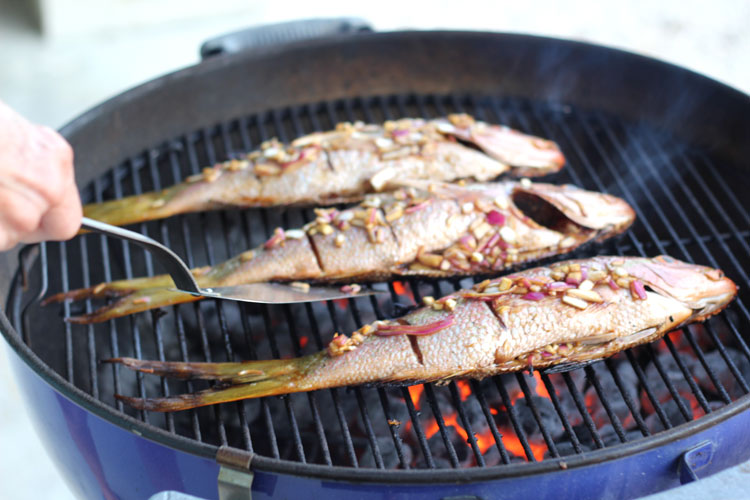 My favorite hails from Indonesia by way of my stepdad, Mark. He's been traveling to Bali for decades, returning with sauces and cooking methods that have been woven into our family favorites. Ikan bakar is a classic Indonesian fish recipe that translates to "burned fish" or, Mark says more literally "cremated fish." It's fish marinated in kecap manis (pronounced ketchup mah-nees), a sweet soy sauce made with palm sugar, then grilled over a very hot fire until the outside is charred.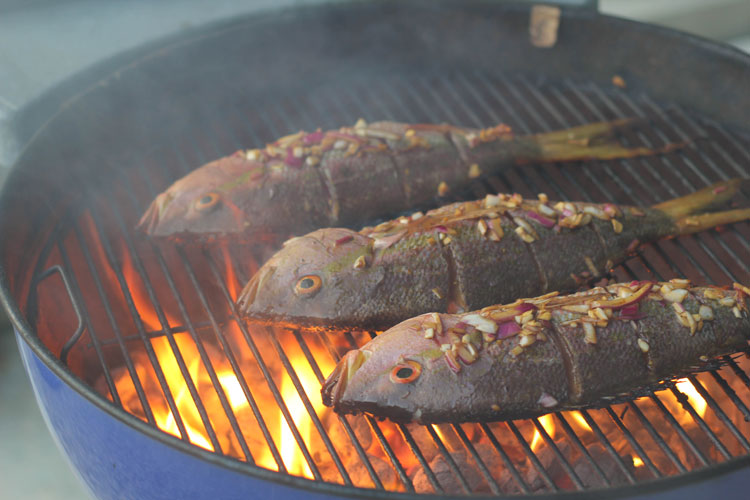 I might have been squeamish about eating this the first time I tried it. Ikan bakar, cremated fish? But that disappeared with my first bite. The crackly skin is like potato chips. The fillets inside are so soft. Each bite is infused with the aromatic marinade. Now I say it dreamily, ikan bakar…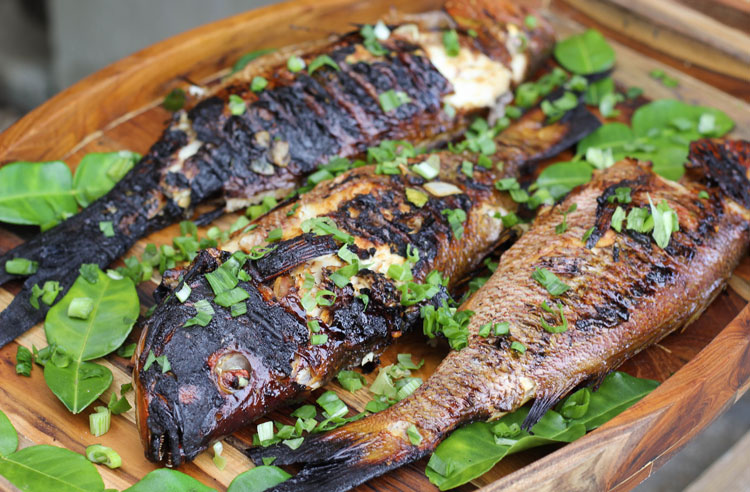 To serve and eat, gently slice just below the top fin and remove it along with any bones. Slice around the rest of the top fillet and gently lift it away from the backbone using a spatula. Now take the tail and lift it to remove the whole backbone in one piece, revealing the bottom fillet. Don't flip the fish over, that's bad luck and is said to make your boat capsize.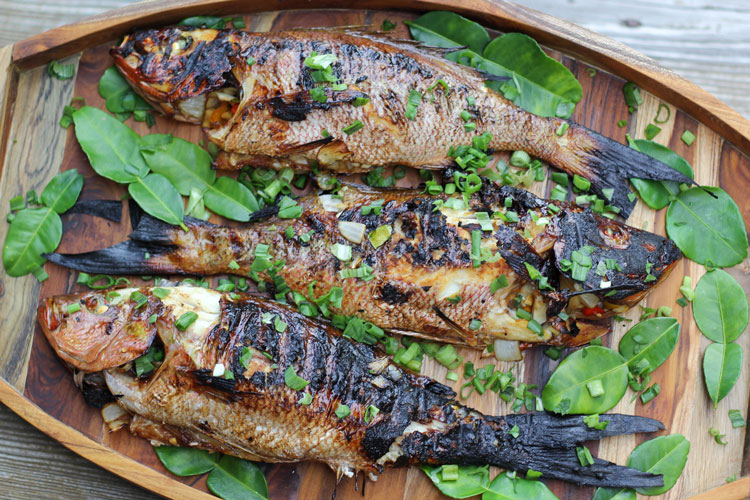 Ikan Bakar
2016-05-28 07:39:20
Ingredients
3 whole yellowtail snapper (about 1.25 pounds each), gutted and scaled
1 1/2 cups kecap manis or other sweet soy sauce
1 1/2 cups grapeseed oil
1 large Vidalia onion, diced
3 hot chile peppers, sliced
2 tablespoons minced ginger
1 tablespoon minced garlic
3 kaffir lime leaves, stems removed, sliced
additional grapeseed oil for the grill
garnish with sliced green onions or fresh herbs, if desired
Instructions
Rinse the fish and pat them dry. Place them in a large shallow pan or a 2-gallon ziplock bag.
Combine the kecap manis, grapeseed oil, onion, peppers, ginger, garlic, and kaffir lime in a large bowl. Pour over the fish. Make sure plenty of the marinade goes inside the cavities of the fish.
Refrigerate it for about 30 minutes.
Prepare a charcoal grill with a hot fire and make sure the grates are scraped clean.
Pour grapeseed oil into a small bowl. Fold a paper towel into a 2-inch square. Using tongs, dip the paper towel into the grapeseed oil and wipe over the grill grates. Repeat this 3-4 times to season the grill.
Place the fish on the grill and cook for 4 minutes. Once the edges start to get charred, use a spatula to gently lift underneath the fish. If the fish will not lift off of the grates easily, it's not ready to flip. I like using two spatulas to flip it, one to slide underneath the fish, and the other to guide it over. Grill on the other side for 4 minutes. Once the edges are completely charred and you can easily slip a skewer through the thickest part of the body, the fish is done.
Garnish with green onions or herbs. Serve with rice, kecap manis, and sambal.
Suwannee Rose https://www.suwanneerose.com/