This summer we had our best crop of pineapples ever.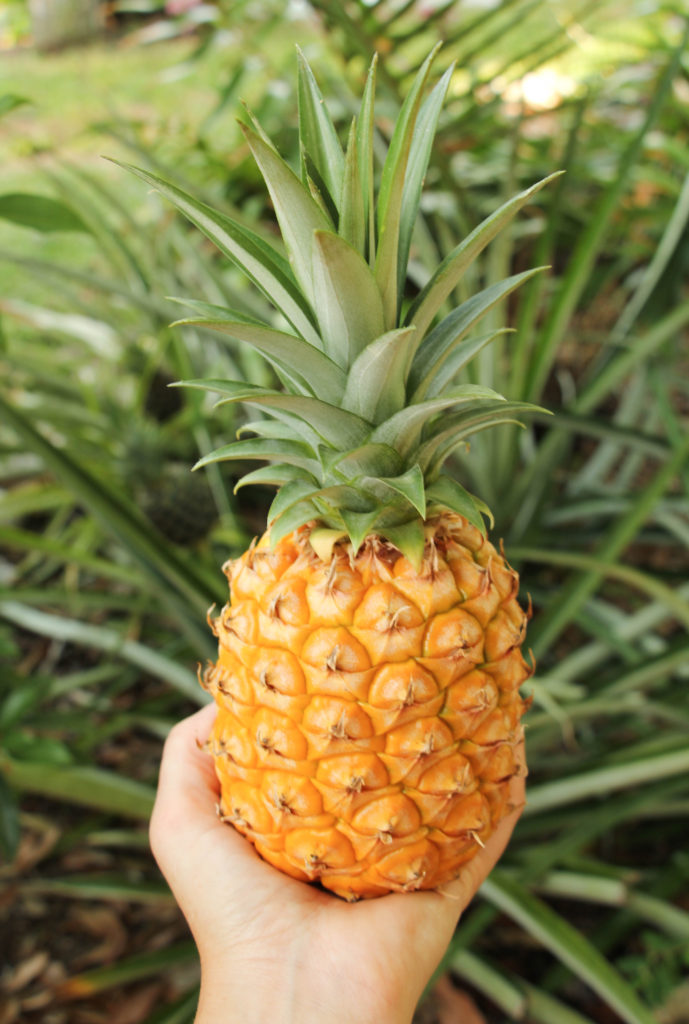 I watched them all winter, emerging as little flowers inside the bromeliads, painted in all these funky colors.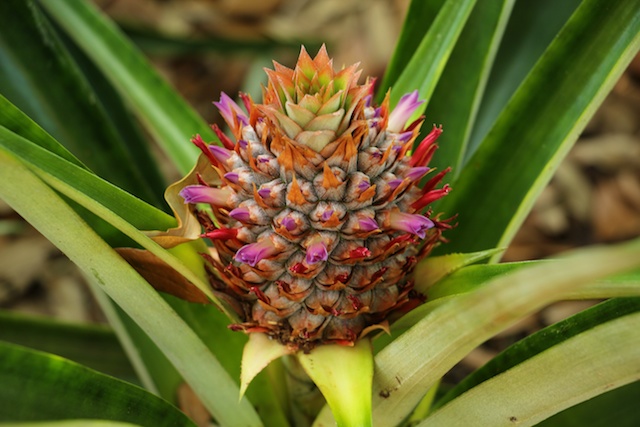 The colors faded as they grew tall, silvery crowns. I was so excited to pick the first one. I love leaving them on the counter for as long as possible, partly so they turn perfectly golden yellow, and partly because I want to admire this beautiful fruit. Eventually the whole house smells like a sweet pineapple. It's no wonder this fruit has become a symbol of hospitality around the world.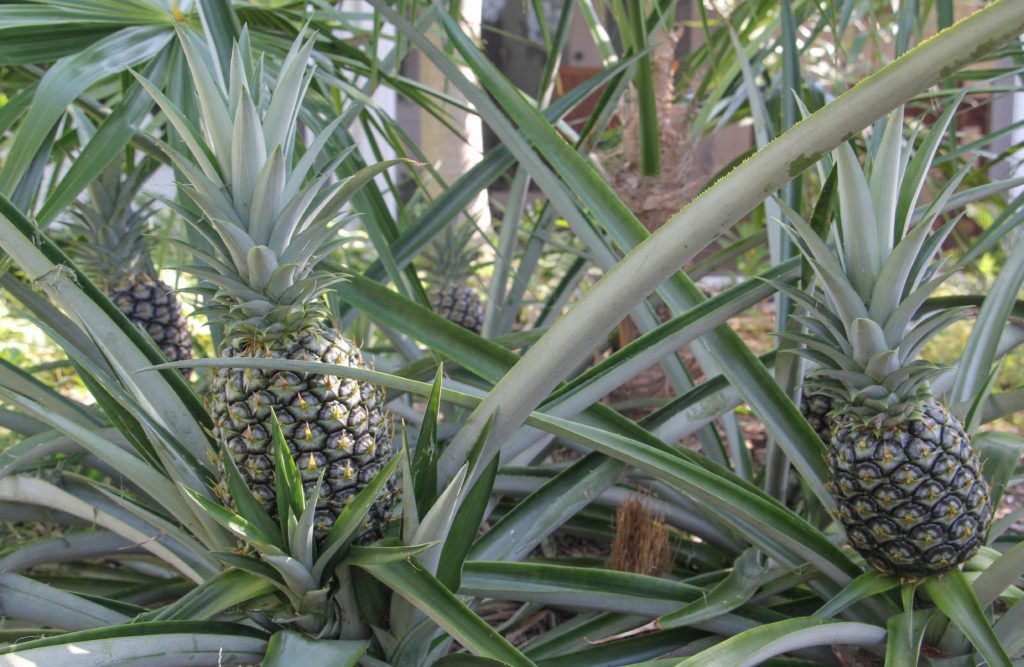 There are lots of stories of how the pineapple came to represent "welcome." My favorite legend goes back to colonial New England, when sea captains would sail the Caribbean and return home with fruit, spices, and rum. To announce his return, a captain would spear a pineapple on his fence post. It was an invitation for visitors to come and share his loot and listen to stories about his voyage.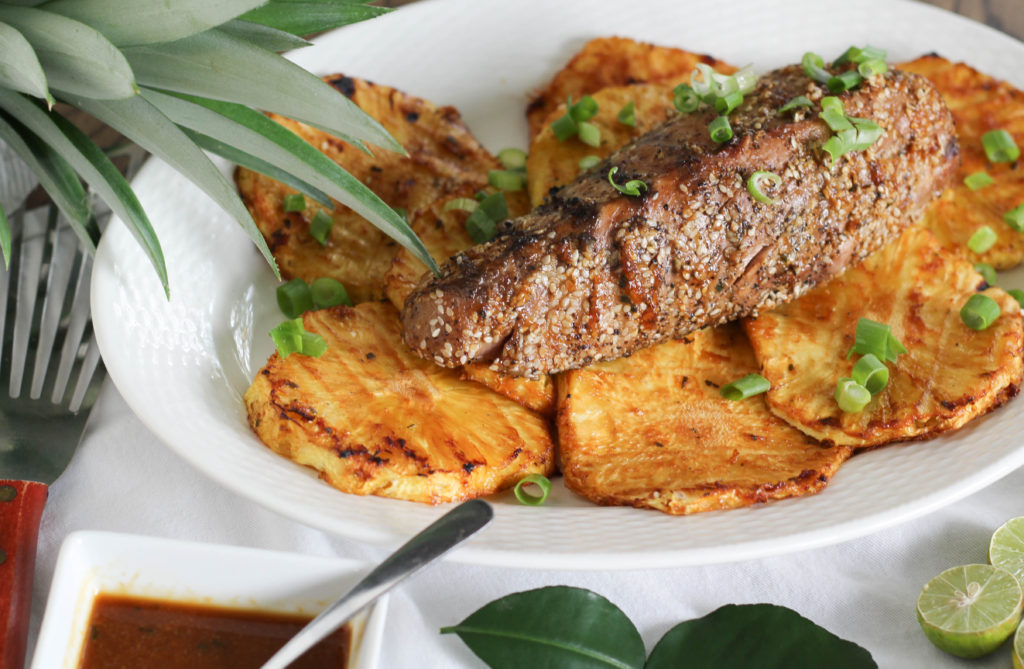 Fitting, then, to grill pineapples alongside blackfin tuna, caught by my favorite captain.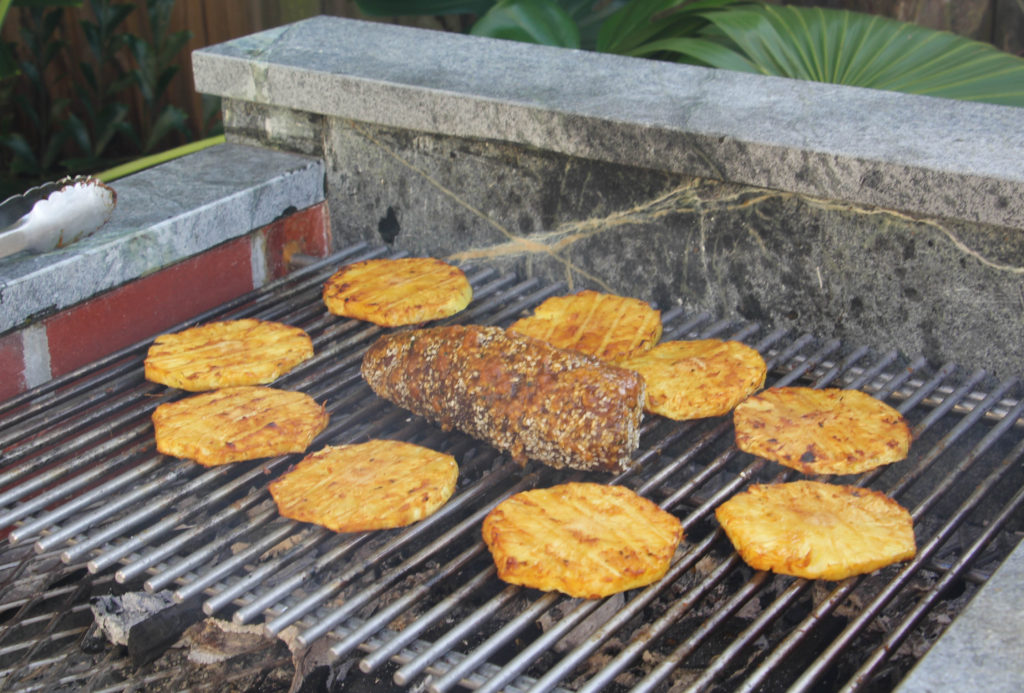 These homegrown babies are sweet and tender right through, so I don't bother removing the core (but if you're using a store-bought one, definitely remove that fibrous center). Hot off the grill, they're bursting with concentrated sweet-tart flavor. They're a perfect match for bold, steaky blackfin tuna. There's even more pineapple blended into the glaze, along with kaffir lime (a pineapple love match), tamari, and sesame oil.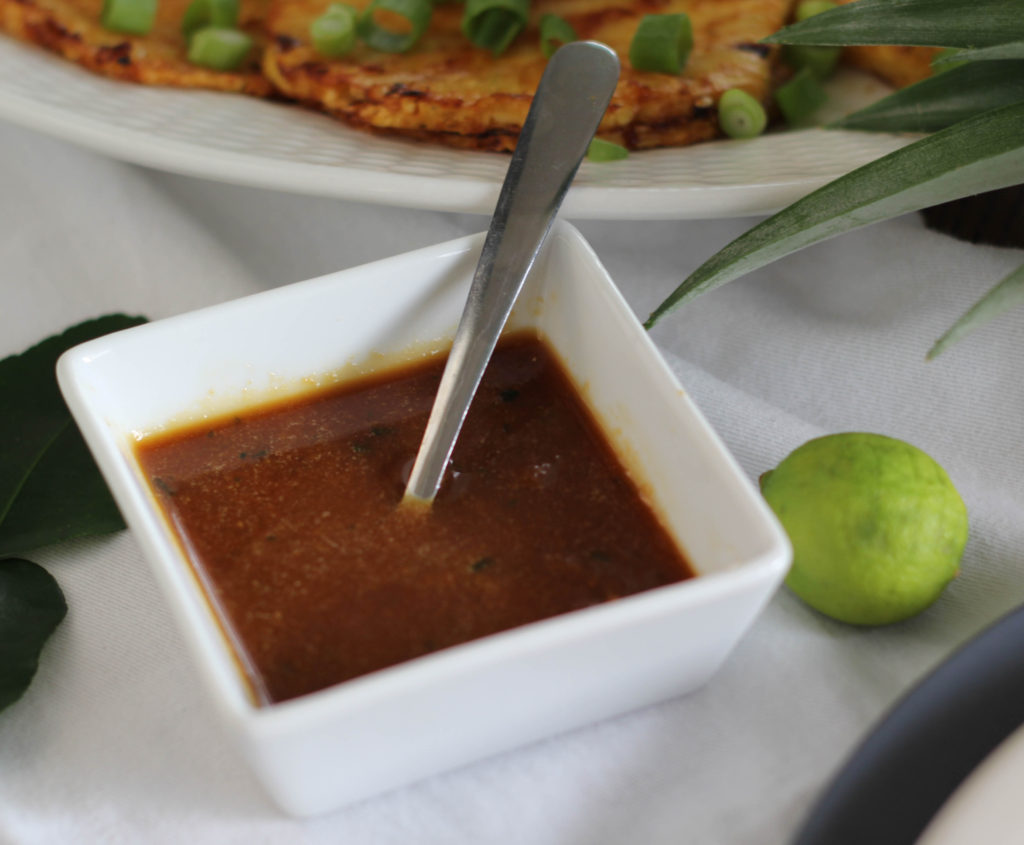 Spear a pineapple on your fence post and invite your friends for this feast.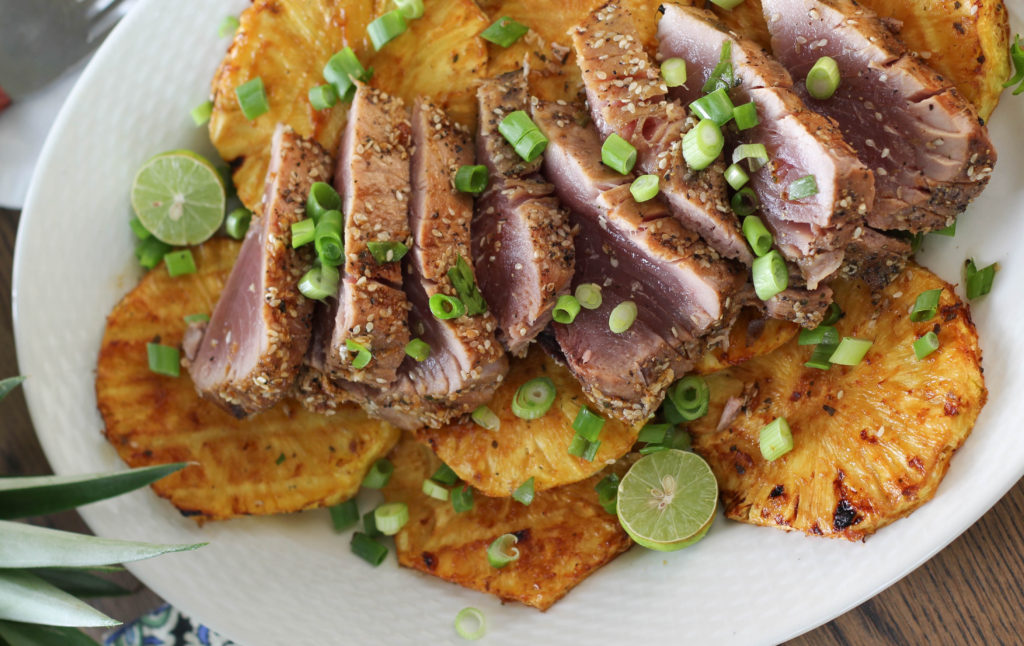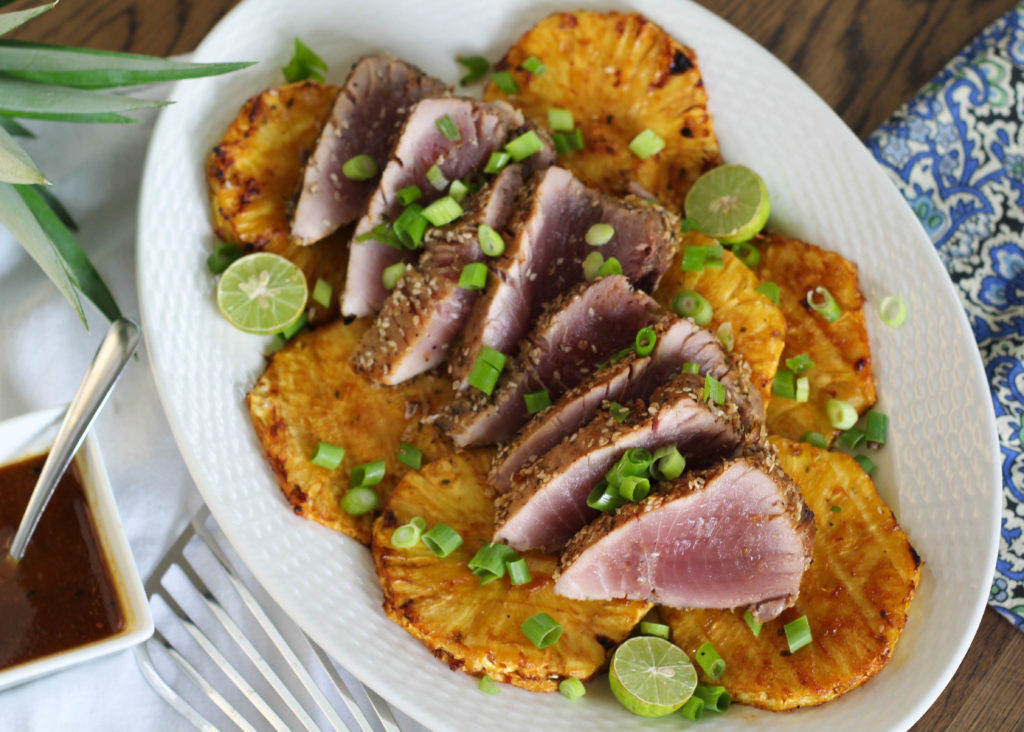 Sesame Grilled Blackfin Tuna & Pineapple
2016-08-29 10:14:33
Ingredients
1 pound blackfin tuna loin (or tuna steaks)
8 pineapple slices, about 1/2-inch thick
2 tablespoons high-heat oil (grapeseed, canola)
Sesame Rub
1/4 cup sesame seeds
1 tablespoon black sesame seeds
1 1/2 teaspoons freshly ground black pepper
1 teaspoon kosher salt
Pineapple Lime Glaze
1/4 cup tamari
1 cup diced pineapple
1 teaspoon minced ginger
2 garlic cloves
1/2 teaspoon sesame oil
2 tablespoons honey
1 teaspoon lime juice
1 kaffir lime leaf, stem removed and minced, or the zest of 1 lime
Serve with
2 tablespoons sliced scallions
jasmine rice
Prepare the rub
In a dry skillet over medium heat, toast the sesame seeds until they're fragrant and begin to get a little golden color. Remove from heat, add the black sesame seeds, and transfer to a plate. Mix in the salt and pepper.
Dry the fish thoroughly with paper towels. Spread out a large sheet of plastic wrap on the counter.
Roll the fish in the sesame seed rub, pressing into all sides evenly. Move the fish to the plastic wrap and pour all the rest of the sesame seeds over it. Wrap it tightly in plastic wrap and place it in the fridge.
Make the Pineapple Lime Glaze
In a food processor or blender, combine all the ingredients until smooth. Reserve a small dish of it to serve on the table. Place the rest in a dish to bring out to the grill.
Prepare a hot grill. Once hot, scrape it clean with a grill brush or a ball of foil.
Fold a paper towel into a 2" square. Using tongs, dip the paper towel into the oil and rub over the grill grates several times to season them. (save to repeat again later)
First place the pineapple slices on the grill and brush with the glaze. Flip them once the underside looks caramelized. Once the pineapple slices are almost done, move them to a cooler side of the grill and make room for the tuna.
Season the grill with the oiled paper towel again. Place the tuna on the grill. Lightly brush it with the glaze. Grill each side for 1-3 minutes, depending on the thickness of the loin or steak.
Transfer the pineapple to a platter. Top with the tuna. Sprinkle with scallions. Serve with jasmine rice.
Suwannee Rose https://www.suwanneerose.com/