An icebox cake is the ultimate indulgence on a hot summer day. It's an easy, no-bake dessert, and it gives you an excuse to stick your head in the freezer.
These cakes were popular in the 1920s, back when people had those things called iceboxes instead of refrigerators. They're made with layers of fluffy cream and crunchy cookies and sometimes fresh fruit, then chilled in the fridge or freezer. The cookies soften up and it becomes sliceable like a cake, only more melty. Think cake and ice cream after a few minutes on your plate.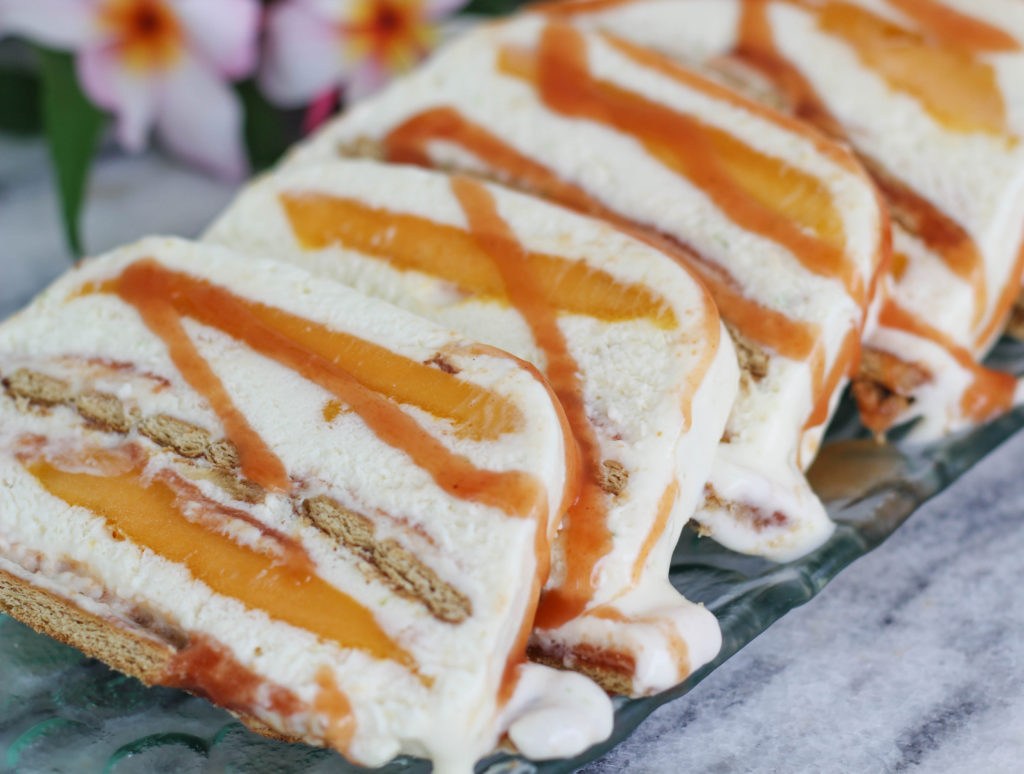 They're making a big comeback this summer. My friend Nicole makes a freeform version with ginger cookies and lemon curd. So pretty.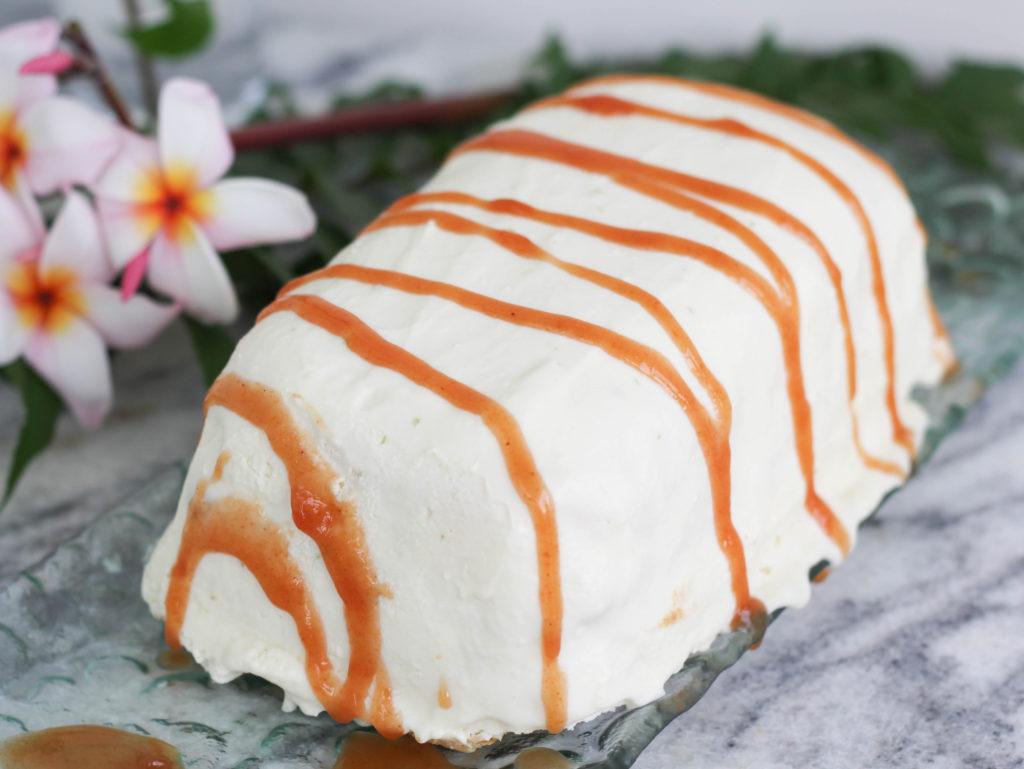 My version has mangos! Surprise, surprise.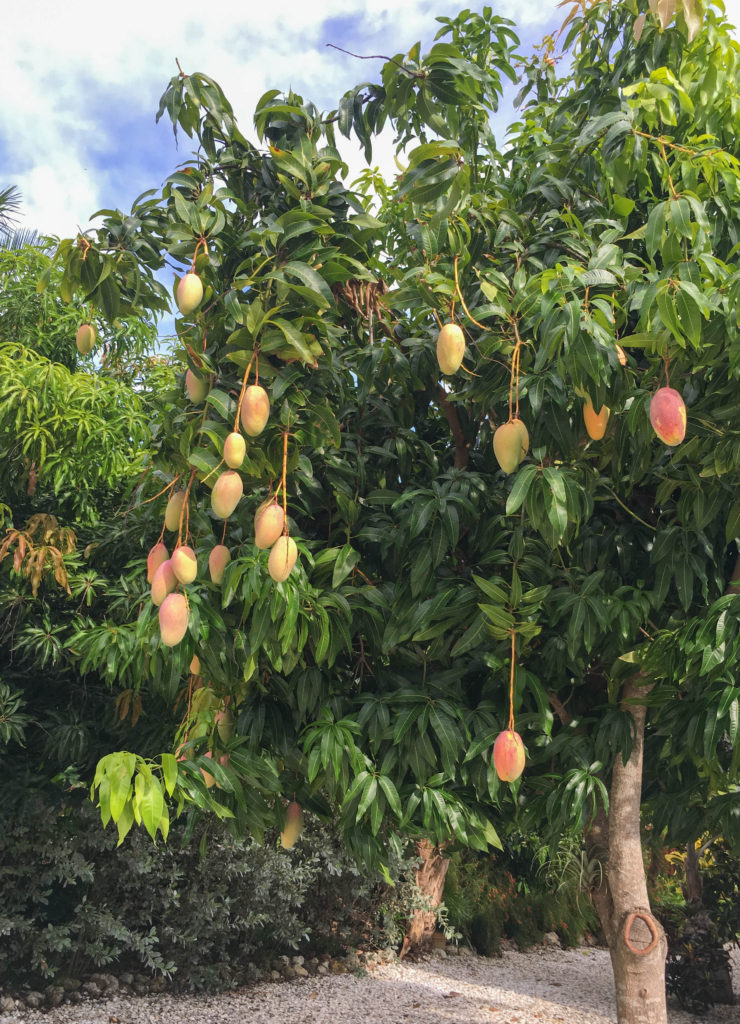 I layer thin slices of them with fluffy coconut-lime cream, cinnamon graham crackers, and my favorite dessert sauce made with guava and rum.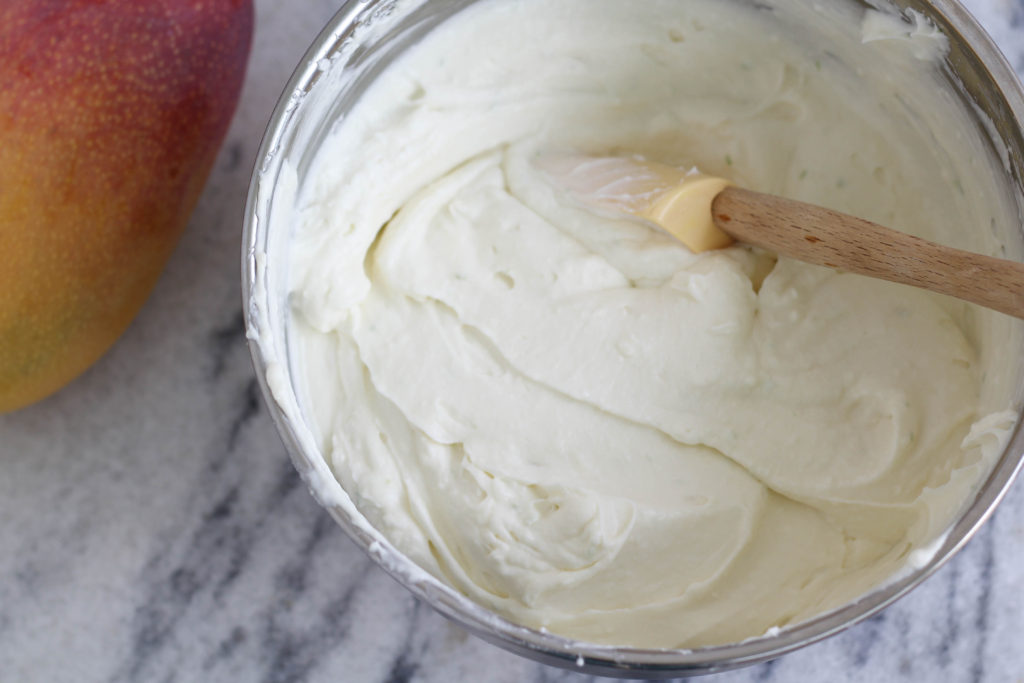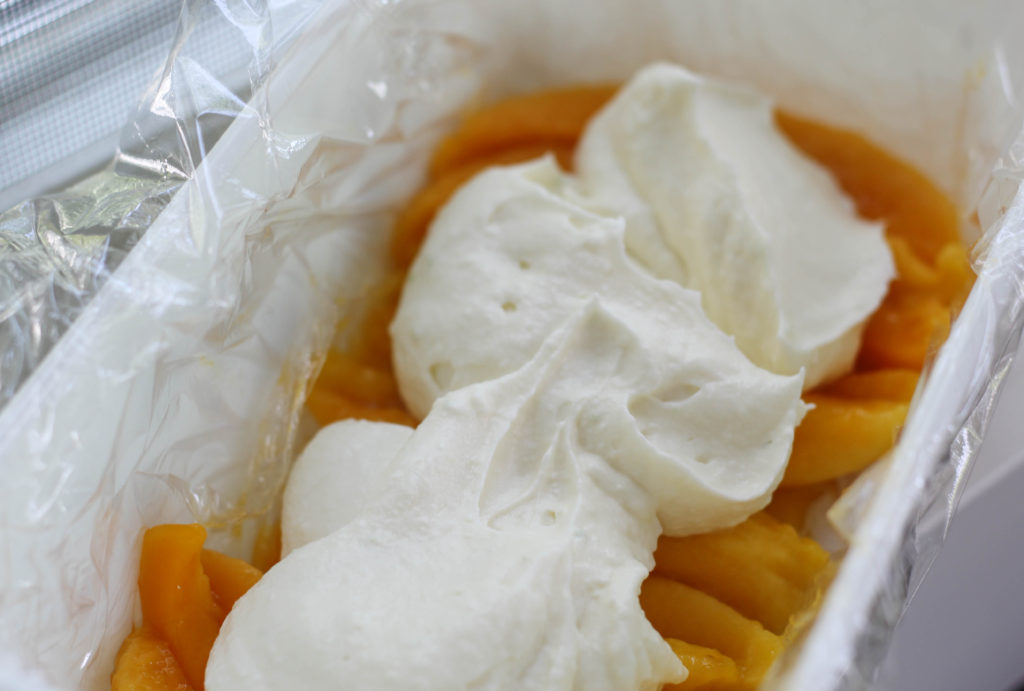 Pop it in the freezer and get a big blast of cold air for yourself. Let it hang out in there for at least 6 hours.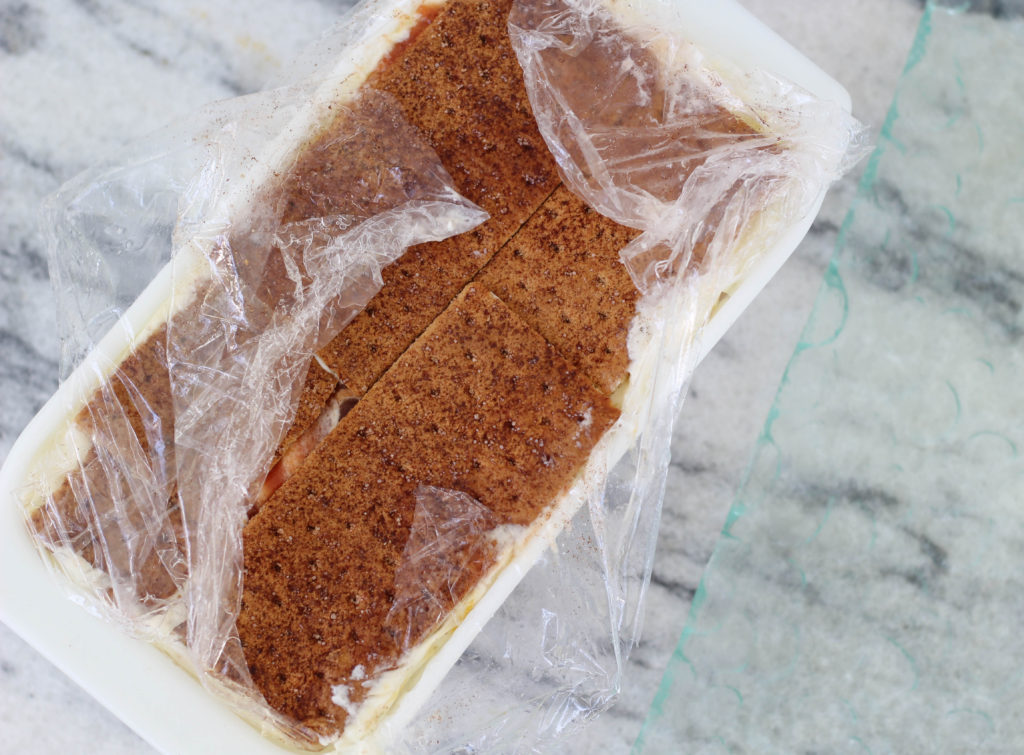 To serve it, flip it upside down and slice it. Top each slice with a dollop of coconut-lime cream and guava sauce. For a "frosted" look, smooth a layer of the coconut-lime cream over the top, let that freeze, then drizzle the guava sauce over the whole cake. Add sprinkles and candles for a summer birthday cake.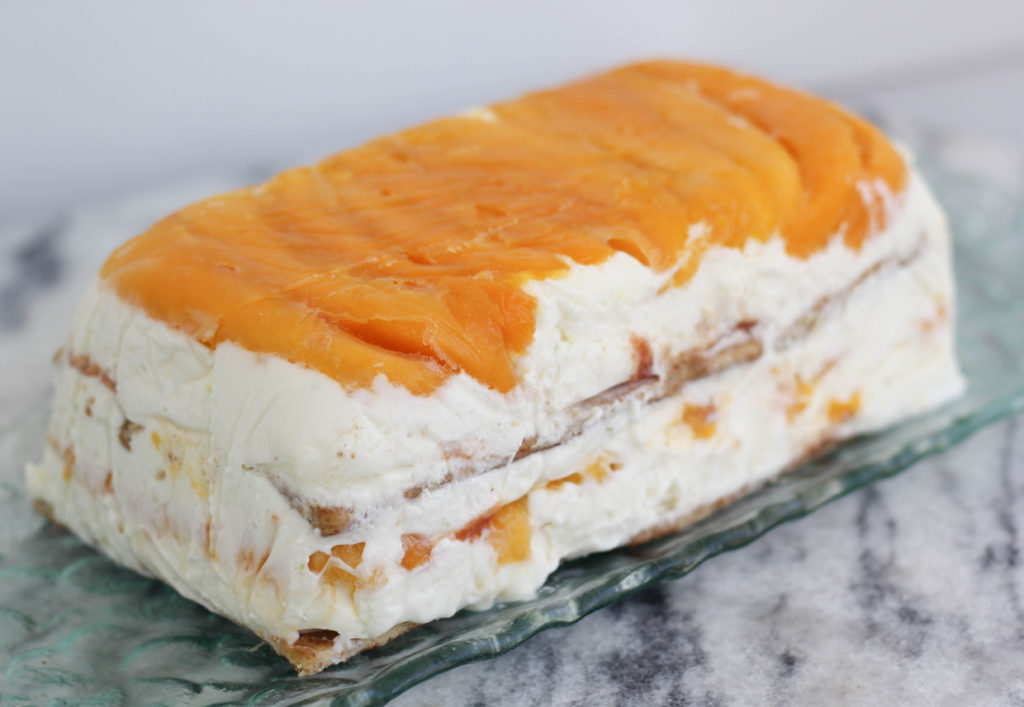 It's a tropical fruit lover's dream.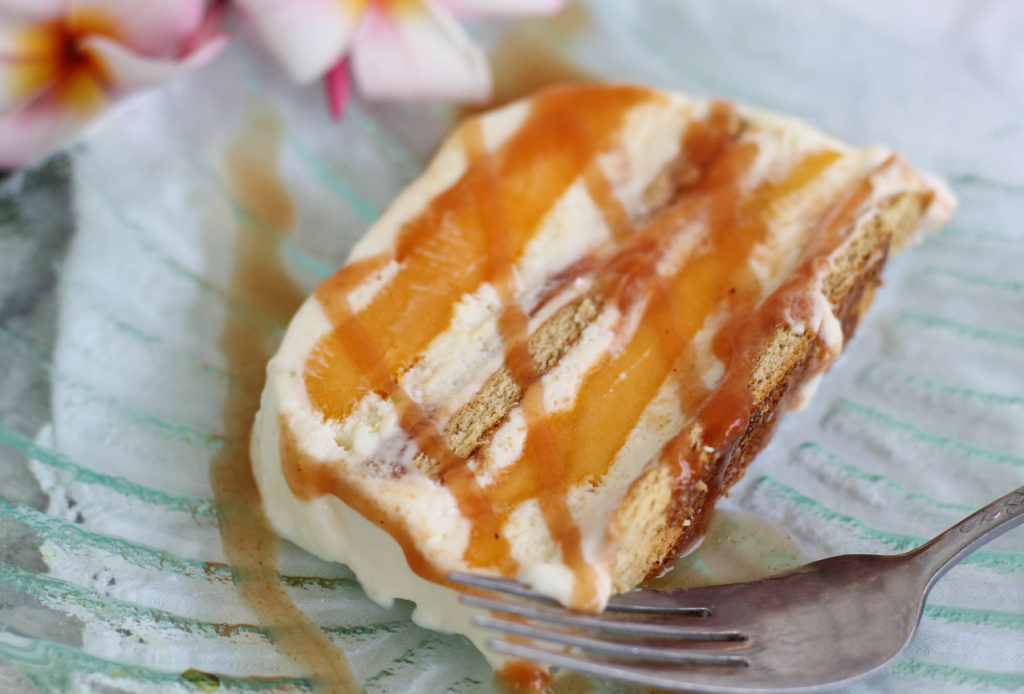 And here's how to make it come true…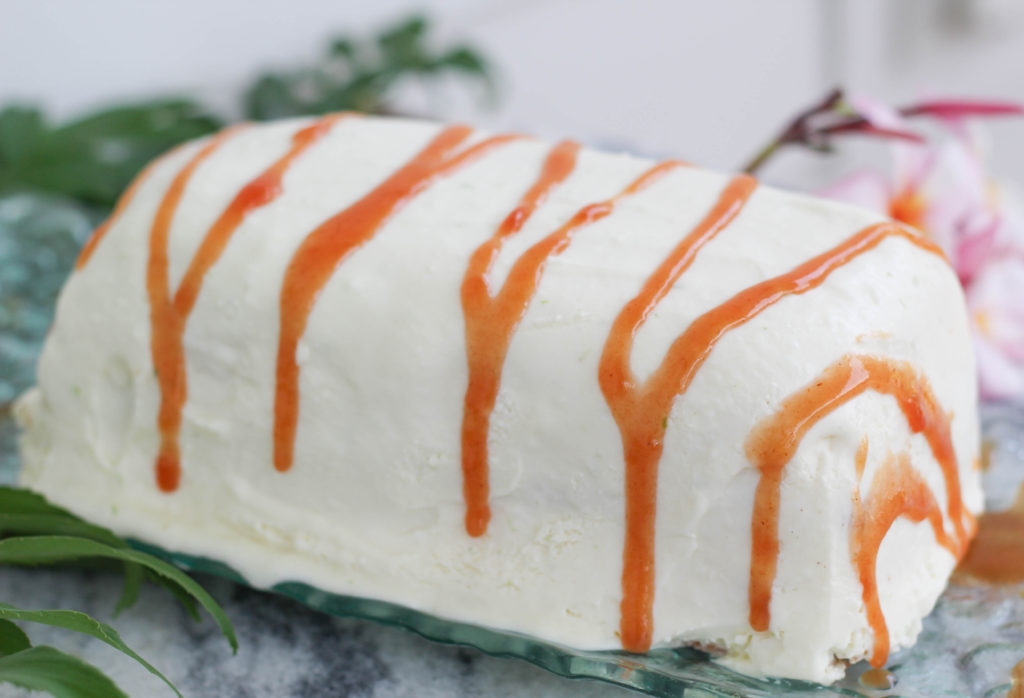 Tropcial Icebox Cake
2016-08-12 16:38:55
Ingredients
2 mangos, thinly sliced
4-5 sheets cinnamon graham crackers
For the Guava Rum Sauce
1/2 cup guava jam
2 tablespoons butter
2 tablespoons rum
1 tablespoon lime juice
2 teaspoons vanilla
For the Coconut-Lime Cream
8-oz. block of cream cheese, room temperature
8.75 (small) can cream of coconut (such as Coco Lopez)
1 teaspoon lime zest
1/2 cup powdered sugar
2 cups heavy cream
2 teaspoons vanilla
Instructions
Line a 9x5" loaf pan with plastic wrap, leaving several inches overhang on all sides.
Place the beaters of your electric mixer and the mixing bowl in the freezer, along with the heavy cream to get them really cold (about 10 minutes or so).
Make the Guava Sauce
In a small saucepan over medium-low, combine all the ingredients until the mixture is smooth. Set aside to cool.
Make the Coconut-Lime Cream
Attach the cold beaters and bowl to the electric mixer. Whip up the cream cheese, cream of coconut, and lime zest on medium-high speed until smooth, then add powdered sugar and continue mixing until fluffy. Reduce the speed to low and slowly add in the cream, increasing the speed to medium as it thickens. Beat until medium peaks form.
Assemble the Cake
Arrange a thin layer of mango slices (from one mango) on the bottom of the pan. Dollop about a cup of coconut cream over the top, then spread evenly with a spatula (you want a half-inch thick layer). Drizzle 1 tablespoon of guava sauce over it and swirl it a bit. Top with a single layer of graham crackers, cutting them to fit as needed. Spread another cup of coconut cream over them, with another tablespoon of guava sauce swirled over it. Arrange the mango slices from the remaining mango over the cream. Top with another cup of coconut cream and another tablespoon of guava sauce, swirled. Finish with a final layer of graham crackers on top.
Fold the overhanging plastic wrap up over the top. Freeze for at least 6 hours.
Cover the remaining cream and guava sauce and store them in the refrigerator.
Once the cake is frozen, allow it to stand at room temperature for a few minutes or run the bottom of the pan under warm water for a few seconds. To unmold it, turn it upside-down on a platter and use the overhanging plastic wrap to help gently turn it out. Peel off the plastic.
**At this point you've got two options. 1. Go ahead and slice and serve the cake, topping each slice with coconut cream and guava sauce. 2. Spread the remaining coconut cream over the entire cake, stick it back in the freezer for at least 30 minutes, then drizzle the whole thing with guava sauce before serving it.
Notes
**Refer to the pictures in the post. It's pretty either way! The second option allows you to decorate a smooth white surface with the guava syrup, sprinkles, or whatever else you'd like. Perfect for a birthday cake!
Suwannee Rose https://www.suwanneerose.com/