Did everybody have a great Thanksgiving weekend? I hope you've scraped those casserole dishes clean and eaten the last slice of pecan pie and the only thing left of your turkey is stock. I'm not a fan of turkey, but I have to admit turkey stock is liquid GOLD. I've got big plans for it when I pick the first of my collards and make a big batch of healthy soup, but I'm getting ahead of myself here.
For now, we're still on this holiday train, so let's continue to indulge! This is the best time of year for decadent appetizers. The ones that might take a little more work than your usual cheese and crackers. Let's make something fried, because nothing says love like little fried nuggets of lobster.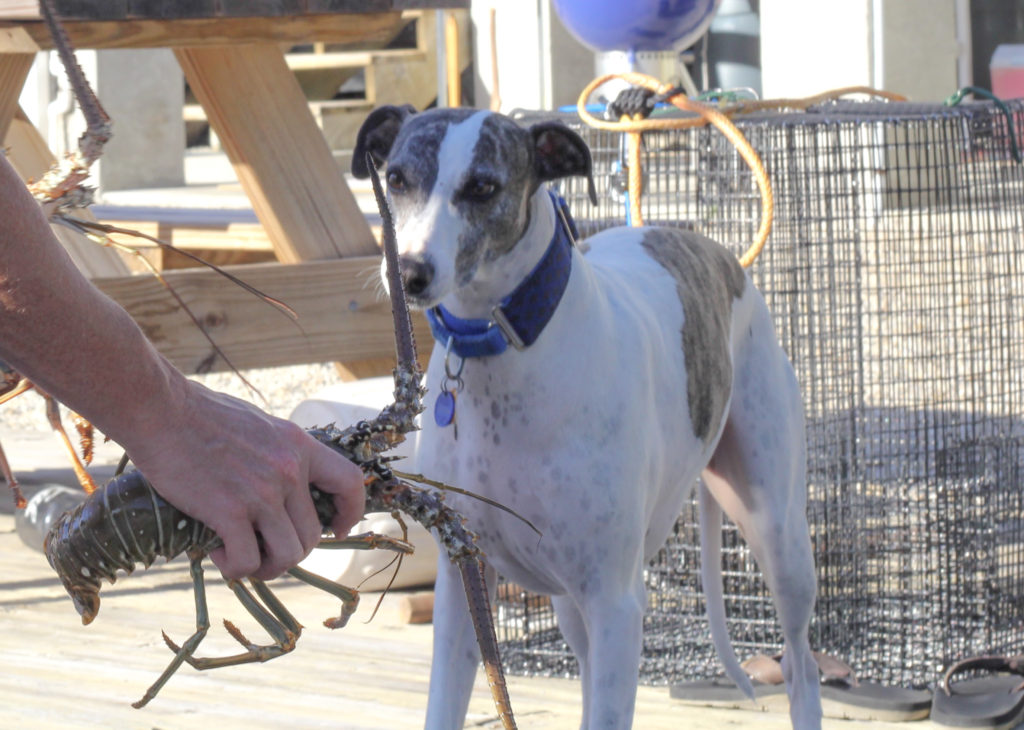 You know back in October when we were hunting for stone crabs? I forgot to mention that we also caught plenty of lobster, and you might have seen my brother catch one in that video. It wasn't our mission, but who's gonna pass up a keeper lobster in season? No one in my family.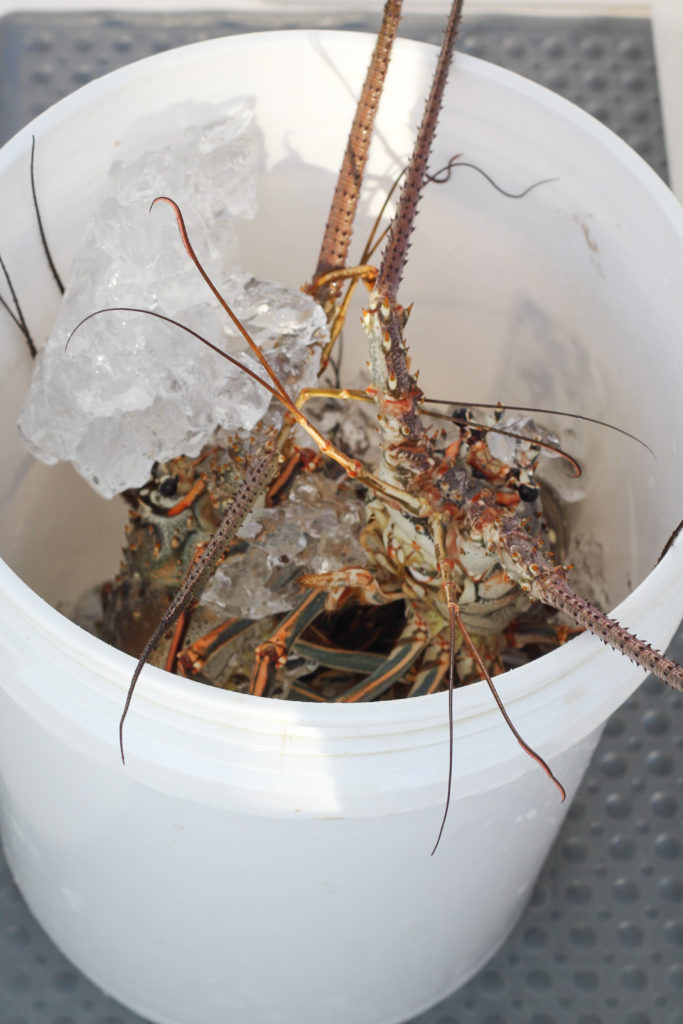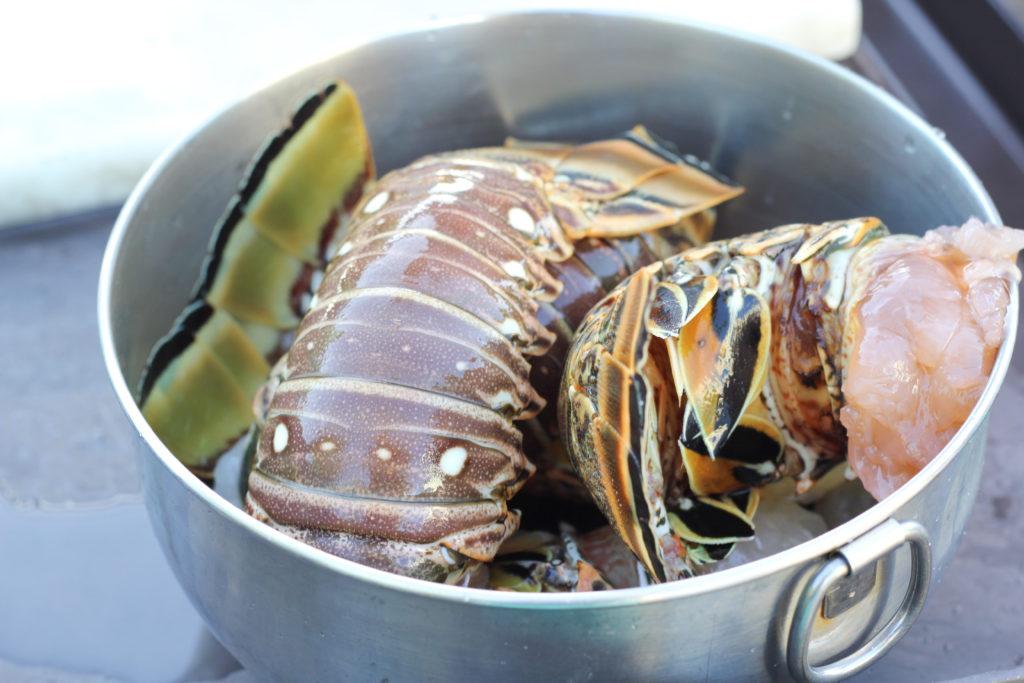 Most of the time we go the easy route: split the tails in half and grill them in the shells like this. They're also delicious broiled, or sautéed and tossed with linguini.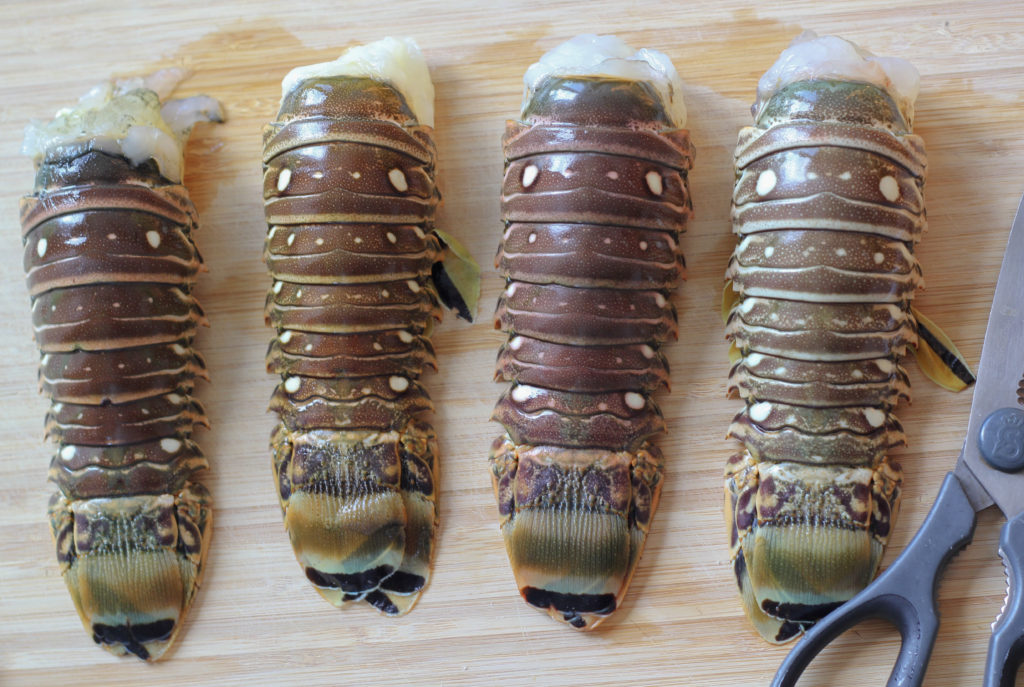 But since it's the holidays, we're cutting up these tails into bite-sized pieces and frying them up!
First, using good kitchen shears, cut the shell vertically and pry out the meat.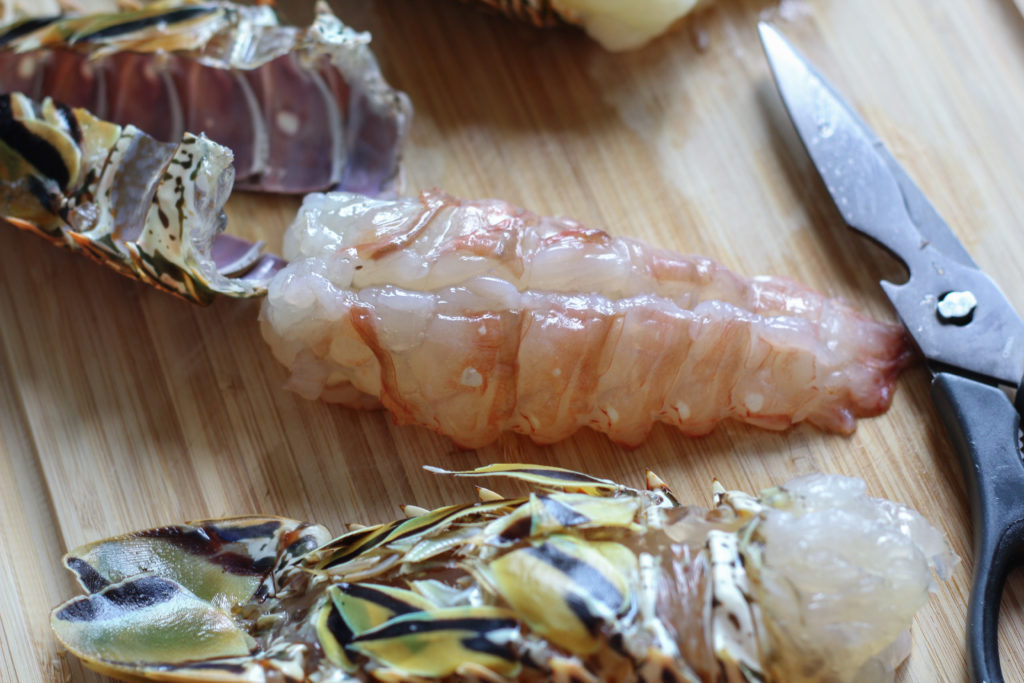 Next slice the tails lengthwise, then across a few times so you have fairly uniform bite-sized pieces.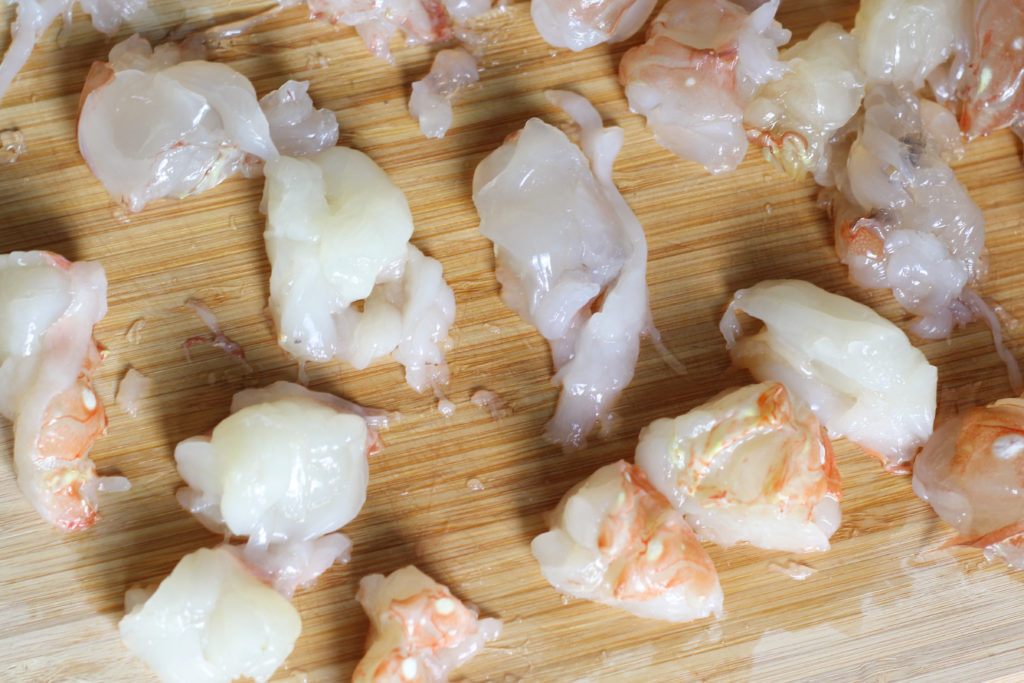 Heat some oil in a cast-iron skillet or Dutch oven or fire up the fry daddy.
While the oil heats, let's make a dip for those little nuggets. I like something with a little acid to help balance out the rich fried lobster. Meyer lemon aioli does the trick. There's fresh garlic in there to make my favorite people happy, and I also sneak in some hot sauce. But I'll be honest with you, If you don't want to get all fancy, cut to the chase: pull out a bottle of Crystal hot sauce and slice up a lemon. That'll do just fine.
When the oil's nice and hot, dredge the lobster bites in a seasoned cornmeal-flour mixture and fry until they're golden and crispy.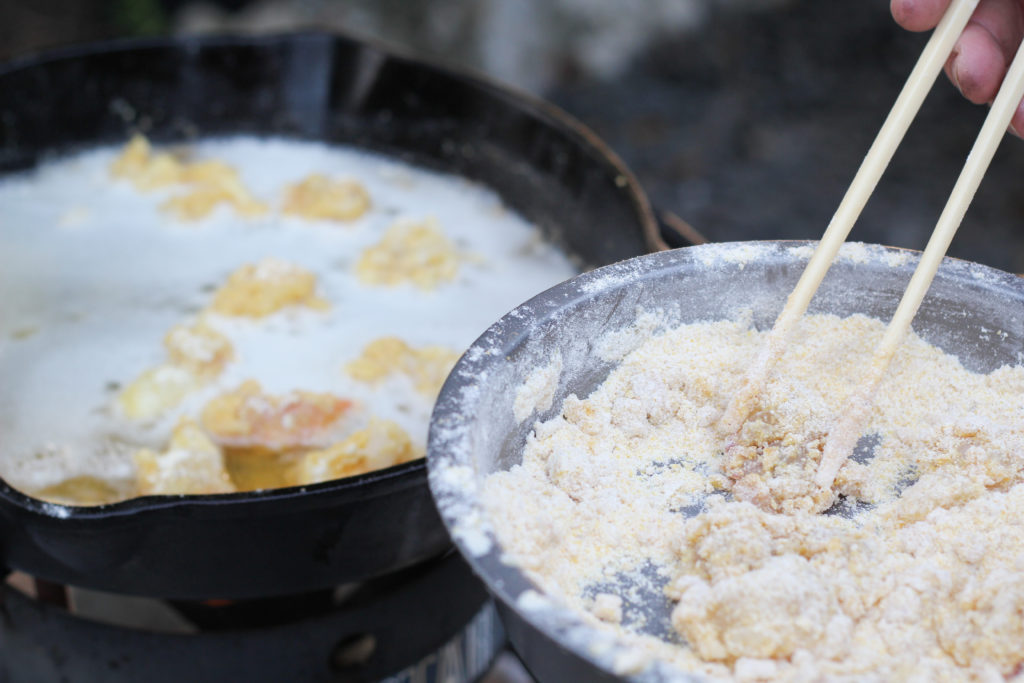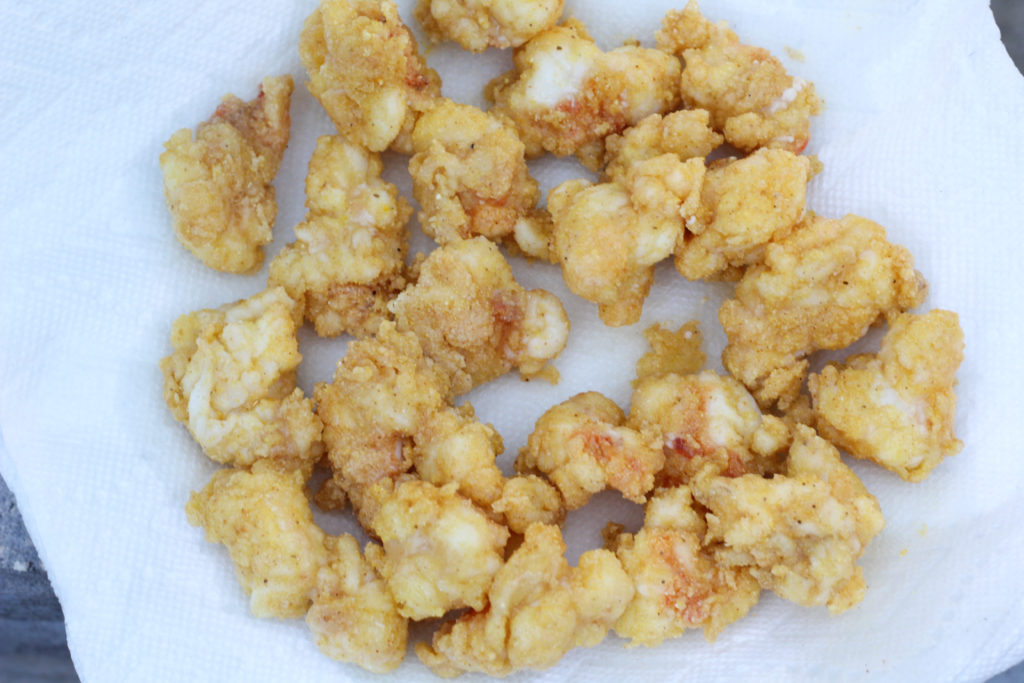 This shouldn't surprise anyone. Even lobster tastes better fried.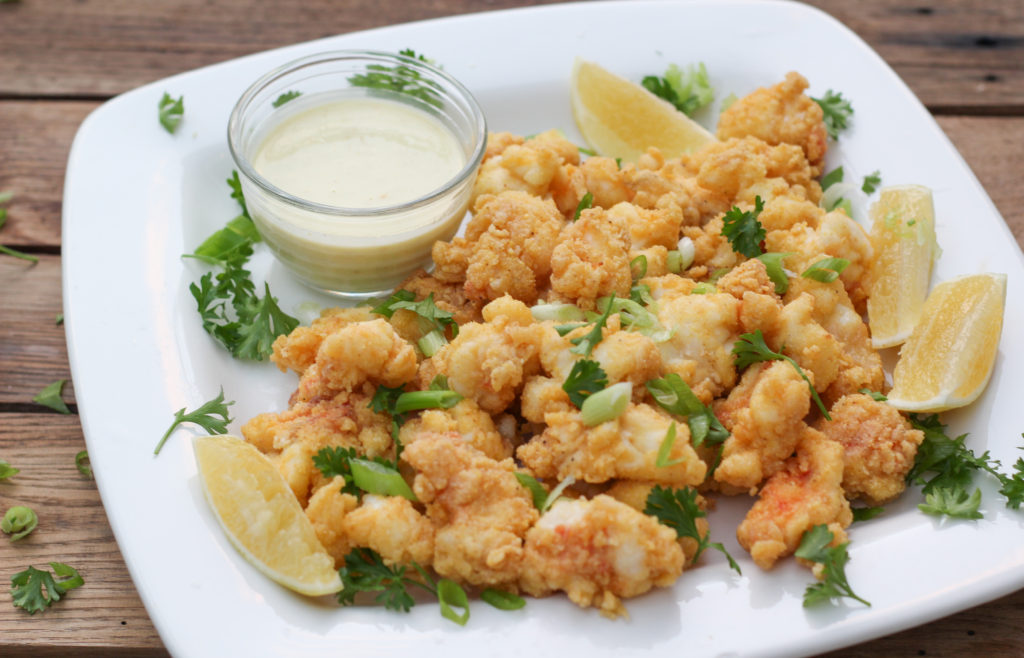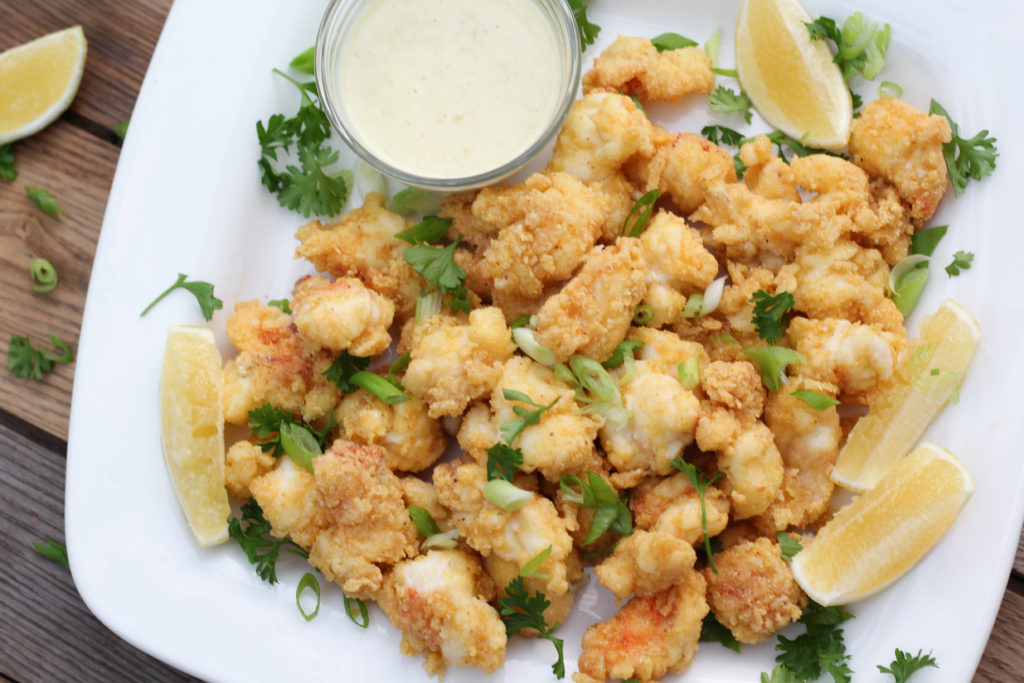 Florida Lobster Bites with Meyer Lemon Aioli
2016-11-27 17:58:09
Ingredients
4 Florida lobster tails
1/2 cup flour
1/2 cup cornmeal
1 teaspoon salt
1 teaspoon garlic powder
1 teaspoon paprika
1 teaspoon onion powder
1/4 teaspoon cayenne
vegetable oil (you'll need a couple inches of oil in the cast iron skillet, a few inches in a Dutch oven, and up to 2 quarts for an electric fryer)
handful of fresh herbs
Lemon Aioli
1 egg yolk
2 tablespoons Meyer lemon juice
1 teaspoon hot sauce
1 teaspoon Worcestershire sauce
1 clove garlic, minced
pinch of salt
1/2- 3/4 cup olive oil
Instructions
First prep the lobsters. Using strong kitchen shears, slice through the lobster tail shells lengthwise and pop out the meat.
Slice the tail meat lengthwise, then slice across several times so you have 1- 1 1/2" pieces.
Preheat your oven to 200.
Heat the oil in a cast-iron skillet, Dutch oven, or electric fryer to 350.
Mix the flour, cornmeal, salt, garlic powder, paprika, onion powder, and cayenne in a shallow dish (pie plate or cake pan works well).
Line a plate with paper towels.
Once the oil is hot, dip the lobster in the cornmeal mixture, then into the oil (chopsticks work well for this). Don't overcrowd the pan. Turn them if necessary. Fry them for a couple minutes until they're golden brown, then transfer to the paper-towel lined plate. If you're frying in batches, move the fried lobster to a baking sheet in the warm oven, then repeat with remaining lobster.
Scatter herbs over the top and serve with lemon aioli (or lemon slices and Crystal).
Make the Lemon Aioli
Add the egg yolk, lemon juice, hot sauce, Worcestershire sauce, garlic, and salt to the jar of a blender. Blend until smooth. Slowly drizzle in the oil through the top while it's running until it emulsifies. Add enough oil until it's as thick as you like. Refrigerate until ready to serve.
Suwannee Rose https://www.suwanneerose.com/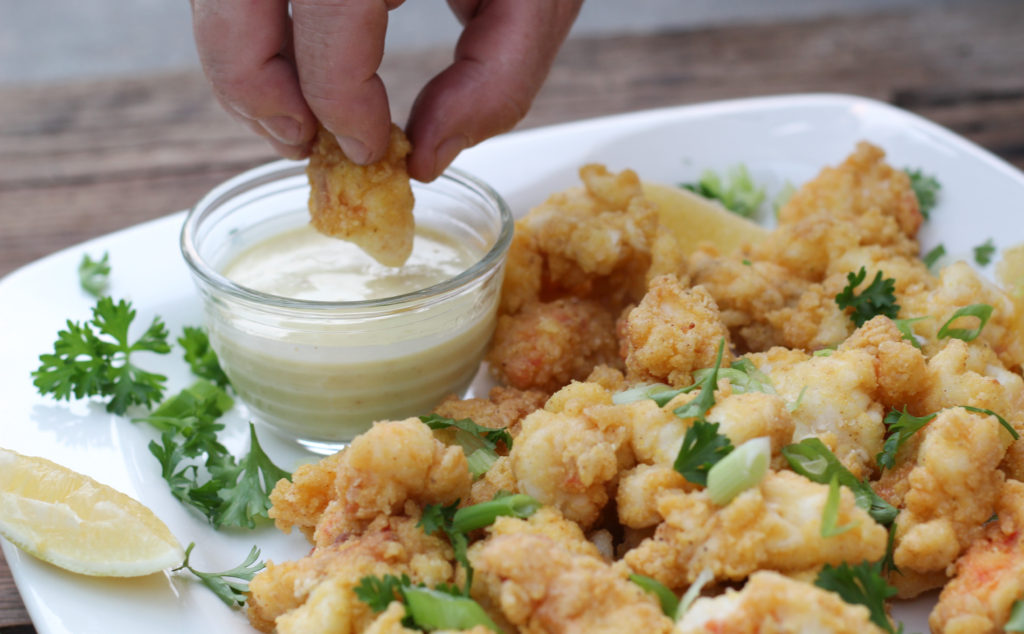 Get 'em while they're hot.