While I wait for this election to be over, I cook. Stone crab bisque is the perfect recipe to tune out all that noise. It's comfort food, which to me has just as much to do with cooking as eating. It engages all my senses: stirring and smelling and tasting and listening and watching.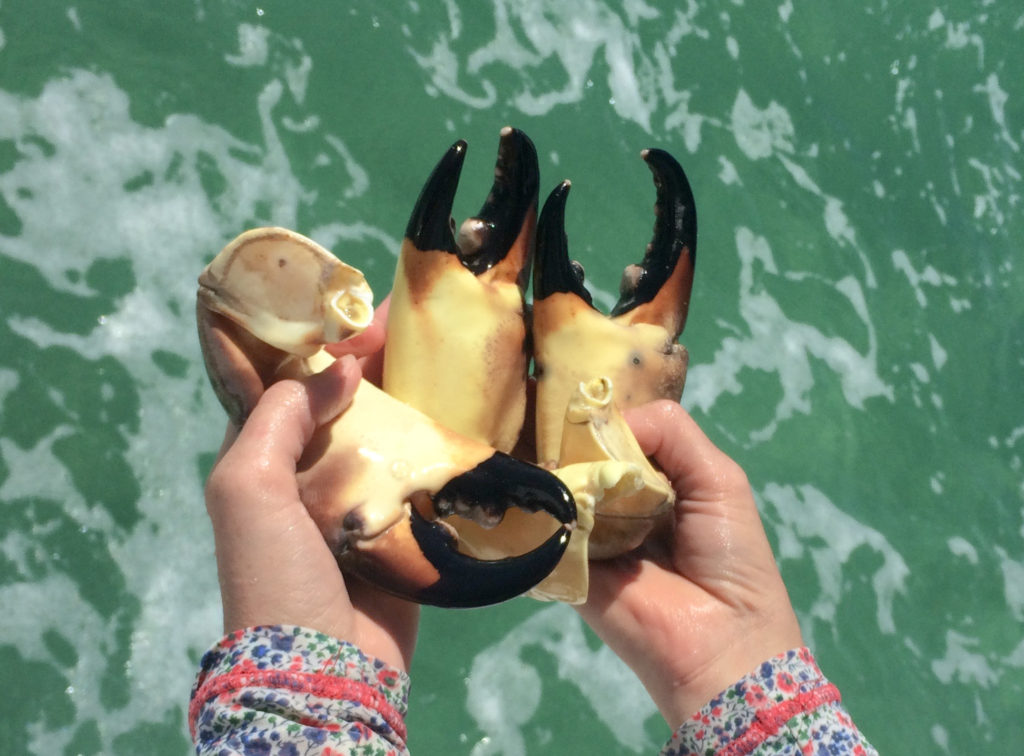 It started with a bag of stone crab shells I brought home from the Keys. Each time we ate them, I added the contents of the "trasher" bowl to a bag in the freezer. All those pinchers were destined for stock once we got home.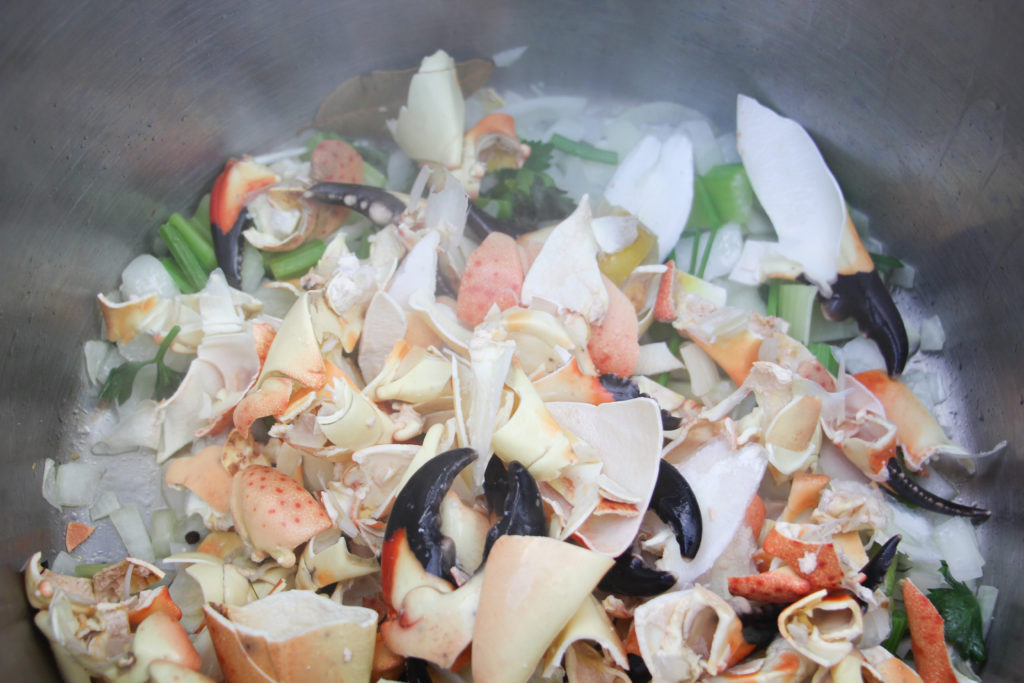 The claws went in the pot with aromatic veggies, spices, sherry, and briny liquids. I simmered it until every last bit of that sweet crabby flavor was extracted from the shells.
I could have stopped right there because this broth is delicious on its own, but I carried on because I knew these shells would make the best bisque ever.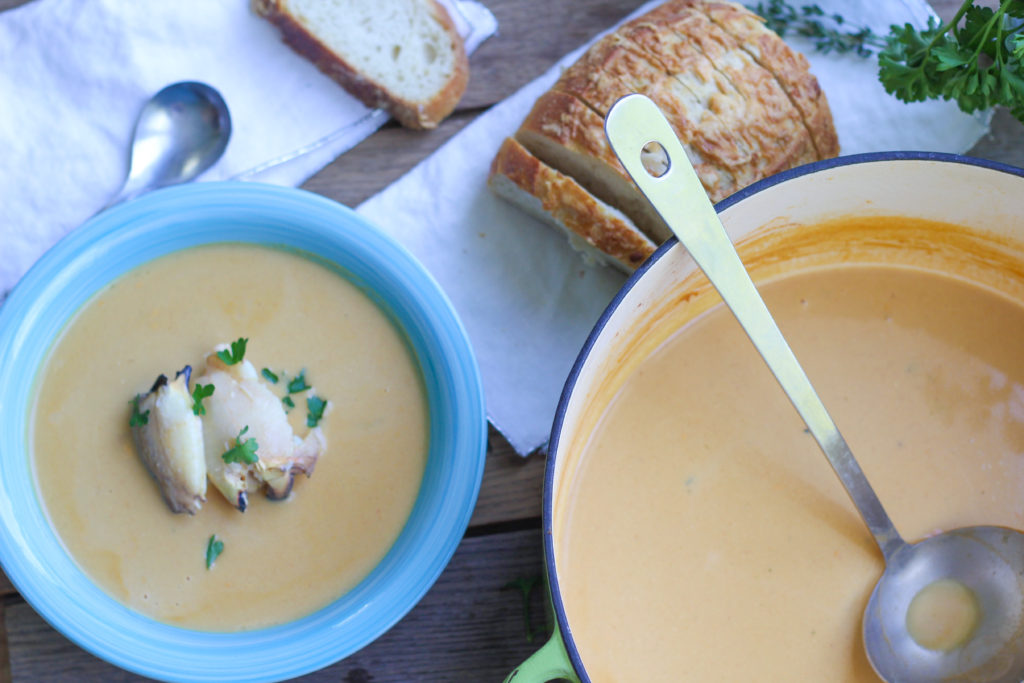 A little simmer and a swirl of cream later, it became LIQUID GOLD.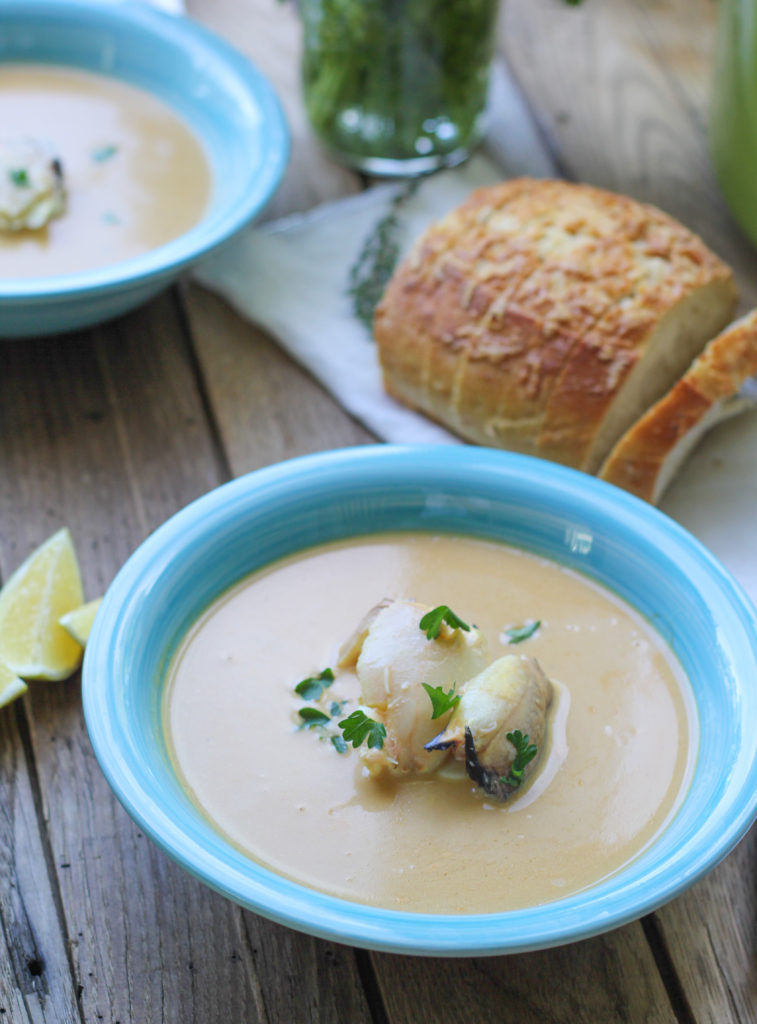 Save all those empty claws this stone crab season!
If you haven't already, be sure to vote tomorrow! Wear your 'I VOTED' for deals around town, like $1 beers or free fried green tomatoes in Tampa.
Stone Crab Bisque
2016-11-07 12:30:42
Ingredients
1 gallon stone crab claw shells
2 tablespoons olive oil
1 large Vidalia onion, roughly chopped
4 stalks celery, roughly chopped
2 fronds from a bulb of fennel, roughly chopped (use a couple carrots if you don't like fennel)
1 cup parsley stems
6 sprigs of thyme
5 cloves garlic, peeled and sliced in half
a few bay leaves
1 teaspoon peppercorns
1 cup sherry
10 cups stone crab cooking liquid*, seafood stock, or bottled clam juice
1 teaspoon saffron
pinch of cayenne pepper
2 tablespoons tomato paste
1 cup heavy cream
2 1/2 tablespoons cornstarch
sea salt, to taste
1-2 cups stone crab claw meat
fresh herbs
Instructions
Heat the oil in a large stock pot over medium. Add the claws, onion, celery, and fennel and saute for a few minutes until the veggies begin to soften. Add the parsley, thyme, garlic, bay leaves, and peppercorns and continue cooking while stirring for a few more minutes. Raise the heat a notch and add the sherry, stirring until most of it evaporates.
Add 10 cups of liquid. Bring it to a boil, then reduce to simmer. Stir in the saffron, cayenne, and tomato paste. Simmer for 45 minutes, stirring occasionally.
Strain the broth into a dutch oven and simmer over low to medium-low until it reduces to about 6 cups. Add the heavy cream. Combine the cornstarch and 2 tablespoons water in a small bowl and mix until smooth. Stir it into the bisque. Raise the heat and allow it to boil for one minute, then turn the heat down to low until ready to serve. Add salt to taste. Serve with a bit of claw meat on top, along with a sprinkle of fresh herbs.
Notes
*reserved liquid from boiling fresh stone crabs
Suwannee Rose https://www.suwanneerose.com/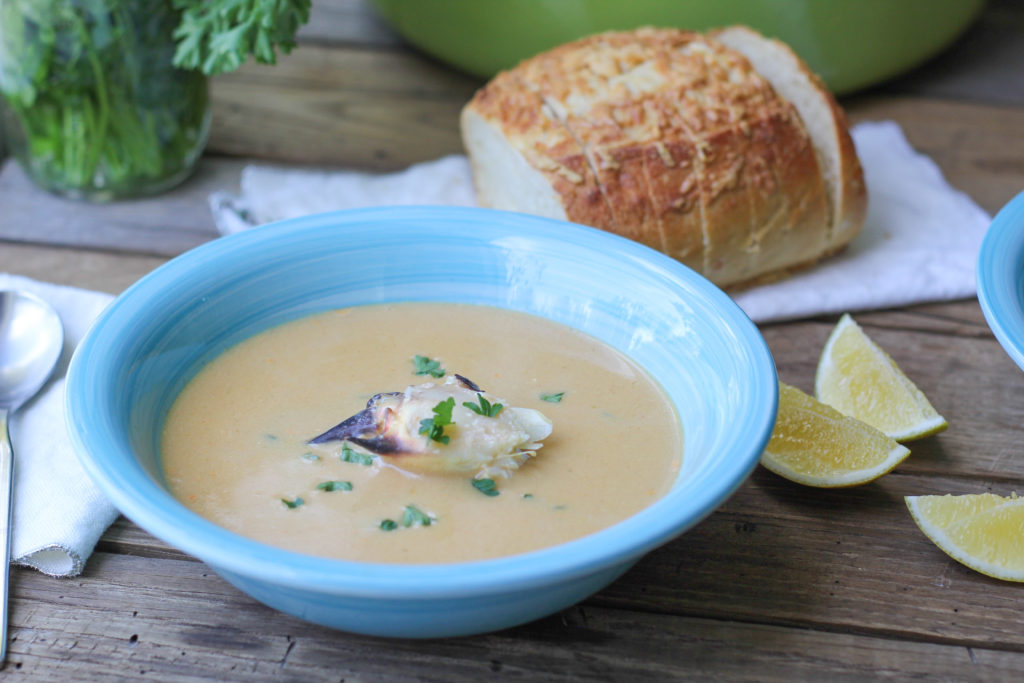 SaveSave