Farmers plant strawberry onions around the perimeter of strawberry fields to help keep pests away from the strawberries. Take a look the next time you drive by a field and you'll probably spot them.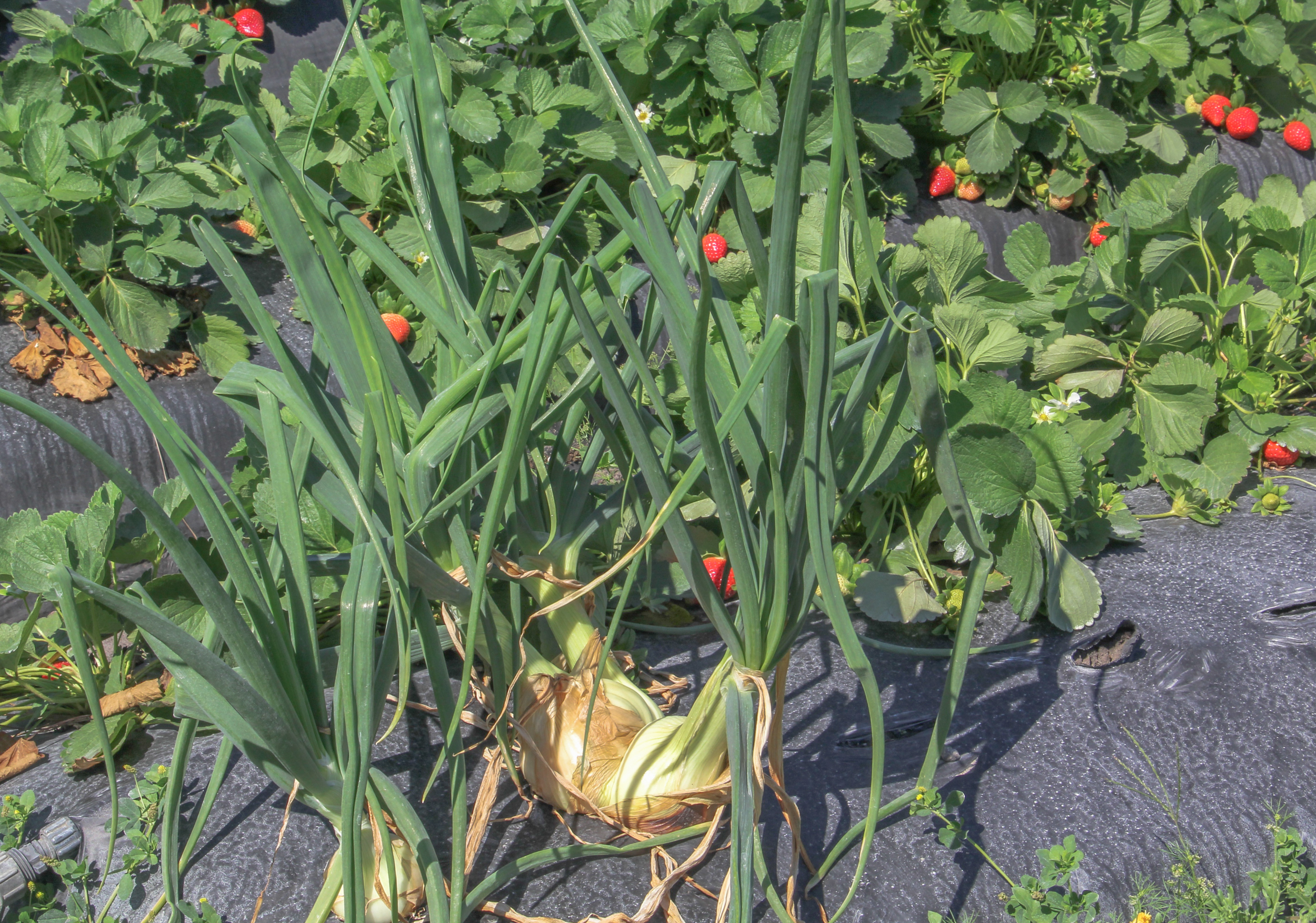 They're typically a big, sweet onion variety like Vidalia or Savannah Hybrid. They're sold as "strawberry onions" at farm stands. You'll see signs for them everywhere in Plant City, specially in March, which is peak season. Go for the strawberries, but be sure to take home some strawberry onions, too.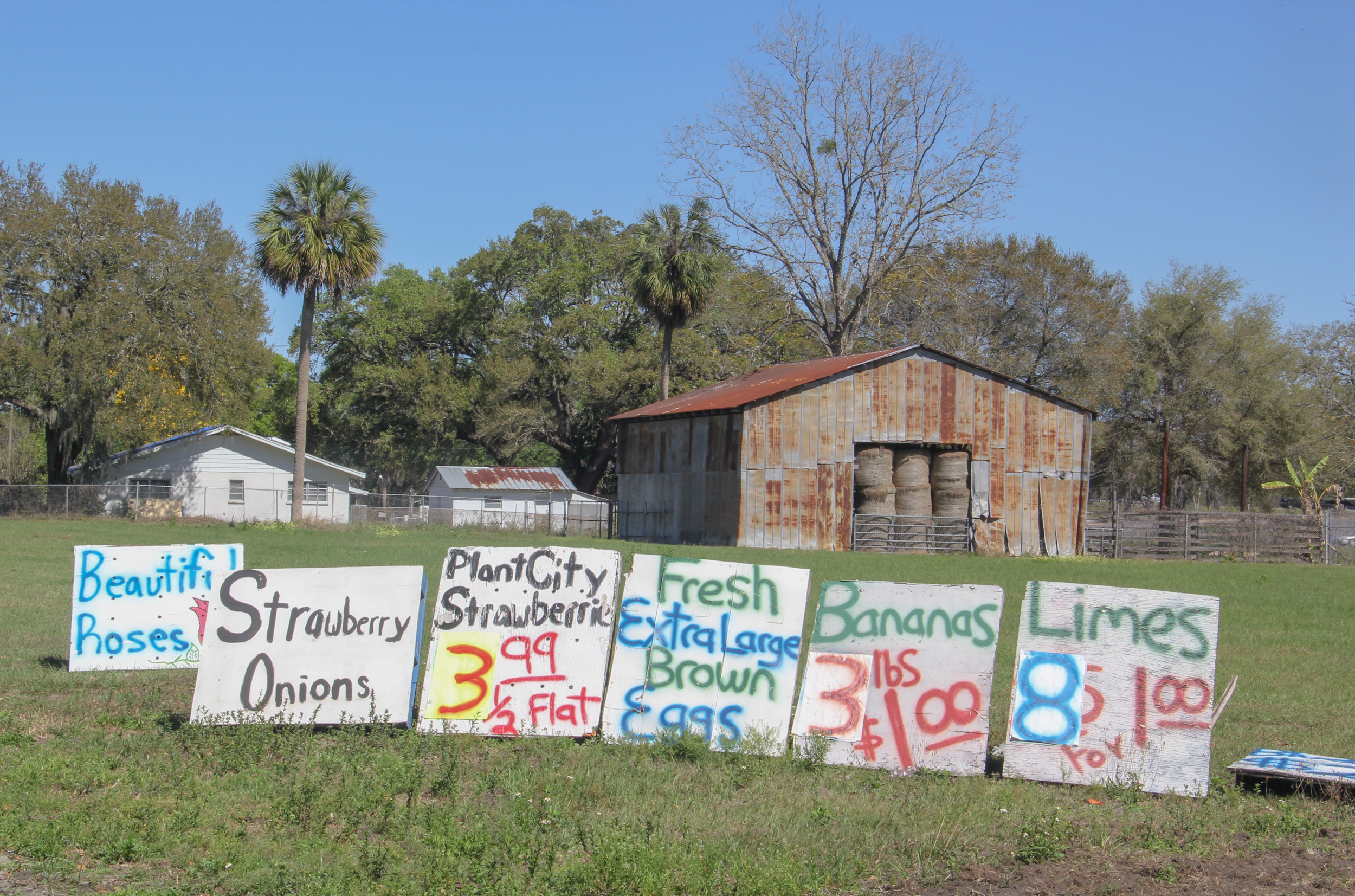 I'm sorry to tell you they don't taste like strawberries, but they are very sweet. They've become so popular they're being shipped all over and you can even buy them online. I've heard people eat them like apples, but not this girl. I'm still working on the raw onion thing.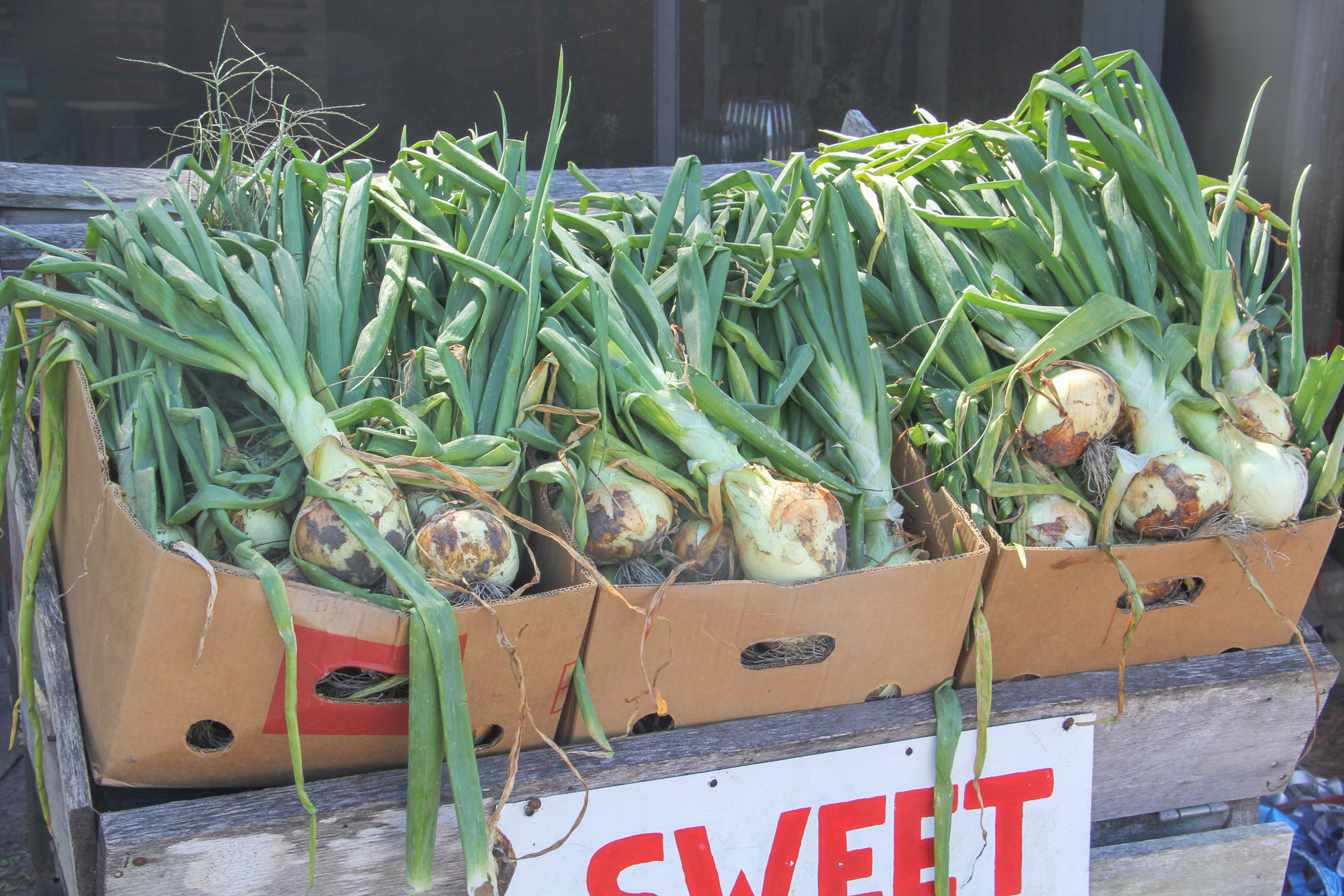 The only onions that were ever in our kitchen growing up were Vidalias, and the only way they were eaten was cooked down to nothing. I'm still partial to sweet onions, and I still prefer to cook the hell out of them. You know, "caramelize" them.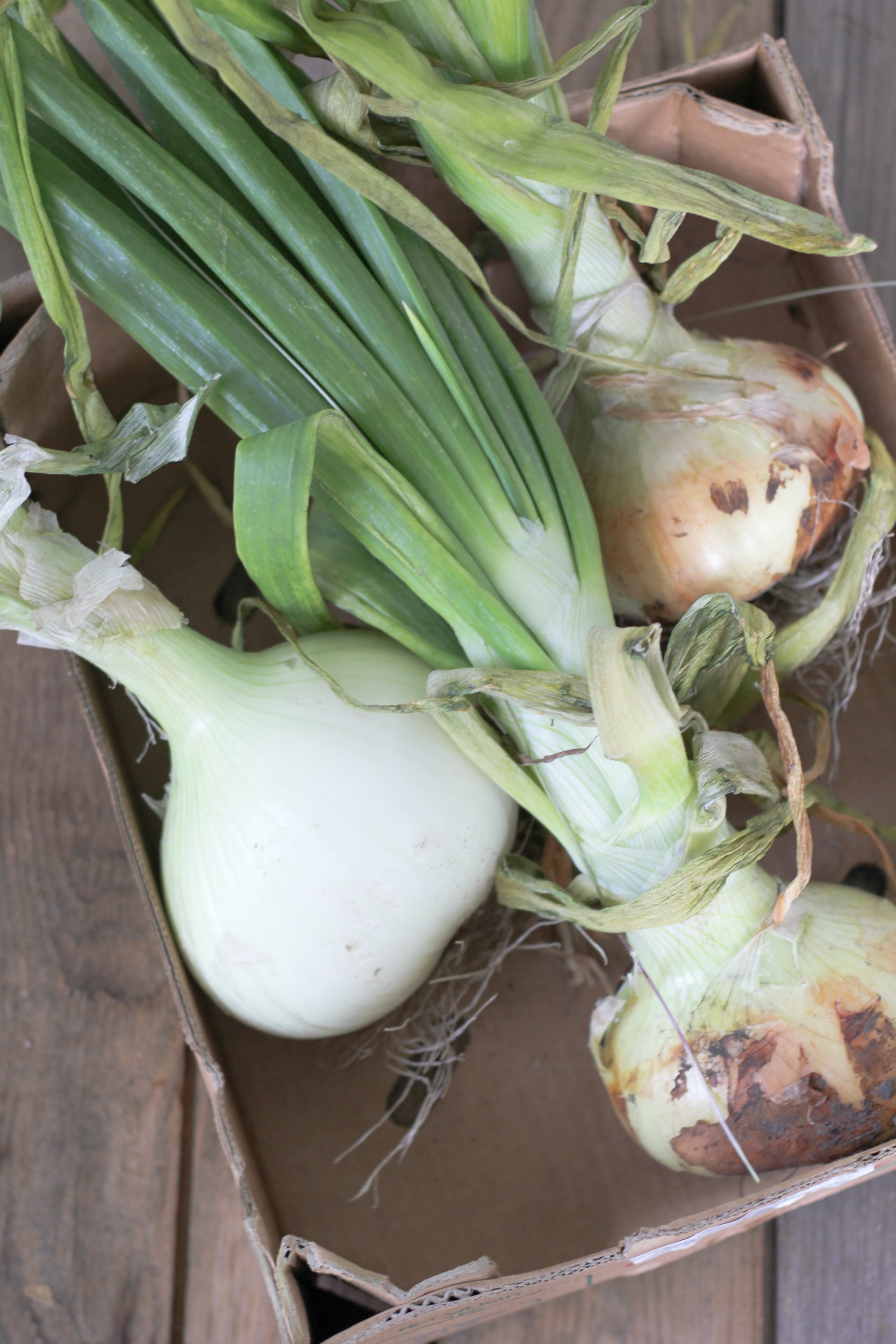 And that's the fate of these juicy strawberry onions I brought home from Plant City. But since they're special, they get the ultimate caramelized treatment by sizzling them with bacon and dousing them with bourbon.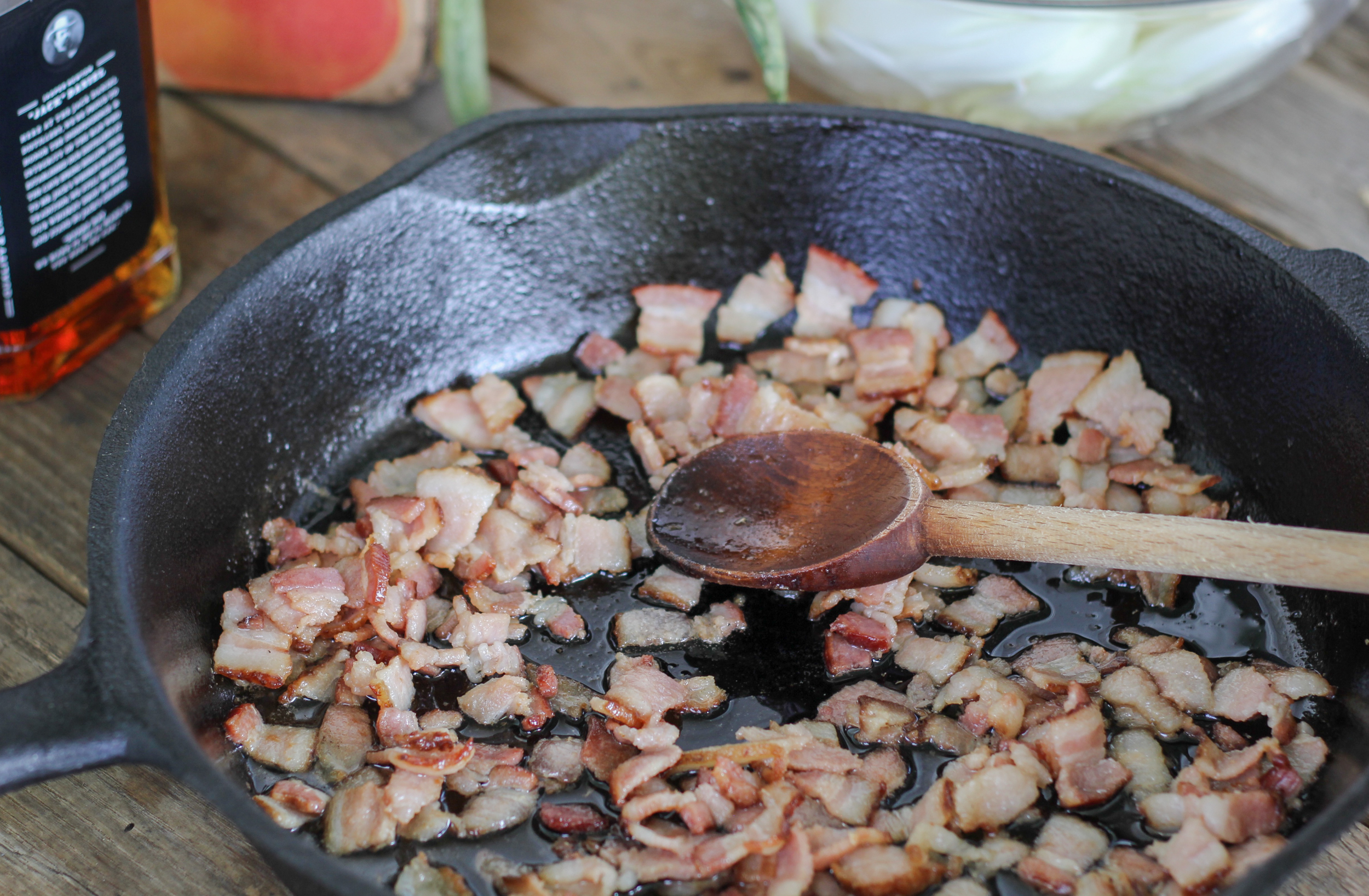 Here's how it goes: Start with a pound of applewood-smoked bacon, rendered in a cast-iron skillet.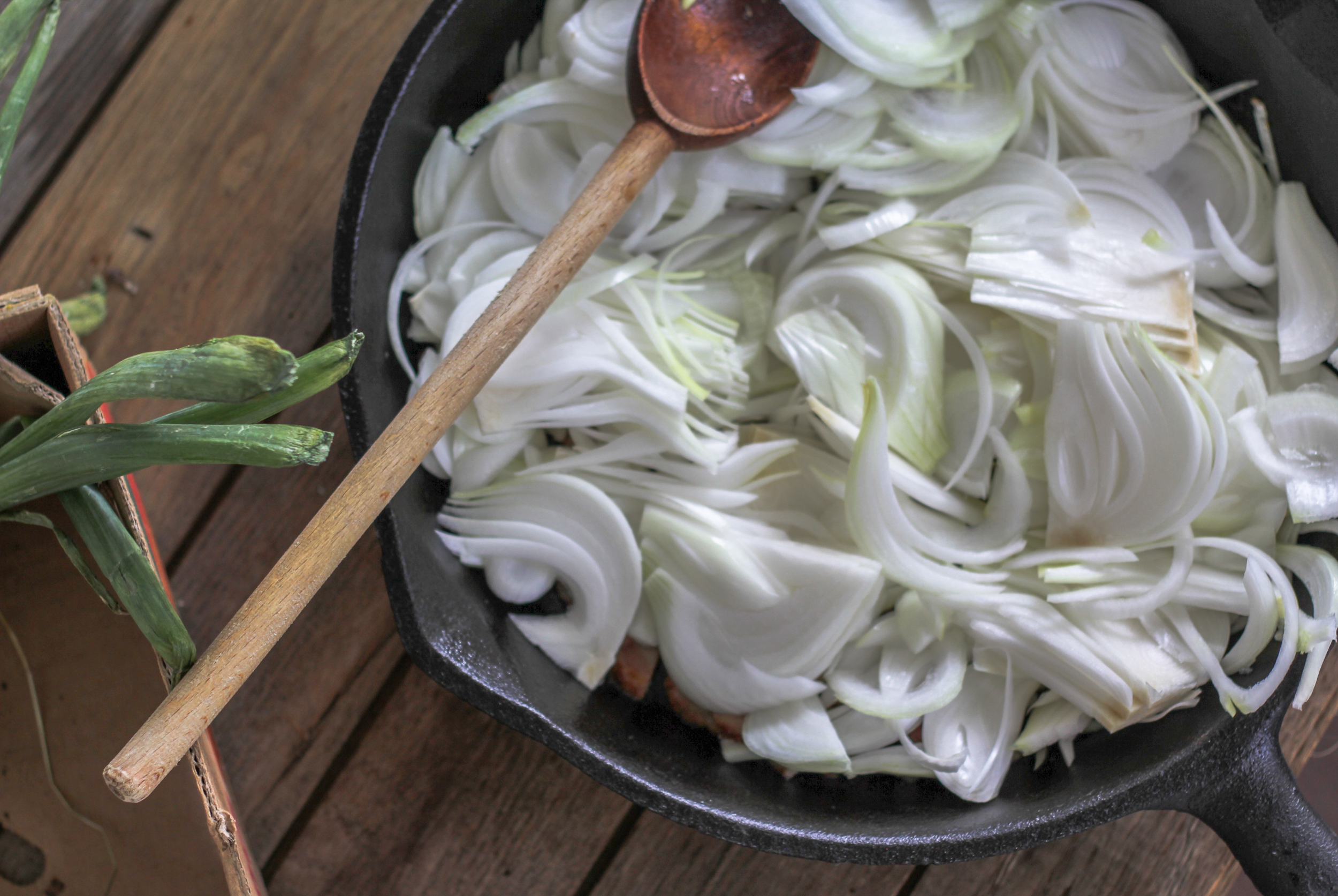 Add a giant pile of thinly sliced sweet onions and cook them slowly until they begin to caramelize.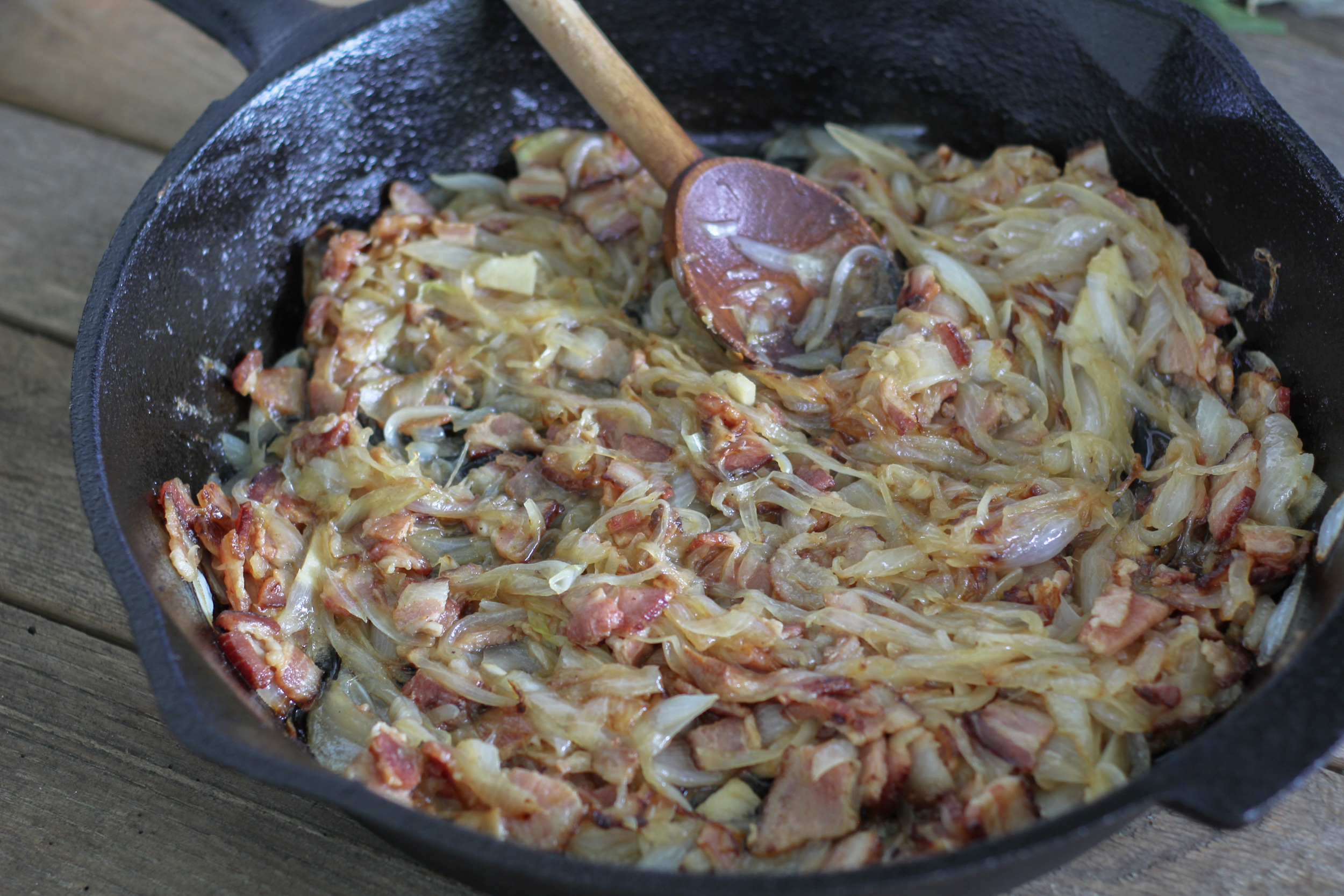 Not yet. Keep going.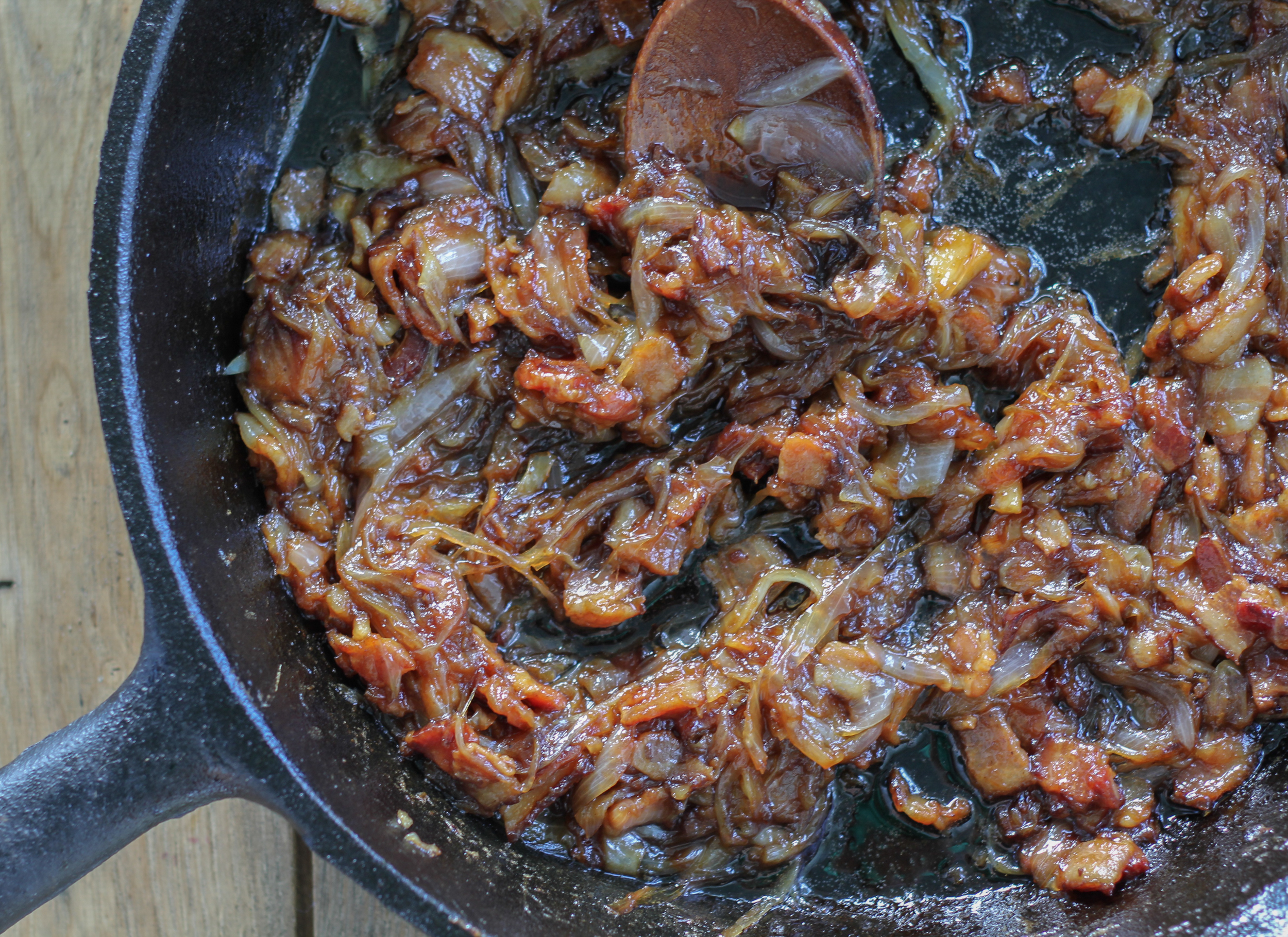 Yes! Now you can add the booze, along with a little brown sugar and some apple cider vinegar.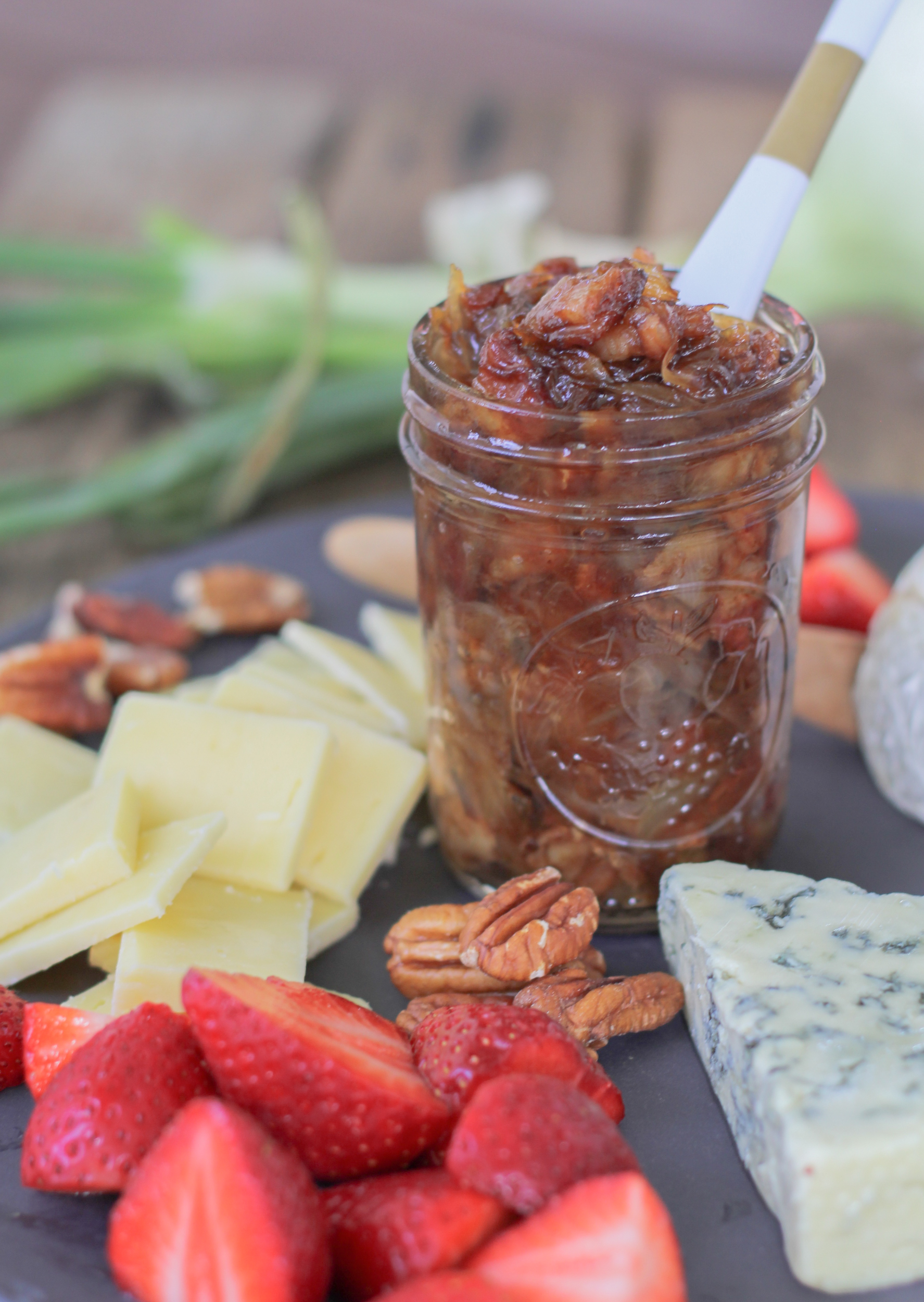 And there you have it. Your sweet caramelized strawberry onion and bacon and bourbon dream come true.
After a recent sunset cruise, my friend Jaime brought out some brie smothered with caramelized onions. I'd never thought to put those two together. Man was it good. Good enough that four of us polished it off in no time. So that's my first serving suggestion: spoon it over some good cheese while it's still warm. Or have it with the usual suspects: burgers and fish and grilled vegetables and sandwiches. This stuff is gold. Share a jar with a friend.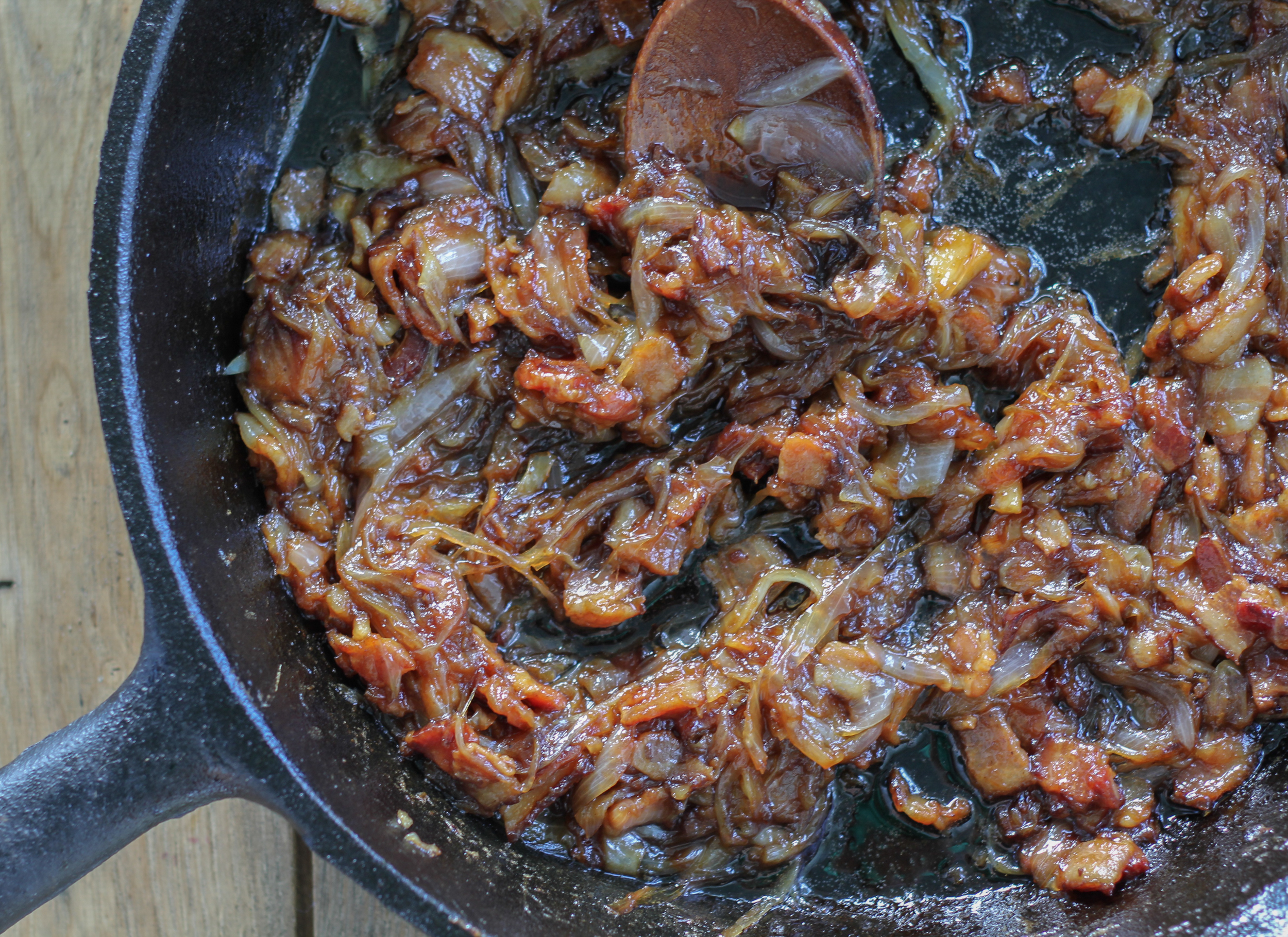 Caramelized Strawberry Onions with Bacon and Bourbon
2017-03-02 19:59:35
Ingredients
1 pound applewood-smoked bacon, diced
2 strawberry onions (or other large, sweet onions), thinly sliced
1/3 cup bourbon
2 tablespoons brown sugar
1 tablespoon apple cider vinegar
2 teaspoons Dijon mustard (optional)
pinch of salt
Instructions
Heat a large cast-iron skillet over medium heat. Add the bacon and cook, stirring occasionally, until the fat has rendered and it begins to brown. Add the onions and give them a big stir to coat them with bacon fat. Reduce the heat to low. Cook the onions for 20-25 minutes, stirring occasionally. Once the onions are very soft and start to take on a golden color, raise the heat to medium-low. Now stir in the bourbon, vinegar, brown sugar, mustard, and salt. Continue stirring until the liquid has evaporated, then remove them from the heat.
For maximum deliciousness, serve them warm, or pack them into a jar and store them in the fridge.
Suwannee Rose https://www.suwanneerose.com/