Florida is the fishing capital of the world. It's no surprise thanks to 2, 276 miles of tidal shoreline, 10,550 miles of rivers, and 7,700 lakes. But I think what makes it a fisherman's paradise is the diversity of species within all those habitats.

Ask me my favorite fish to catch or eat, and I'll probably give you a different answer every time. Right now, it's pompano.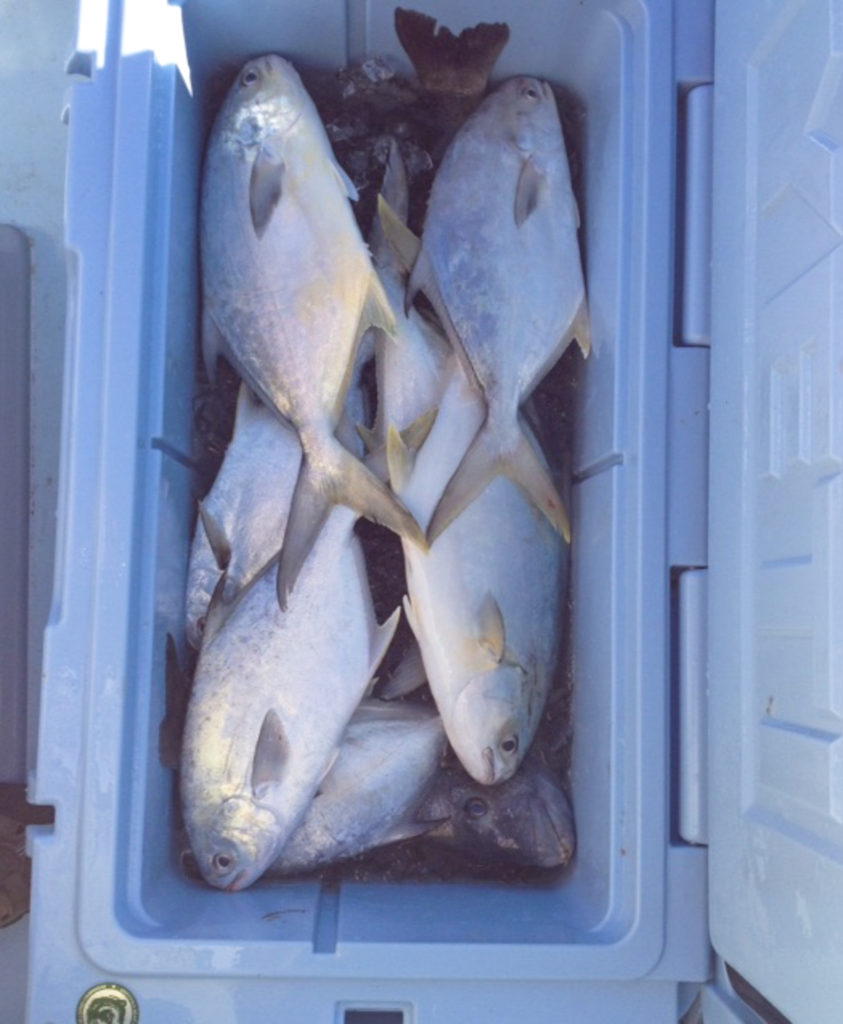 I love everything about pompano fishing, from bait to hook to plate. They eat sand fleas, and catching sand fleas happens to be one of my favorite things to do. (One of these days I'll show you how I do it.) It's even more fun knowing every sand flea I catch gets me one step closer to a pompano. We look for these fish in clean, fast-moving water. They're peppy, and sometimes we'll see them "skip" in the wake of the boat, but most of the time we have to tease them out. I drive the boat along the beach, just outside the break, or around shoals and jetties, and Toby stands on the bow casting a jig. They travel in schools, so once he catches one we know we're in the right spot.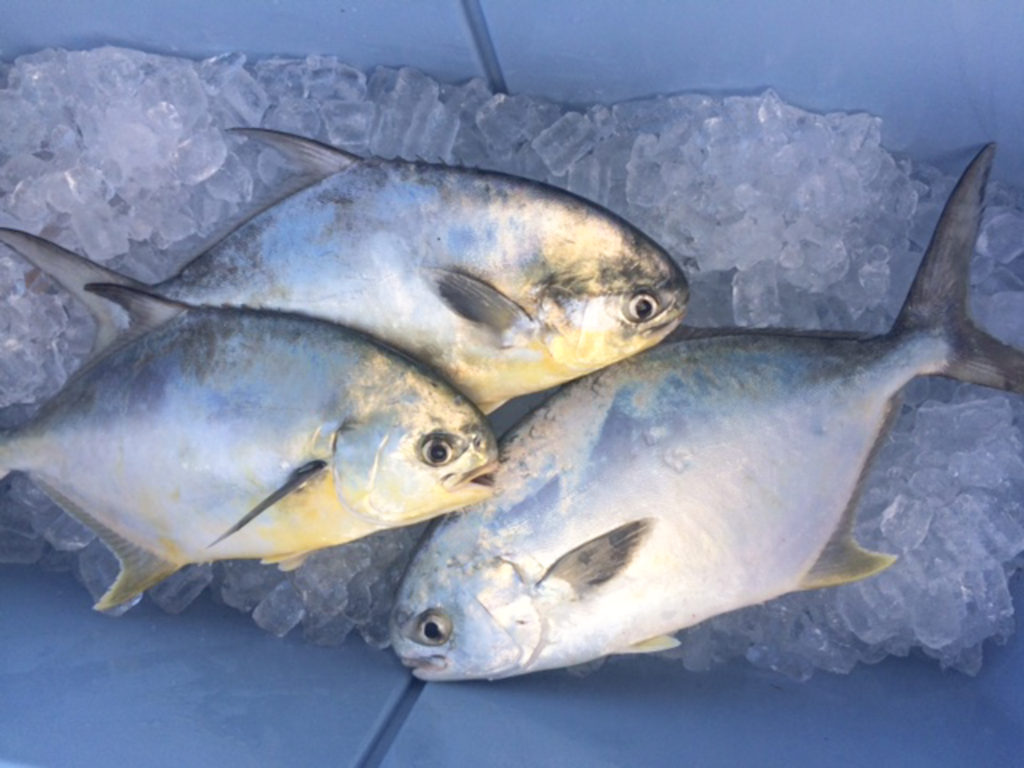 They're iridescent blue highlighted with yellow, and definitely way too cute to eat.
But one bite of that buttery fish and I'm over it.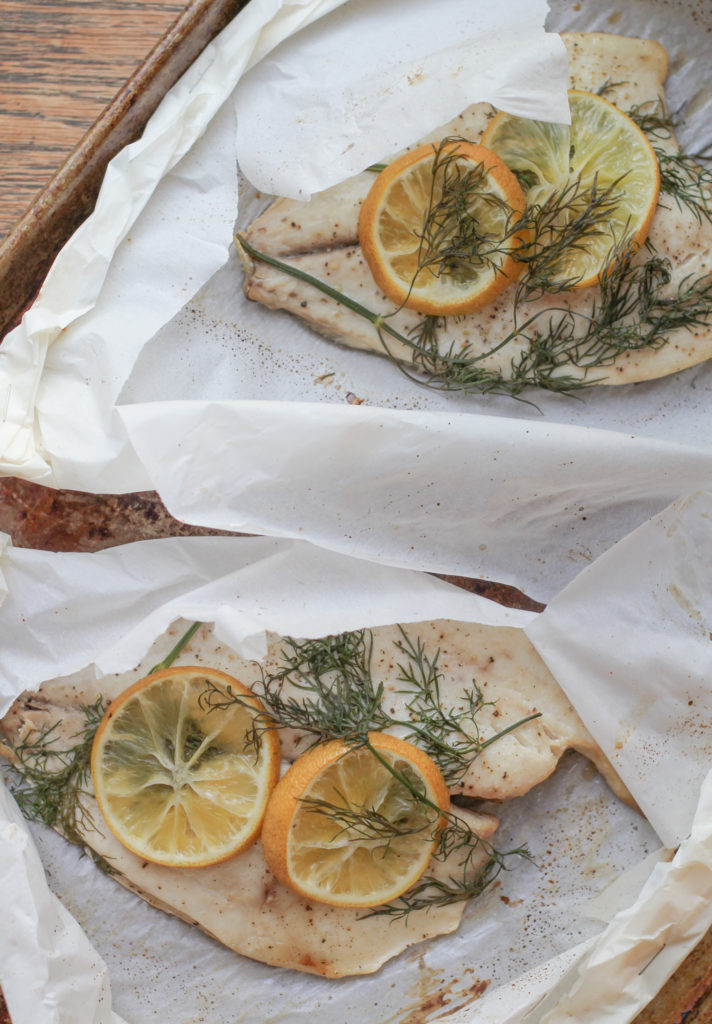 I love the way "Pompano en Papillote" sounds so elegant, but it can be one of the easiest fish recipes. It hails from a fancy place, Antoine's in New Orleans, and some consider it the epitome of classic Creole cuisine. Chef Jules Alciatore conjured up this dish to serve to a Brazilian balloonist. He presented the parchment packet like a puffed-up balloon, piercing it open at the table to reveal pompano smothered in butter, wine, and crabmeat.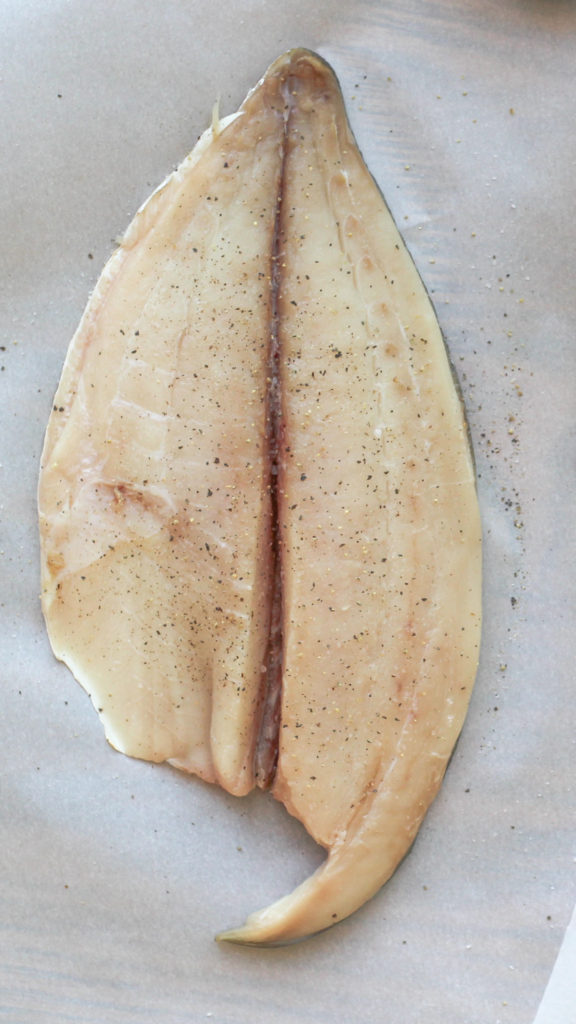 I go minimalist inside my parchment packets; no creamy crabmeat sauces here. Pompano doesn't need it! It naturally tastes like it's laced with butter, and if it's swimming in a heavy sauce, you'd never know that. It's such an easy fish to cook! Most fish fillets have a thick side and a thin side, but pompano fillets are uniform all the way across, so they cook evenly. The fillets are also sturdy, so they don't break as easily as most white fish.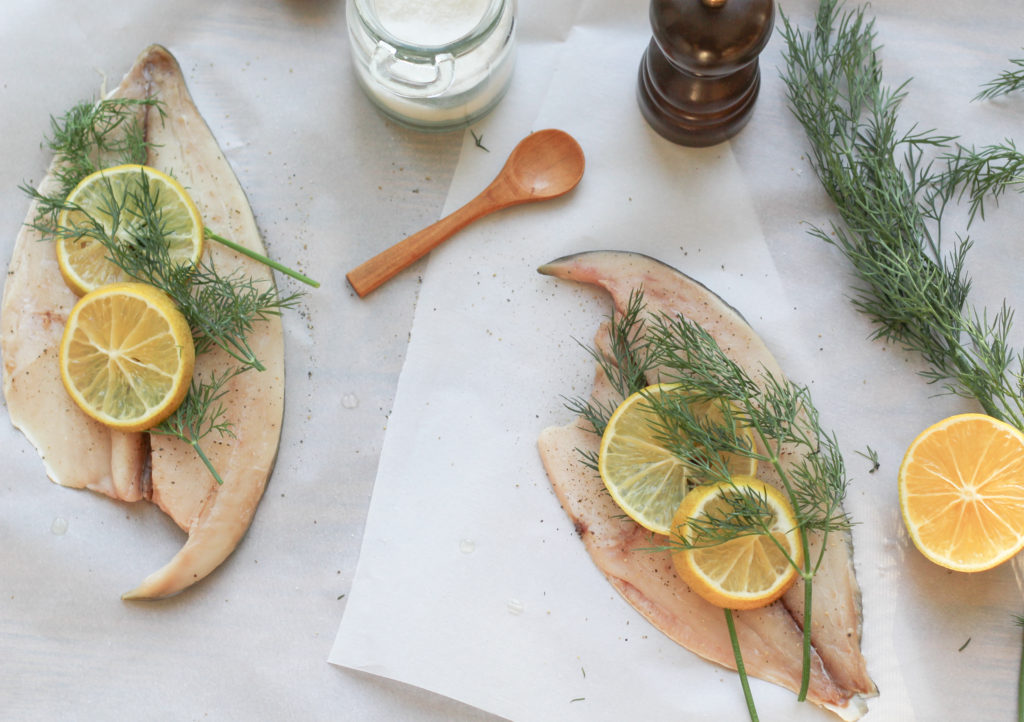 Cooking in parchment requires a leap of faith because you can't take a peek inside or stick a fork in it. It's okay. It's going to be perfect!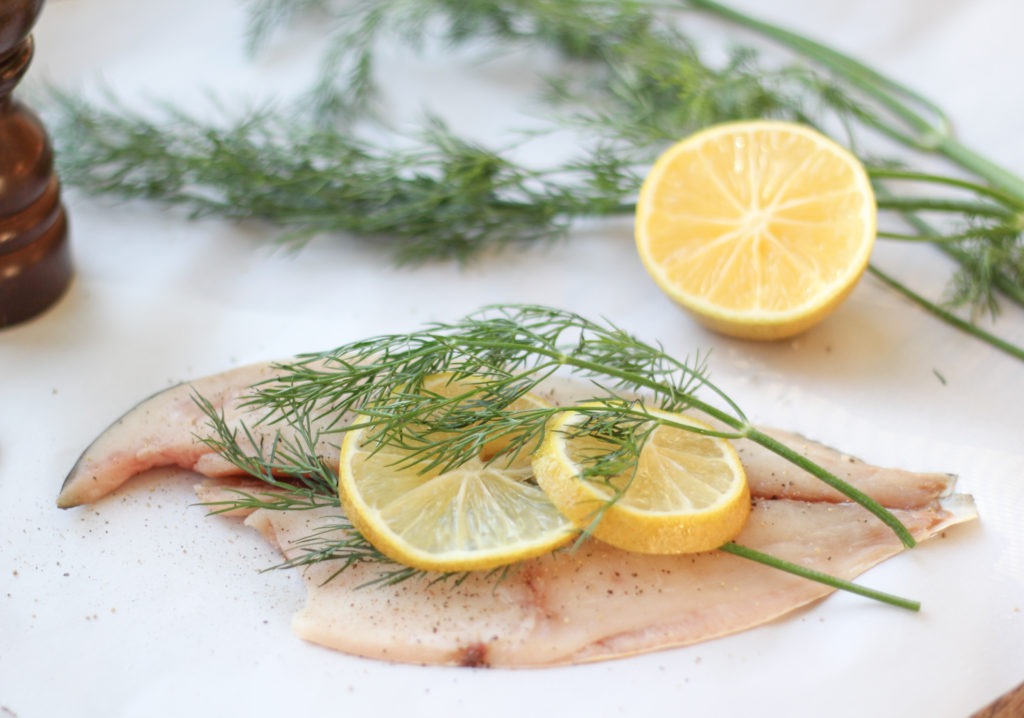 And unlike Chef Alciatore, I can get this pompano from the dock to the dining room table in 20 minutes flat. A few slices of lemon and a handful of herbs and you're good to go.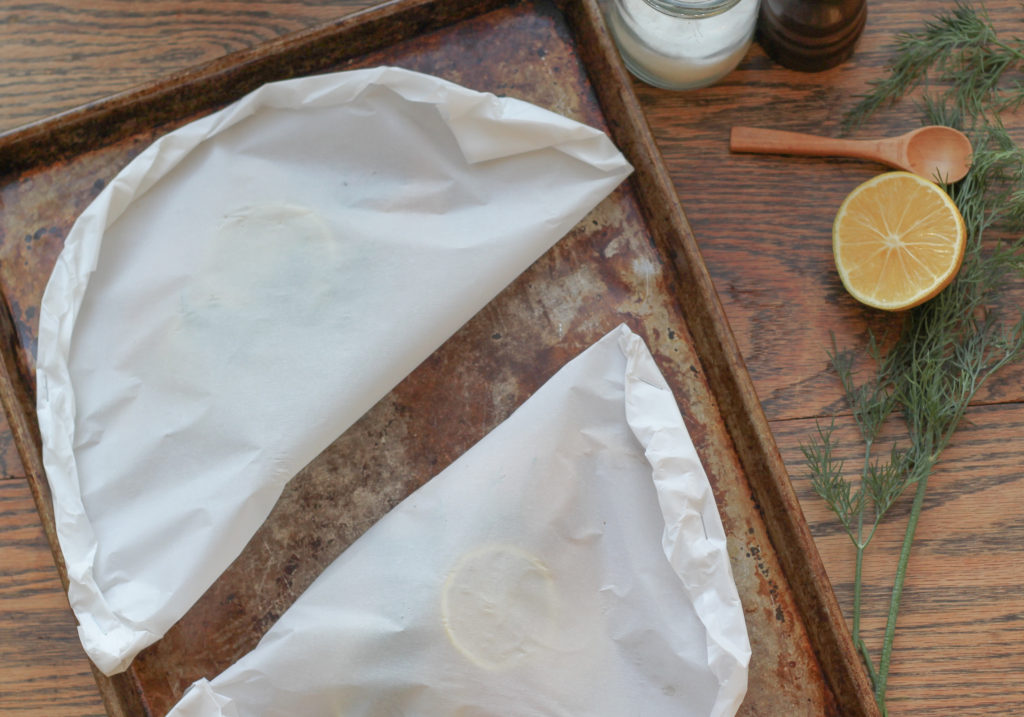 If you want detailed parchment crimping instructions, go here. But I gave that up. I no longer fuss with heart-shaped sheets and perfect little folds. Now I just rip off a piece of parchment about the length of a sheet pan, place the fish on a third of it, wrap the rest over and do my best to fold over the edges from one side to the other, tucking the last bit underneath. Then I grab a stapler from my desk and staple over my shoddy work. Since you pierce these packets open from the top, no worries of staples falling in your food. No one will even notice them. They'll be too fixated on the steam rising out of each packet and the perfectly cooked fish inside.
Bake them for 15 minutes. That's just enough time to make a salad, set the table, and open some wine.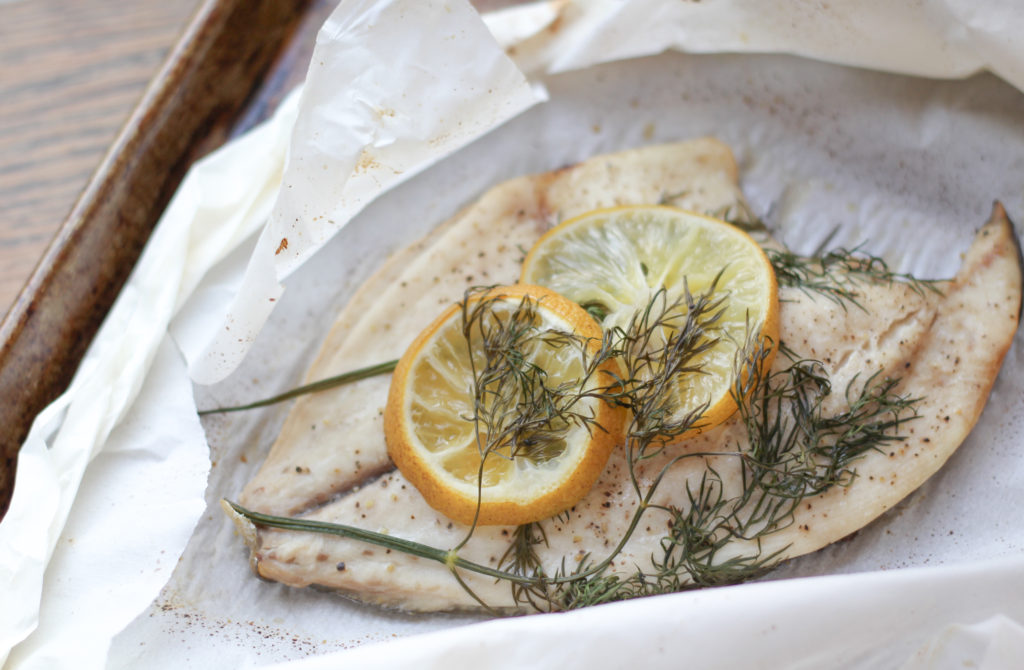 Ready, set, GO!
Pompano en Papillote
2017-03-30 11:44:20
Ingredients
2 skin-on pompano* fillets, patted dry
salt and pepper
4 lemon slices
2 handfuls fresh herbs (whatever you like)
Instructions
Preheat the oven to 375.
Rip off an 18-inch sheet of parchment. Place a fillet on the bottom third of the parchment. Sprinkle lightly with salt and pepper. Arrange two lemon slices and a handful of herbs on top. Fold the top of the parchment over the fillet. Begin making small folds to seal the parchment all the way around and tuck the end underneath. Add a few staples wherever the folds aren't tight.
Repeat with the remaining fillet.
Place the parchment pouches on a baking sheet. Bake for 15 minutes.
Remove the baking sheet from the oven. I usually put it right on the table. Use kitchen shears to snip a little hole in the top of each packet, then slip in the scissors and slice across the top of each one (obviously avoid getting burned by steam). Serve them in the packet or use a spatula to transfer the fish to each plate.
Notes
*substitute flounder or snapper
Suwannee Rose https://www.suwanneerose.com/
One more bonus of cooking fish in parchment: no lingering fishy smell around your stove.