Enter the world of exotic tropical fruit at your own risk, because once you're in it, there's no turning back.
Mangos are the gateway drug. All it takes is a taste of a neighbor's perfectly ripe Nam Doc Mai to send you off on a quest for more. Along the way you'll encounter other irresistible fruits like beautiful sweet lychees and creamy red bananas and giant jackfruit. There's a never-ending array of exotic flavors and colors and shapes.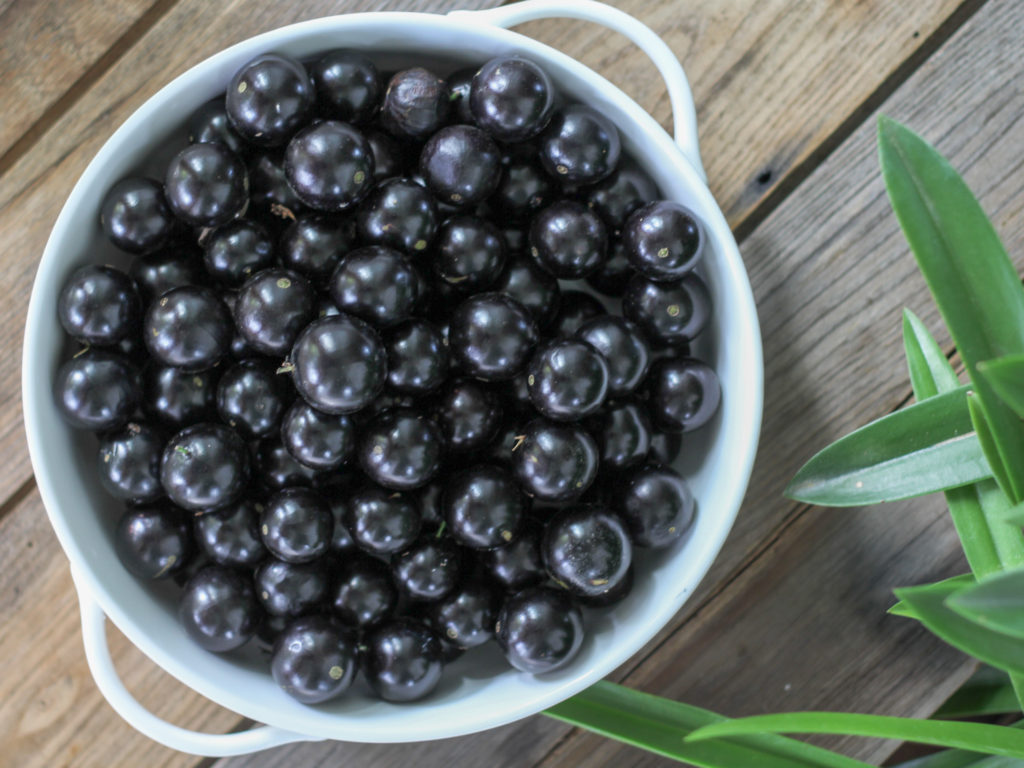 I'm in deep. That's why once I discovered jaboticaba, I had to find a place for it in my yard. The fruit itself resembles a shiny black grape. The skin is similar to a muscadine grape, but it has a slight pine flavor. The fruit inside is juicy and sweet with a hint of spice.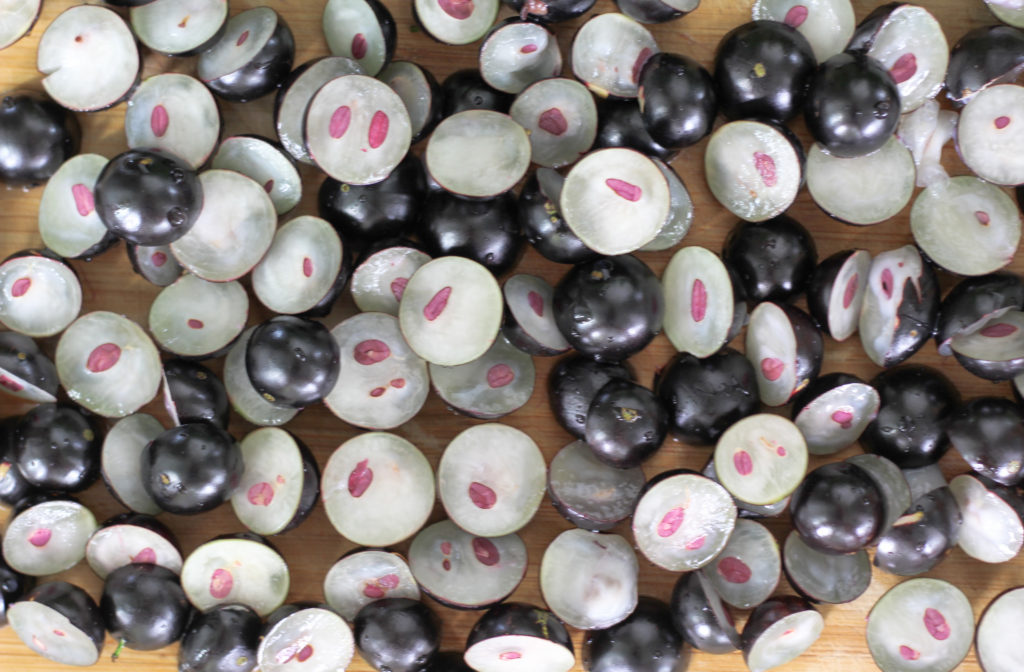 Toby pops them out of the skin before he eats them, but I eat the whole thing, skin, seeds and all. The seeds are edible, they just add a slight crunch. Sometimes there aren't any seeds, which keeps it interesting.
They're certainly tasty, but what makes them stand out in the tropical fruit world is their growth habit.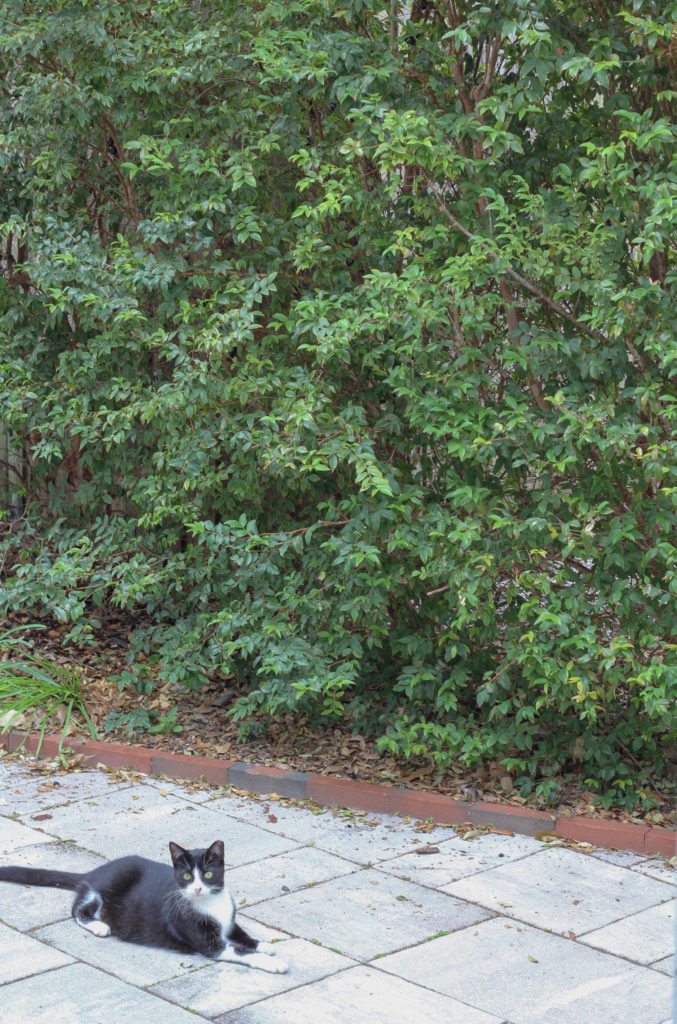 It looks like an ordinary hedge, but if you look a little closer…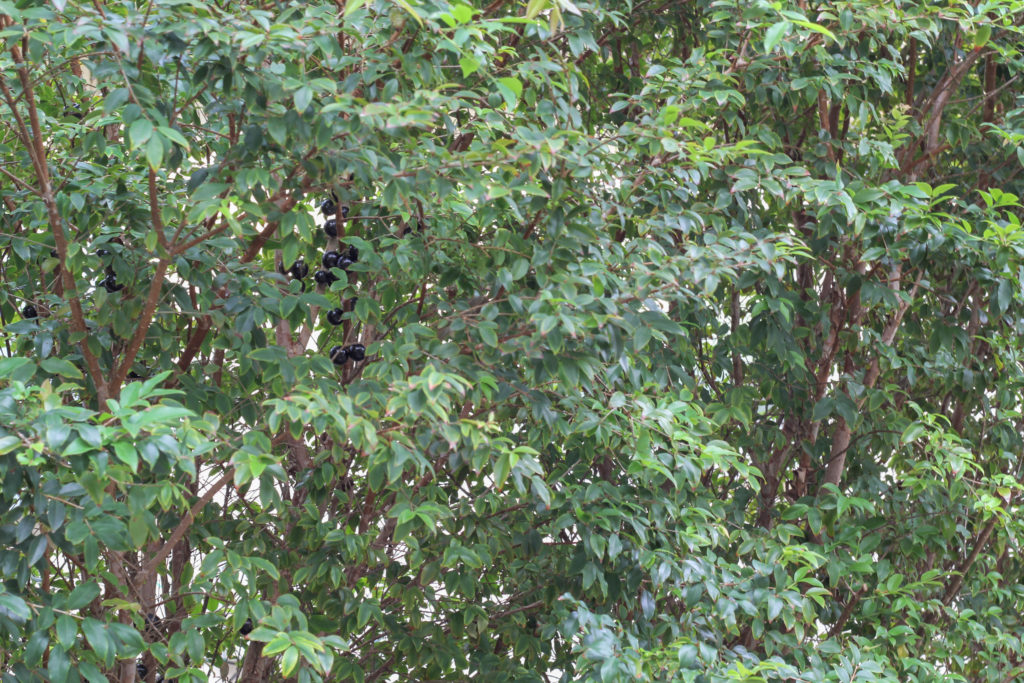 Now peek behind the leaves…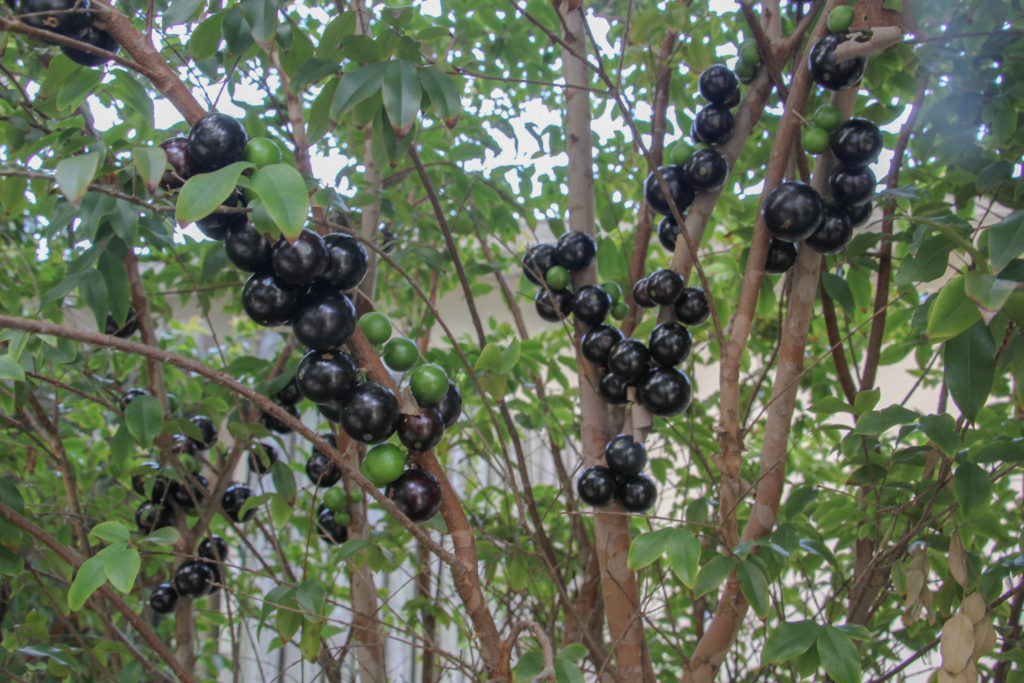 You'll see the fruit grows directly on the trunk and branches. They evolved this way because some of the animals that like to eat them aren't good climbers. The fruit can grow even around the base of the trunk, low enough for a tortoise to snack on them.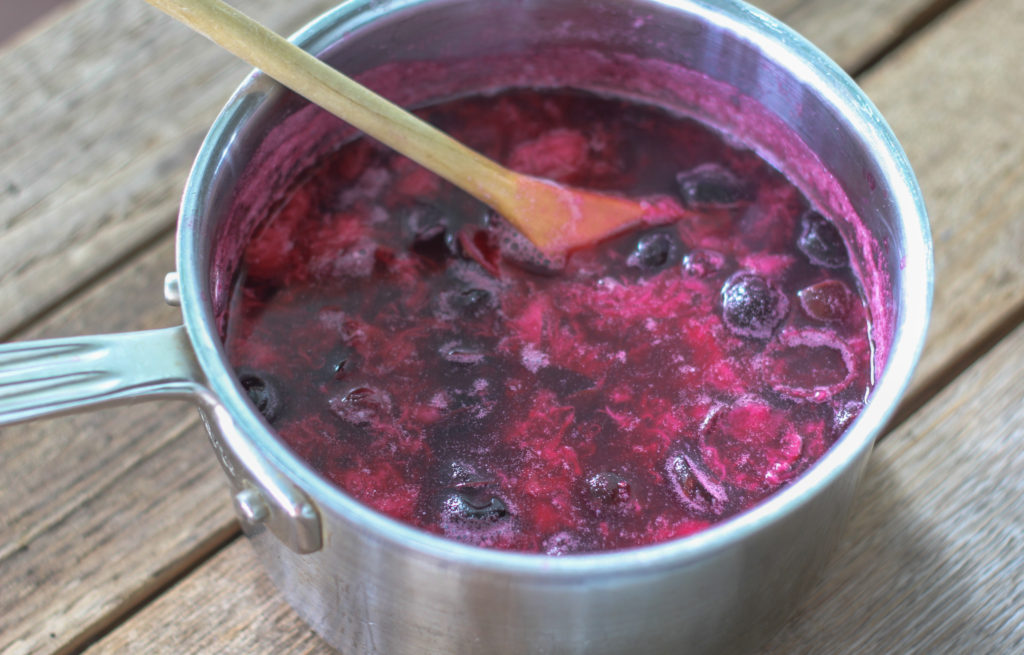 They're native to Brazil, where people enjoy eating them fresh. They're also used to make jams and wine. The juice of crushed jaboticabas is vibrant fuchsia. Simmered with a little sugar and water it becomes a beautiful syrup that's perfect for drizzling over fresh fruit, ice cream, pancakes and French toast. It also makes great cocktails, of course.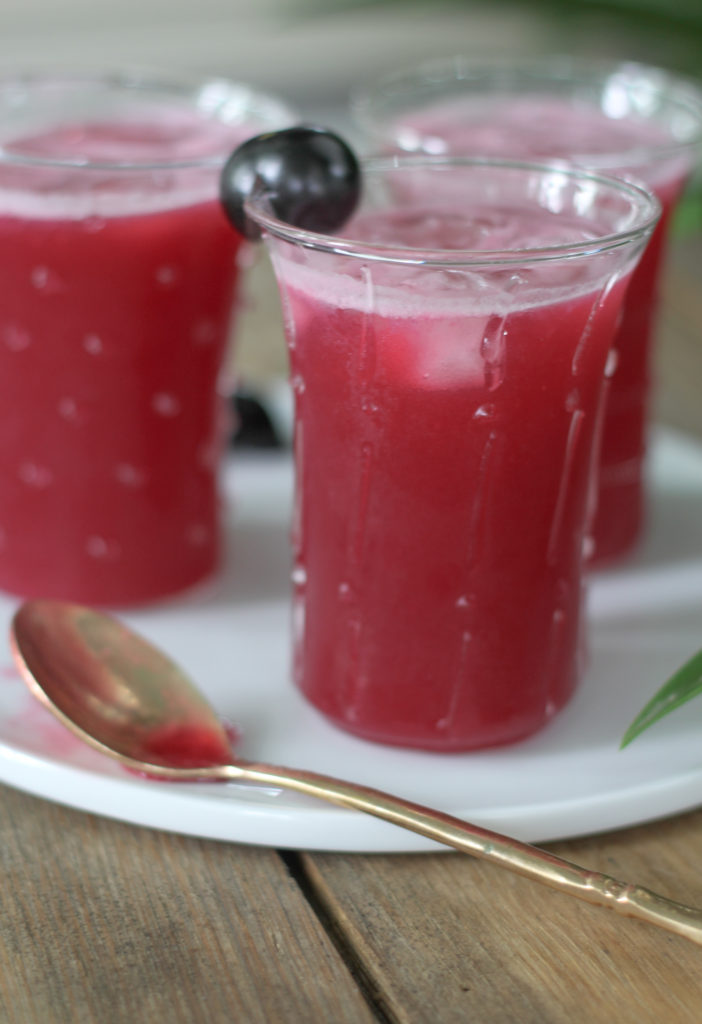 Here's a recipe for a quick jaboticaba syrup so you can mix up your own.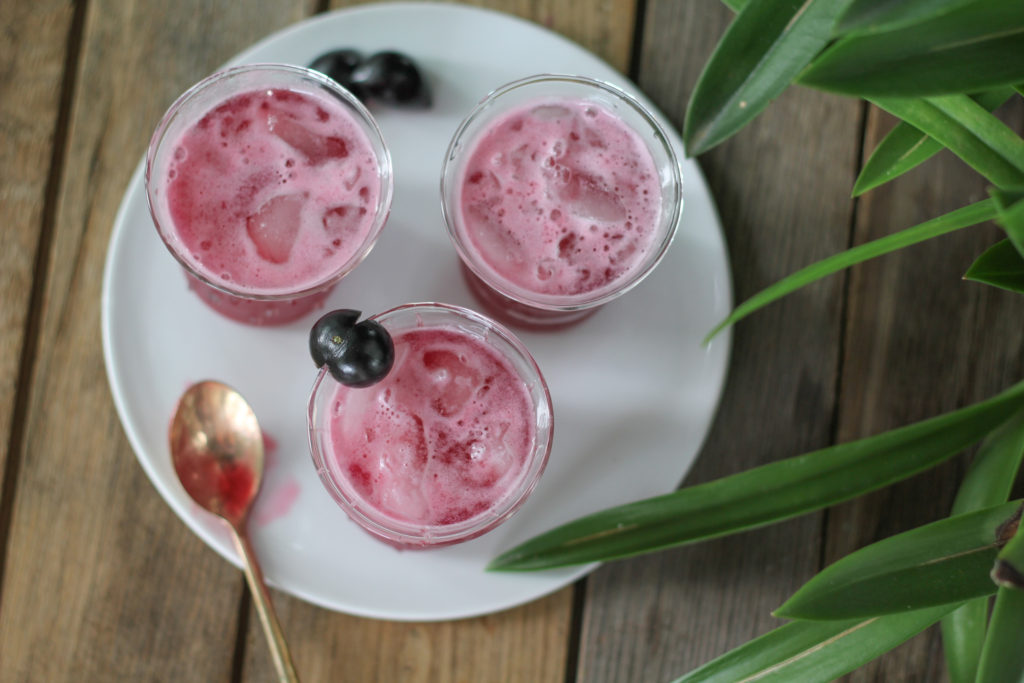 Jaboticaba Syrup
2017-04-11 11:57:24
Ingredients
4 cups jaboticaba fruit, sliced in half
1 cup water
1 cup sugar
2 teaspoons lemon juice
a few slices ginger (optional)
Instructions
Combine fruit, water, sugar, and ginger in a saucepan. Bring to a boil, then reduce to a simmer for about 15 minutes. Once the fruit is soft, use a potato masher to crush the fruit. Add the lemon and allow it to simmer for 5 more minutes, then turn off the heat.
Once it's room temperature, pour the juice through a fine-mesh strainer and refrigerate until ready to use.
Notes
*Drizzle it over desserts, fresh fruit, French toast or pancakes.
*Blend it into smoothies or salad dressings.
*Pour it into a glass of seltzer for jaboticaba soda.
*Mix it with gin, vodka, or rum.
Suwannee Rose https://www.suwanneerose.com/