Each year Asian greens gain more real estate in the garden. This year it was an entire raised bed, and I'm already wondering if I can squeeze in more next year.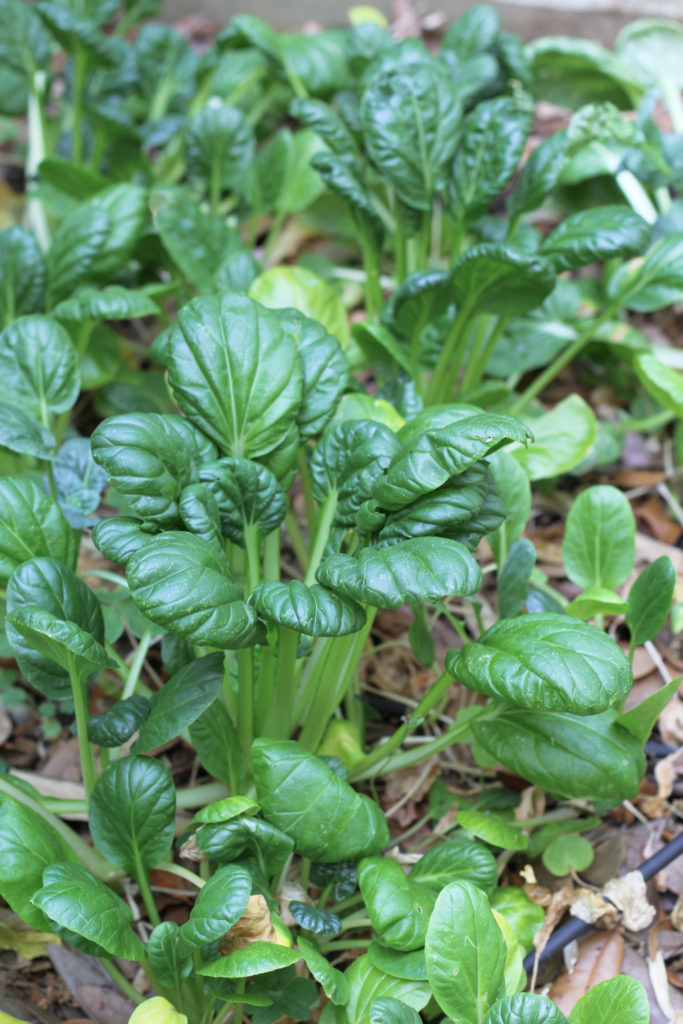 We're growing extra dwarf pak choy, tatsoi, and Shanghai green pak choy. They're all basically small bok choys. They thrive in our mild winter weather and even the pests seem to leave them alone.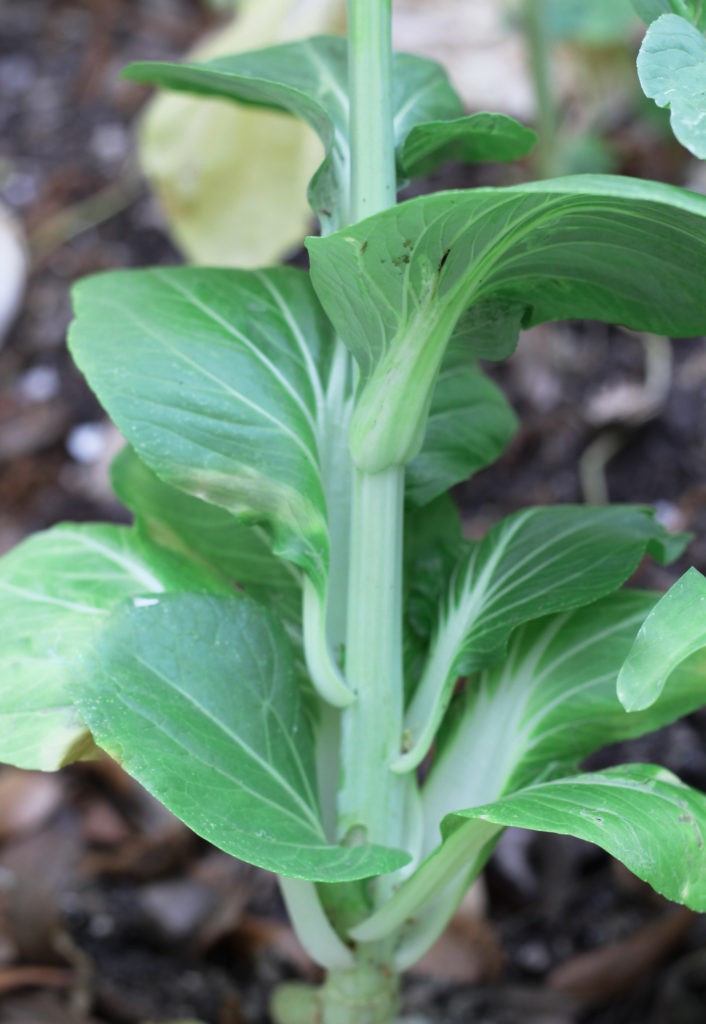 The young leaves make great salads in the fall, and by spring they're big enough to throw on the grill.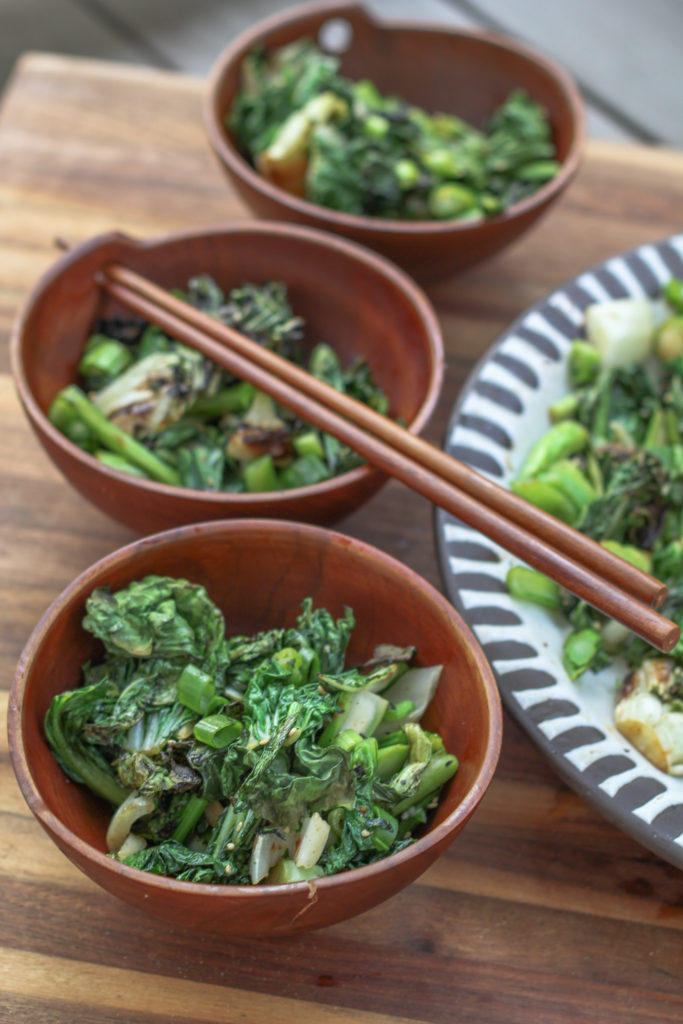 Grilled veggies always taste good, but to really infuse them with flavor, they need a marinade. This one goes so well with bok choy, balancing the bite of the greens with sesame oil and tamari and a kick from ginger and red pepper flakes.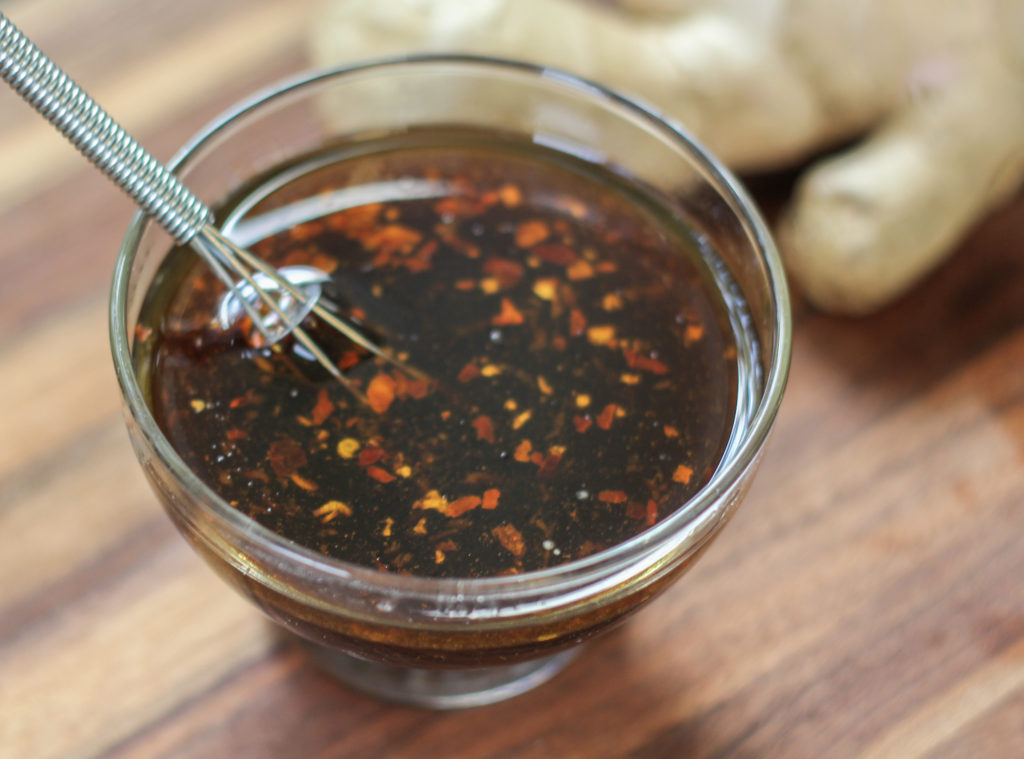 For the varieties that form a head, I slice them in half lengthwise. I do this for two reasons. First, this type can be gritty. The kind you buy at markets, especially the big ones, can be extra gritty. You've got to get inside and wash away every bit of it. Secondly, cutting them in half lets the marinade seep inside the innermost layers.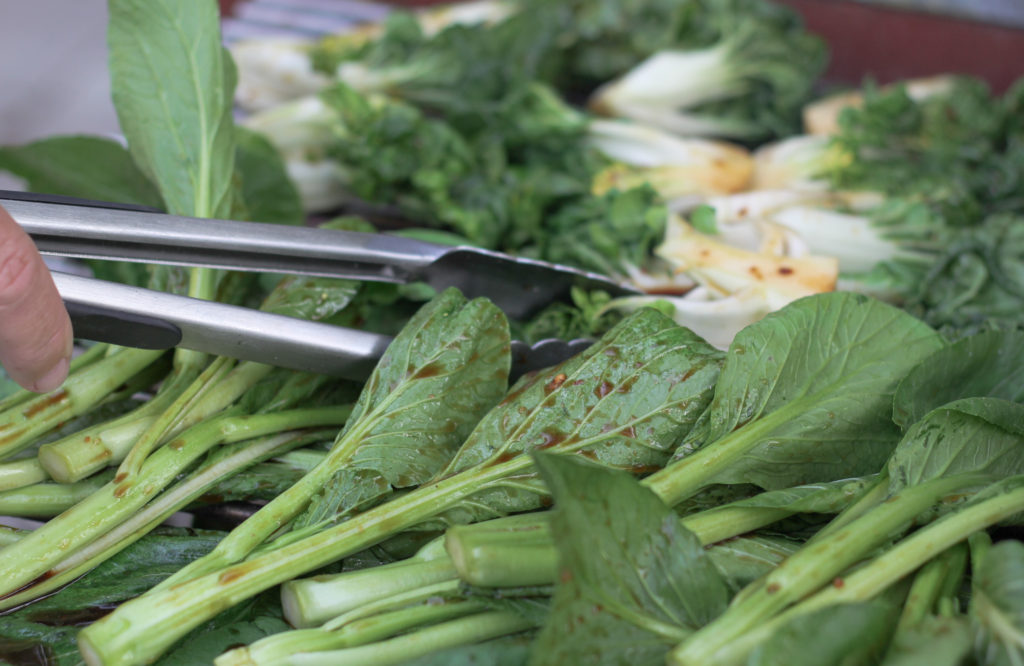 So after a thorough wash, pat them dry and pour on the marinade. Let them hang out in the fridge for an hour. Maybe three.
Once the grill is nice and hot, arrange them over well-oiled grates and let them sizzle away.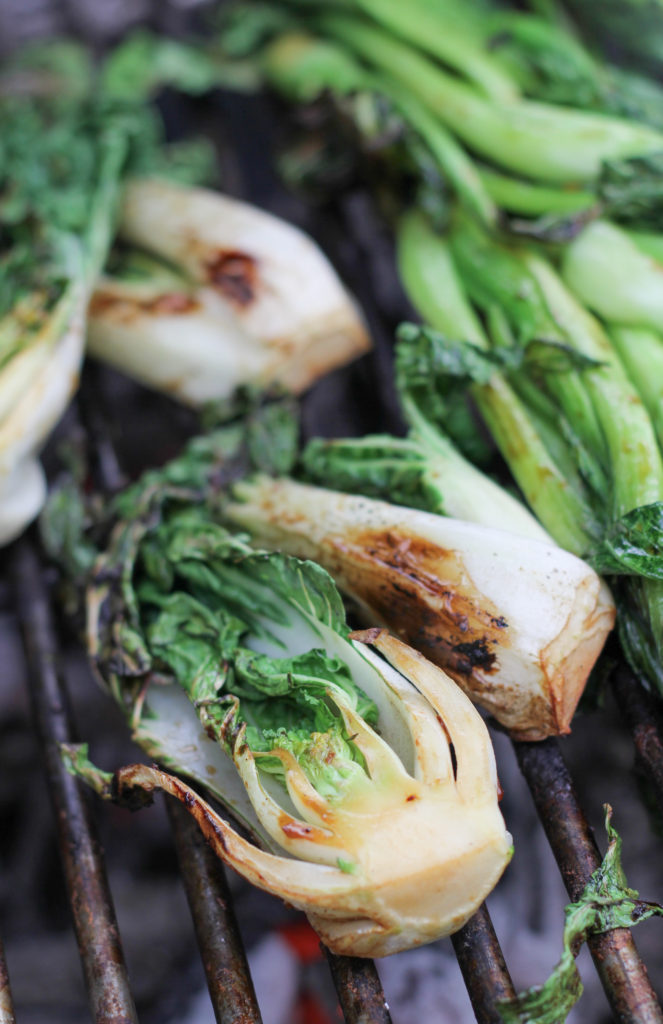 The fire chars the leaves, but that's what we're after. So crispy! Once the stems are tender, take them off the grill and chop them up into bite-sized pieces.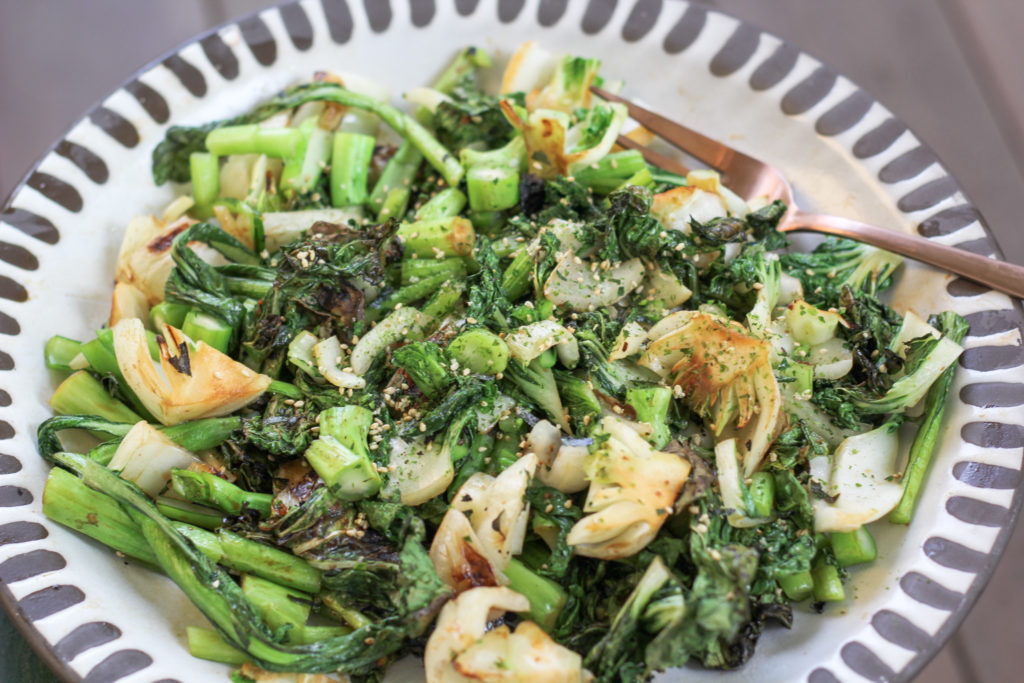 At this point I reach one of my favorite seasonings: furikake (I'm waging war here against autocorrect. No, not "fruitcake!"). It's a Japanese seasoning made with toasted sesame seeds, salt, and sugar, and some flavors have seaweed, wasabi, or bonito flakes. I love how this stuff instantly adds an extra layer of flavor and texture. You can find it at your local Asian market (mine is Oceanic Market in Tampa) or order it from Amazon or Target.
But don't let the lack of furikake keep you from making this. Just toast up a bunch of sesame seeds. We just want some extra toasty crunch here, and that will certainly do the job.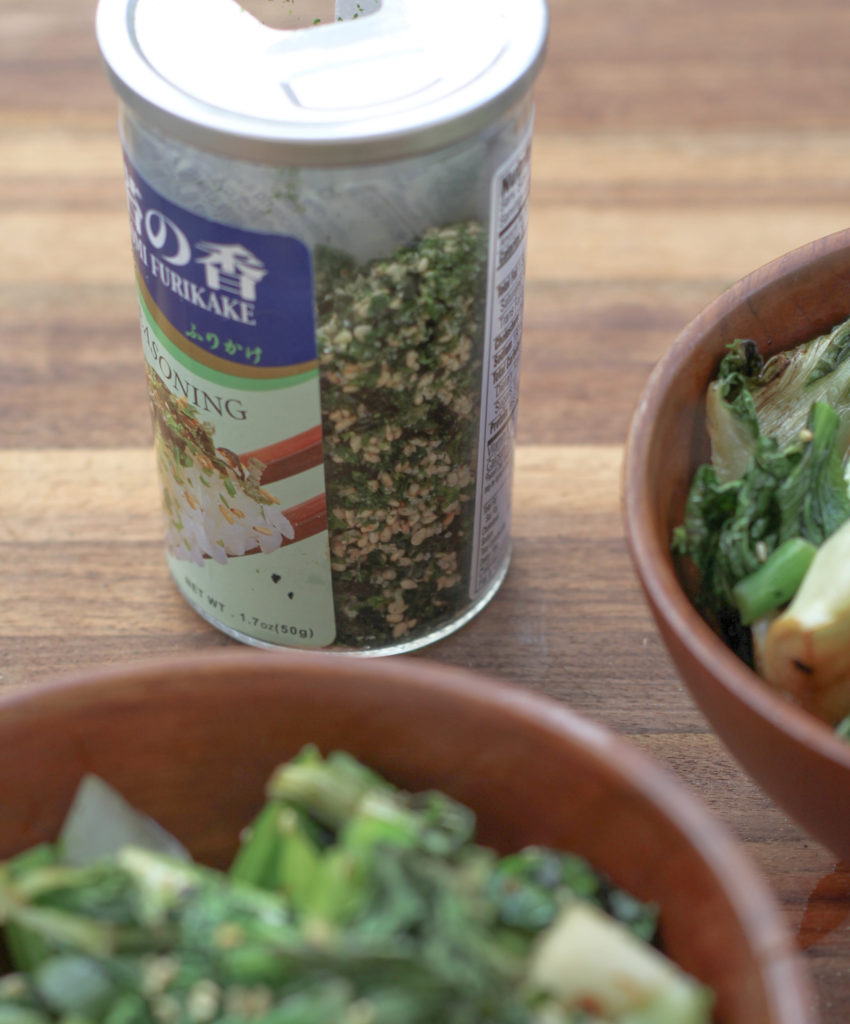 We love this alongside fish, and it's perfectly chopstickable (take that, autocorrect!) in a bowl of rice . Tender stems. Charred leaves. Bold flavor in every bite.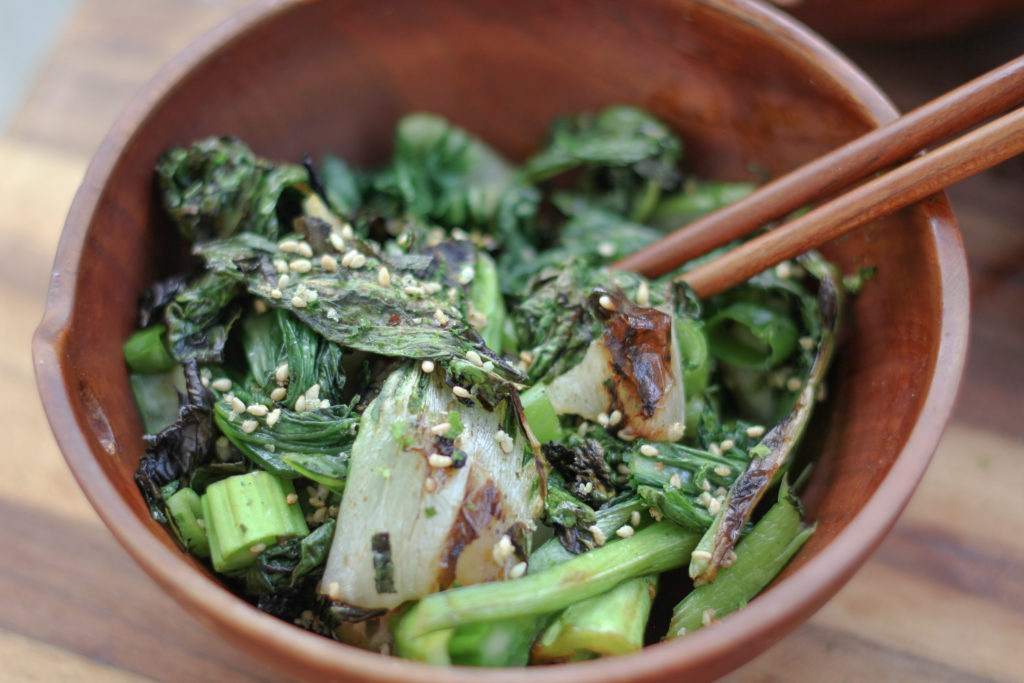 Next year I might devote two raised beds to bok choy. I need a farm.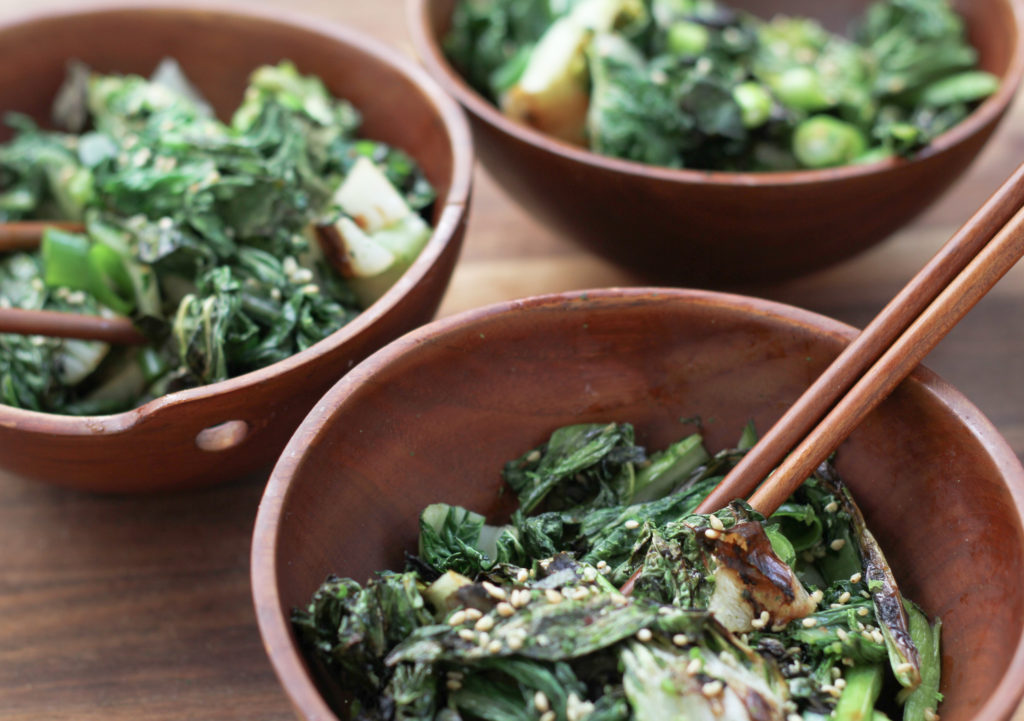 Sesame Grilled Bok Choy
2017-04-04 09:03:25
Ingredients
1 large or several small heads of bok choy
2 teaspoons grated ginger
3 tablespoons soy sauce or tamari
2 tablespoons rice vinegar
2 teaspoons mirin
pinch of red pepper flakes (to taste)
1 1/2 tablespoons sesame oil
1 tablespoon grapeseed or canola oil
1/4 cup sliced green onions
1 tablespoon furikake or toasted sesame seeds
Instructions
Fill a sink or large bowl with cold water. Slice the bok choy in half lengthwise through the stem. Submerge them in the water and swish around. Allow them to soak while you mix up the marinade.
In a small bowl, combine the ginger, soy sauce, rice vinegar, mirin, and red pepper flakes. Whisk in the sesame oil. Set aside.
Give the bok choy another swish. Lift them out of the water and pat them dry.
Place them in a shallow dish, cut-side up, and pour the marinade over them. Allow them to marinate at least 30 minutes or up to several hours.
Fire up your charcoal or gas grill. Clean the grates well.
Once the fire is ready, pour the grapeseed oil into a small dish. Fold up a paper towel into a small square and use tongs to dip it into the oil and rub it over the hot grates several times.
Place the bok choy cut-side up on the grill and cook until they brown and the leaves are charred. Flip them and cook a few minutes more on the other side, or until they're as tender as you like (you can check the stems with a skewer). Move them to a cutting board. Chop into bite-sized pieces. Serve in a shallow bowl or on a platter sprinkled with furikake and green onions.
Suwannee Rose https://www.suwanneerose.com/