I've got your Mother's Day brunch right here.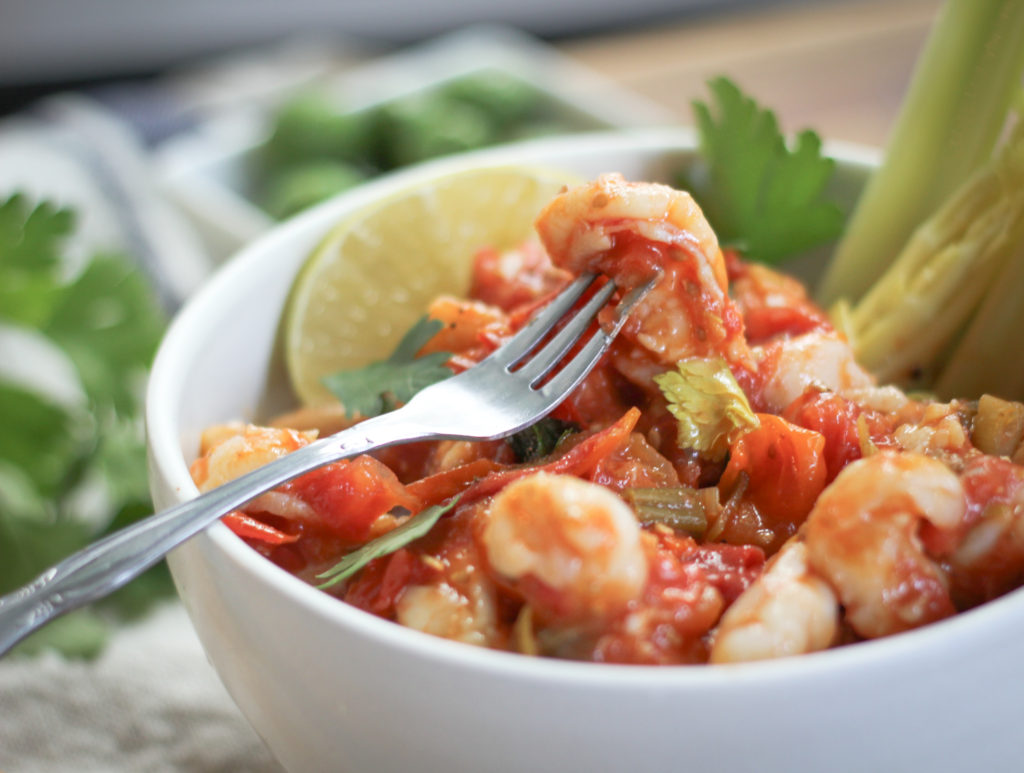 If you've ever had shrimp cocktail and a Bloody Mary, you realize this is only a logical combination. Cocktail sauce and Bloody Mary mix start with the same ingredients, but people tend to get more creative with their Bloody Marys. Sometimes the garnishes can get a little carried away, though (see: Exhibit A).
All that good stuff for a Bloody Mary, but we leave the shrimp hanging on a glass filled with some basic cocktail sauce? We can do better. Let's pickle the shrimp in a fresh, homemade Bloody Mary mix that can double for our cocktails.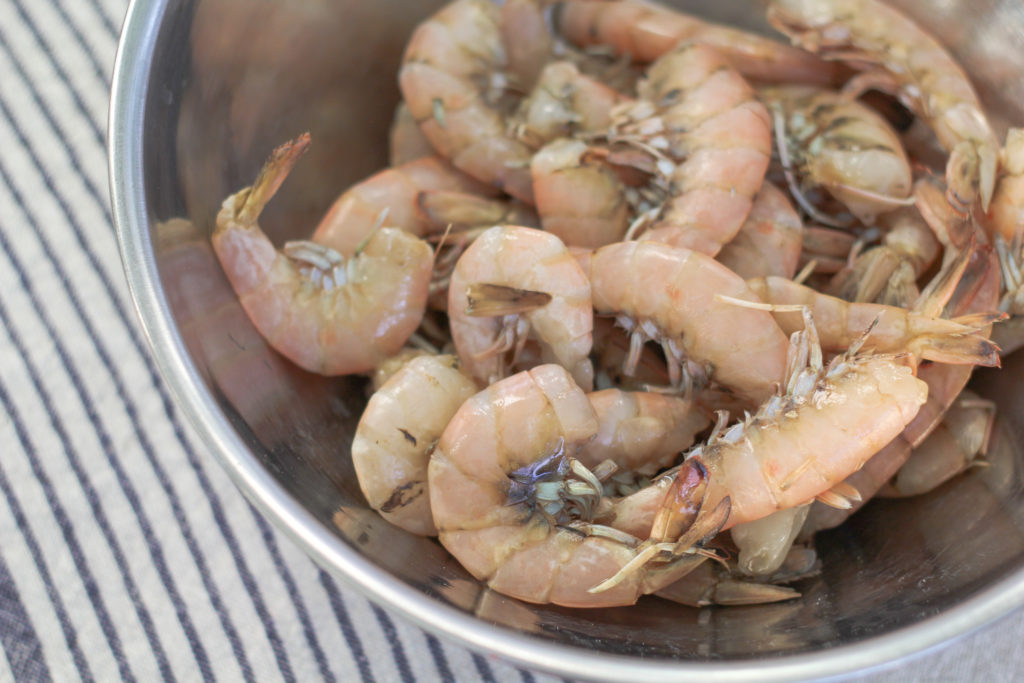 First, we need some really good shrimp, which means wild American shrimp. Key West pinks. Louisiana browns. They're always worth it. Gently poach them in some spiced up water and then rinse them with cool water.
The sauce starts with some sautéed onions, celery, and tomatoes, along with more spices. Stir in some tomato juice (or V8 or Clamato, if you prefer). Next, go through the shelves in your fridge and do a little of this, a little of that. I recommend lots of pickle juice and Crystal hot sauce. Taste until it's just right: tart, spicy, and briny.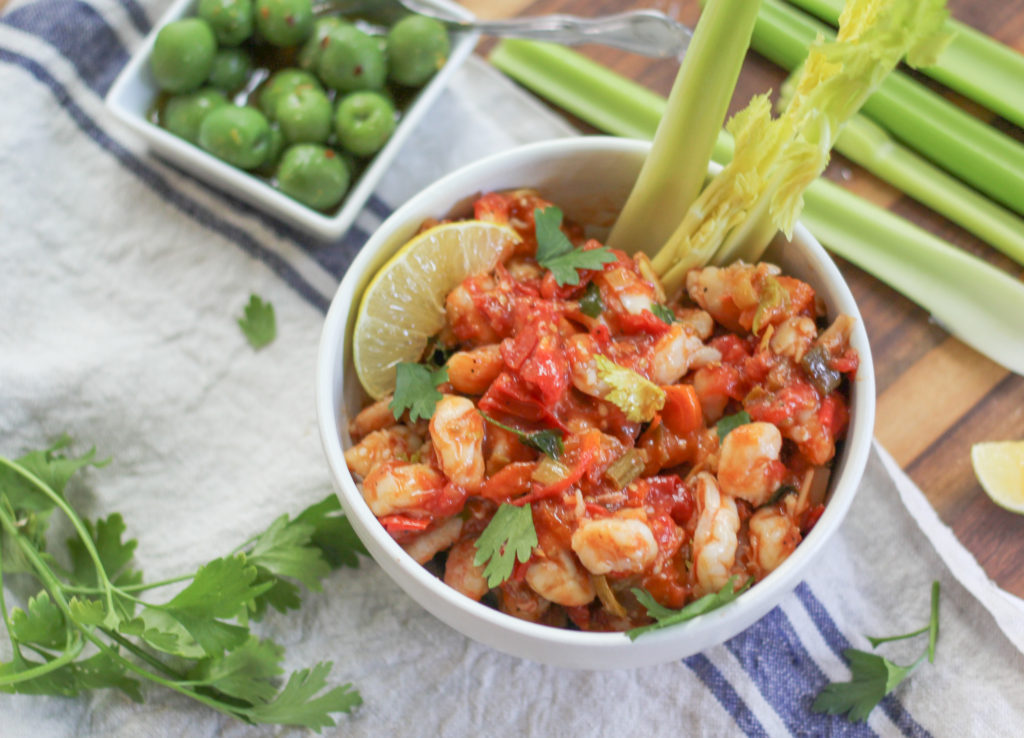 Now pour it over the shrimp and refrigerate overnight. Brunch is ready whenever you decide to get up.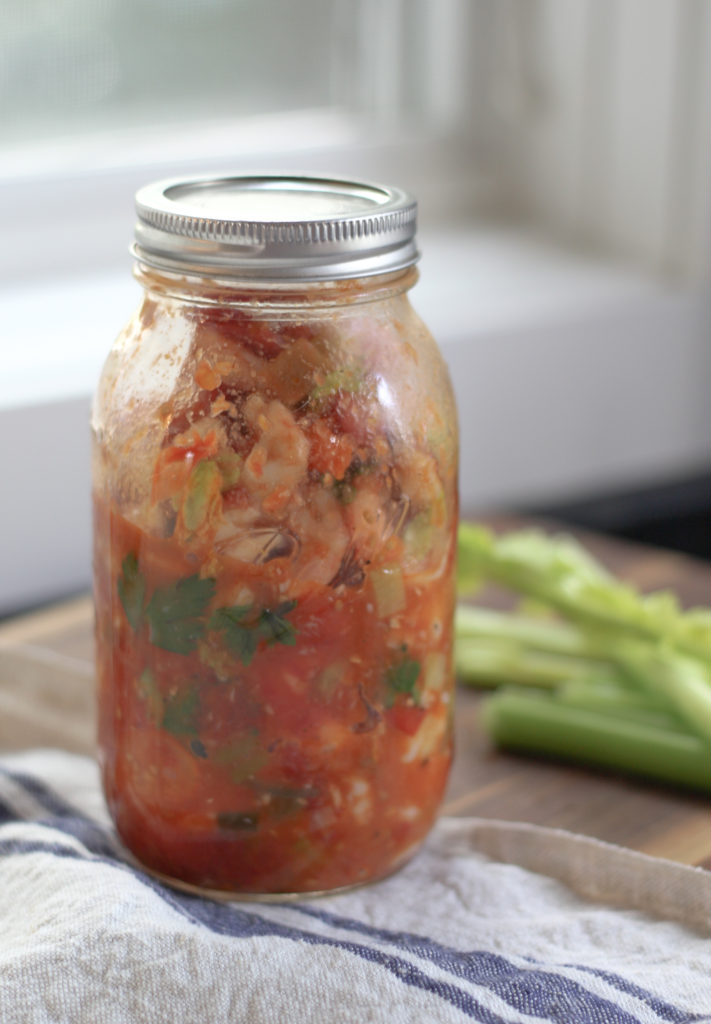 Don't worry, I didn't forget about the Bloody Marys! Just strain the juice from the jar into a glass of ice and top it off with some vodka. Garnish. Sip. Grab another shrimp.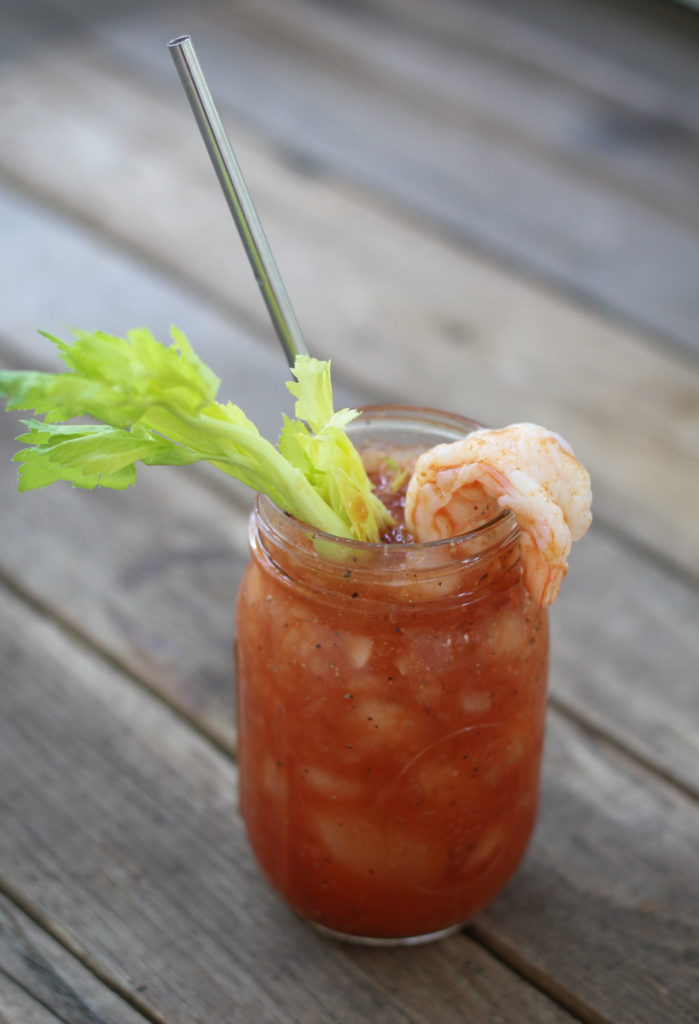 Cheers and happy Mother's Day!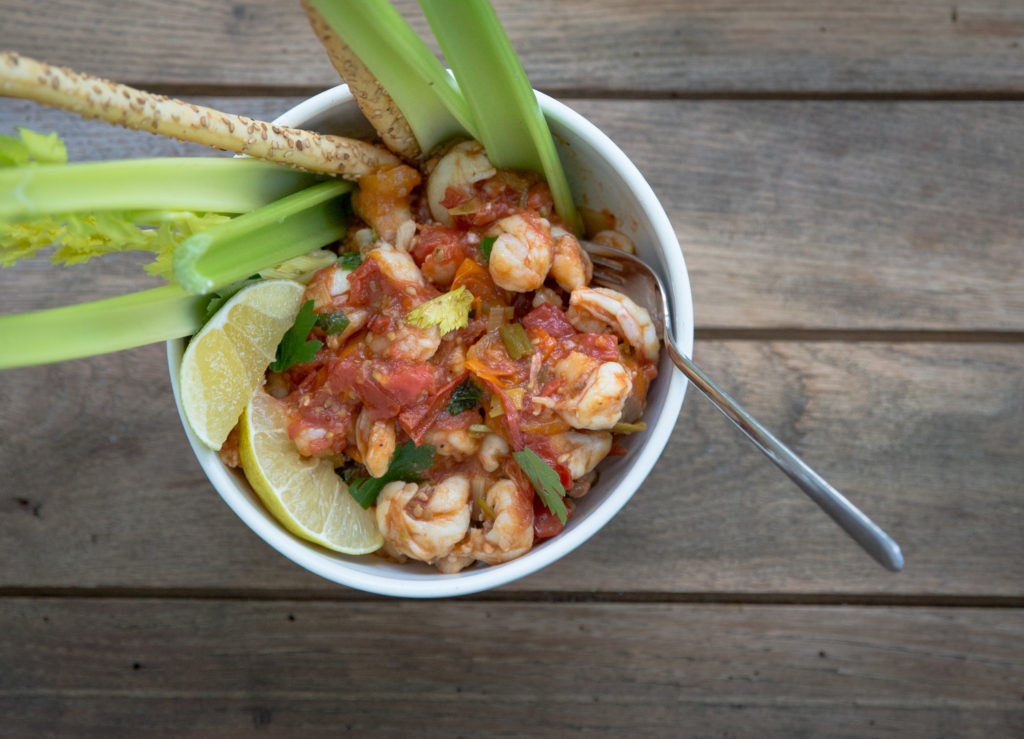 Bloody Mary Pickled Shrimp
2017-05-10 14:48:38
Ingredients
1 pound shrimp, peeled and deveined (tails are up to you)
2 bay leaves
1 teaspoon black peppercorns
1/2 teaspoon celery seed
2 tablespoons Old Bay seasoning
3 tablespoons olive oil
1 cup diced Vidalia onion
2 stalks celery, sliced
1 pint cherry tomatoes, sliced in half
1 11.5-ounce can tomato juice, V-8, or Clamato
1 teaspoon freshly cracked black pepper
1 1/2 tablespoons prepared horseradish
1 1/2 tablespoons Worcestershire sauce
2 tablespoons Crystal or Cholula hot sauce (or to taste)
brine from pickles, olives, and/or capers (add by teaspoons to taste)
juice of 1 lemon
handful of flat-leaf parsley, chopped
celery sticks, breadsticks, toast, crackers, parsley sprigs
Instructions
Bring 2 quarts of water, bay leaves, peppercorns, celery seed, and Old Bay to a boil in a pot over high heat. Drop in the shrimp and stir lightly. Reduce the heat to medium-high and cook until the shrimp are pink and just firm, about 1 minute. Drain the shrimp in a colander, and then rinse them under running cold water. Discard the bay leaves. Leave the shrimp in the colander and set aside.
In a skillet over medium heat, saute the onion and celery until they begin to soften, 6-8 minutes. Add the tomatoes and cook while stirring for another 4 minutes. Remove from heat and stir in the tomato juice, black pepper, horseradish, Worcestershire sauce, hot sauce, brines, lemon juice, and parsley.
Taste and adjust the seasonings.
Place the shrimp in a large jar, bowl, or glass container. Pour the tomato mixture over the top. Refrigerate overnight.
Serve the shrimp topped with some fresh parsley and plenty of celery sticks, along with breadsticks or crackers or toast.
Notes
For a Bloody Mary: strain 3 ounces of liquid from the shrimp jar. Combine with 1 1/2 ounces of vodka. Serve over ice.
Suwannee Rose https://www.suwanneerose.com/