My friend Kelley sent me on a quest for the ultimate mint julep for Derby Day. This drink has only four ingredients: bourbon, mint, sugar, and ice. I've had my share, but I've never made one at home. How hard could it be?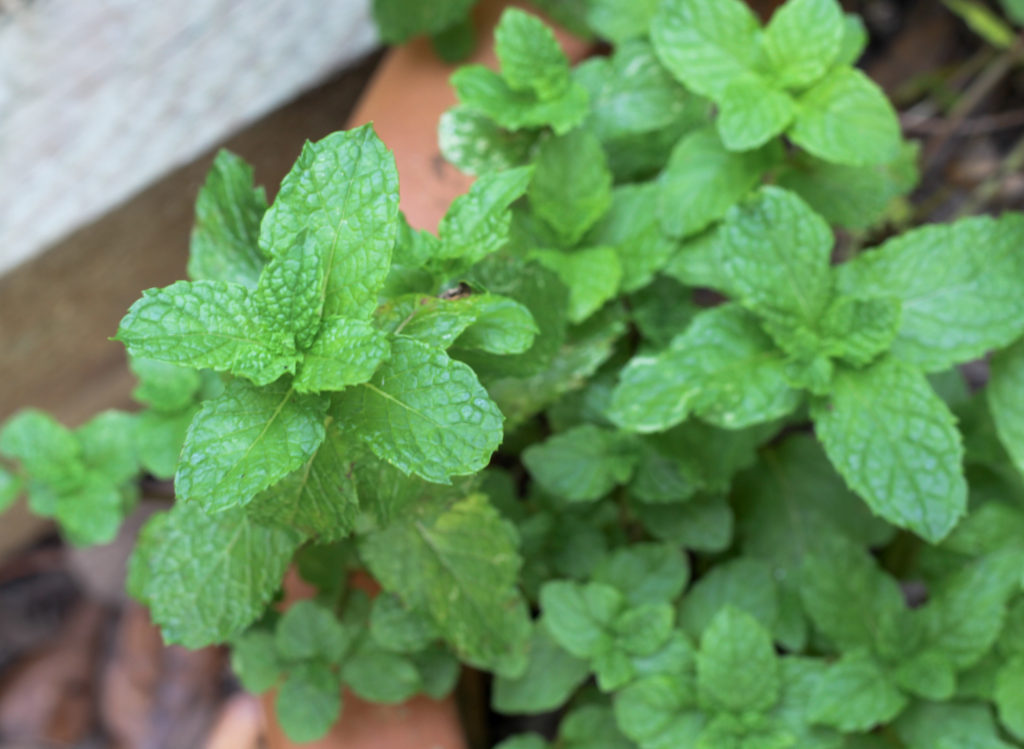 I called on all the Kentuckians I know, and I texted my favorite bartenders. Apparently there are rules about every single one of those ingredients, and you might even need a hammer to get the job done.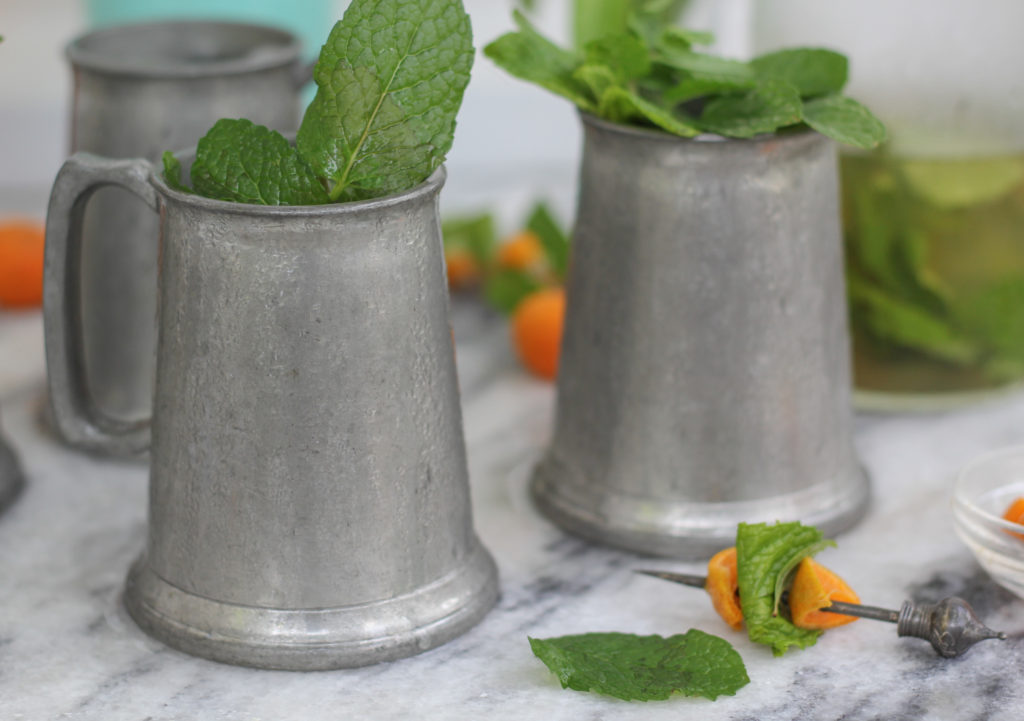 First off, the one thing everyone I polled agreed on: it's all about good Kentucky bourbon. The rest is just garnish. As brands go, I got one vote for Woodford Reserve and one vote for Blanton's (because that one has a racehorse on the cork).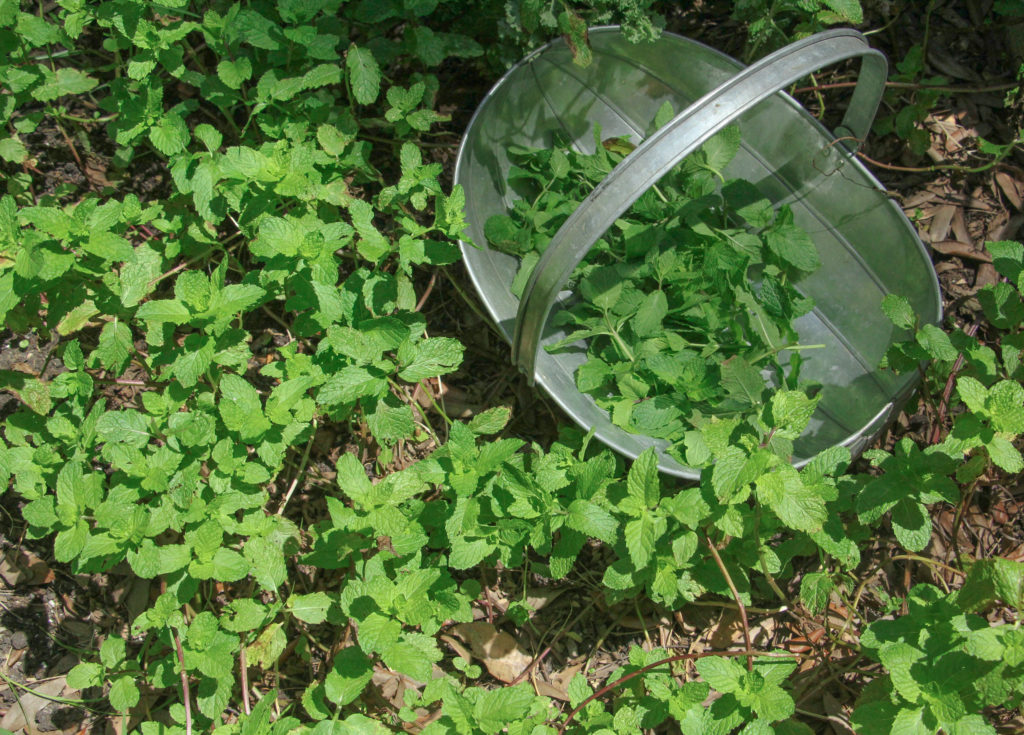 I've got a field of mint taking over the backyard. Maybe you do, too? Well hold your horses (sorry. I had to.). I was warned by my friend Maureen Berry, who writes cookbooks and hosts the podcast Green Fish Blue Oceans from her home in Kentucky, some folks like the mint muddled, but some only want to smell it, not taste it. Garnish only.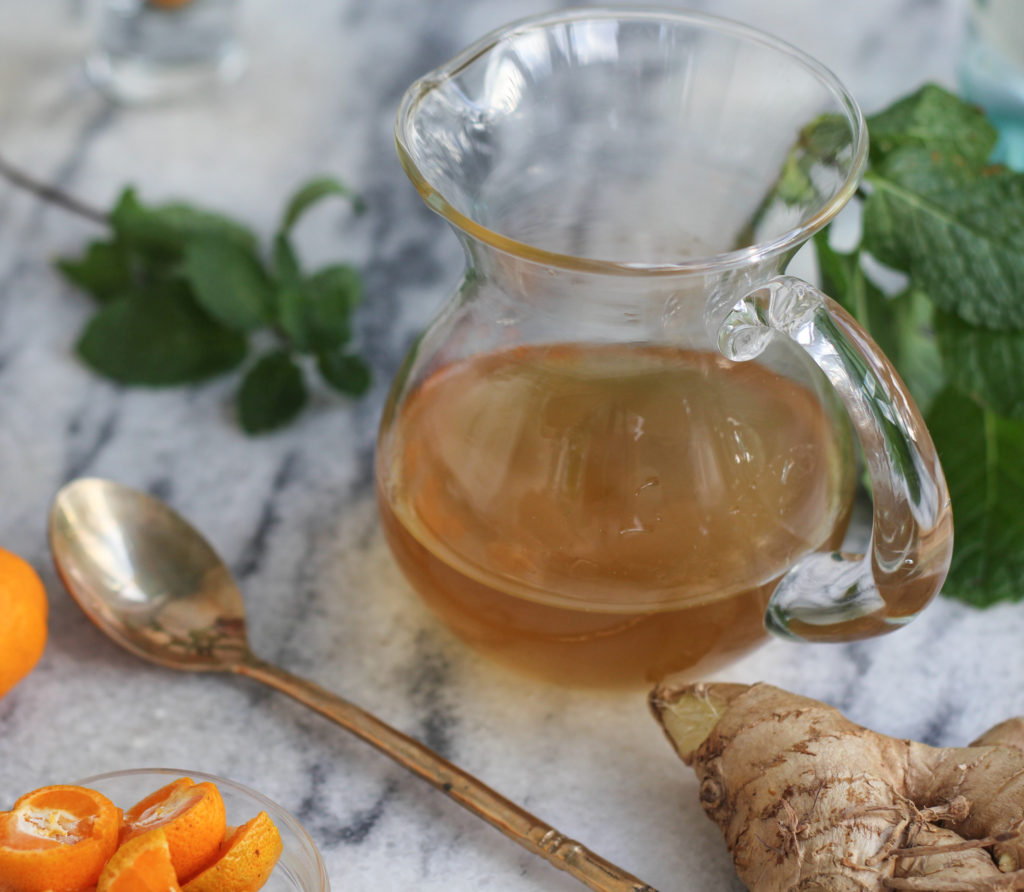 Now here comes the tricky part. The sugar can be straight-up granulated or simple syrup. If you're irreverent like me, you can infuse that simple syrup with a little ginger and some calamondins (or limes). It doesn't add a pronounced flavor, just a little hint of citrus and spice, which I think goes quite well with the bourbon. But I'm warning you, don't serve this to a purist! The folks in Kentucky immediately labeled this sacrilege. We can get away with anything in this state, though.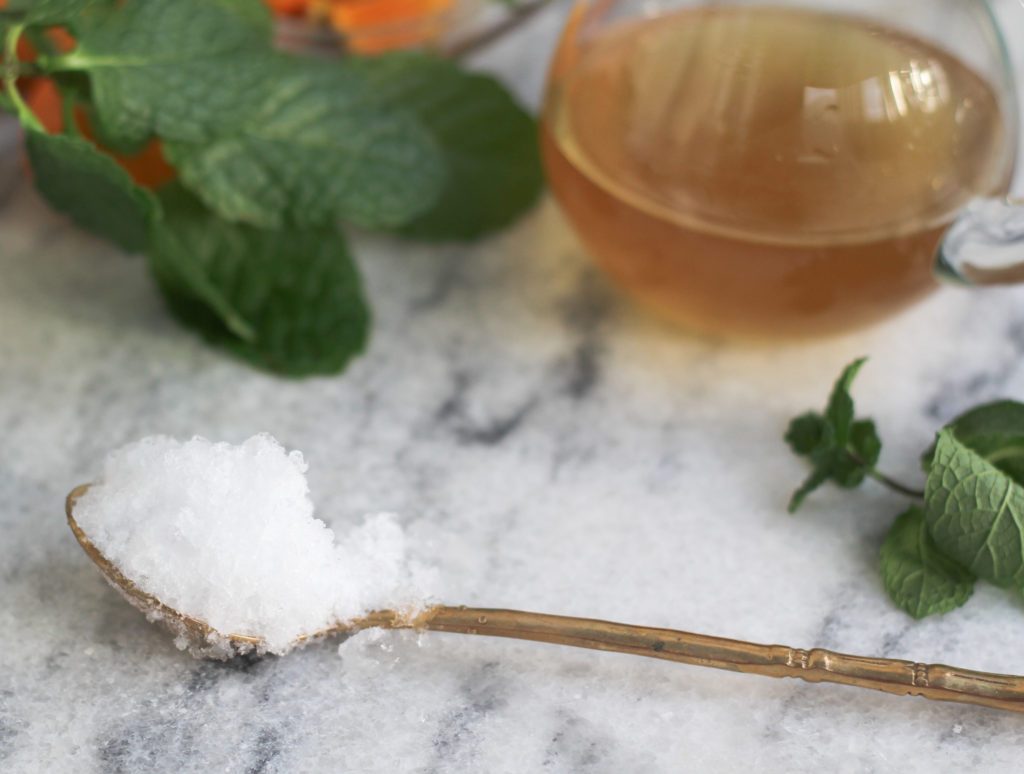 The final ingredient is ice. Ice is ice, right? It's only frozen water, people! Yet you would not believe how I got schooled on the ice. The general consensus: it must be crushed or shaved. Methods vary. According to Maureen, in Kentucky they pack ice cubes in a swatch of old clean denim and use a mallet or hammer to crush the cubes. Your other options: switch that little button on the front of your fridge from cube to crush! Or get out your blender. I so wish I had my old Snoopy Sno-cone maker.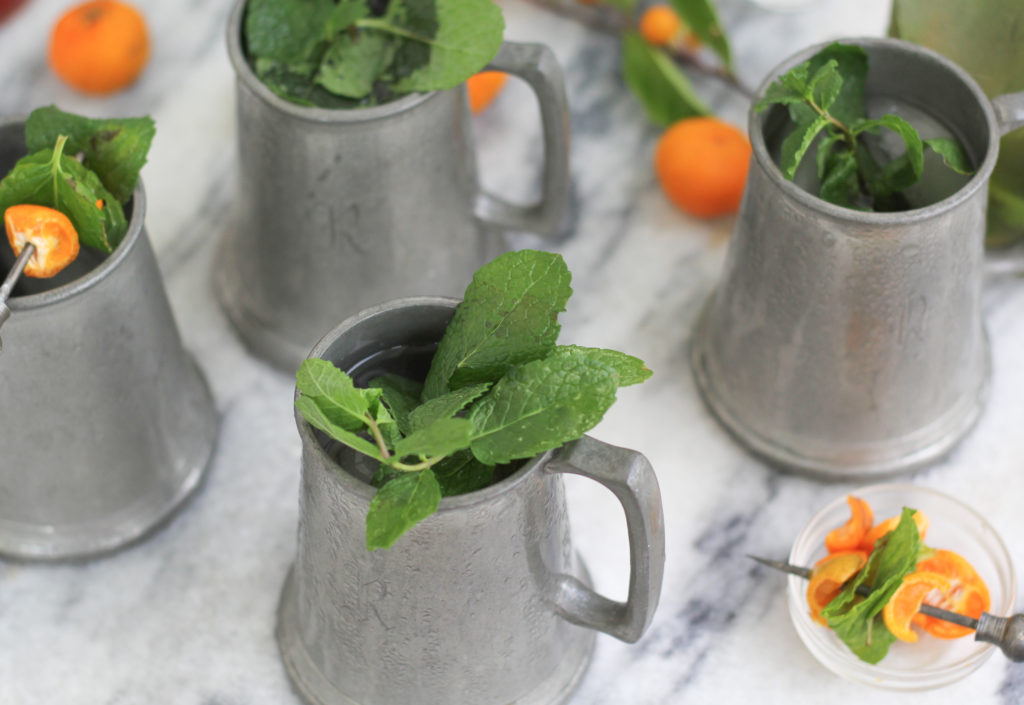 Not a single person mentioned the little silver cups. Good thing, because I don't have any. What I do have are these awesome little tankards from my father-in-law. Maybe they're not the real thing, but they're monogrammed, so I think I get points for that.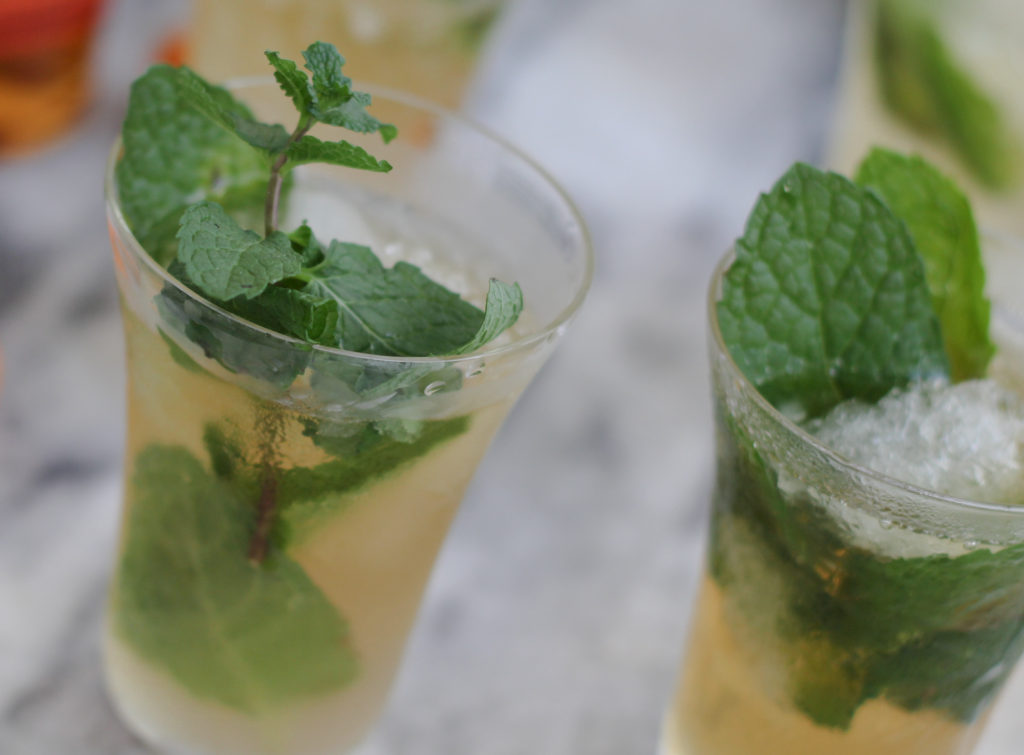 Your favorite glasses will work just fine, too, and that way you can see all the beautiful mint and crushed ice.
And the final word from Maureen: don't forget to stand when you sing My Old Kentucky Home!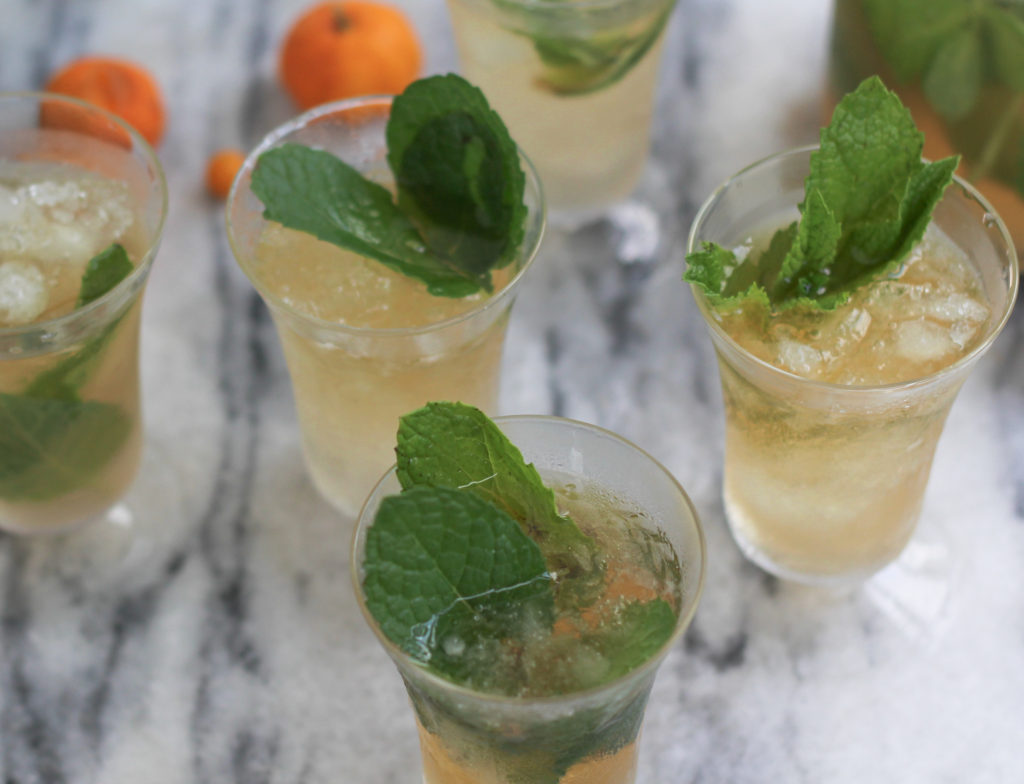 The Perfect Mint Julep
2017-05-04 14:30:03
Ingredients
2 ounces Kentucky bourbon
1/4 ounce simple syrup (see recipe below for the irreverently infused version)
crushed or shaved ice*
a handful of mint leaves, plus a sprig for garnish
soda water (optional)
Instructions
Muddle the mint leaves and simple syrup and pour over the ice. Stir in the bourbon. Add a tiny splash of soda water, if you must. Garnish with a mint sprig.
Notes
*Wrap ice in old, clean denim and crush with a hammer. Or use the ice-crushing function on your fridge, or a blender, or a Snoopy Sno-cone maker.
Suwannee Rose https://www.suwanneerose.com/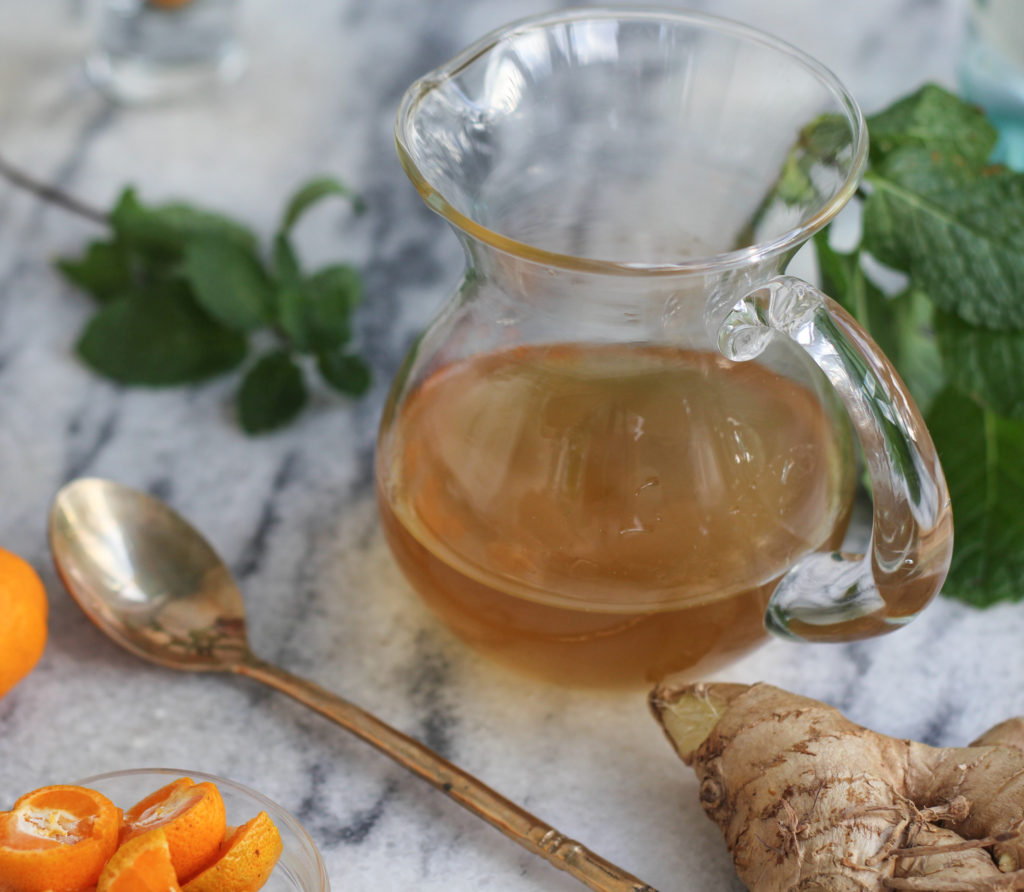 Calamondin & Ginger Simple Syrup
2017-05-04 14:35:52
Ingredients
1 cup water
2 inches of ginger, peeled and sliced into rounds
1/2 cup quartered calamondins (or the zest of 1-2 limes)
1 cup sugar
Instructions
Bring the water, ginger, and calamondins to a boil in a small saucepan. Stir in the sugar until it completely dissolves. Reduce the heat to low and stir occasionally for 5 minutes, then turn off the heat and allow it to cool in the pot for one hour. Strain into a glass jar. Keeps for weeks.
Suwannee Rose https://www.suwanneerose.com/