I'll never forget the first time I tried homemade sambal. Two family friends, Yanti and Irna, were staying with us one summer. We were all stocked up on the ABC brand of Indonesian sambal that's a staple in our family, but after a month these Balinese girls were craving the homemade stuff they ate back home.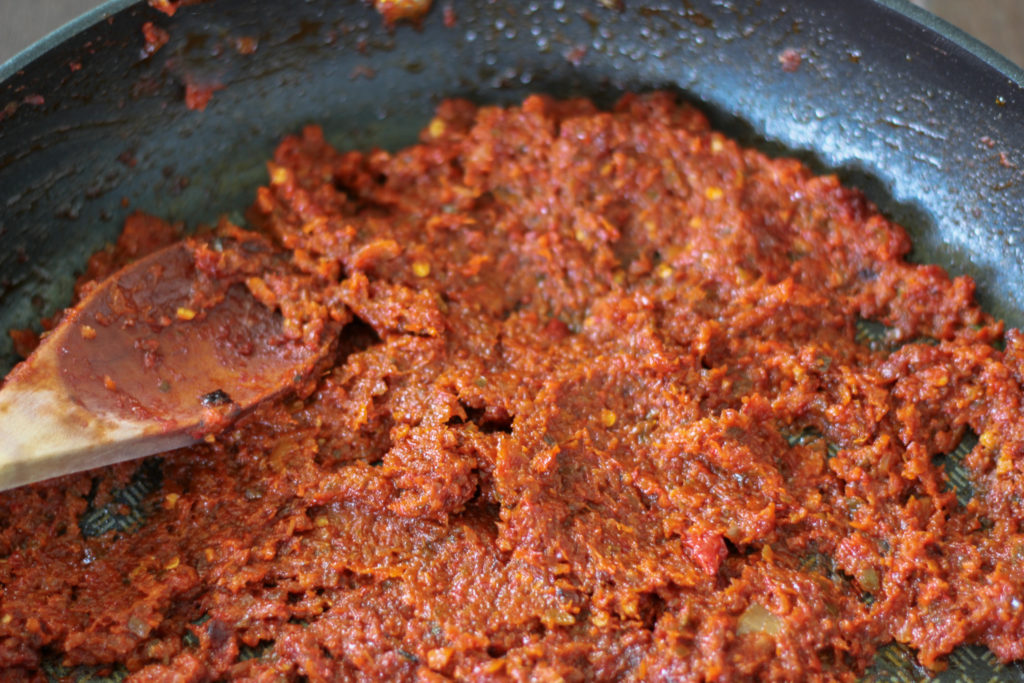 They decided to make some in my mom's kitchen. We watched as they crushed chiles and aromatics into a thick paste and heated some oil in a skillet. As soon as it hit the pan our eyes started burning and our noses started tingling. Before long we were all running out the door, gasping for air in the backyard.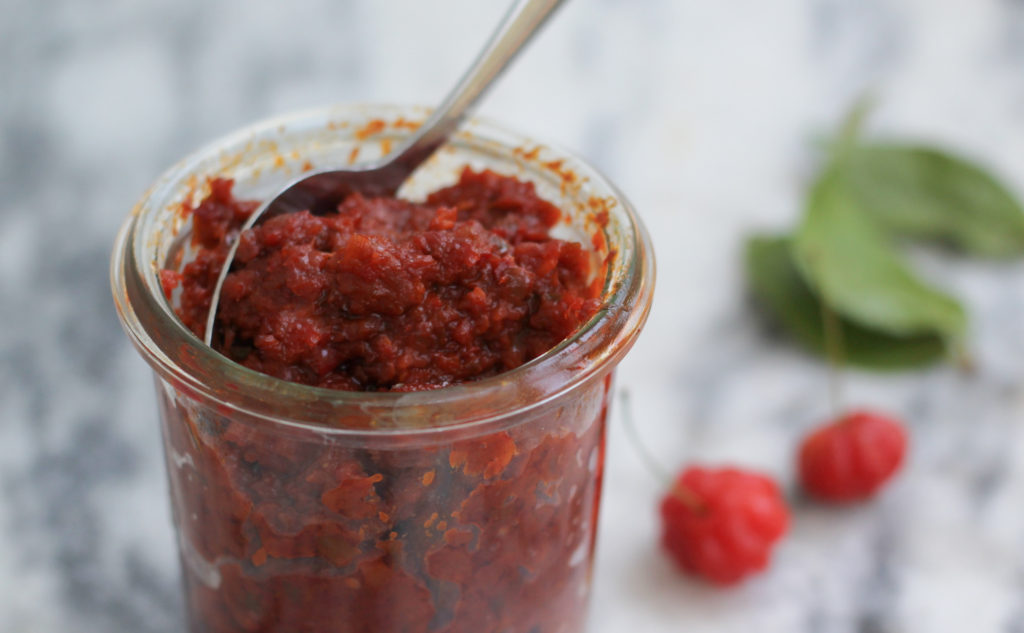 Eventually we aired out the kitchen. That night we had the usual: fish, rice, and veggies. At first I could only handle the tiniest bit of that sambal, barely a speck on the end of my fork. The flavor underneath that blaring heat was incredible, and slowly I started adding more.
There are hundreds of Indonesian sambals ranging in intensity from mild to very hot. The ones I love have a "tropical sweet heat," and that's exactly what you get when you throw in some ripe Surinam cherries. These so-called "cherries" are actually Eugenia uniflora, and they're related to guavas. They're mostly planted as an ornamental hedge, but the fruit are edible. You can find ripe ones right now all over central and south Florida.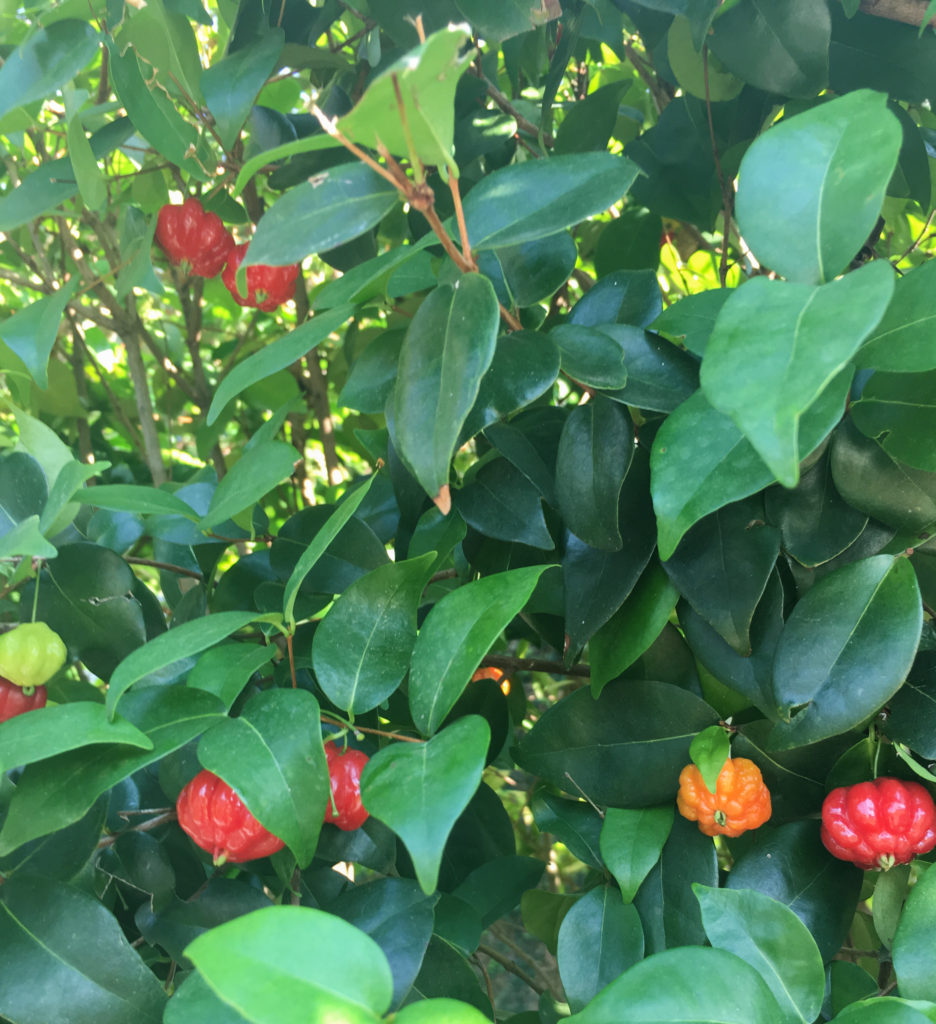 I ate them all the time in my great-grandmother's backyard. They were definitely not the tastiest fruit out there, but it was hard for us kids to resist them. They're shaped like tiny pumpkins ranging in color from green to orange to red to purple. When filled with fruit, the hedge looked like a Christmas tree. We quickly learned that the unripe ones are green and orange and they taste dreadful, like gasoline, but the darkest red and purple ones that fell off the bush with the slightest touch tasted like tomatoes. Strange tomatoes.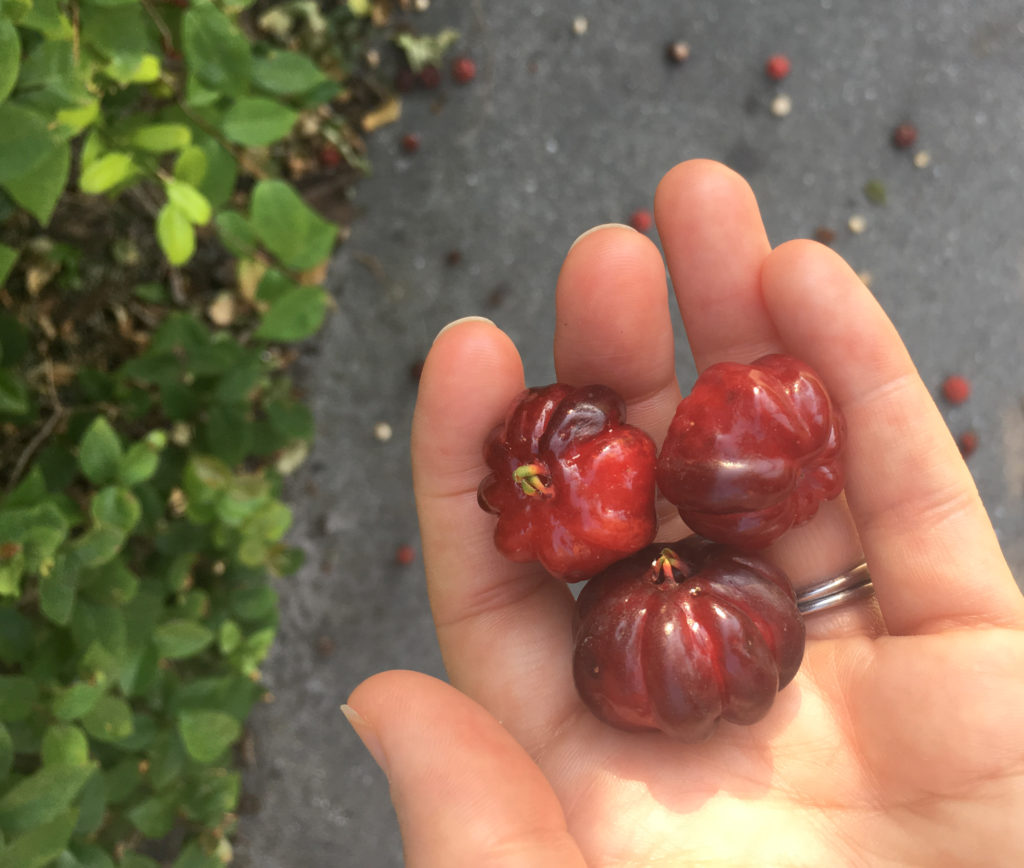 Great Grandma Sara showed us how to tame that odd resinous flavor by removing the seeds and sprinkling them with sugar. Once they sit in the fridge a while they get super juicy and they taste sweet-tart and tropical.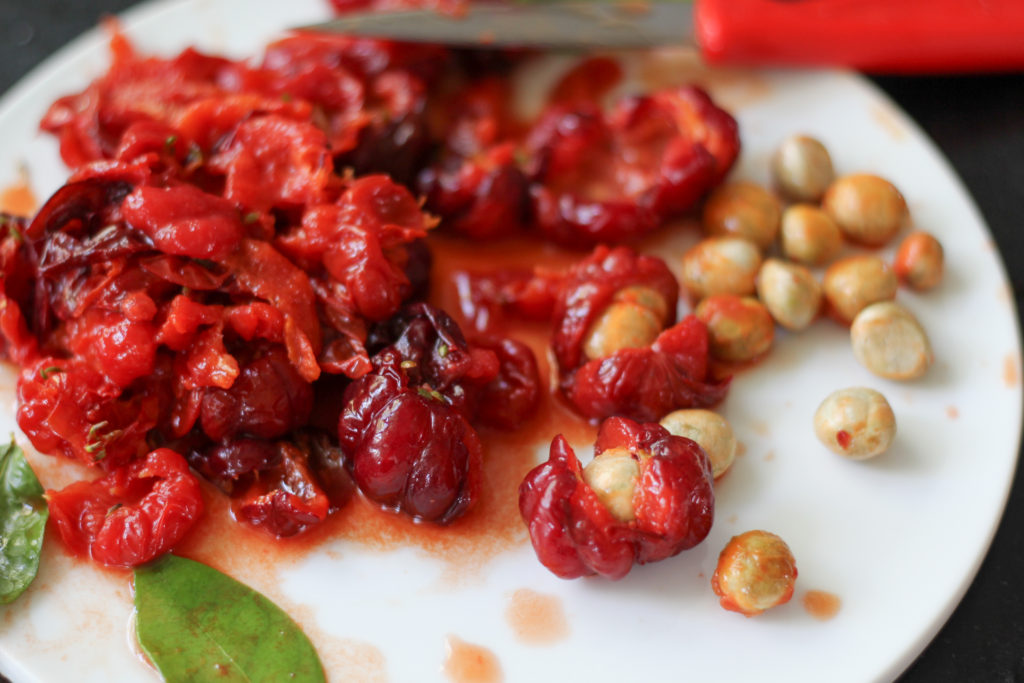 Sugar-sprinkled Surinam cherries are the perfect base for a "tropical sweet heat" sambal. Blended with chiles, shallots, garlic, and lemongrass, there's a little something to tickle all the tastebuds.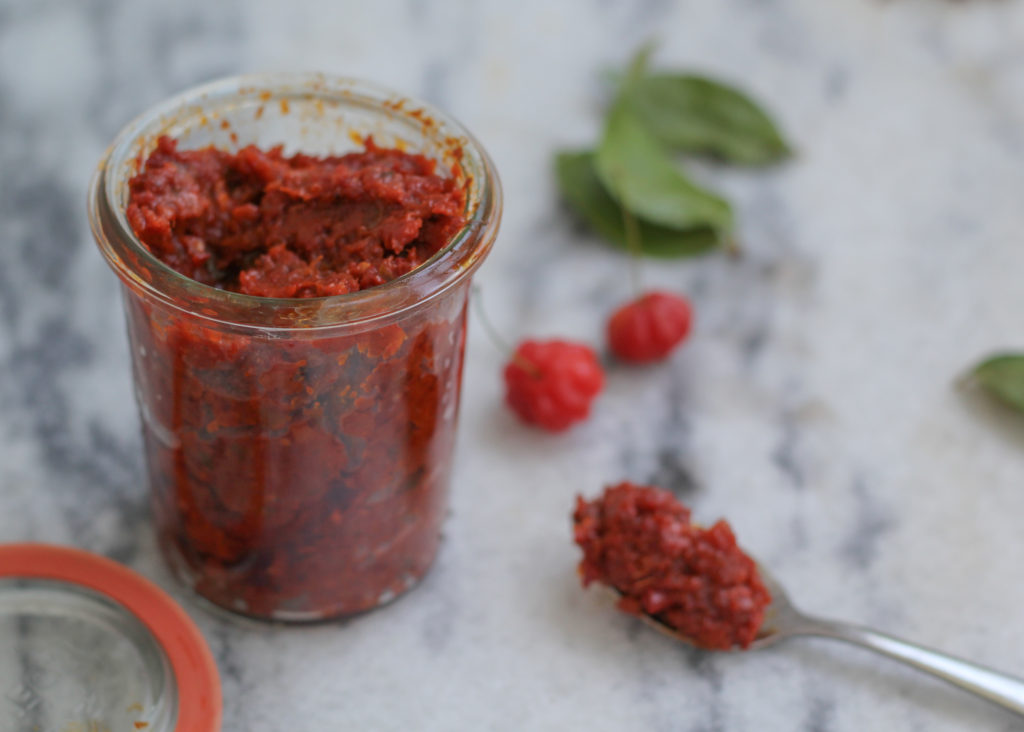 But be sure to open the windows first.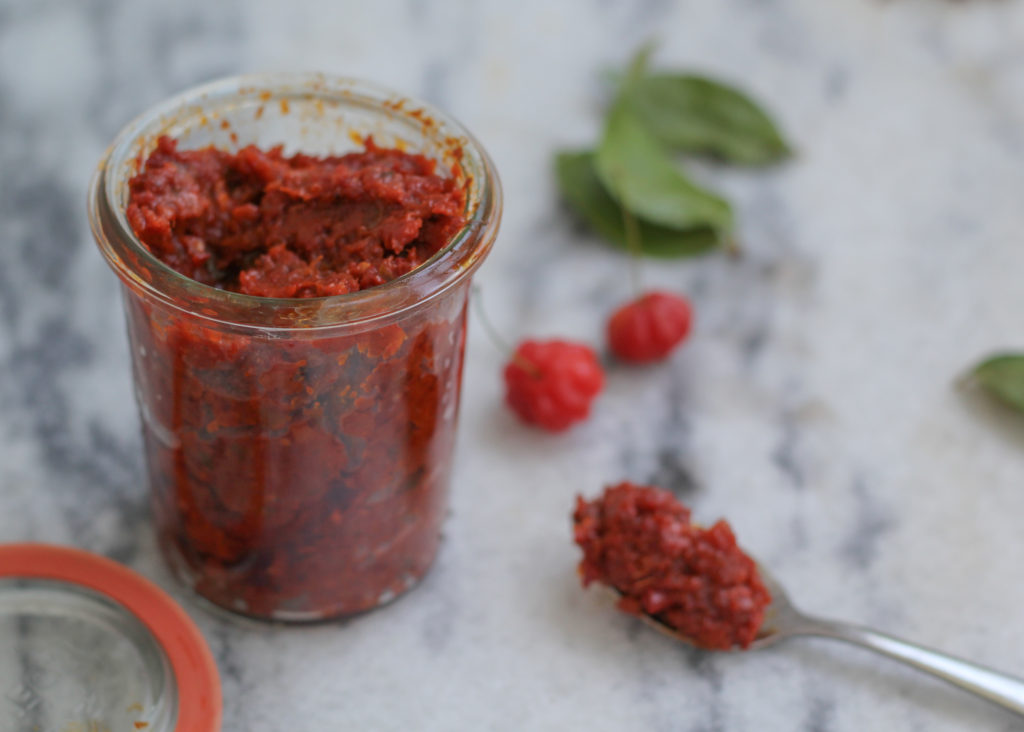 Surinam Cherry Sambal
2017-05-18 11:53:52
Ingredients
2 cups ripe Surinam cherries
1 tablespoon sugar
1/4 cup high-heat, neutral oil (grapeseed, refined coconut), divided
3 shallots, thinly sliced
2 teaspoons sliced inner-bulb of lemongrass (or the zest of a lemon or lime)
4-10 hot chiles, any variety you like, sliced (remove seeds for less heat)*
2 cloves garlic, roughly chopped
2 teaspoons fish sauce
Instructions
Slice the cherries in half and remove the seed (sometimes there are two). Sprinkle sugar over the cherries and place them in the fridge for a couple hours or overnight.
Heat 2 tablespoons of the oil in a non-stick skillet over medium-low. Add the shallots, lemongrass, and chiles. Saute, stirring often, for about 5 minutes, or until the veggies just begin to soften. Add the garlic and cook for another minute or so, reducing the heat so it doesn't brown.
Transfer the sautéed vegetables to a mortar and pestle or a food processor and combine them with the surinam cherries to form a thick paste.
Heat the remaining oil in the skillet over medium and return the paste to the pan. Saute the paste while stirring until it begins to sizzle and turn a darker red, about 5 minutes. Add the fish sauce and keep stirring for another few minutes.
Transfer the sambal to a jar and store in the refrigerator until ready to use.
Notes
*I used 3 Thai chiles, 2 jalapeños, and 1 habanero without the seeds.
Suwannee Rose https://www.suwanneerose.com/