I cannot tell you how many different mango recipes we tried before finding one we deemed "mango mania-worthy." Somehow we settled on a dish called larb, which was a bold move. Yeah, the word larb, not the most appealing, but it's better than "meat salad," which is basically what it is. If you've had it before, you understand the appeal. You typically find larb made with ground pork or chicken. It's fragrant and spicy and textured with toasted rice powder, served in lettuce cups or over rice. It hails from Thailand and Laos, those places I find so inspirational for a Florida kitchen.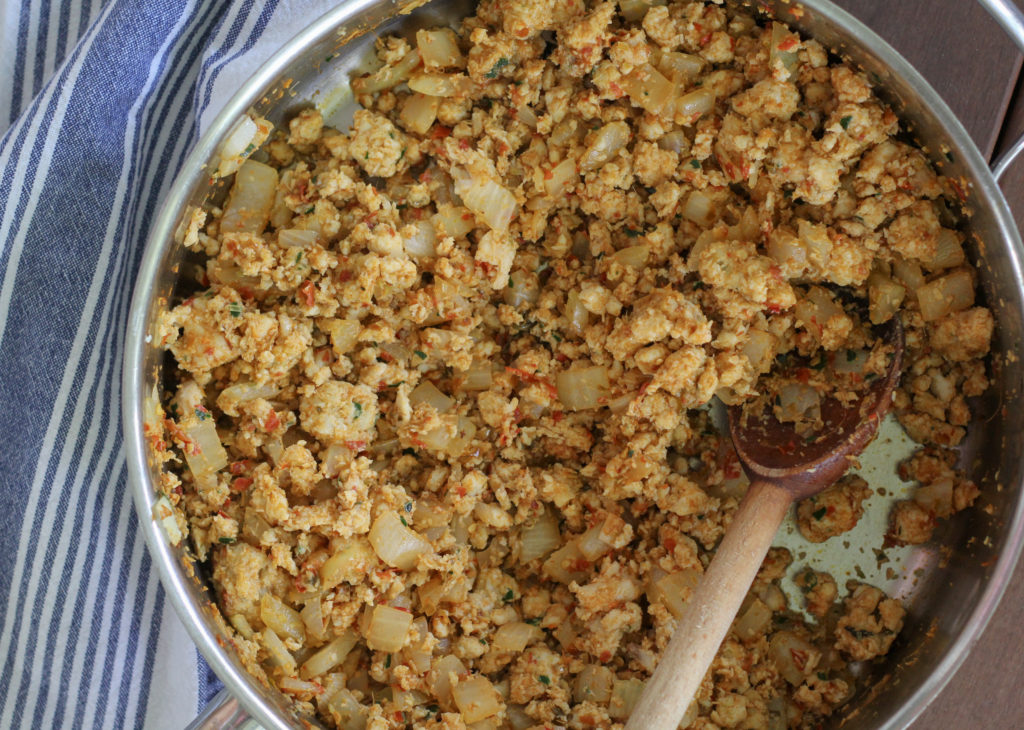 We decided all the dolphin (aka mahi-mahi) Toby caught in the Bahamas would make some awesome larb. One caveat: neither of us have ever had fish larb. We found a rendition in a cookbook and saw some in the far reaches of the internet. Let's just say this is a loose translation. I decided to pulse the fish in the food processor to grind it up like the larb we know. I mixed in shredded coconut and kaffir lime leaves and lemongrass before sizzling it in a pan with a heavy dose of spice paste.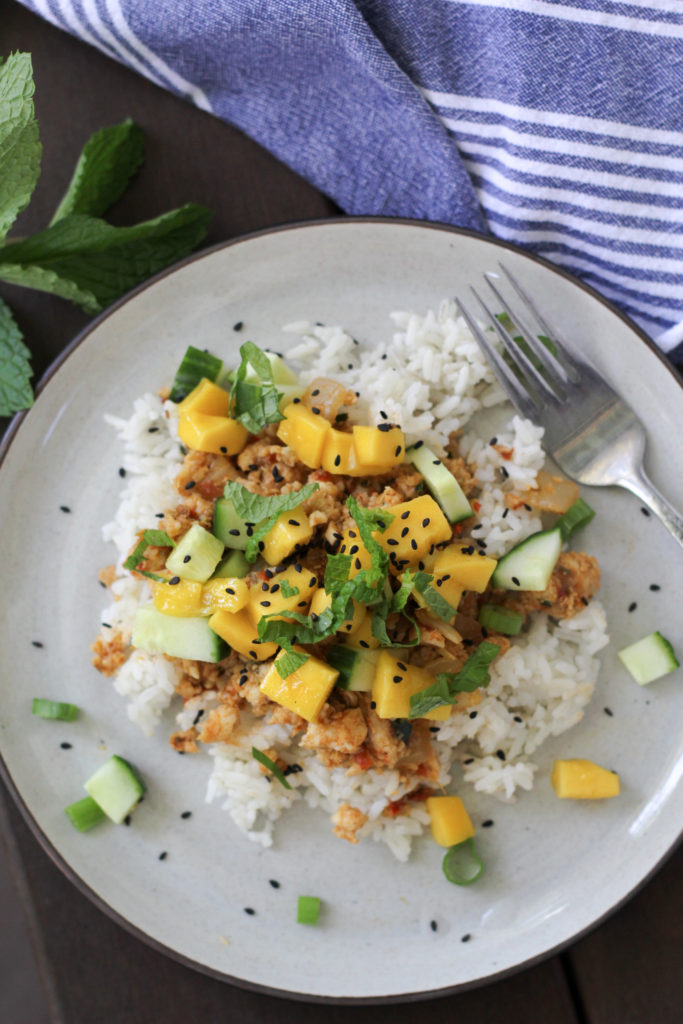 I balanced out the heat with smooth, sweet mango and fresh mint on top. We made this over and over and we tried it out on friends. It's creative, delicious, and attractive. We thought we had a winner. There was just one problem: no mangos.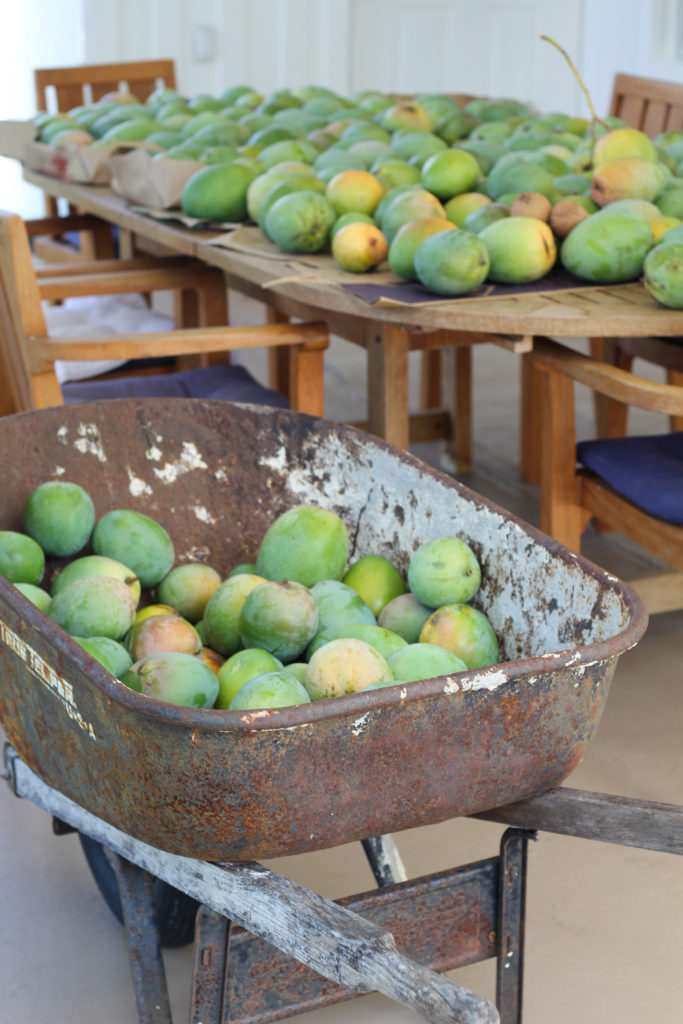 It's hard to believe, considering we had to use the wheelbarrow last mango season. This year we've only got a few mangos between all our trees. Maybe they're exhausted from that last bumper crop, maybe they didn't like the hard trim we gave them, or maybe it was the weather. Whatever the reason, we had to figure out where to get enough mangos to make 100 servings of our dish.
Yes, I'm aware that you can buy mangos at the grocery store, but my fellow mango lovers will understand when I say those mangos just won't do.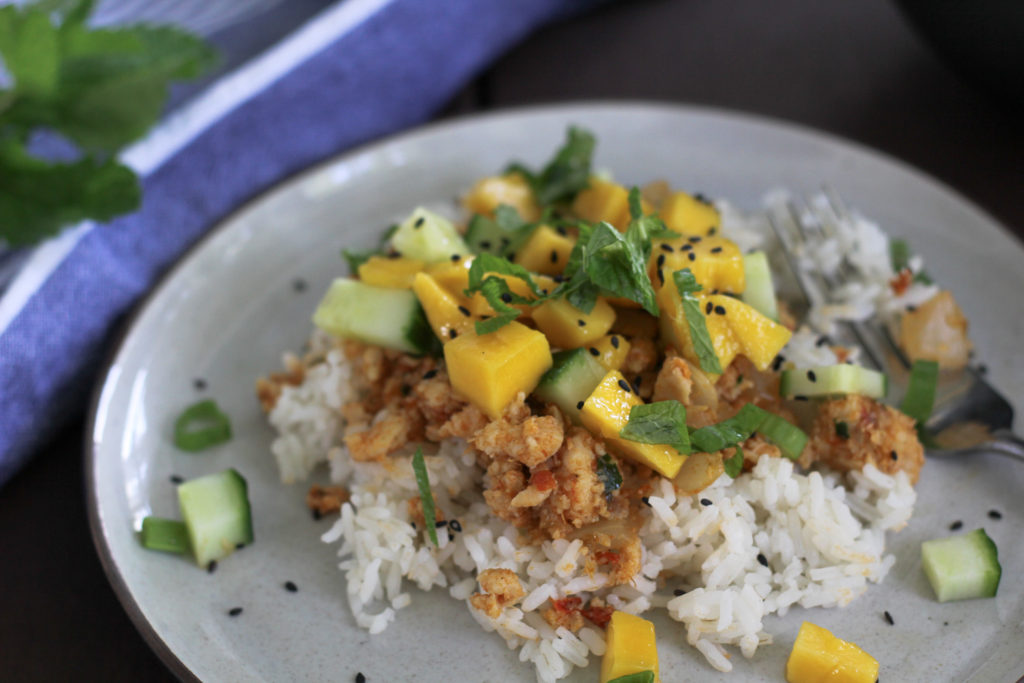 In all fairness, I did bring home one of those little yellow ones from the market just to see if it would work over larb. After one bite Toby chucked it and said I was wasting my time.
So to Fruitscapes we went. The guys at our favorite fruit stand in Pine Island came through for us with a couple dozen gorgeous Nam Doc Mai mangos (plus some Pickerings and Glens because I couldn't resist).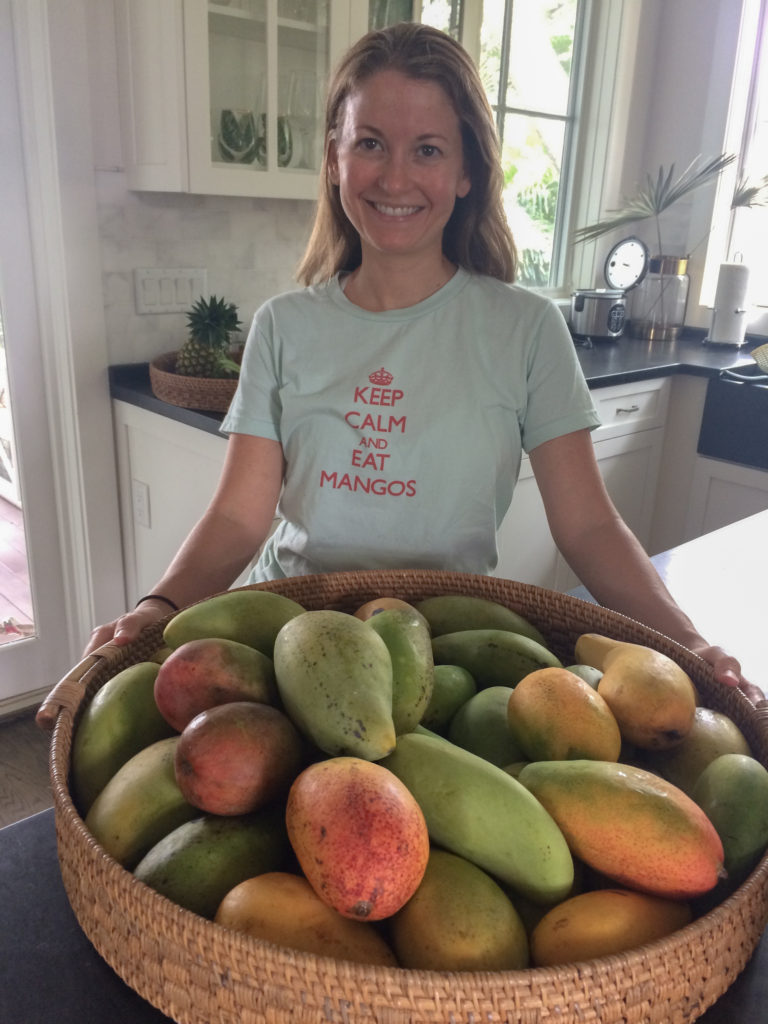 I'm not obsessed or anything. Noooo.
We made the larb in little bamboo boats stacked in baskets with banana leaves between each layer. I thought we had this thing in the bag.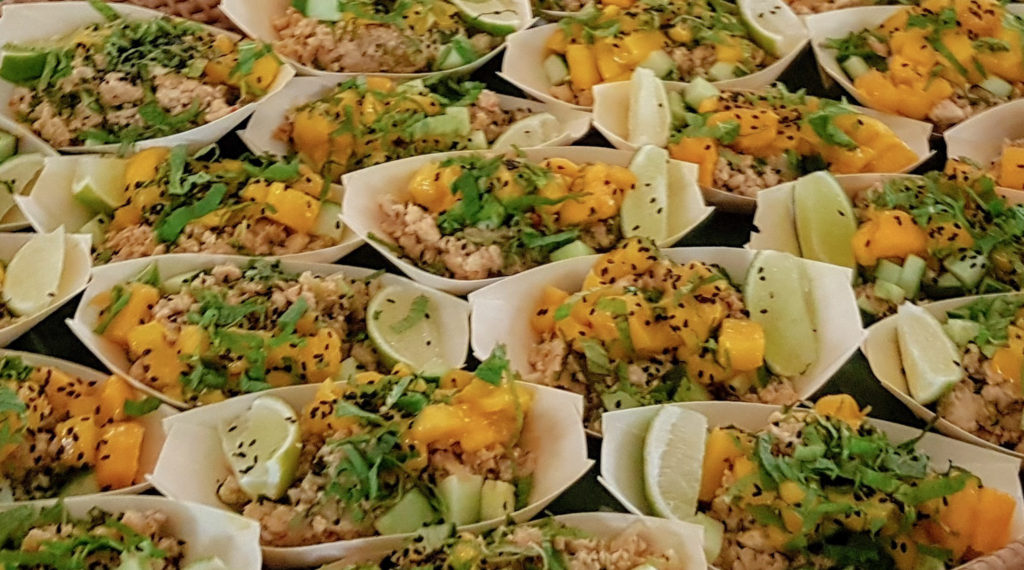 But when we got to the party my hopes were dashed when I saw this guy slicing up pork roasts stuffed with mangos and wrapped in bacon and glazed with more mango. If you want to win a food competition, BACON. Well played, Gary.
And Gary did win best entree, but somehow we squeaked out another Best Overall.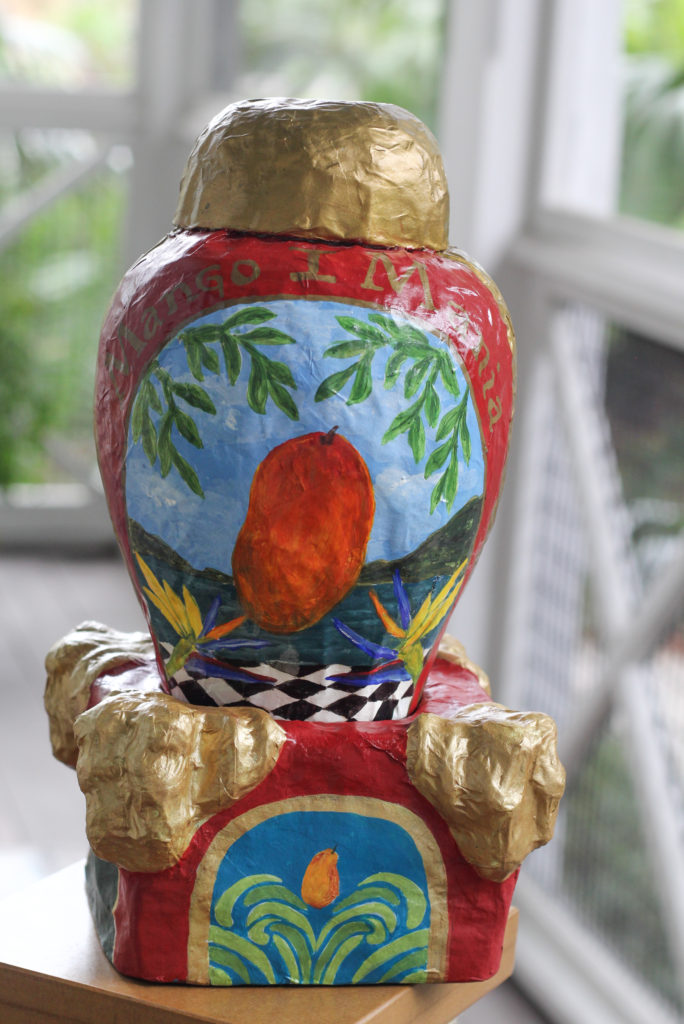 I must say, Nam Doc Mai mangos are so good, I suspect I could serve them all alone and still have a decent shot at a win. I may try that next year.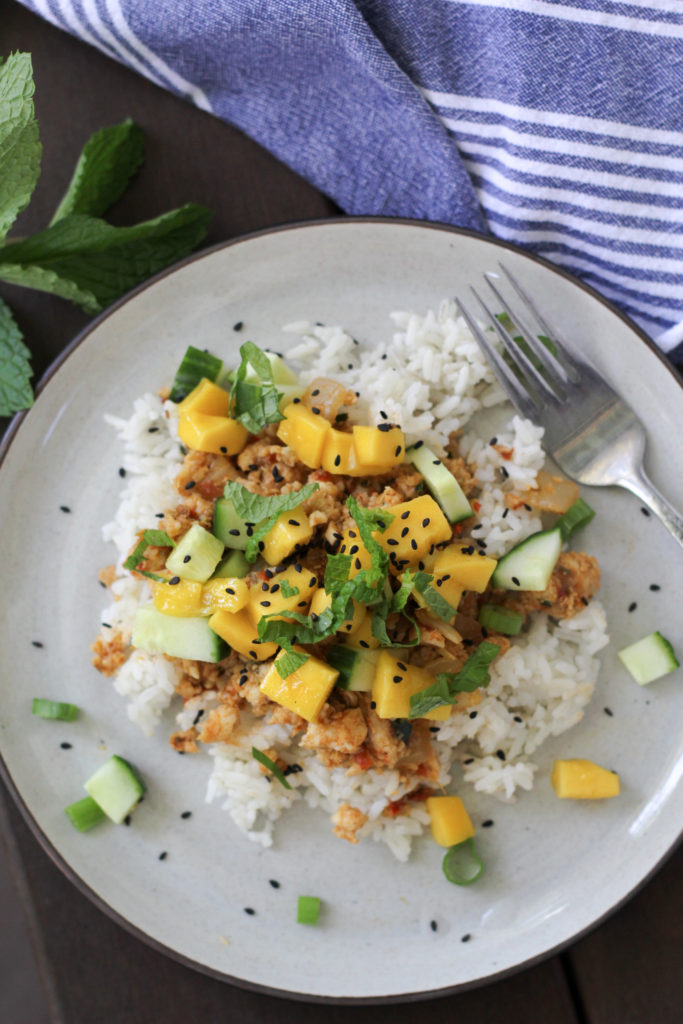 Mango Mahi Larb
2017-06-18 18:14:30
Ingredients
3 kaffir lime leaves
1/4 cup sliced inner-bulb lemongrass
1 cup shredded unsweetened coconut (you can also use fresh coconut meat)
1 1/2 pounds fish (grouper, mahi, snapper)
2 tablespoons high-heat, neutral oil (grapeseed, refined coconut, canola)
1 onion, diced
2-3 tablespoons Thai chile paste or sriracha
2-5 Thai chiles, thinly sliced (optional, for extra heat)
1 1/2 tablespoons toasted rice powder*
a dash or two of fish sauce or salt, to taste
juice of 2 limes
1 1/2 cups diced English cucumber
2 cups diced mango (preferably Nam Doc Mai)
large handful fresh mint
toasted black sesame seeds
serve with rice or lettuce cups
Instructions
Rip the four sections of each kaffir lime leaf away from the center rib and discard the ribs. Add the torn lime leaves, lemongrass, and coconut to a food processor and pulse until the green parts are finely chopped.
Pat the fish dry and cut it into large chunks. Add it to the food processor with the coconut mixture and pulse to chop the fish until it resembles ground meat.
Heat the oil in a large skillet or wok over medium. Add the onion and saute, stirring often, until it's transluscent. Lower the heat if they start to brown.
Add the fish mixture and stir it up with the onions. Take a deep breath, hold it in, then add the chiles (if using). Dollop on the chile paste and stir it into the fish. Run to another room if you need to breathe.
Sprinkle on the toasted rice powder. Continue stirring until the fish is cooked through.
Add the fish sauce (or salt) and lime juice. Taste and adjust the seasonings.
Transfer the larb to a serving dish and top with cucumber, mango, mint, and sesame seeds, along with rice or lettuce cups.
Notes
*You can sub a tablespoon of toasted sesame seeds here. I find toasted rice powder at my local Asian market. I tried to make my own but it was too gritty to me.
Suwannee Rose https://www.suwanneerose.com/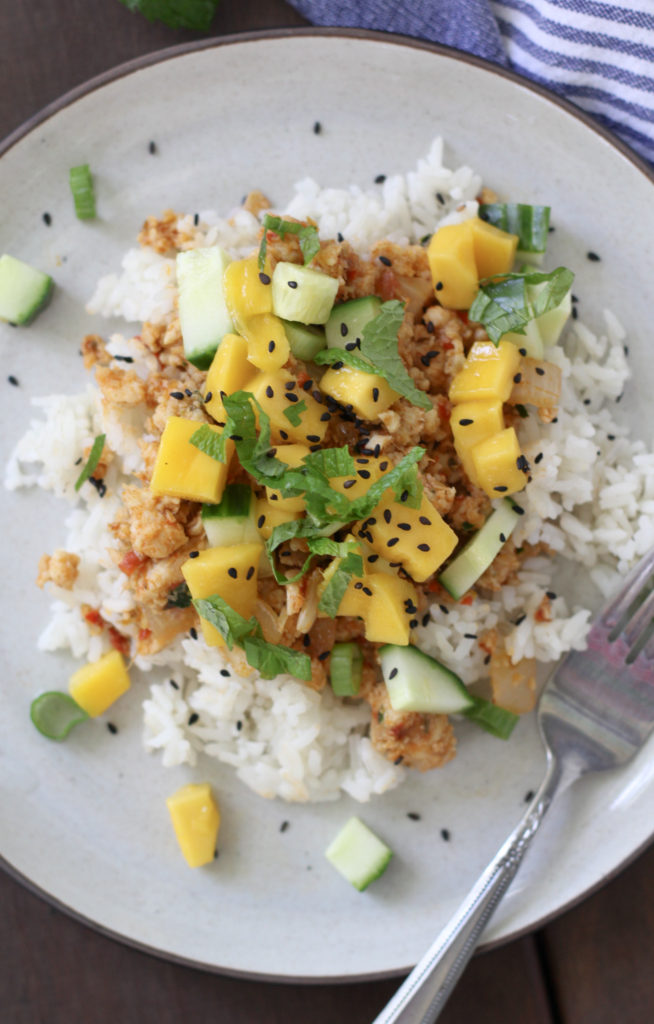 SaveSave
SaveSave
SaveSave
SaveSave
SaveSave
SaveSave
SaveSave
SaveSave
SaveSave
SaveSave