The world does not need another hokey depiction of Florida.
I had my doubts about Bloodline, the Netflix series that takes place in the Florida Keys, but I was pleasantly surprised to find a glimpse of real Florida mixed in with all the drama. A few of the characters are actually believable Floridians. The sweeping aerial views of the Overseas Highway are awesome. The storyline kept me on the edge of my seat. I'll admit it: I was equally enchanted and haunted by season 1.
Unfortunately, I can't say the same for the other two seasons. My guess is the original writers quit. I can tell you the moment I finally threw in the towel (it's not a spoiler, unless we're talking spoiled authenticity):
Season 3, episode 3: Sally Rayburn (played by Sissy Spacek) is making ceviche to bring to a wake at the home of some Cuban friends. She turns to her daughter and says, "What kind of fish do Cubans use in ceviche? Halibut?"
How did they let that one slip? Of all the fish we can catch for ceviche between Florida and Cuba, you're going to talk about HALIBUT?! I've been joking about that dumb line ever since.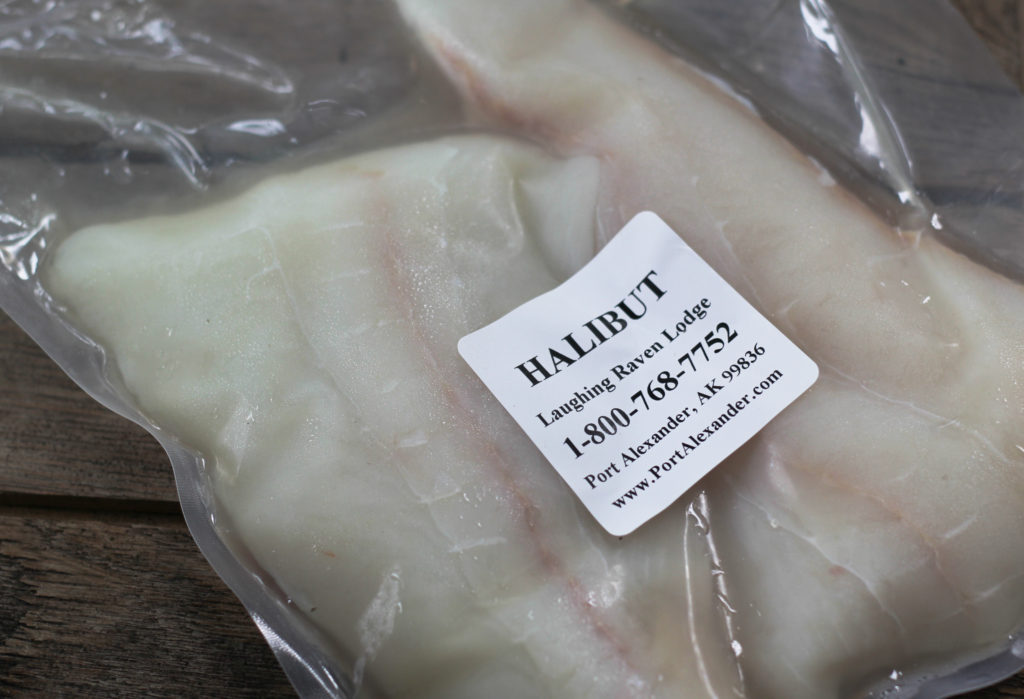 Now it has come back to bite me. I complained about a halibut mention on a Florida-themed show, and here I am writing a halibut recipe on a Florida-themed blog.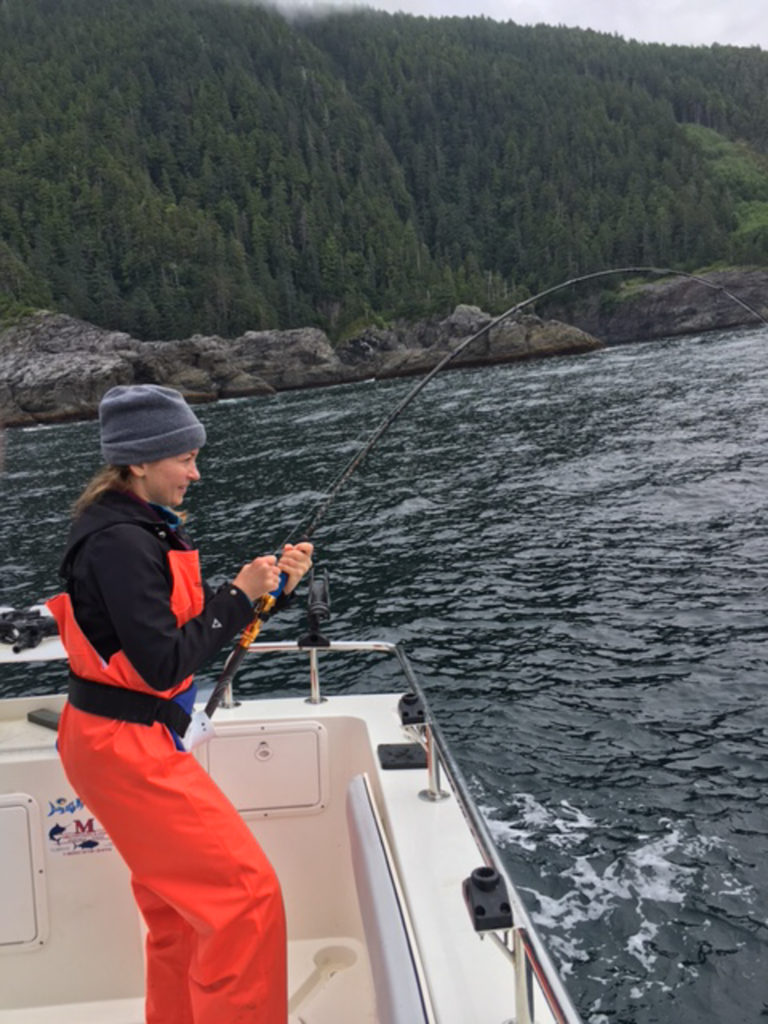 I feel vindicated, though. I caught the halibut, and it was damn fun!
Here's how we fished for them: Drop the line to the rocky bottom. When it hits, you'll feel a thunk. Reel up just a bit. Then jig the line up and down off the bottom. As our guide Ryan says, if you feel something smack it, smack it back! Then brace yourself and start reeling. If it feels like you've got a refrigerator at the end of the line, that's a halibut. One almost pulled me overboard.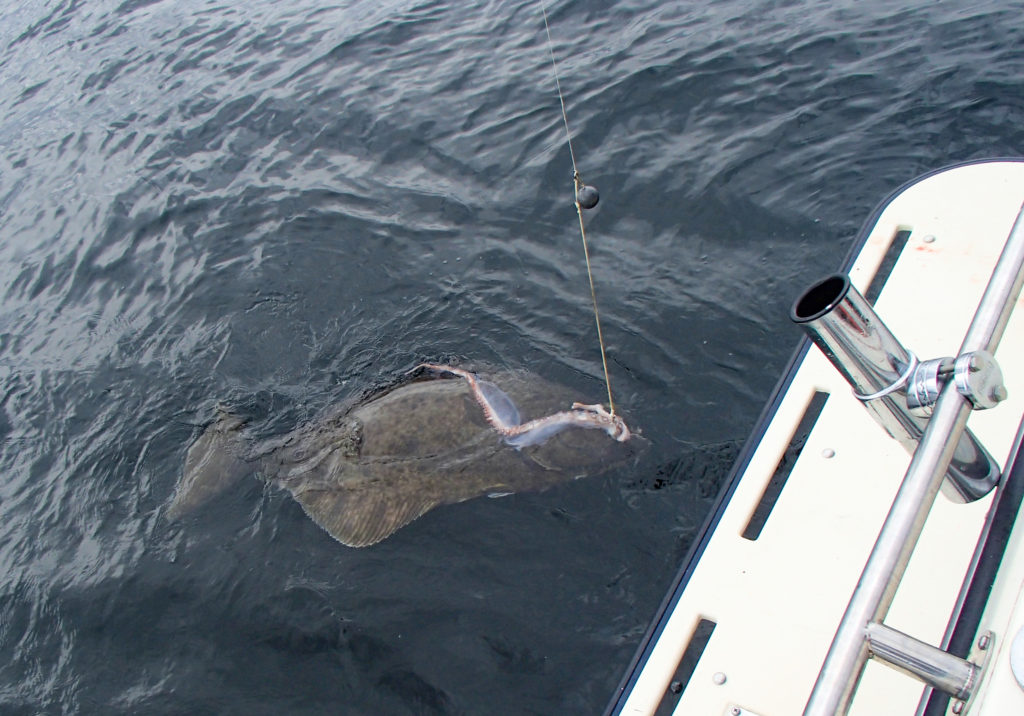 They're such interesting fish. There's a sharp contrast between their sides, one very dark and mottled, the other smooth ivory. Every one we caught was unique. The colors ranged from dark brown to green, and patterned camouflage or speckled like a starry night. The distinctive eyes on one side of their head look goofy, with one facing up and the other facing down. It makes sense if you spend your life on the sea floor. Those eyes start out on either side of their heads like a typical fish, but they migrate to one side as the fish becomes an adult.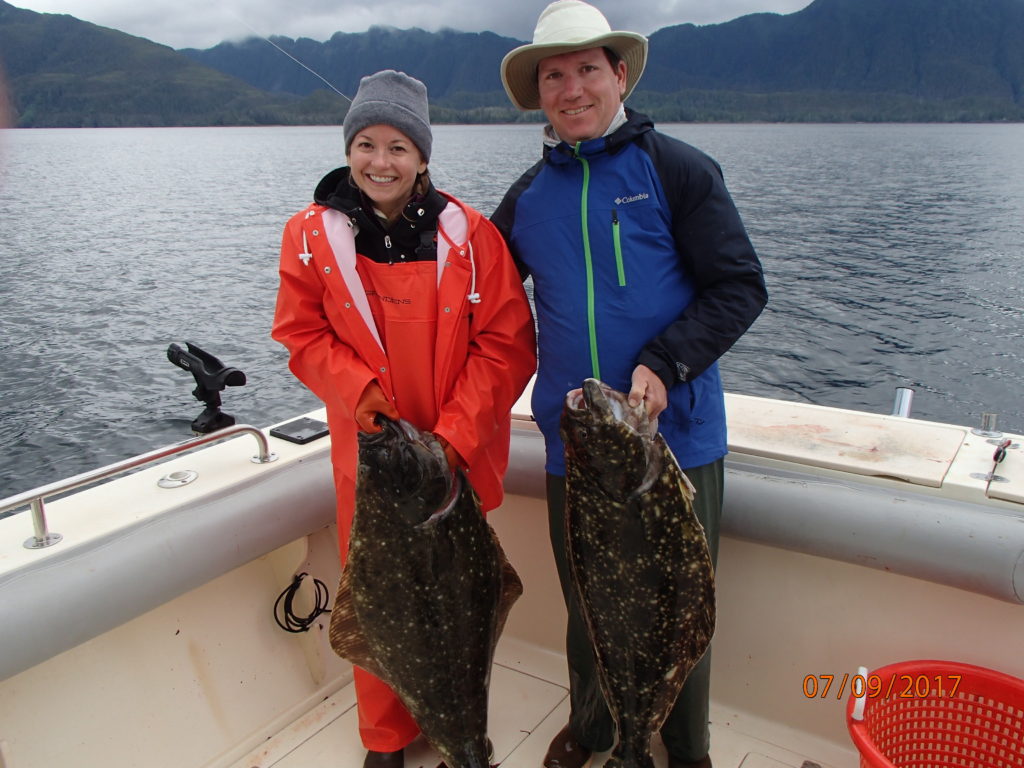 And of course, halibut is delicious. It's a mild, white, versatile fish. It's no surprise it goes well with flavors from my own backyard.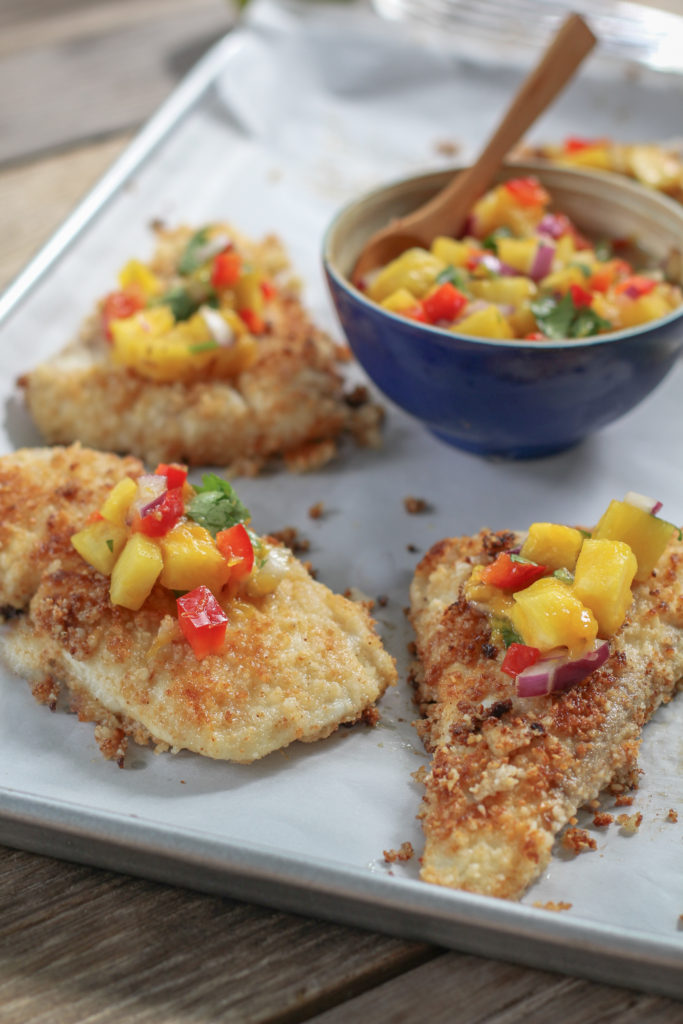 This recipe starts with a crunchy coating made from macadamia nuts, coconut, and panko whirled together in a food processor. (Don't blend too much or you'll end up with butter.) Here's what the crumbs should look like: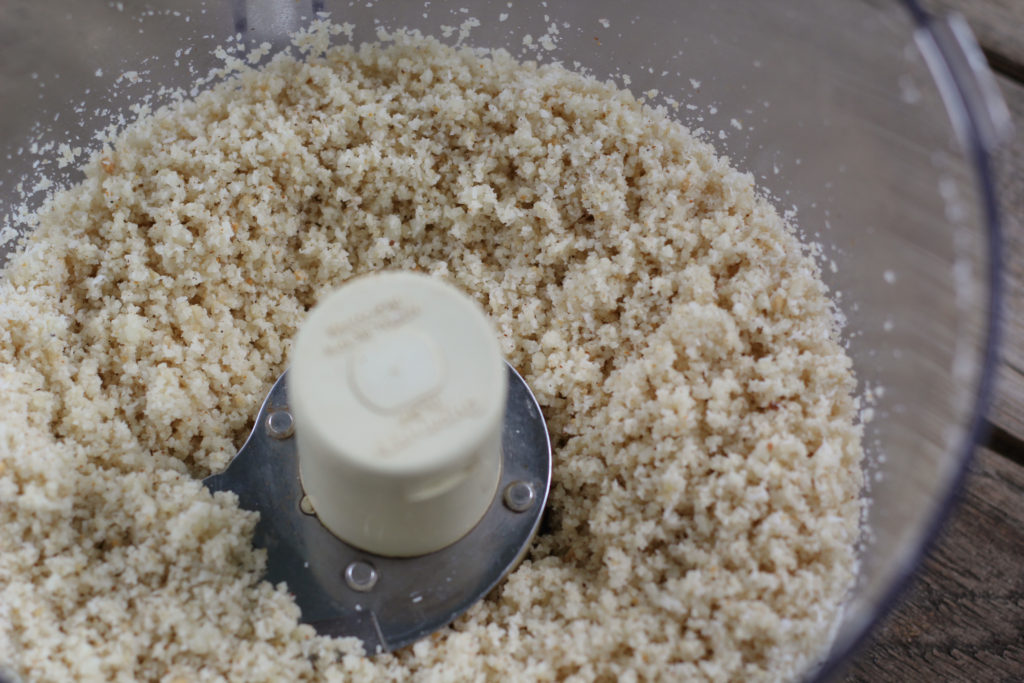 Soft and crumbly. You can pan-fry or bake the fish; I'm giving you both methods. If your fillets are thin, bake them. If they're thicker, you can pan-fry, but flip them very gently or they'll break apart. I use a two-spatula flip trick: Slide one spatula underneath the fillet, then use the other on top and ease the fish over onto it and down to the pan with support.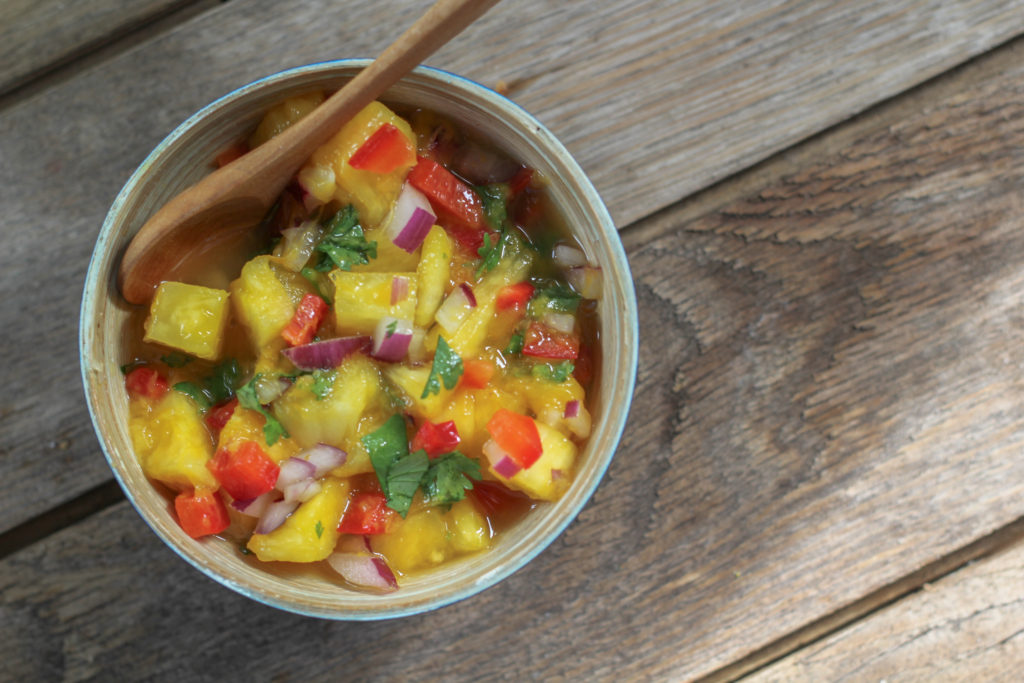 Top the golden-crusted fillets with a simple mango-pineapple salsa.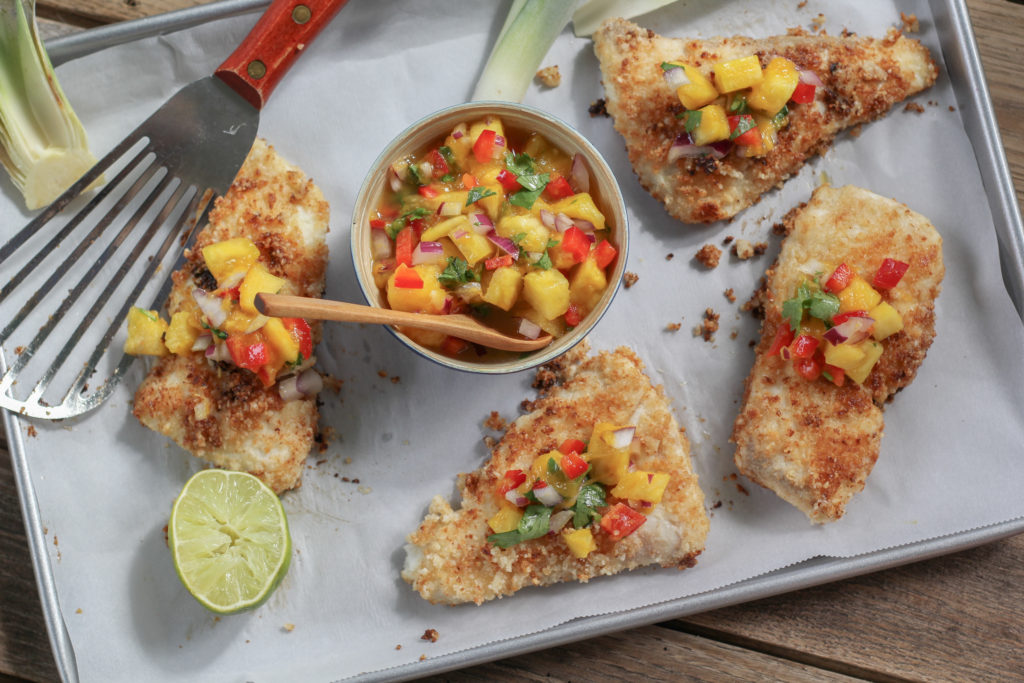 And if you want to keep it authentically Florida, use flounder or wahoo. That goes for you, too, Sally Rayburn.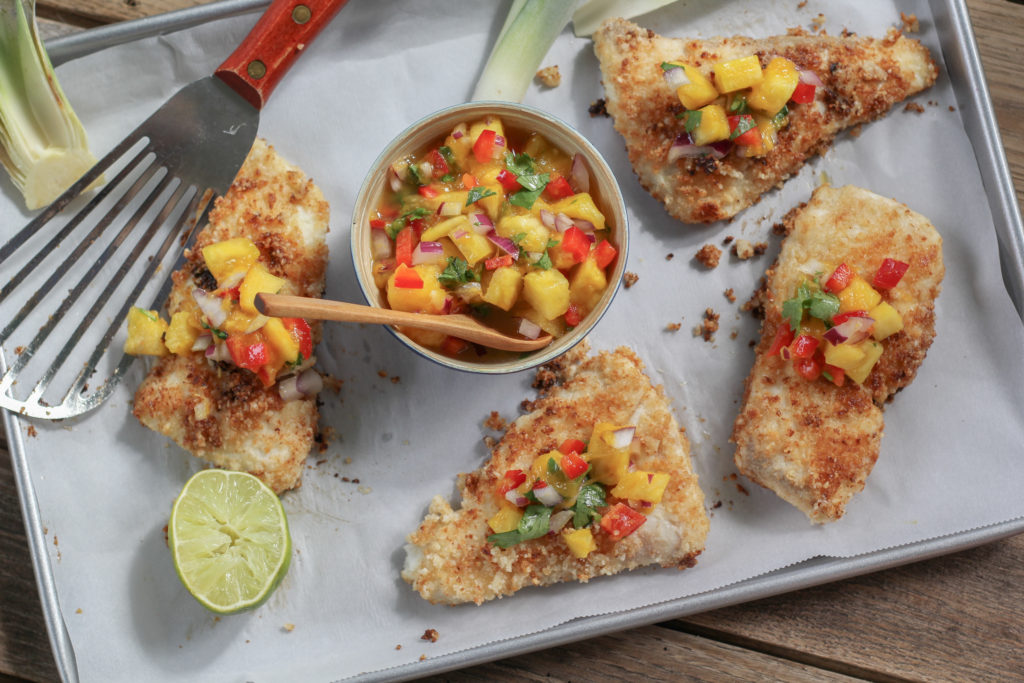 Macadamia Coconut Halibut
2017-07-25 08:52:22
Ingredients
4 6-ounce fillets halibut, flounder, or snapper
pinch of salt and pepper
1/4 cup melted unsalted butter
high-heat oil (if frying)
Macadamia Coconut Coating
3/4 cup macadamia nuts
1/3 cup panko
1/3 cup unsweetened shredded coconut
1/2 teaspoon salt
1/4-1/2 teaspoon cayenne
Mango Pineapple Salsa
1 cup diced pineapple
1 cup diced mango
1/2 cup diced red pepper
1/4 cup diced red onion
2 tablespoons chopped cilantro
1 1/2 tablespoons lime juice
1/4 teaspoon salt
Instructions
If baking, preheat the oven to 400 degrees and line a baking sheet with parchment paper.
For the Coating
In a food processor, pulse the nuts, panko, coconut, cayenne, and salt until they're soft and crumbly (don't let it run or you'll end up with nut butter).
Pat the fillets dry and sprinkle with a little salt and pepper. In a large bowl, toss the fish fillets in melted butter.
Spread the nut mixture on a platter or baking sheet and roll the fish fillets in it, pressing the mixture on each side.
To Bake
Place the fillets on the parchment-lined baking sheet and bake for 8-10 minutes, or until a skewer slips through the thickest part of the fish easily.
To Pan-Fry
Heat 2 tablespoons of oil in a large skillet over medium heat. Add the fillets and cook until the coating is golden. Use a spatula to lift and peek underneath. Use two spatulas to gently guide the fillets over as you turn them. Lower the heat and continue cooking a few more minutes. When a skewer slips through the thickest part easily, transfer the fillets to a serving platter.
To Make the Salsa: combine all ingredients and chill until ready to use.
Serve the fillets with salsa on top and extra on the side.
Suwannee Rose https://www.suwanneerose.com/
SaveSave
SaveSave
SaveSave
SaveSave
SaveSave
SaveSave
SaveSave
SaveSave
SaveSave
SaveSave
SaveSave
SaveSave
SaveSave
SaveSave
SaveSave
SaveSave