Happy 4th of July!
I've been waiting for a special occasion to cut open this homegrown pineapple.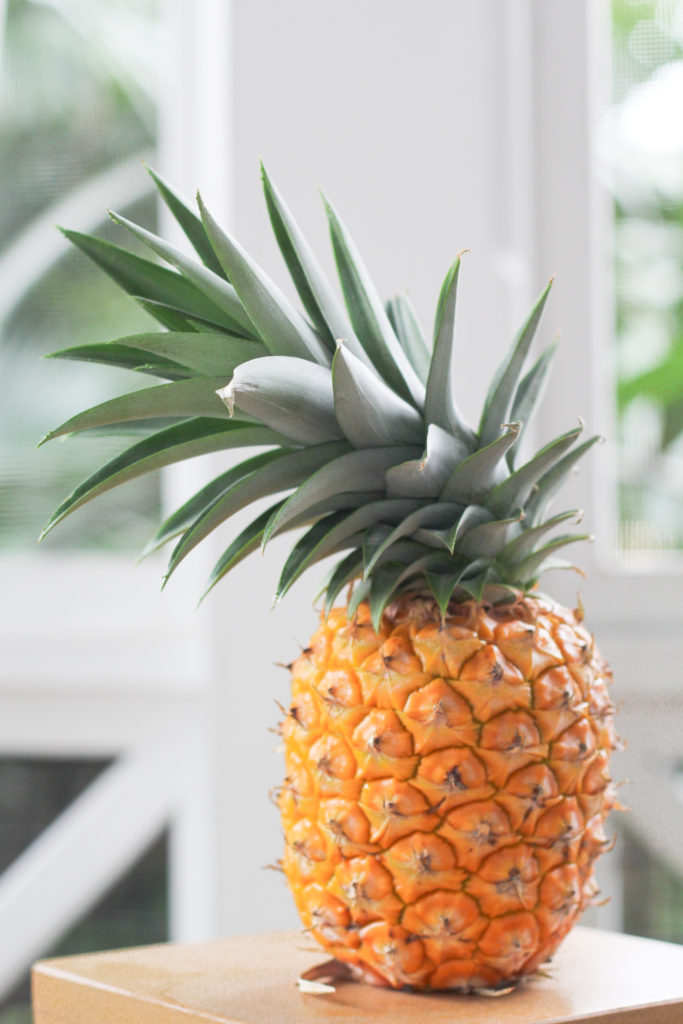 I know it's a little funny-looking with that side ponytail, but I'm turning it into the star of the 4th of July barbecue. Grab a pineapple (any hairdo is fine) and follow along.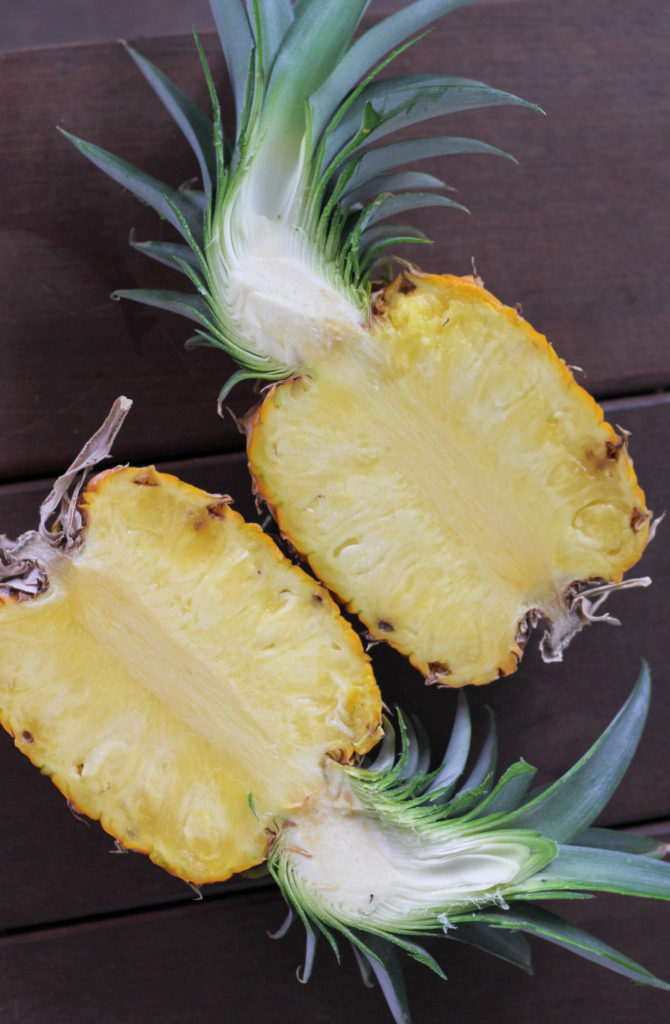 First we carve it into two pineapple boats. Slice it in half lengthwise, then score the fruit around the perimeter. Using a paring knife or grapefruit spoon, scoop out the cubes of pineapple.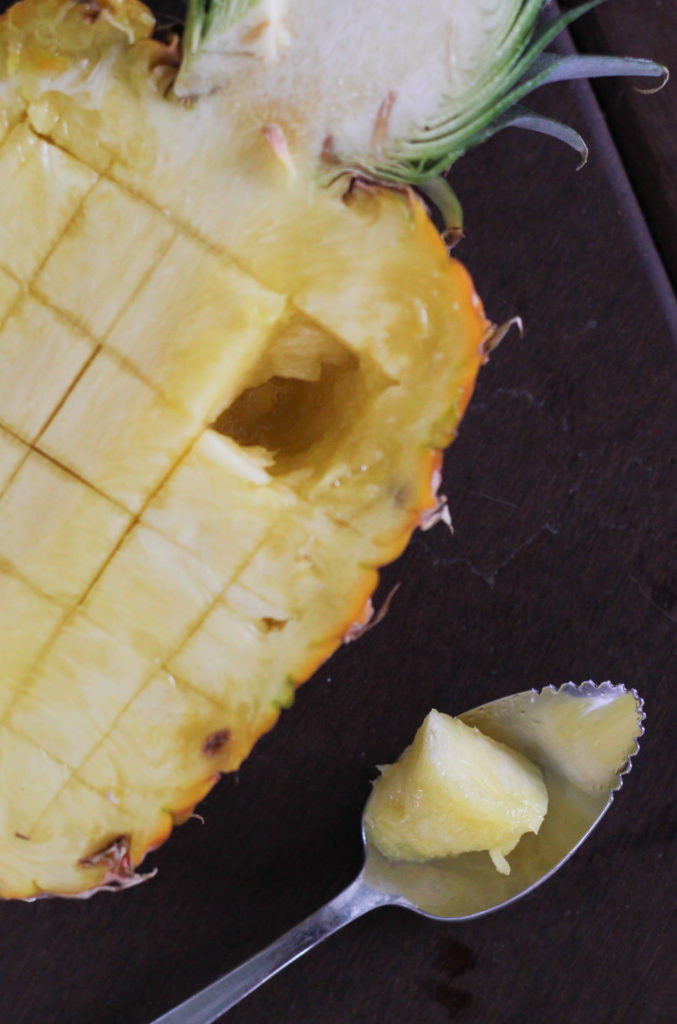 Next up, we need some jerk seasoning, which I like to think of as Caribbean sunshine in a jar. That warm mix of spices works some magic on pineapple and shrimp, tying together sweet and savory and then kicking it up with some heat. You can buy a jar at the grocery store, but this one from Immaculate Bites is so good, especially if you've already got all the spices. Mix up a big batch and you'll be reaching for it all the time.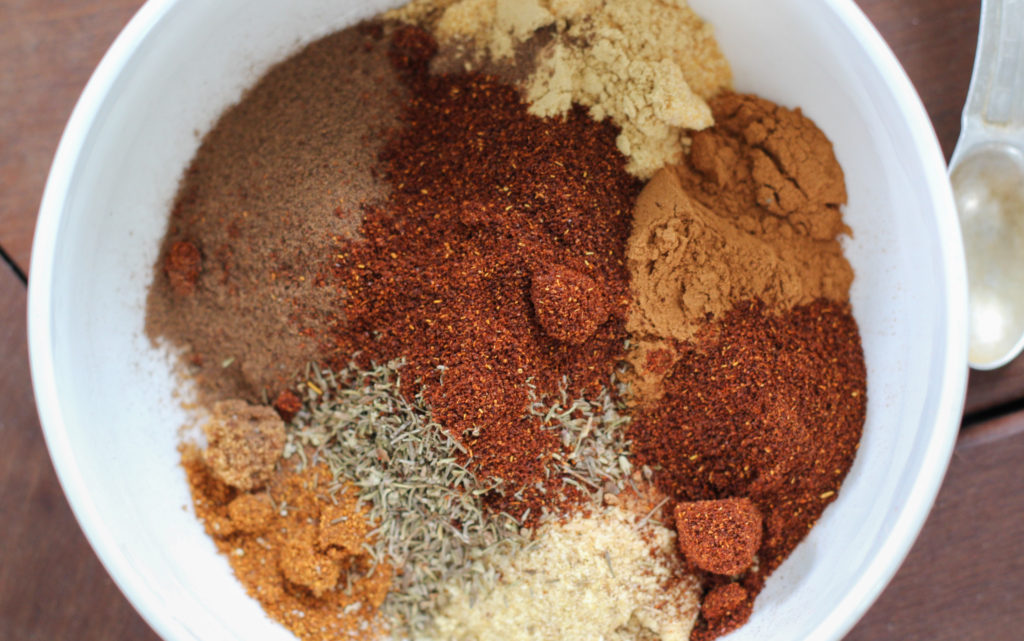 No worries if you go store-bought, but know they vary and some can be kinda salty, so go easy.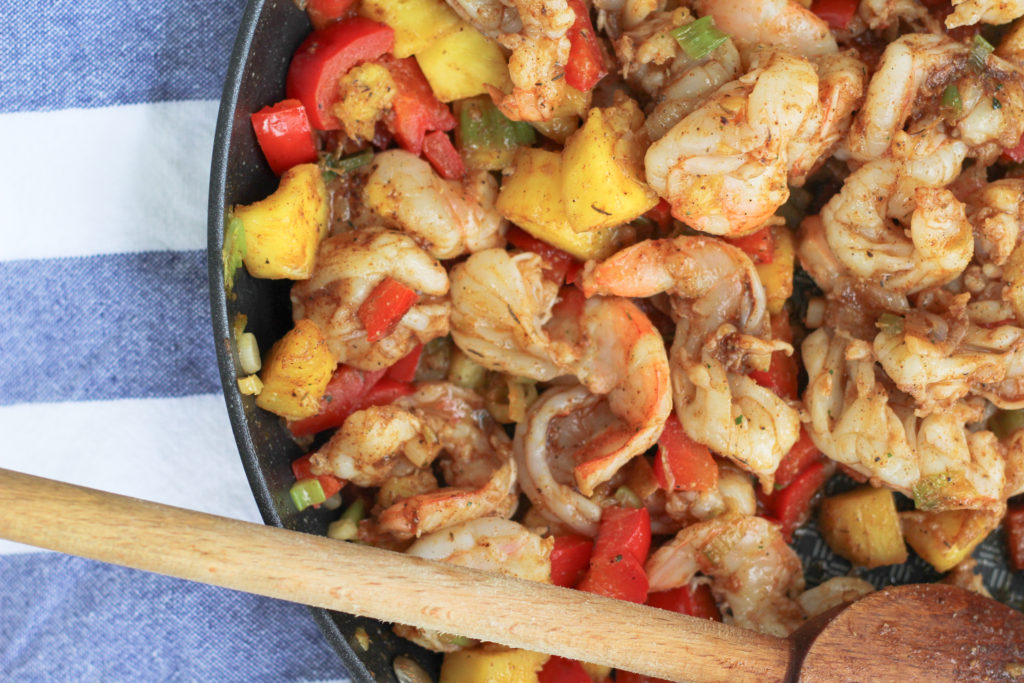 Sauté some veggies with the pineapple cubes and shrimp, then toss it all with coconut rice. Now it's time to fill those pineapple boats. If the party's not in your backyard, put them on a baking sheet and cover them with foil to take them along. Grill them for a few minutes just before serving. Move over burgers and dogs, and make way for the pineapple boats.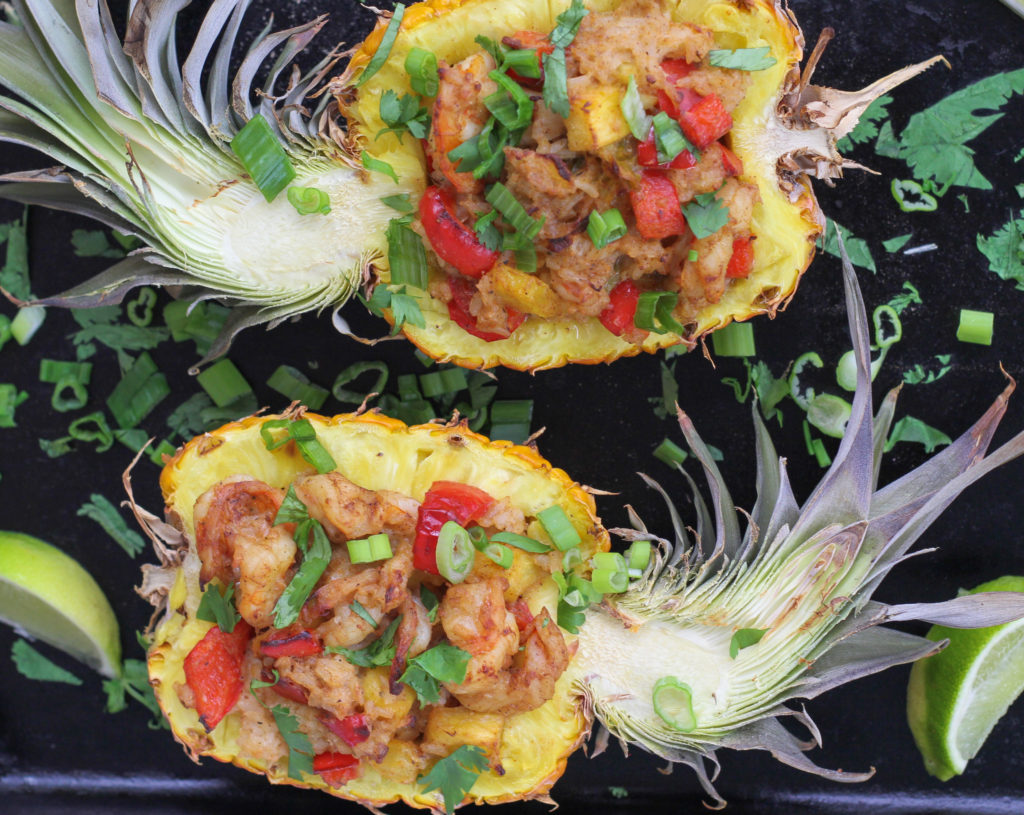 Once they're hot and the fronds start to char, they're ready to be the stars of the picnic table.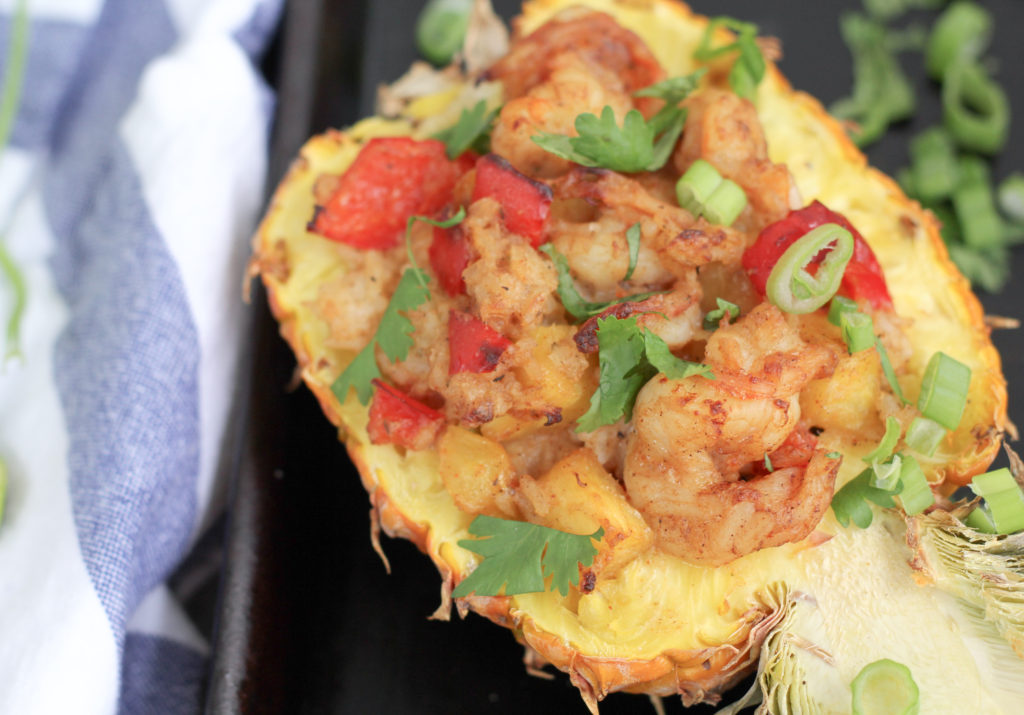 Have a fabulous 4th, my friends!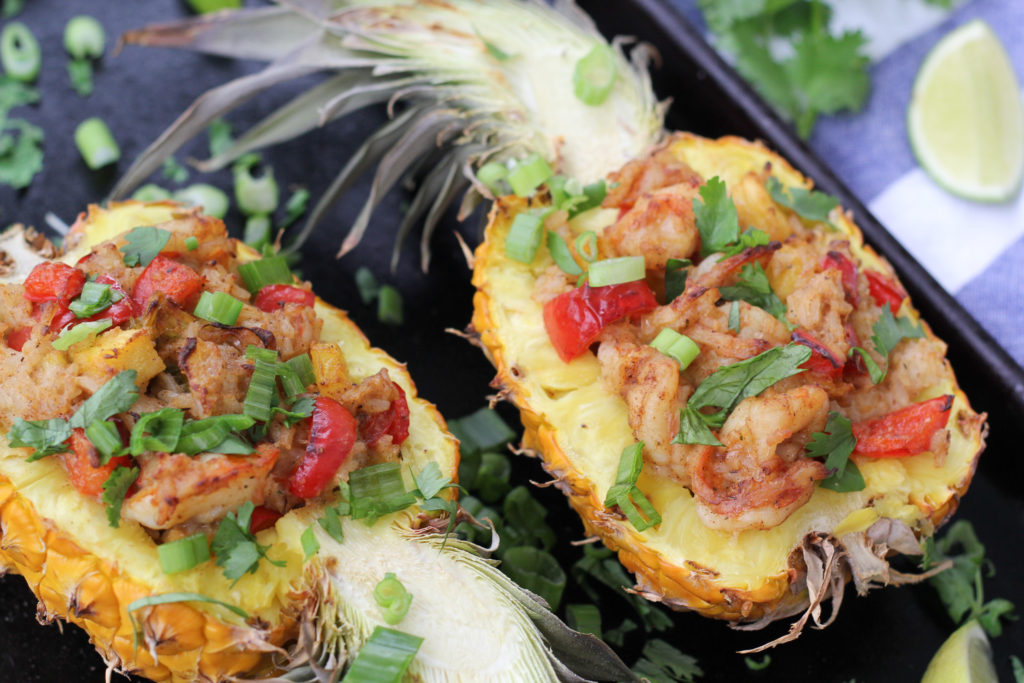 Pineapple Shrimp Boats
2017-07-01 08:15:44
Ingredients
2 cups rice
1 cup coconut milk
2 teaspoons sugar
pinch of salt
2 cups water
1 pineapple
1 pound wild American shrimp
2-3 teaspoons jerk seasoning* (to taste)
2 tablespoons butter
1 onion, diced
1 red bell pepper, diced
1/ 4 cup chopped cilantro
1/4 cup sliced green onions
lime wedges, for serving
Instructions
Rinse rice in a large bowl with cool water until water runs clear. Drain rice.
Bring water, coconut milk, sugar, and salt to a boil in a medium saucepan. Add the rice and bring back to a low simmer. Cover the pot tightly, then turn the heat down to low.
Cook until rice is tender and liquid is absorbed, about 20 minutes. Remove it from the heat and keep it covered.
Cut the pineapple in half lengthwise. Score each fruit a half-inch around the perimeter and then in a tic tac toe pattern. Scoop out the cubes with a paring knife or grapefruit spoon. Reserve the cubes and juice.
Clean the shrimp. If they're jumbos, cut them in half lengthwise while you're deveining. Toss them with the jerk seasoning.
Heat the butter in a large skillet over medium heat. Saute the onion until it's translucent, then add the pepper. Once the pepper starts to soften, add the pineapple cubes and shrimp. Saute for a few minutes until the shrimp are cooked, then remove the skillet from the heat.
Combine the shrimp and veggies with the rice.
Stuff the pineapple boats with the shrimp and rice. Depending on the size of your pineapples, you'll probably have some leftover for later.
Just before serving, heat the pineapple boats on the grill or under the broiler until the fronds begin to char.
Serve them topped with cilantro and green onions and some lime wedges on the side.
Notes
*Caribbean jerk seasoning (adapted from Immaculate Bites)
1½ tablespoons onion powder
1½ tablespoons garlic powder
1 tablespoon ginger
1 tablespoon dried thyme
½ tablespoon cinnamon
1 tablespoon ground allspice
1 tablespoon smoked paprika
½ tablespoon ground nutmeg
2 tablespoons coconut sugar
1 tablespoon vegetable bullion
1 tablespoon cayenne
Suwannee Rose https://www.suwanneerose.com/