Before the road to the Lower Keys opened, reporter Bill Weir took a boat to Key West to see how the recovery is going. He and his crew brought along food and water and supplies, but when they got there, everyone offered them food and water. The only thing anyone asked them for was a wine opener.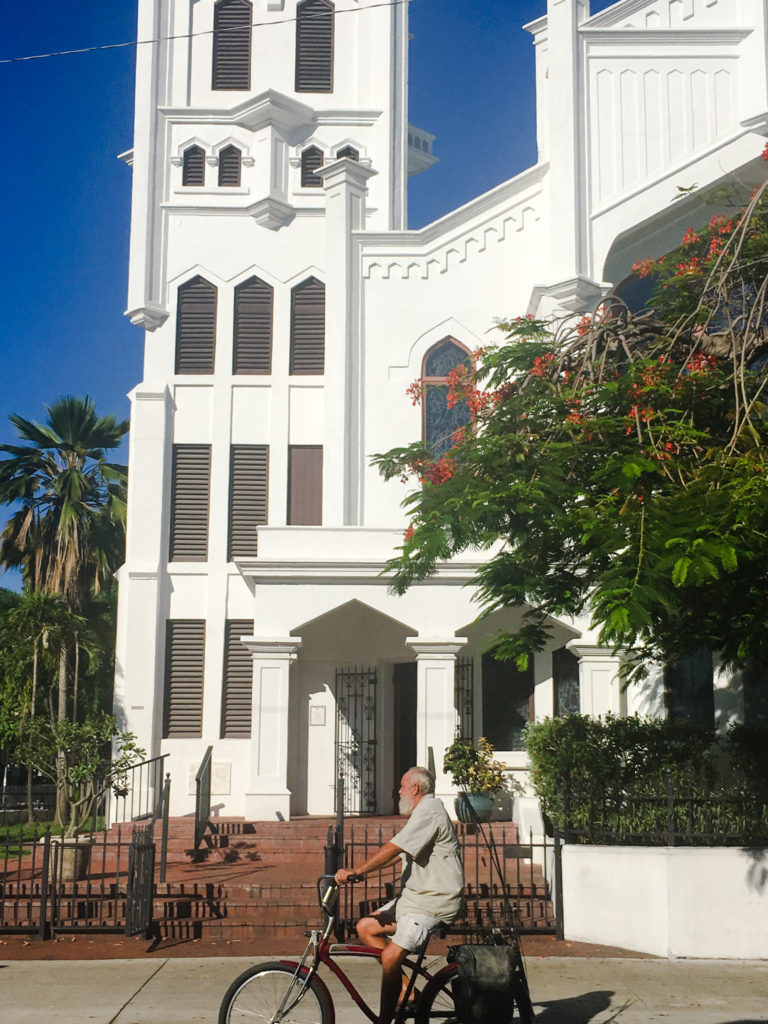 That story sums up Key West perfectly. That town has seen its share of hurricanes, but Conchs are resilient people, united in spirit and spirits. A tree fell on the kitchen of my favorite bar, 2¢, but I know given time I'll be sitting there drinking Bang Bang Basils again.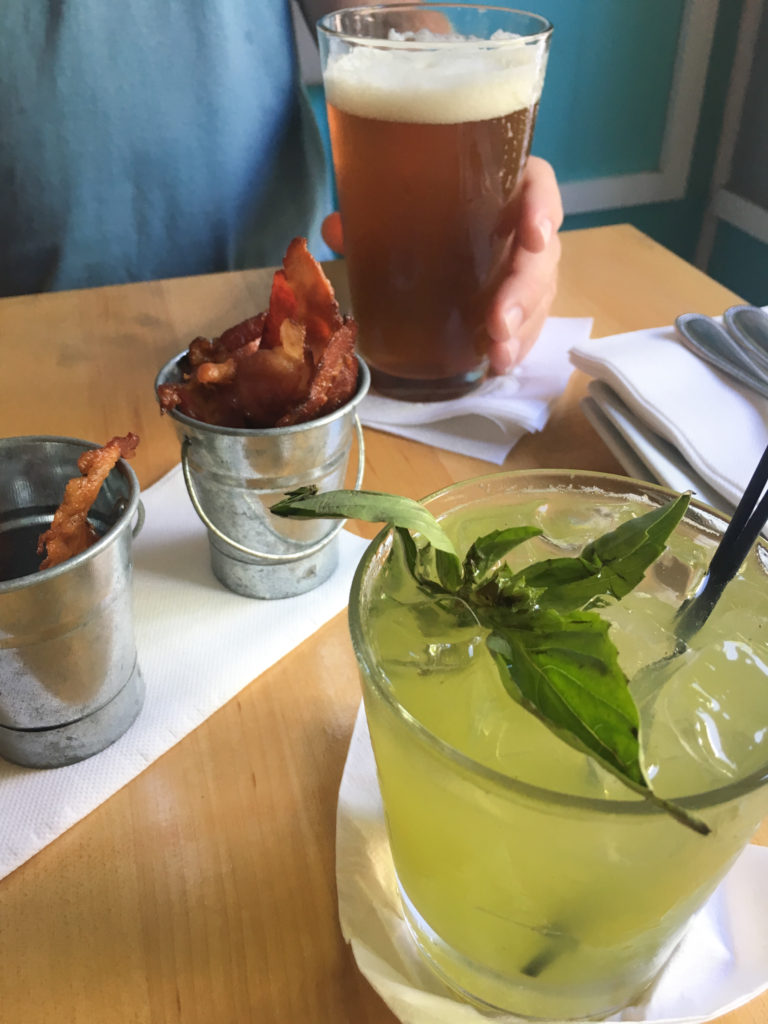 That was taken a few weeks ago. Those little buckets of bacon are a signature part of the 2¢ happy hour experience. As soon as you're down to one strip, another bucket magically appears on the table.
My brother's work takes him to Key West often, and if you know him, it's no surprise he found this hidden gem. It's on a tiny alley called Appelrouth, shaded by poinciana trees, and you won't see it until you're there. We usually sit on the deck, but if you're desperate for a/c you might find a spot inside the small bar. No matter where you sit, there's bacon. I've heard they have a good selection of beer and wine, but I've never ordered anything besides the Bang Bang Basil. It's not even on the menu anymore, but they'll still make it.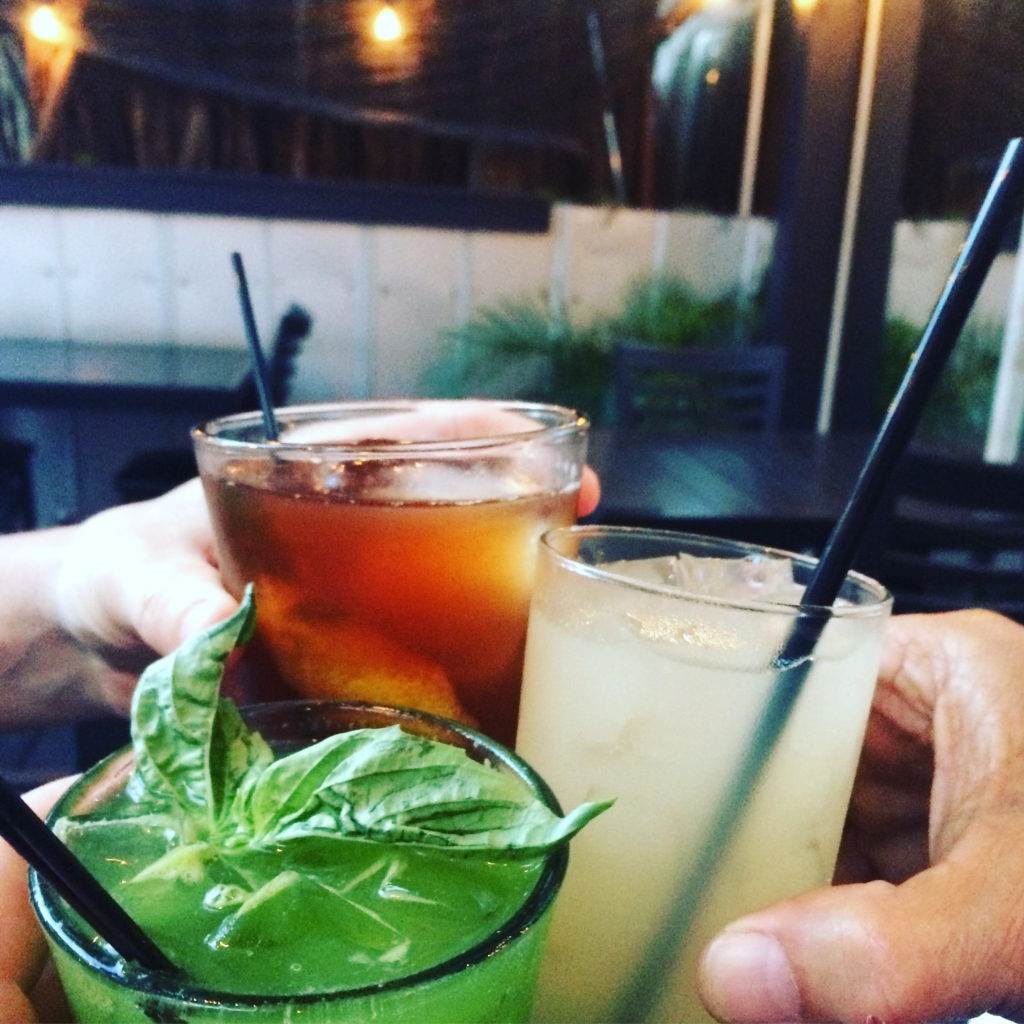 I believe this vibrant green herbal elixir cures what ails you.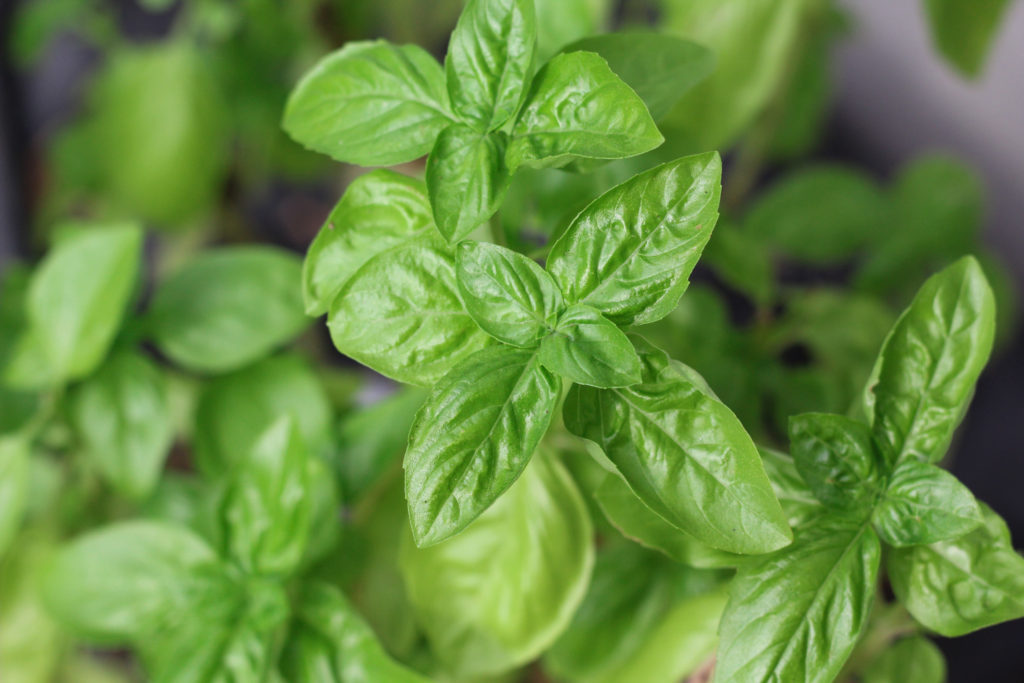 Of course I've tried making it at home, but infusing a cocktail with basil is a little more challenging than I thought. Most attempts left me with bruised basil and brown drinks. After many experiments, I found the secret: blanched basil leaves.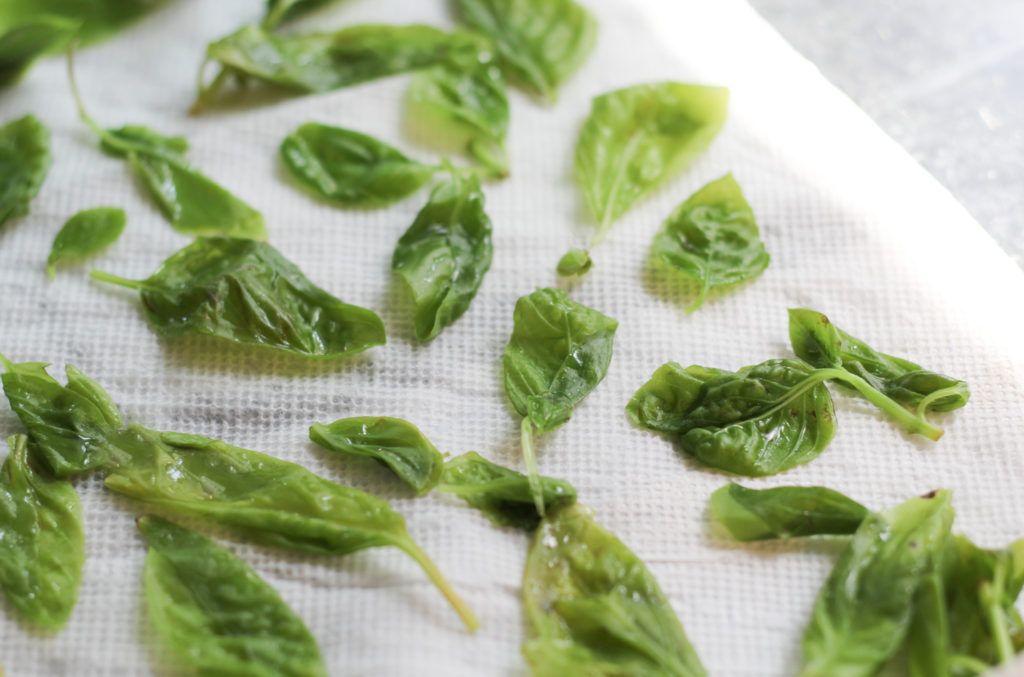 That locks in the beautiful green hue.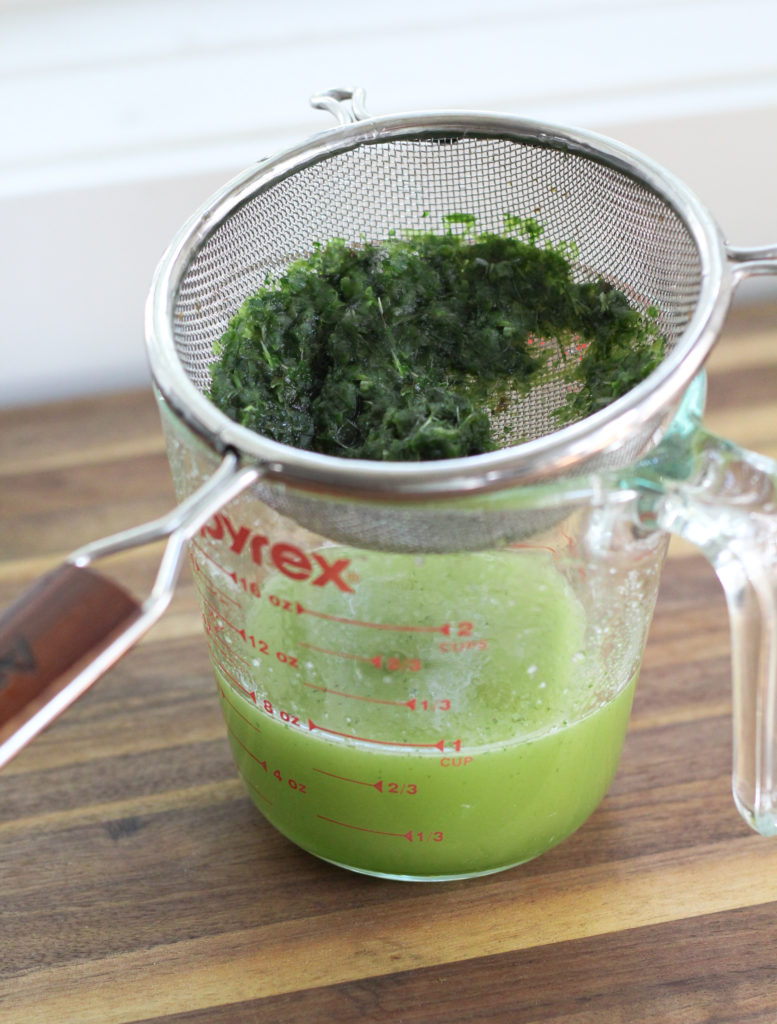 Blend it up with simple syrup and some lime juice, then strain it. Tada! Pretty green basil juice.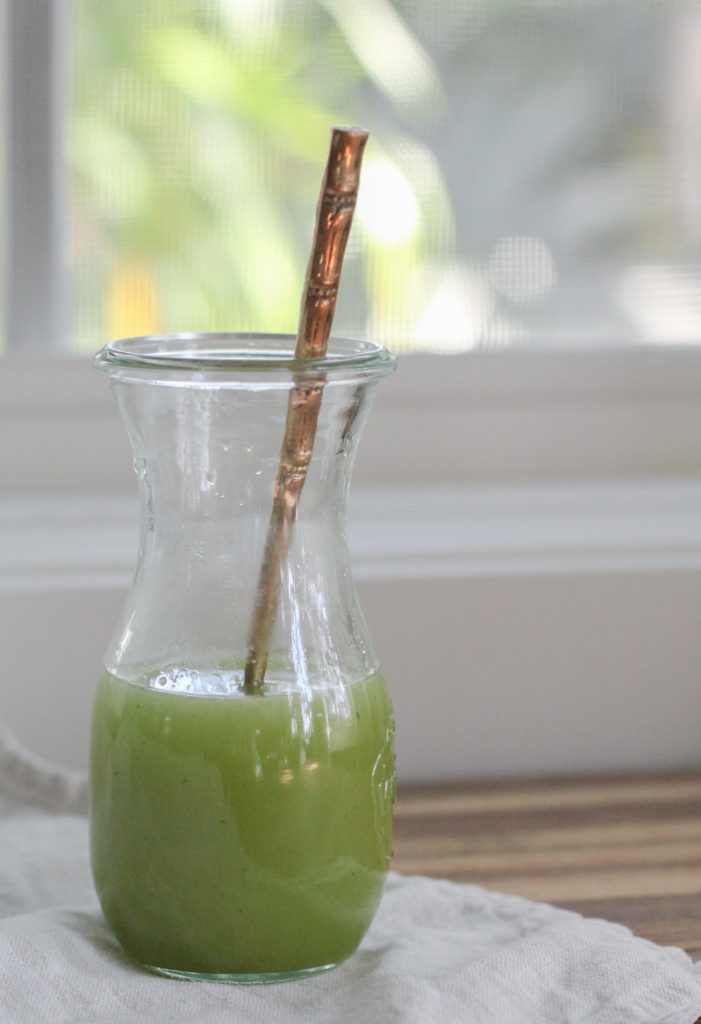 A big spoonful of that goes in a cocktail shaker along with your favorite gin and a dash or two of bitters. Give it a good shake, strain it over a glass of ice, top it off with a splash of tonic, and garnish with more basil.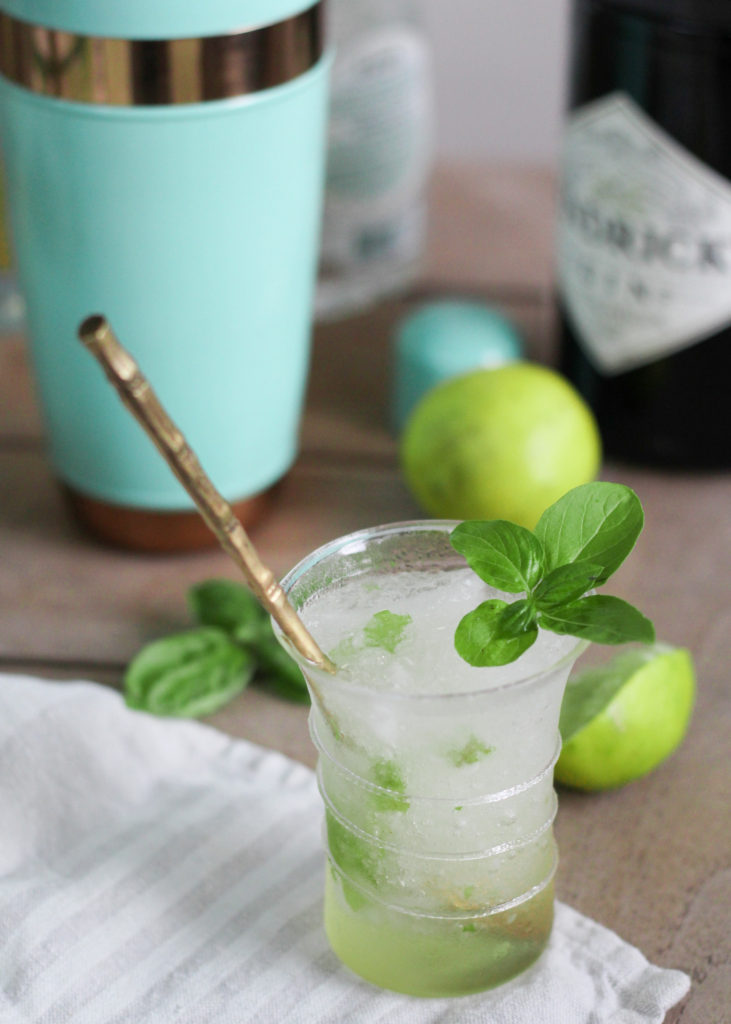 It's not exactly a Bang Bang Basil, but it'll get us by until we can clink our glasses at 2¢ again.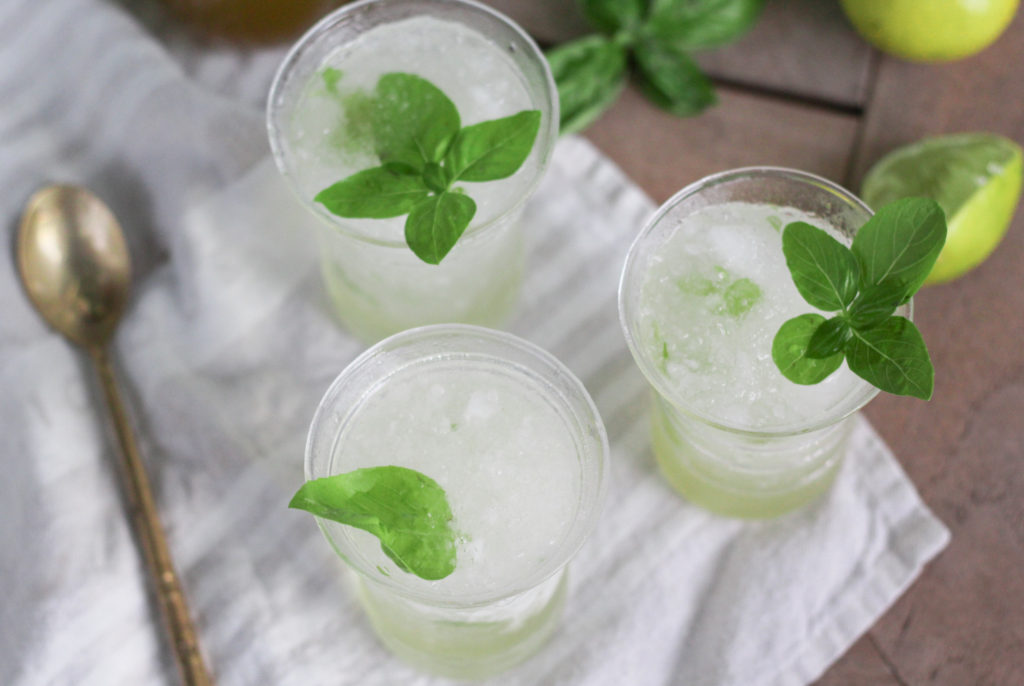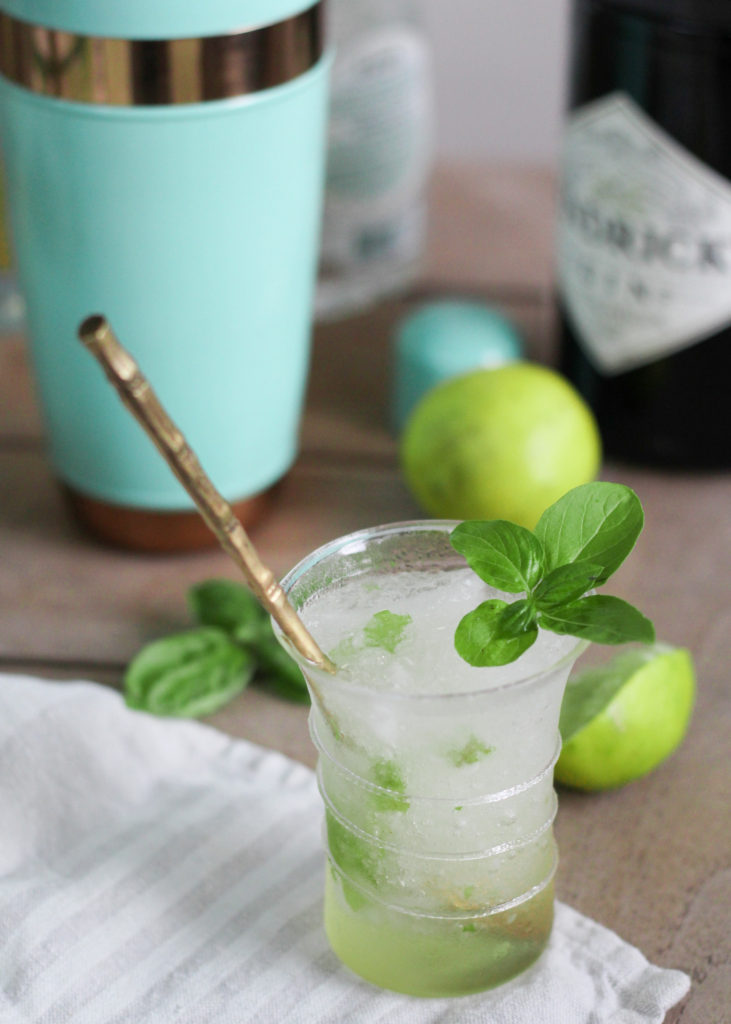 Gin & Basil Juice
2017-09-26 13:04:02
For the Basil Juice
1 1/2 cups water
1 cup sugar
3 cups basil leaves
2 tablespoons lime juice
For each drink
1 1/2 ounces gin
1 tablespoon basil juice
dash or two of bitters
splash of tonic
squeeze of lime
basil leaves for garnish
Make the Basil Juice
Bring the water to a boil in a small saucepan and add the sugar. Stir to dissolve. Reduce the heat and allow it to simmer for 10 minutes. Pour the syrup into a heat-proof jar or measuring cup and allow to cool to room temperature, stirring it occasionally.
While the syrup cools, fill a large bowl with water and ice and set aside.
Bring a quart of water to a boil and add the basil leaves. Turn off the heat. Use a slotted spoon to swirl the leaves for about 30 seconds, then scoop them into the ice water bath.
Spread the leaves on paper towels.
Add the basil leaves and cooled syrup to the jar of a blender, along with the lime juice. Strain the juice through a fine mesh strainer into a jar, pressing the basil pulp with the back of a spoon.
For each Gin & Basil Juice
Fill a cocktail shaker with ice. Add 1 tablespoon (to taste) of basil juice, 1 1/2 ounces gin, and dash or two of bitters. Give it a good shake. Strain into a glass of ice and top it off with tonic. Add a squeeze of lime and a sprig of fresh basil.
Clink, sip, repeat.
Suwannee Rose https://www.suwanneerose.com/
SaveSave
SaveSave
SaveSave
SaveSave
SaveSave
SaveSave
SaveSave
SaveSave