You can't have Thanksgiving without parsley, sage, rosemary, and thyme. Together, these four herbs make up the key seasonings in the feast. As soon as you smell them, you know it's turkey time.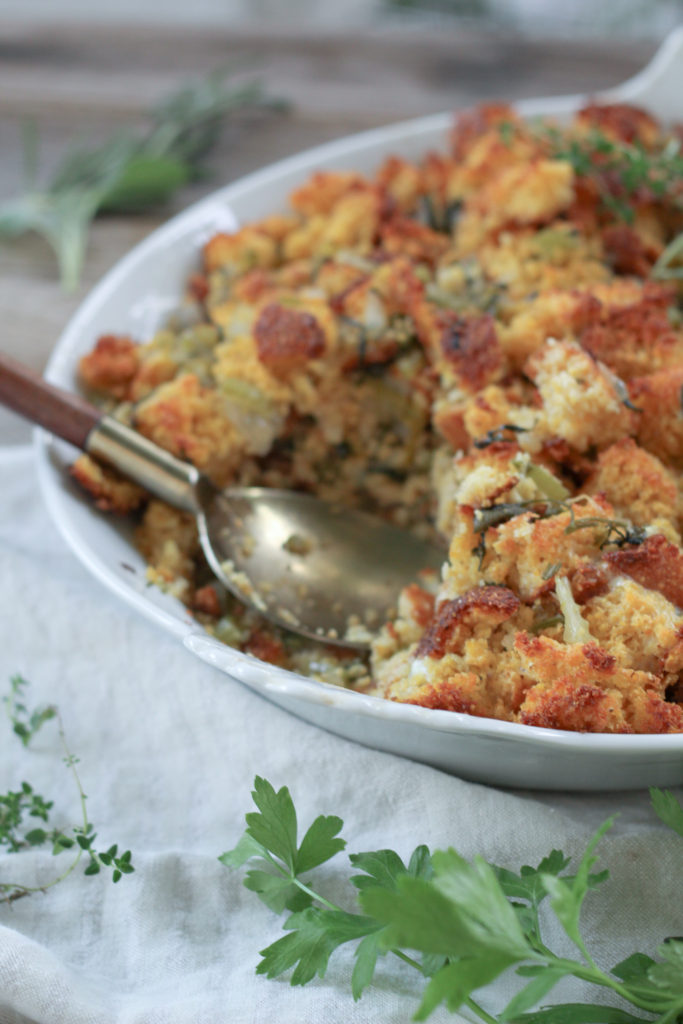 There are two names for the bready casserole where we go wild with these herbs: dressing and stuffing. Actually, there's a third type called Stovetop, but I file the last one under "things I tried in college that weren't for me." I'm not above using Campbell's soup and French's crispy onions in the green bean casserole, but I draw the line at Stovetop. If you go that route, you're missing out on the smell of those traditional Thanksgiving herbs sizzling in the pan with butter, onions, and celery. I dare say you might be sacrificing the whole dinner.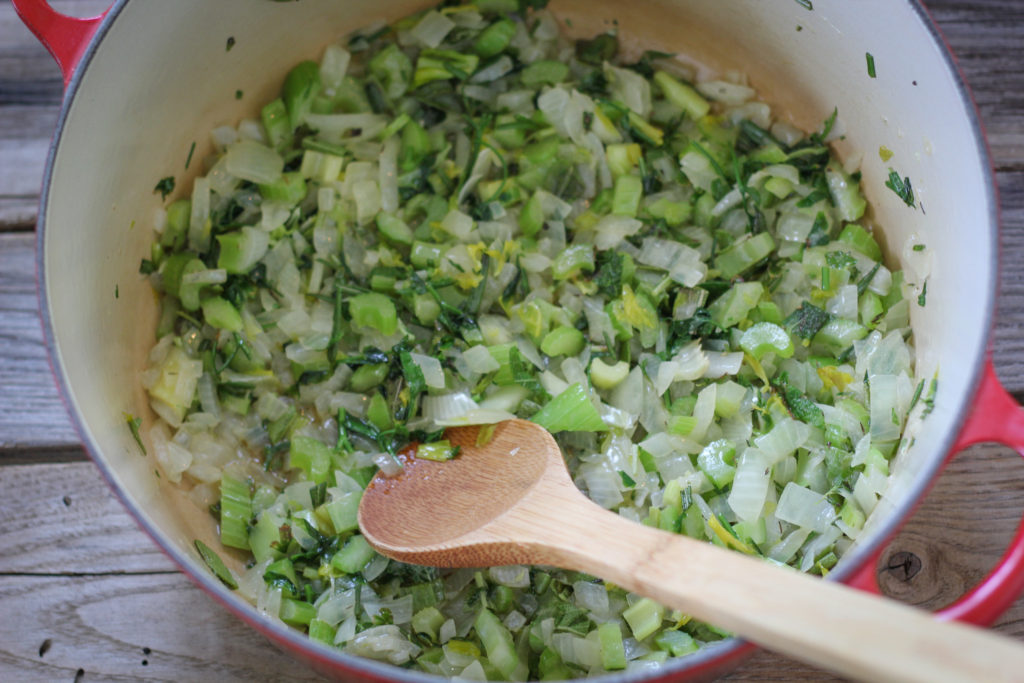 Do you call it dressing or stuffing? Some people say stuffing is the kind stuffed inside the bird, where dressing is baked separately. That's not how it goes in my family. We have both, and neither one goes inside the turkey. Stuffing is made with toasty white bread, dressing is made with cornbread. My mom makes the stuffing; my grandma makes the dressing. Everyone's happy.
I asked my grandma how to make her cornbread dressing, and I knew she'd get a chuckle out of that. I know very well she doesn't have a little index card to show me. That's just not my grandma's style. She doesn't use measurements; she eyeballs. She knows her recipes by heart. That's why I write them here.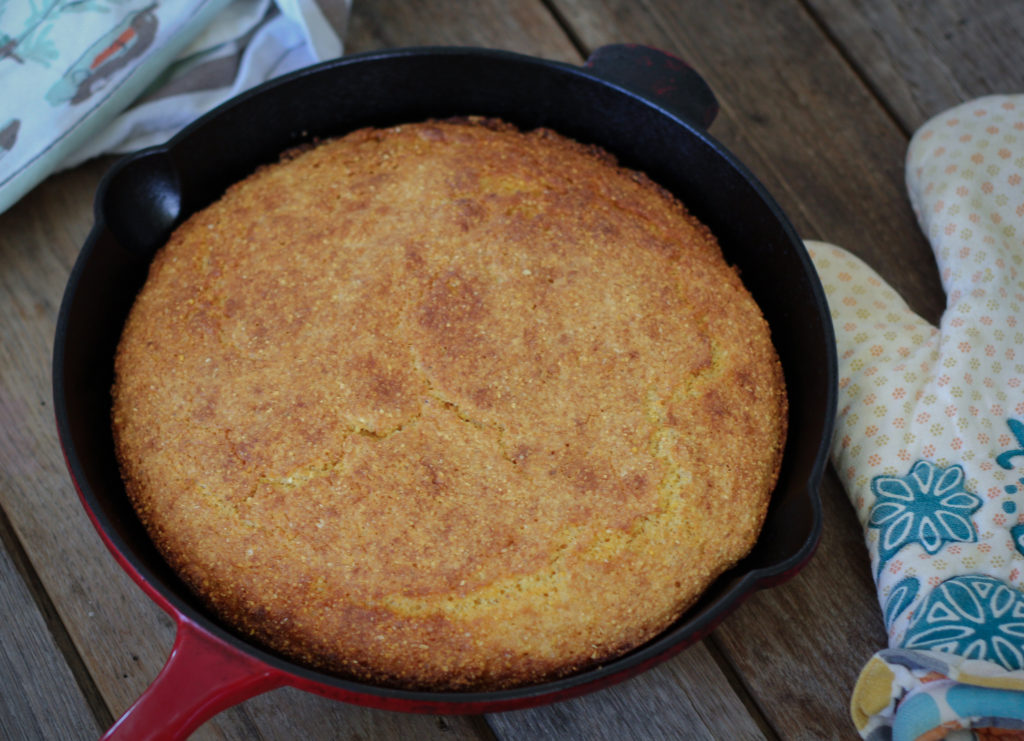 So here's how I make grandma's cornbread dressing. I even did some measuring for us. It starts with two rounds of traditional cast-iron skillet cornbread. No sweet, cakey cornbread here. This is the crumbly kind made with straight cornmeal, no flour at all (so it's gluten-free).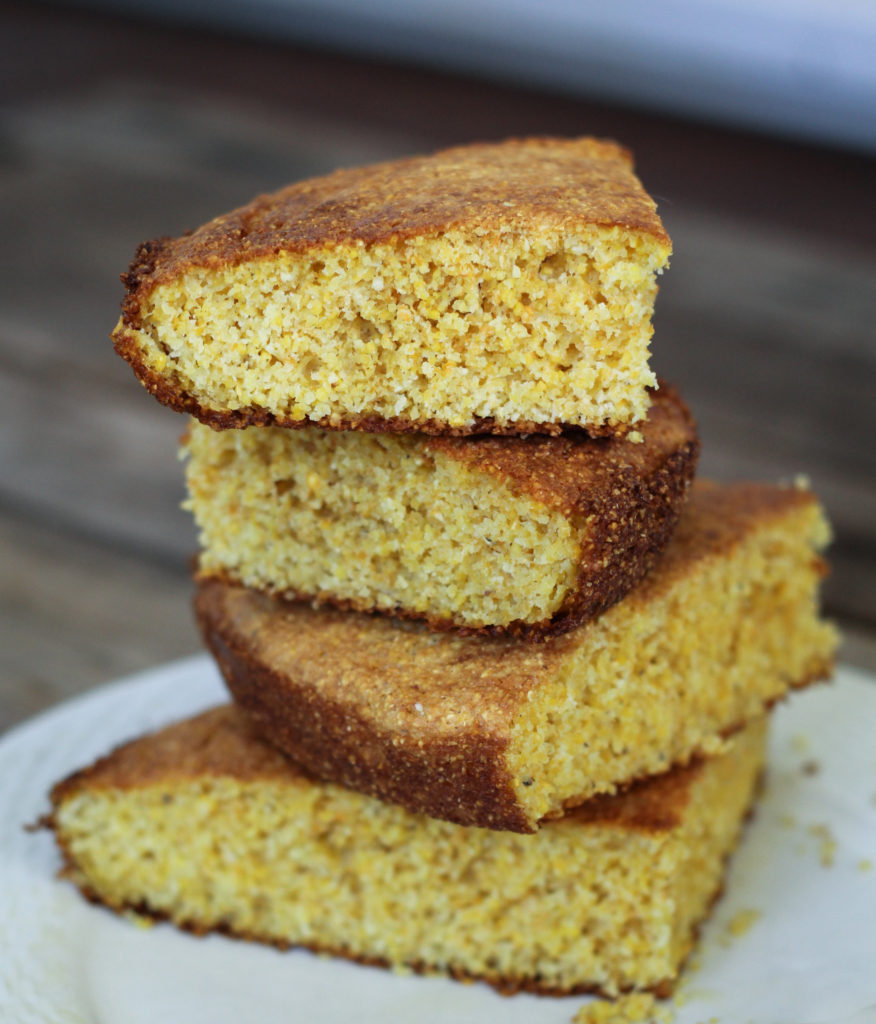 When this comes out of the oven, you have Grandma's permission to eat a slice (or two) slathered in butter. You'll still have plenty for the dressing.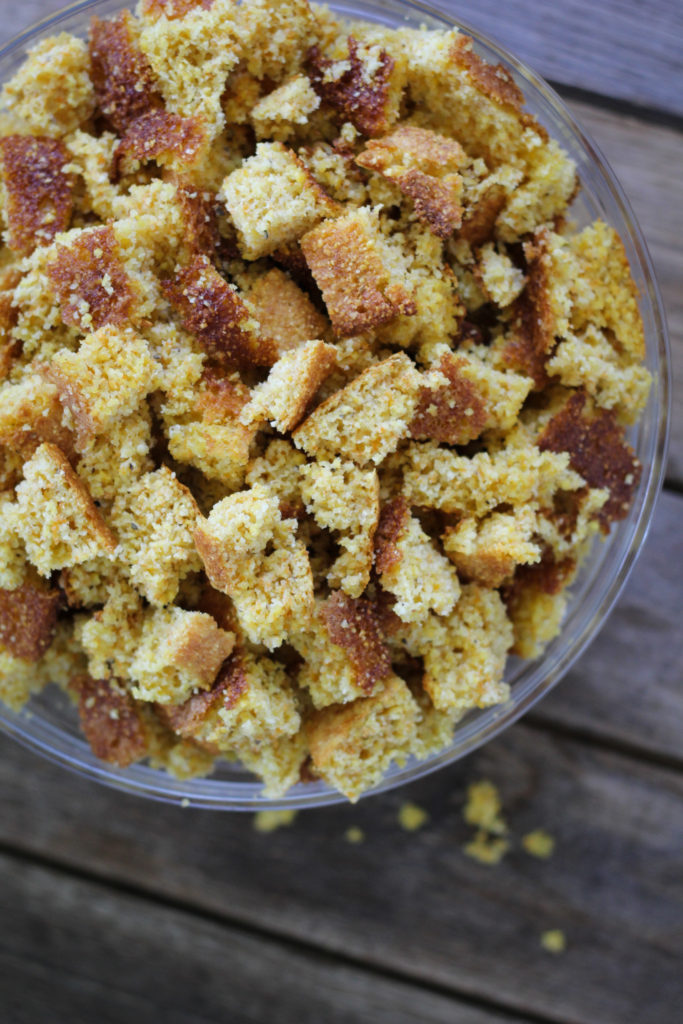 Once you get this dressing going and your house starts smelling like parsley, sage, rosemary, and thyme, everyone will know it's Game On.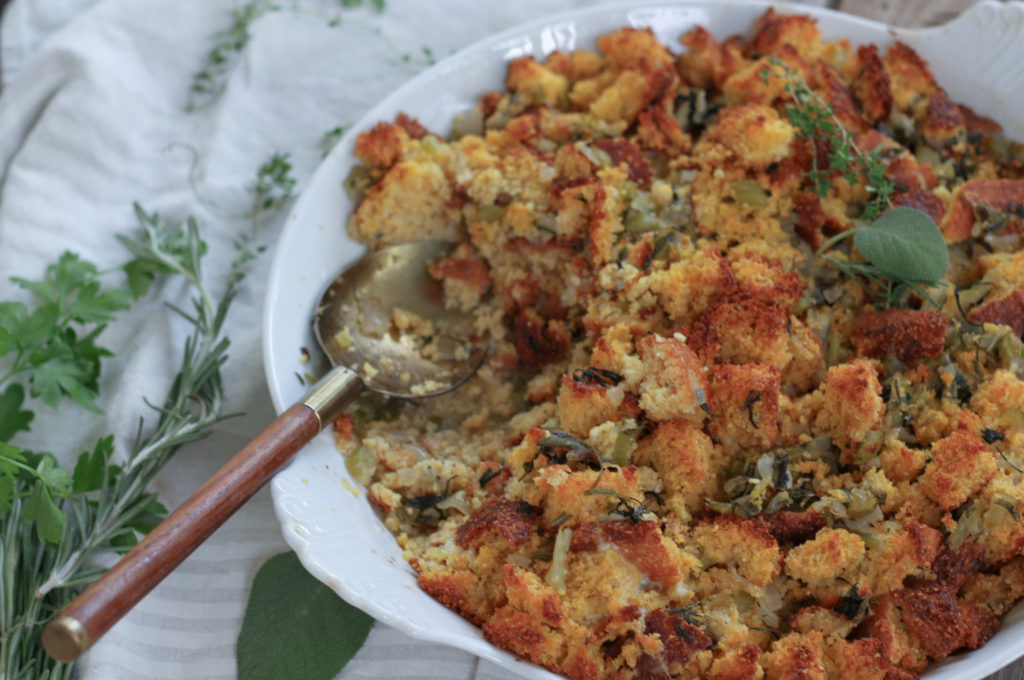 Skillet Cornbread
2017-11-06 06:55:20
Ingredients
2 tablespoons bacon grease or high-heat oil
2 cups medium-ground cornmeal
1 teaspoon baking powder
1 teaspoon baking soda
1 teaspoon salt
2 eggs
2 tablespoons melted bacon grease or butter, slightly cooled
1 1/2 cups buttermilk*
Instructions
Put bacon grease or oil in a 10-inch cast-iron skillet and put it in the oven to heat at 400 degrees.
Put the cornmeal, baking powder, baking soda, and salt in a large bowl and sift with a fork.
In a separate bowl, whisk the eggs, buttermilk, and melted butter or bacon grease.
Add the liquid ingredients into the dry. Fold together with a rubber spatula until just combined.
Pour the batter into the pre-heated skillet and smooth over the top with the spatula. Bake for 20-25 minutes or until it's golden on top.
Notes
*substitute the buttermilk with plain kefir or whisk together 1/2 cup yogurt or sour cream and 1 cup milk.
Suwannee Rose https://www.suwanneerose.com/
Southern Cornbread Dressing
2017-11-06 07:00:45
Ingredients
2 batches skillet cornbread, cut in 1-inch cubes
1 stick of butter
2 Vidalia onions, diced (2 1/2-3 cups)
4-5 stalks celery, diced (2 cups)
3 tablespoons minced fresh parsley
2 tablespoons minced fresh sage
2 tablespoons minced fresh rosemary
1 tablespoon fresh thyme leaves
1 1/2 teaspoons salt
1 1/2 teaspoons black pepper
2 1/2 cups stock, broth, or turkey drippings
2 eggs
1/2 cup milk
1/2 cup melted butter
a few sprigs of herbs for garnish
Instructions
Preheat the oven to 350.
In a large Dutch oven, melt the butter over medium-low and saute the onions and celery until they're translucent, about 8 minutes. Add the herbs and stir for a couple more minutes, then season with salt and pepper. Pour in the stock, bring it to a simmer, then turn off the heat. Gently fold in the cornbread to distribute the herbs and onions throughout.
Butter a 9x13 pan (or any large baking pan you'd like to serve in). Spoon the cornbread and herb mixture into the dish.
Whisk the eggs and milk in a large measuring cup or bowl and drizzle over the cornbread mixture.
Cover with foil and bake for 15 minutes.
Remove the foil, drizzle the melted butter over the top, and bake uncovered for an additional 15-20 minutes, or until the top is golden and crusty.
Arrange a few herbs on top for garnish if you like and serve.
Suwannee Rose https://www.suwanneerose.com/
Save
Save
SaveSave