I made a wreath!
And some ornaments! I'm not super crafty or festive, but I upped my game a little this year. I finally made use of the piles of sand dollars I've collected.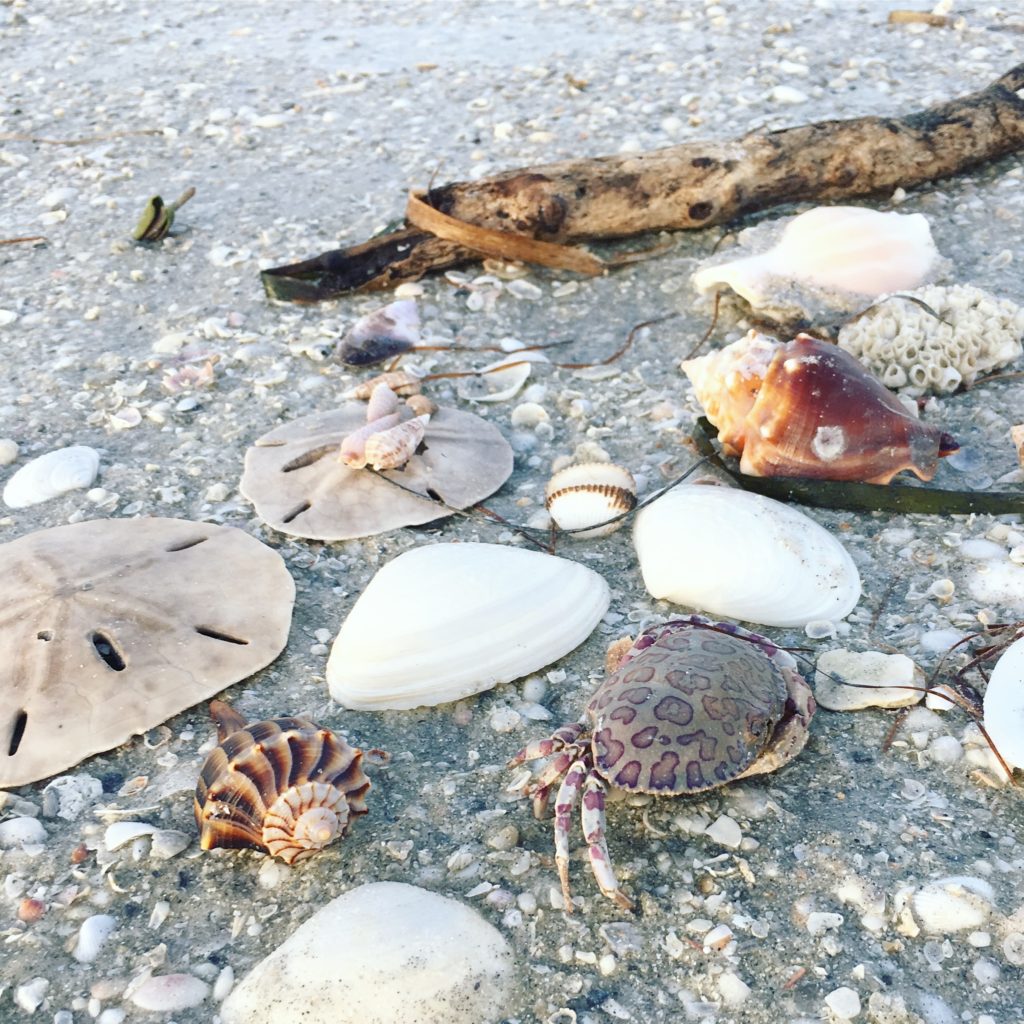 During the winter I love exploring sandbars that only surface on these super low tides. So many treasures! I love places you have to swim to because they're not picked over.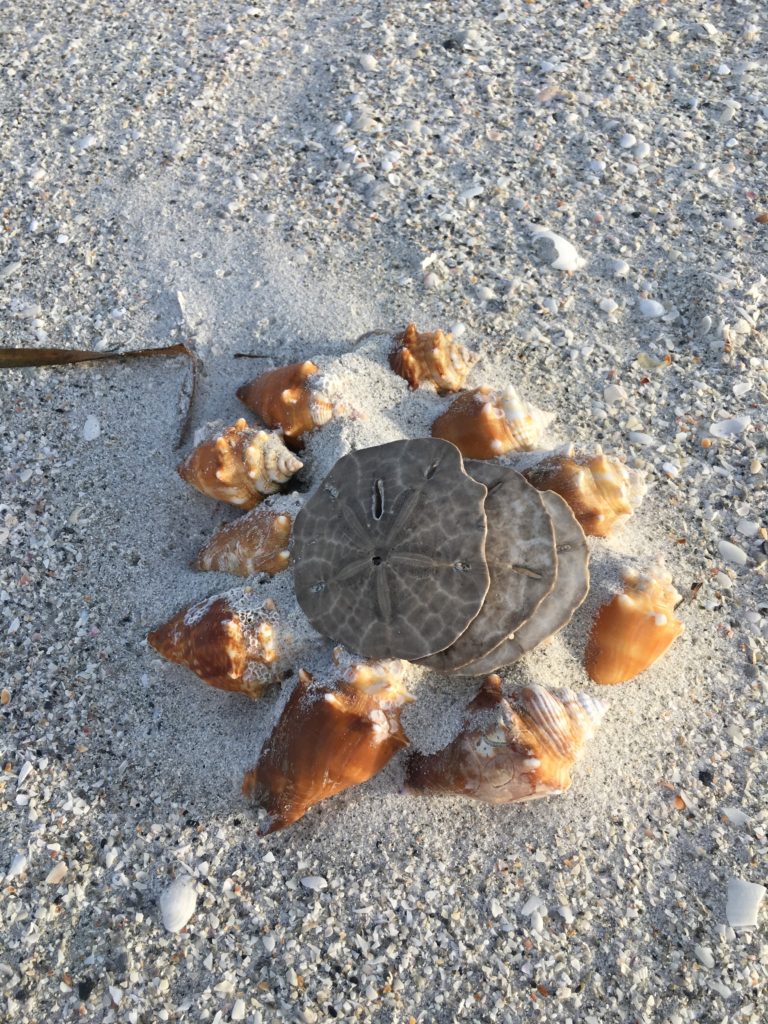 Sometimes I find shells arranged like a wreath styled by mother nature. I don't know what's going on there with those Florida fighting conchs and the little stack of sand dollars, but it looks cool.
Here's what I collected that day: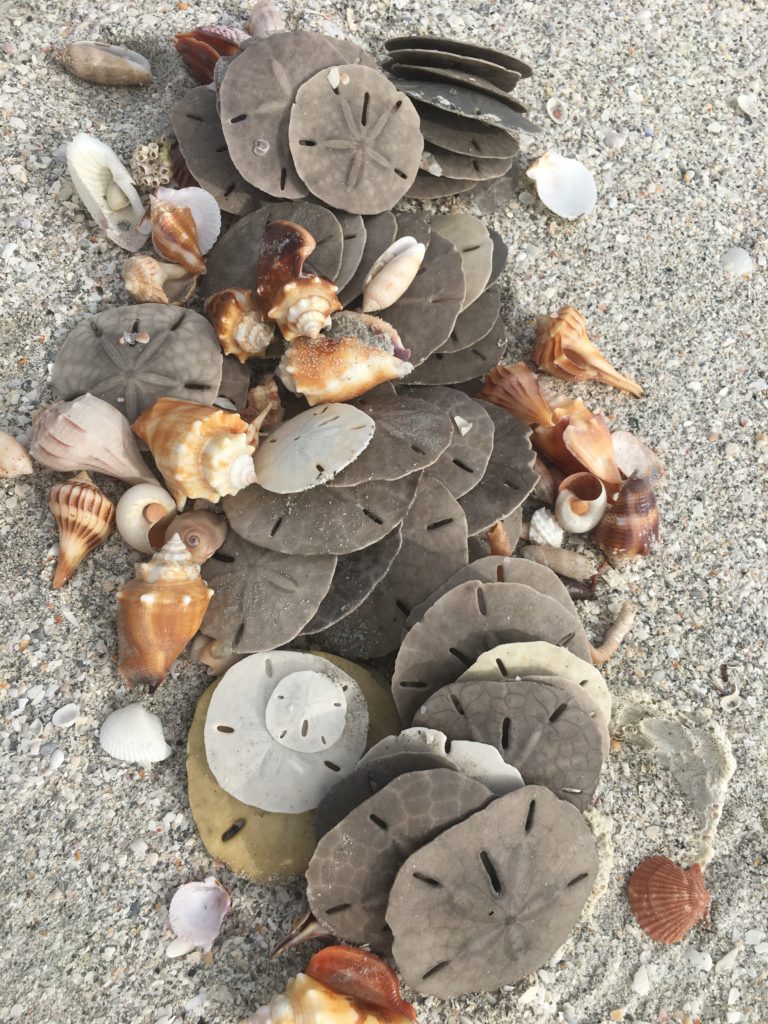 Live sand dollars have little spines on them and they turn your fingers yellow. Those go back in the water. It's okay if they're still gray like this as long as they're totally smooth. Click here to see the difference.
If you've just collected the sand dollars, start by swishing them in a bucket (they've always got lots of sand inside). Then spread them out in a sunny spot to whiten them up. I've read people use a bleach solution on them, but I never do because the sun works fine and I suspect bleach weakens them. I also don't mind a few dark spots because it looks more natural and shows off the beautiful patterns.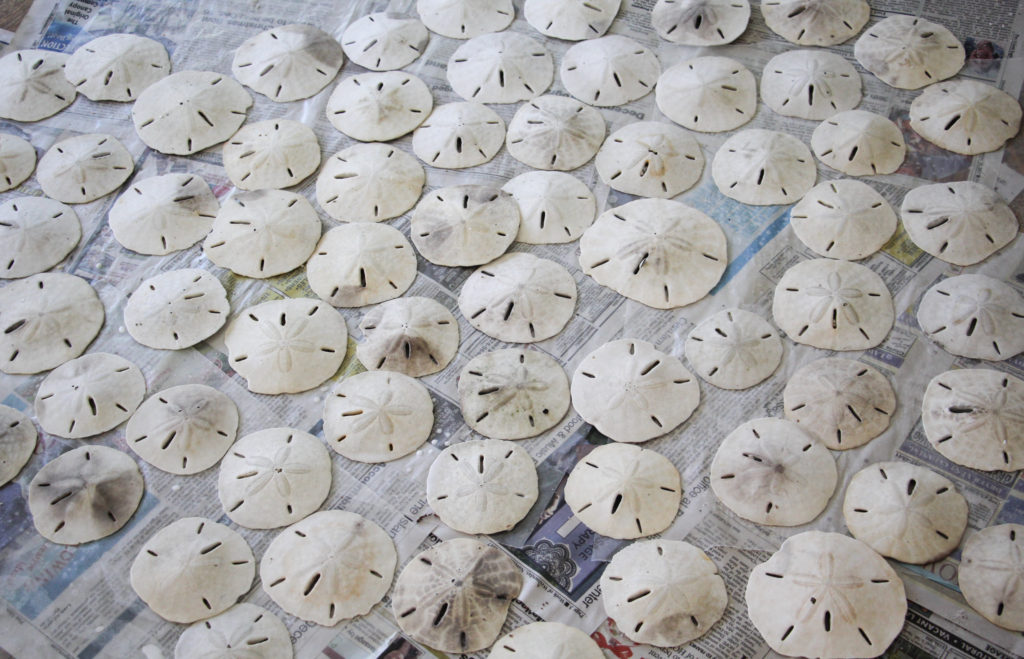 Once they're dry, it's time to "cure" them with a glue mixture. First, spread them out on wax paper (I covered the table with newspaper then put wax paper over it). Combine equal parts Elmer's glue and water. Brush it on one side. Once dry, flip and brush it on the other side.
I've got some kicking around that are decades old, so I do think it helps.
Now they're ready to use.
For the ornaments, paint them, add some glitter (not me because I'm banned from glitter for life), or even glue on some of the little "doves" you can shake out of the sand dollars. Attach a ribbon to hang them, and you're done! Here are some made by family and friends and me.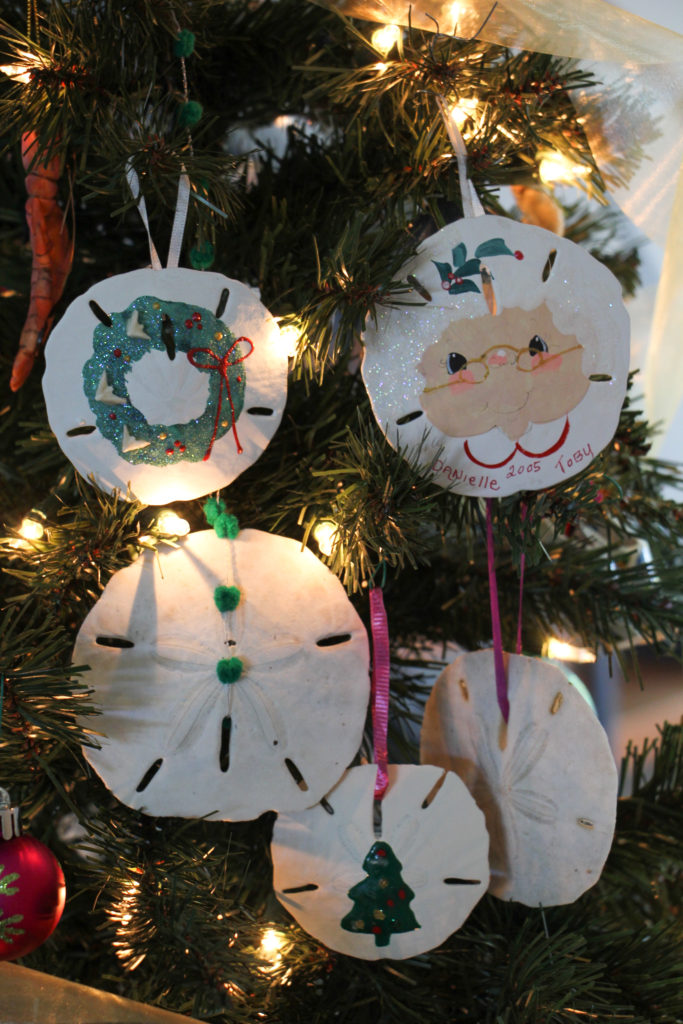 The wreath is a little more complicated. It's also pretty fragile, but I love it and I know where I can get more sand dollars.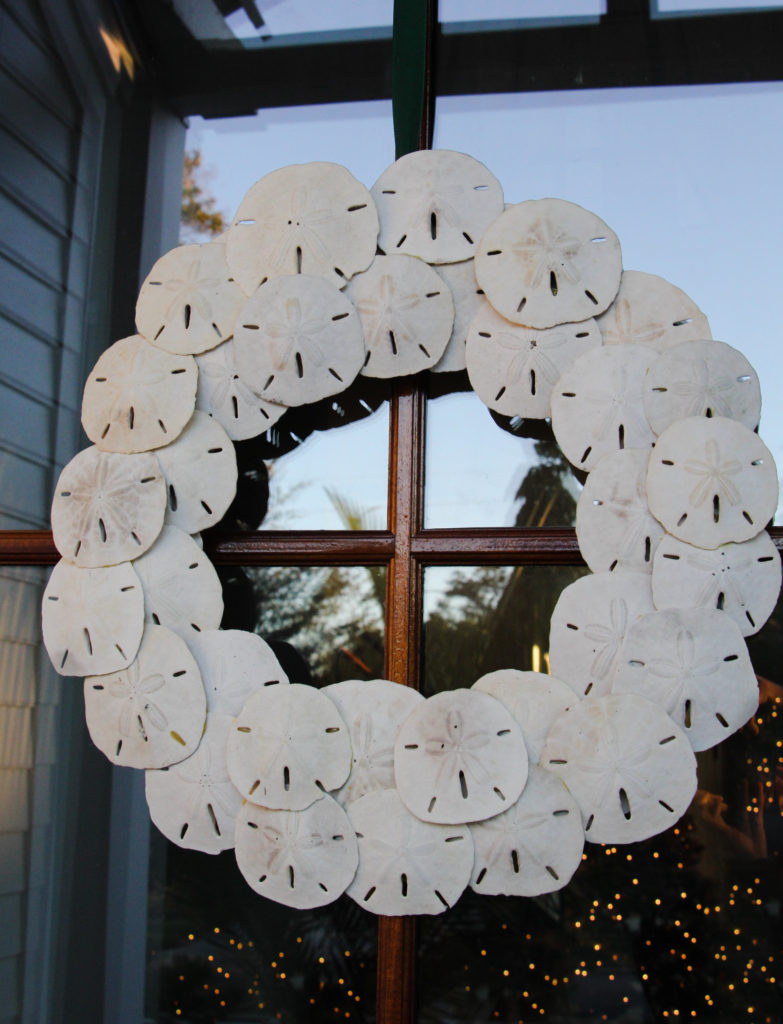 I thought I could pull this together with a combination of regular Gorilla Glue and a hot glue gun, but once I got going, Toby started giving me his two cents. He convinced me to use epoxy to attach the sand dollars because it's thick enough to fill in the gaps between the sand dollars and much stronger than the hot glue. Gorilla Glue also makes an epoxy. I haven't tried it, but I think it might be a good option for this project, too.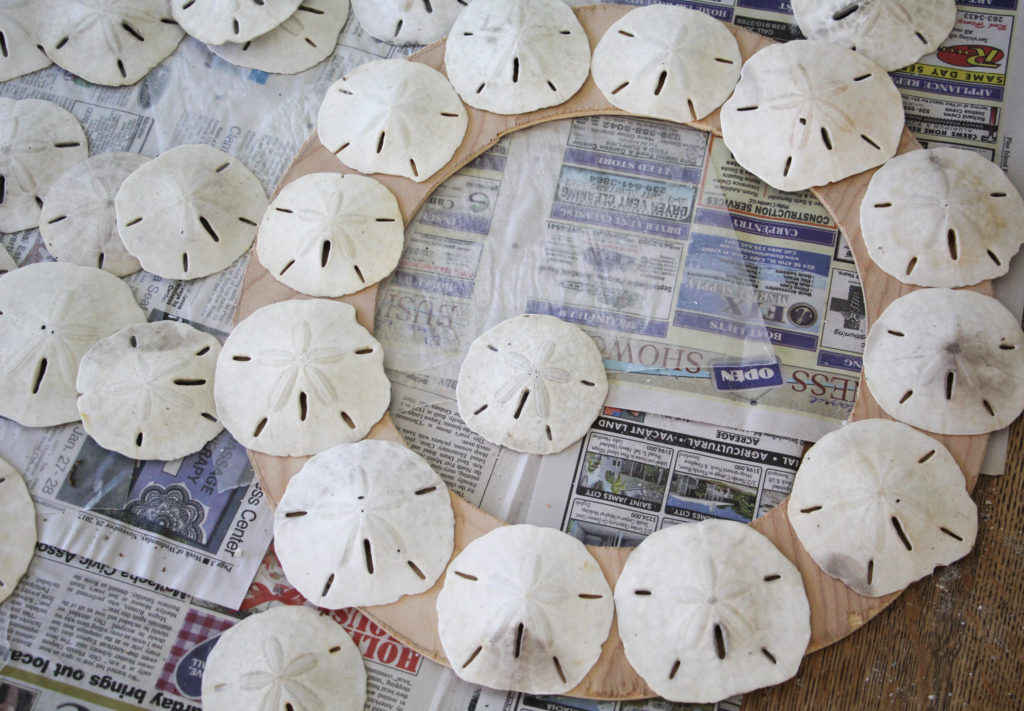 Supplies:
about 2 dozen sand dollars, dried and cured
wreath base: 18-inch diameter plywood circle with a 15-inch diameter circle cut from the center (paint it white or leave it bare)
rubber gloves
wax paper
epoxy resin and hardener kit with colloidal silica
a couple old blankets or towels
large piece of plywood or cutting board
ribbon
wreath hanger
Directions:
Spread wax paper over the work area. Wear gloves before you mix the epoxy.
Arrange and fit the sand dollars before you begin. You'll want an even layer of them over the plywood, then a couple layers overlapping on top of that. It's best to overlap them as much as you can, but don't allow them to stick out too far from the edges of the plywood. Once you've got them how you like, move the top layers of sand dollars to the outside of the wreath so they're ready to go.
Mix up the epoxy according to the package directions and add small amounts of colloidal silica until it's the thickness of peanut butter.
Begin spreading the epoxy on the back of each sand dollar, avoiding the holes as much as possible. Arrange them evenly around the plywood circle, then start adding the overlapping layers.
For the epoxy to set properly between the sand dollars, it needs to be weighed down. First, carefully cover the wreath with wax paper. Next, drape a folded blanket or several old folded towels over the wax paper in an even layer. Now add plywood or a cutting board across the top so that the weight is evenly distributed over the wreath. Allow it to set overnight.
To hang the wreath: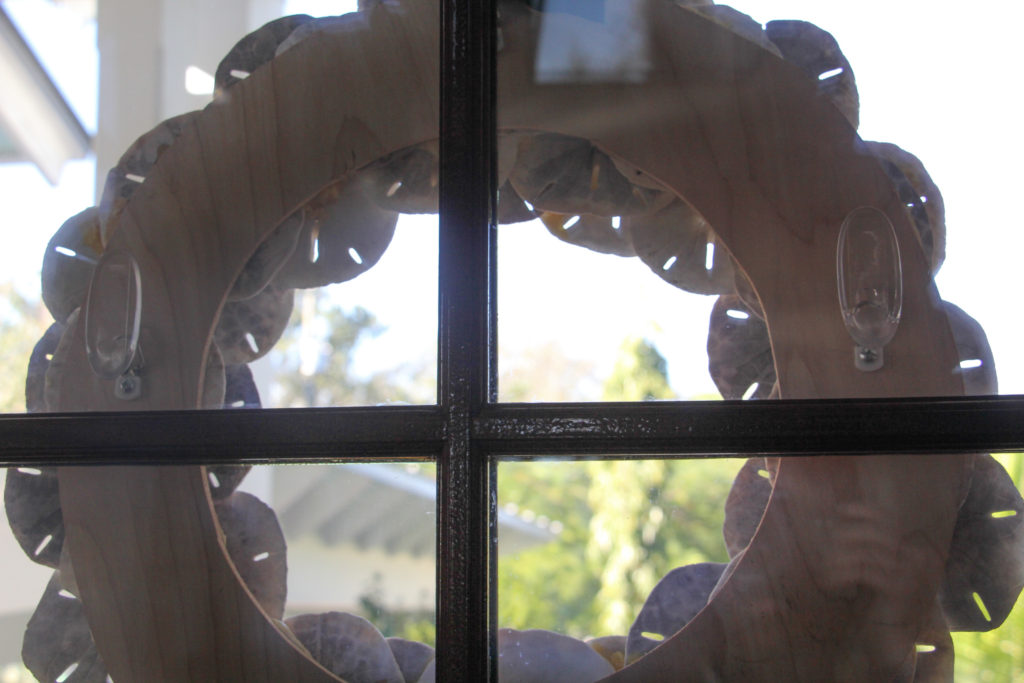 Turn the wreath over onto a large pillow or a pile of blankets or towels. Carefully screw in the d-ring hooks. The amount of hooks will depend on your door and how you plan to hang it. I used one on each side and one at the top for the ribbon.
There are several types of wreath hangers out there depending on your type of door: over-the-door styles, magnetic ones, adhesive ones. The magnetic ones didn't work on our door due to double-pane glass, so we used two Command hooks for glass doors along with a ribbon which we added afterward for extra support, tacked to the very top of the door.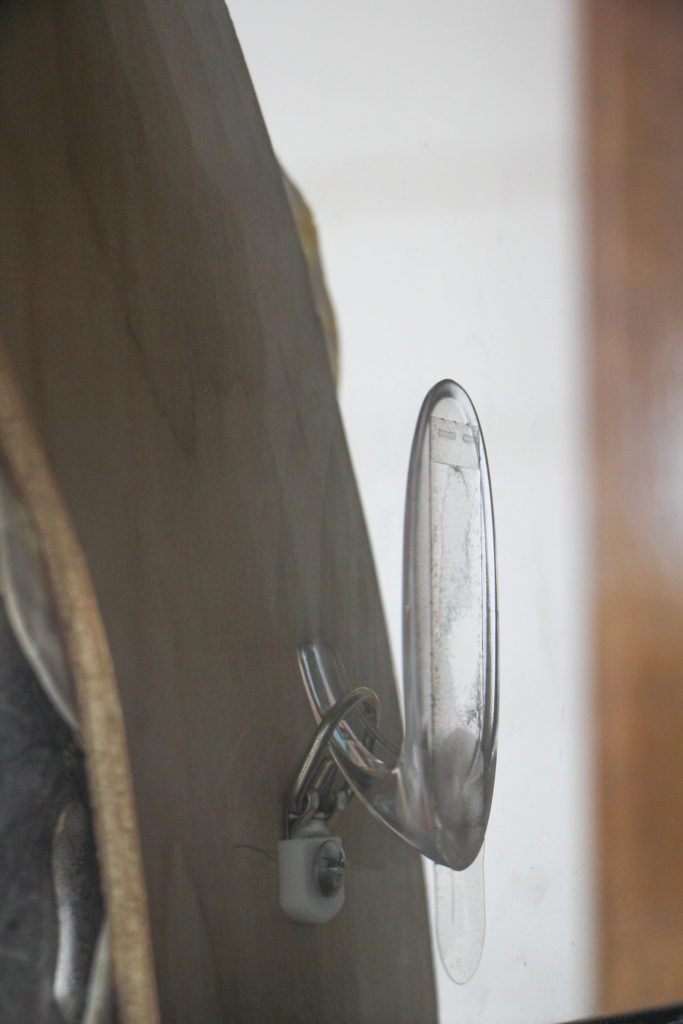 I hope it hangs on for this season and many more to come!