I'm squeezing this one in between Valentine's Day and the official start of Girl Scout cookie season.

I remember the first time I made cauliflower pizza a few years ago. I gave everyone full disclosure of what I was making. I saw the look on their faces. I felt their doubt. Another one of Danielle's "experimental" recipes. I secretly shared those doubts and had some flatbreads as backup in case it totally sucked.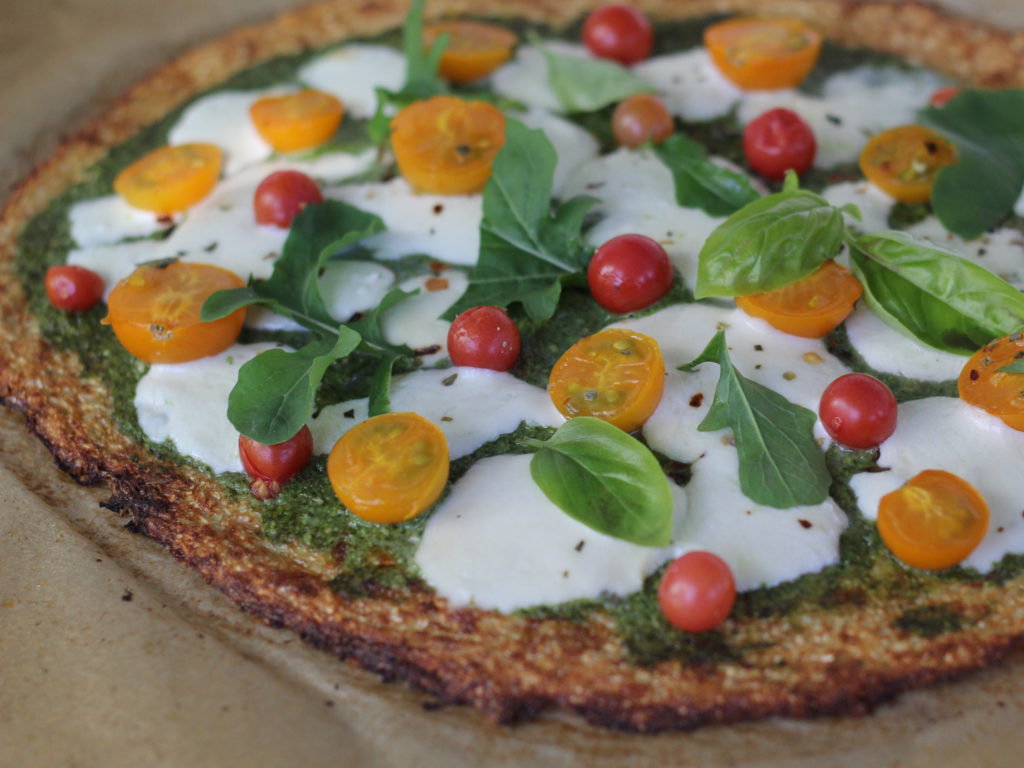 Turns out, if you know what you're biting into, you'll be pleasantly surprised. It's a different experience than pizza, but it's a delicious thing in its own right. Somehow cauliflower can transform into a crust of sorts. More accurately, a vehicle for toppings and cheese.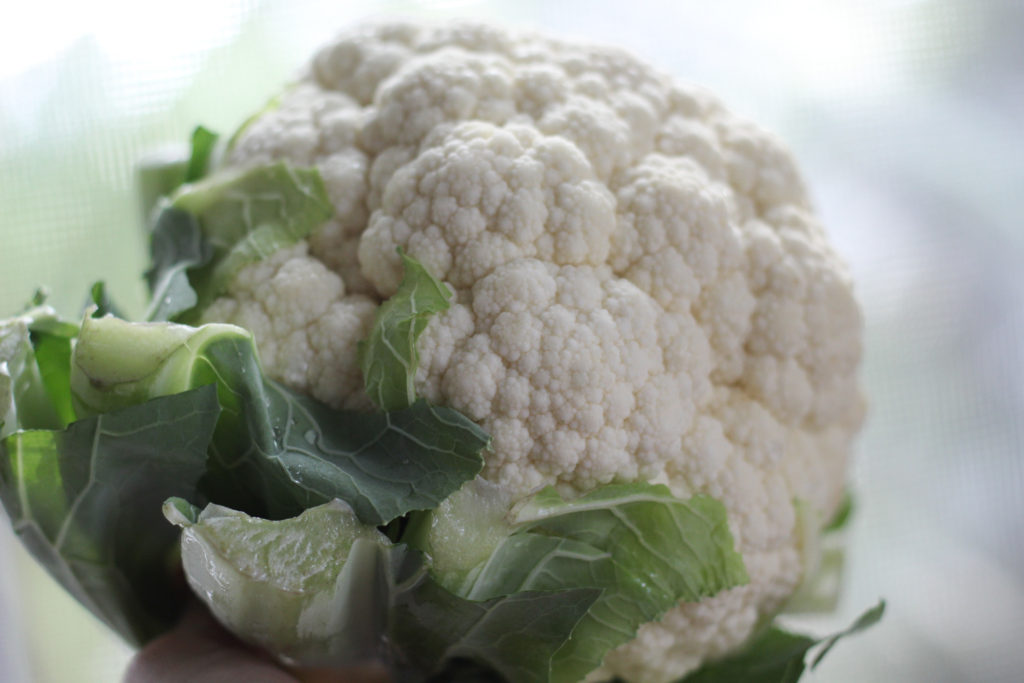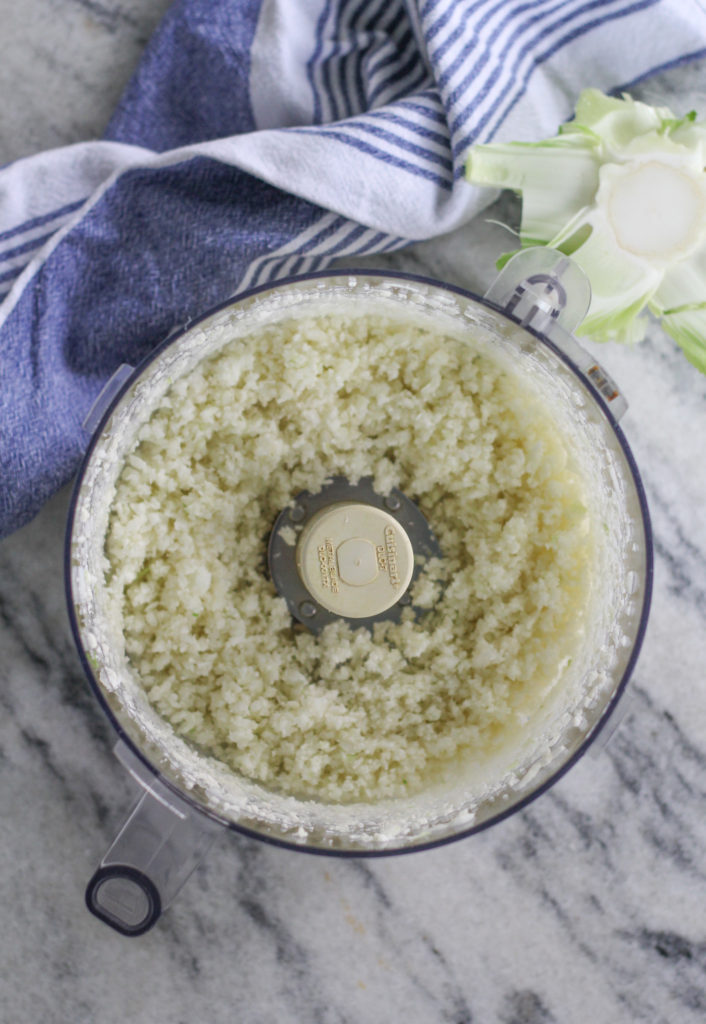 You pulse it into tiny bits in the food processor. These days we're calling that "riced" cauliflower. It's stirred up with eggs and cheese and seasoning, then spread on a baking sheet.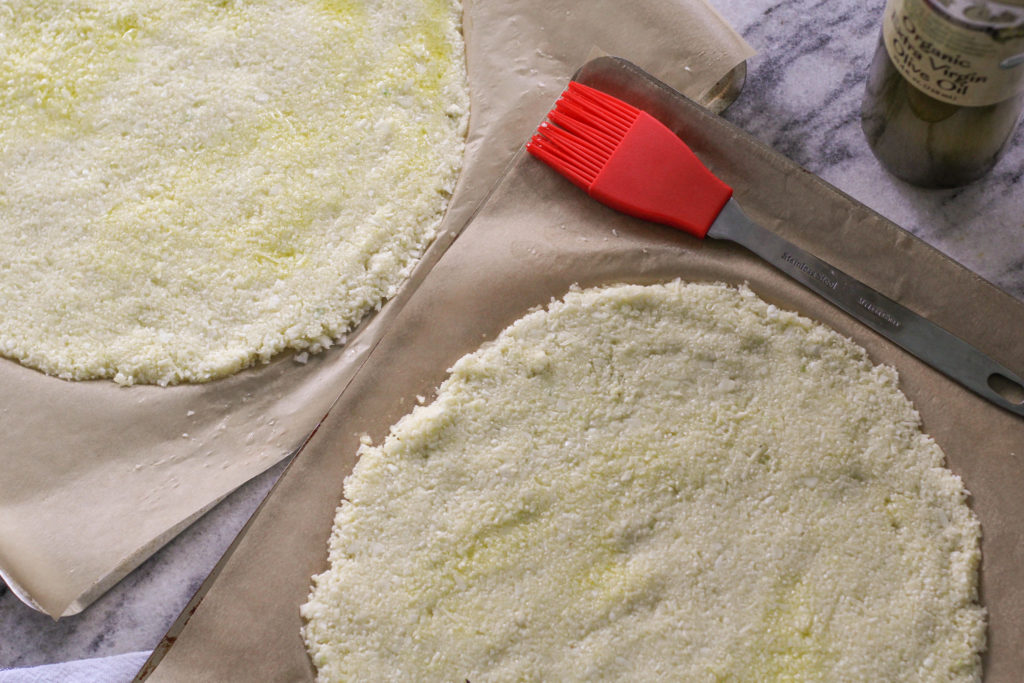 Sometimes I make them round for a pretty pizza look with nicely browned edges, but oftentimes I'm lazy and I spread the mixture across a rimmed baking sheet and make one big cauliflower "cheesy bread" that gets sliced into squares.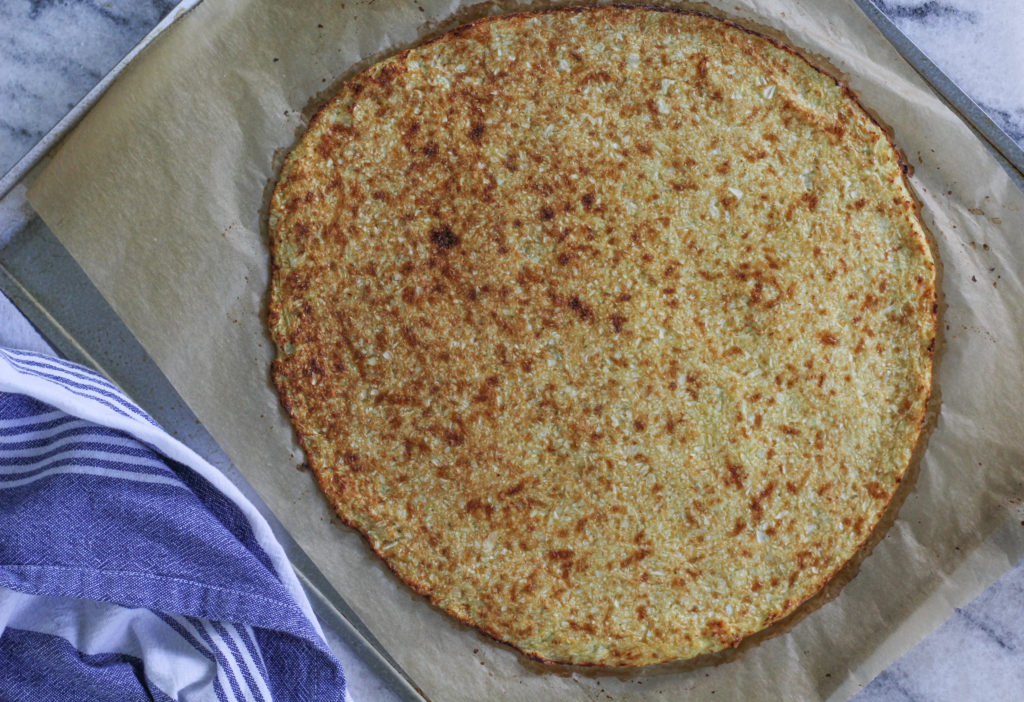 I'm topping mine with arugula pesto since my arugula is growing wild and crazy, but you should use whatever you love on pizza, especially if this is your first cauliflower-as-pizza experience.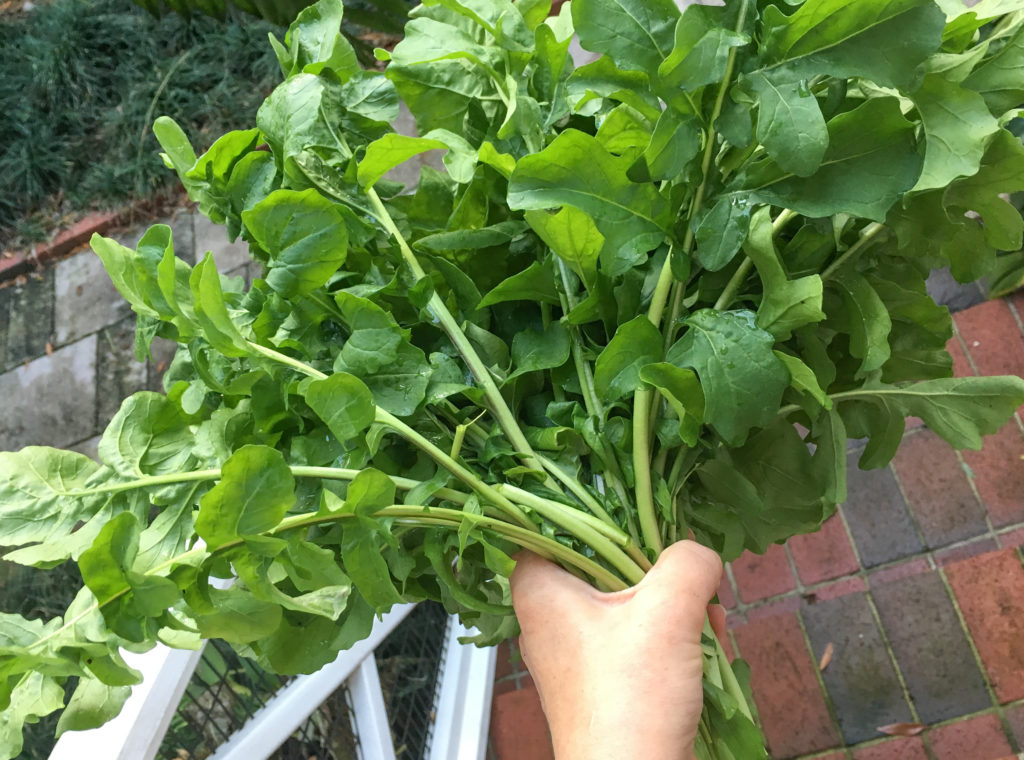 If you like pesto it works well here, and hey, you've already got the food processor out. It's simple, you can always improvise with the ingredients on hand, and it also freezes well. This one follows the same formula as all my other pestos. Toast a big handful of pecans (I swear by them in pesto) and let them cool. Pick your green stuff. Wash and dry it.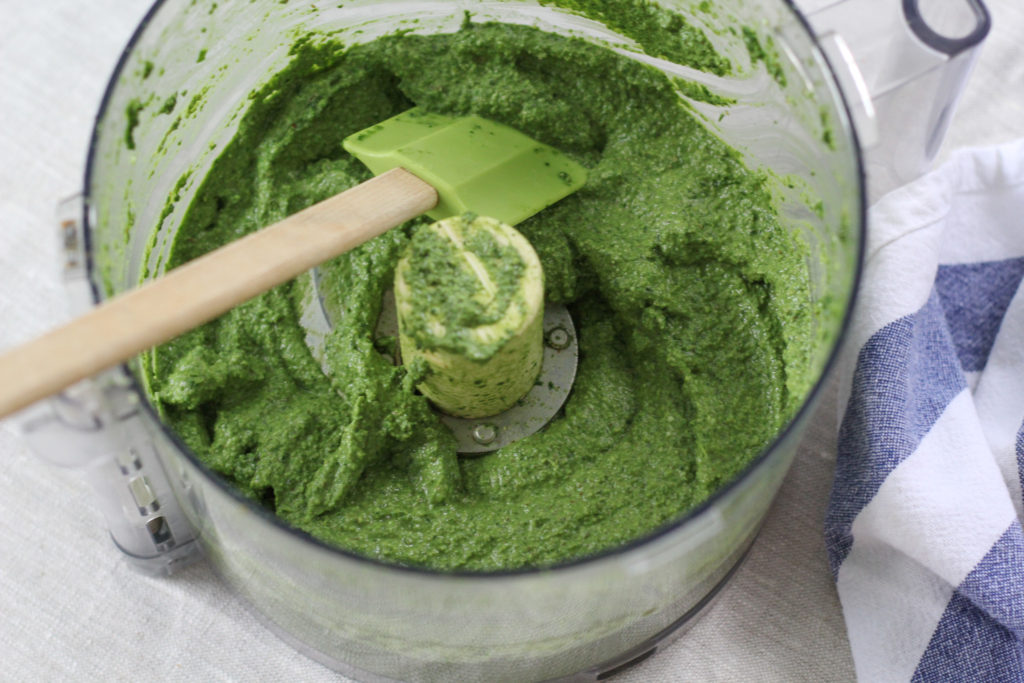 Now add 2 or 3 whole cloves of garlic and some sea salt in the food processor. Turn it on and watch the explosion of tiny bits all over the bowl. All that garlic will soon be evenly dispersed throughout your pesto. Now pack in the greens and toasted pecans and pulse, pulse, pulse. Juice of a lemon. Pulse. Scrape down the bowl, grate in a bunch of whatever hard cheese you've got, then turn the machine on and drizzle in lots of olive oil. Save some for now, freeze some in jars for later.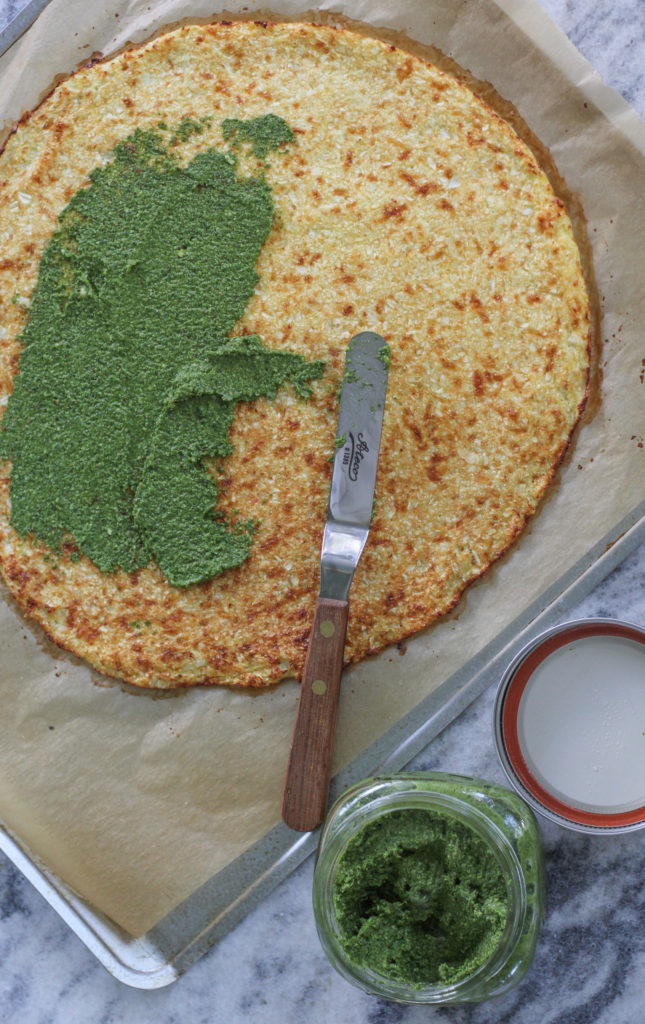 After you've browned your cauliflower crust, spread on the pesto, top it with cheese, and scatter on some tomatoes (tiny Everglades and Sun Golds, my loves). Put it back in the oven until it's melty.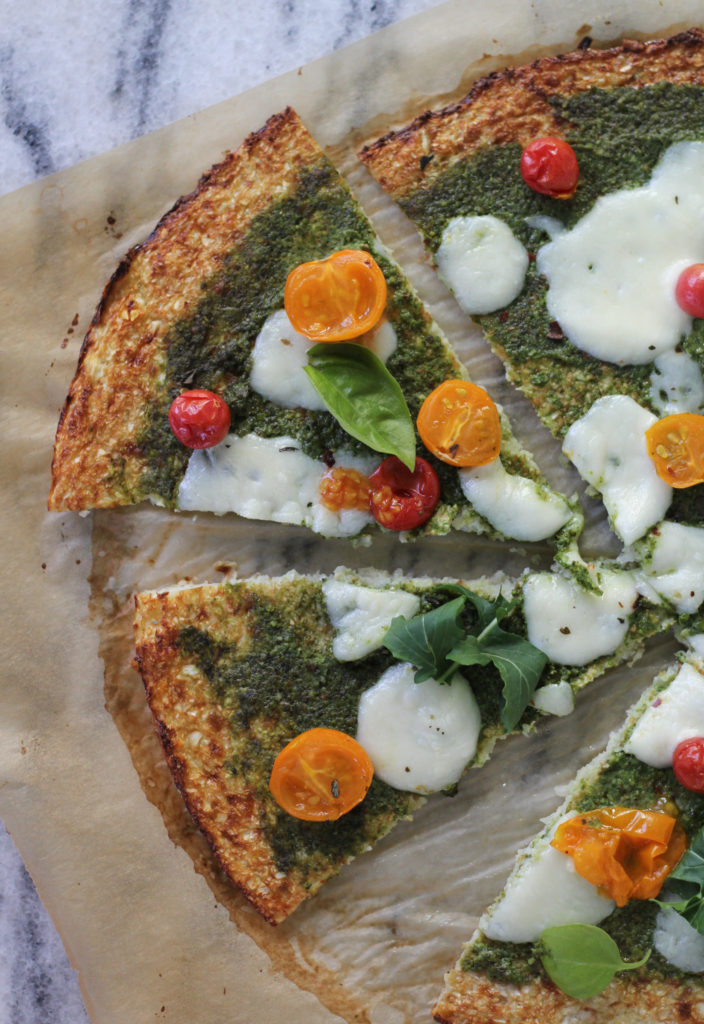 That was good. Now pass the Thin Mints.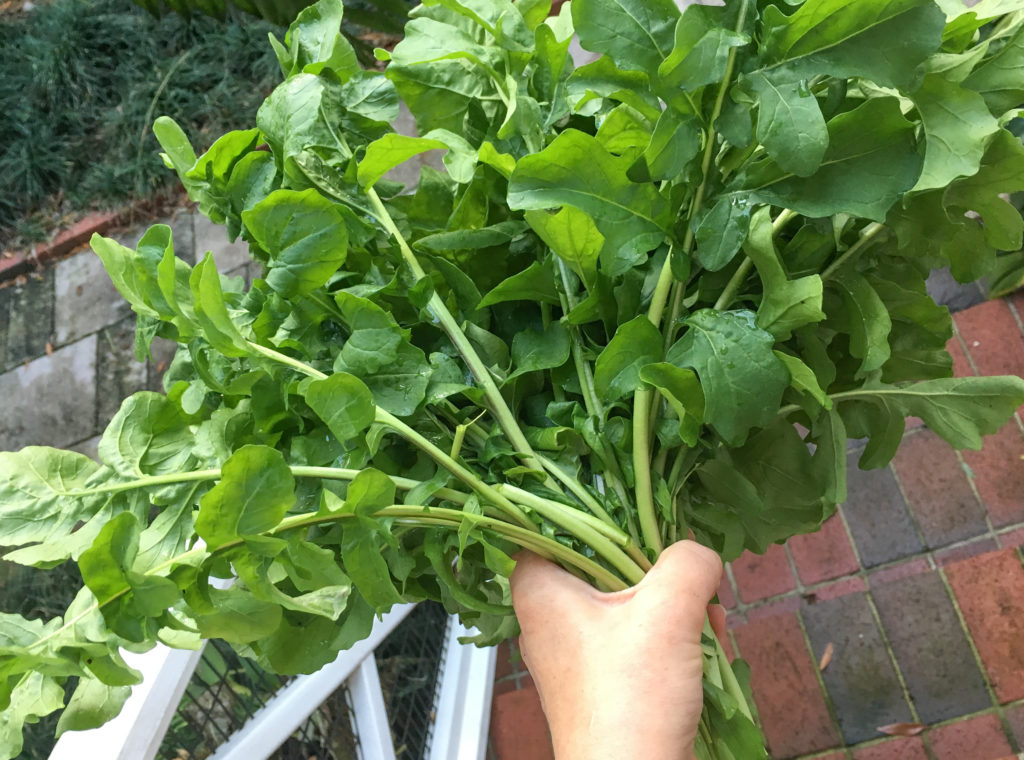 Arugula Pecan Pesto
2018-02-17 13:49:17
Ingredients
2-3 garlic cloves
1/2 teaspoon fine sea salt
freshly cracked black pepper, or a pinch of red pepper flakes
juice of a lemon
4-6 cups packed arugula leaves
1/3 cup toasted pecans
1/2-2/3 cup grated parmesan or other hard cheese
1/2-3/4 cup olive oil
Instructions
Add the garlic and salt to the bowl of a food processor and run the machine until the garlic is finely chopped. Add the lemon, arugula, pecans, and black pepper or red pepper flakes. Pulse until it begins to form a paste, scraping down the bowl as necessary. Grate in the parmesan and pulse it together. Now run the machine while you drizzle in olive oil through the top chute. Taste and adjust the seasonings as you like.
Suwannee Rose https://www.suwanneerose.com/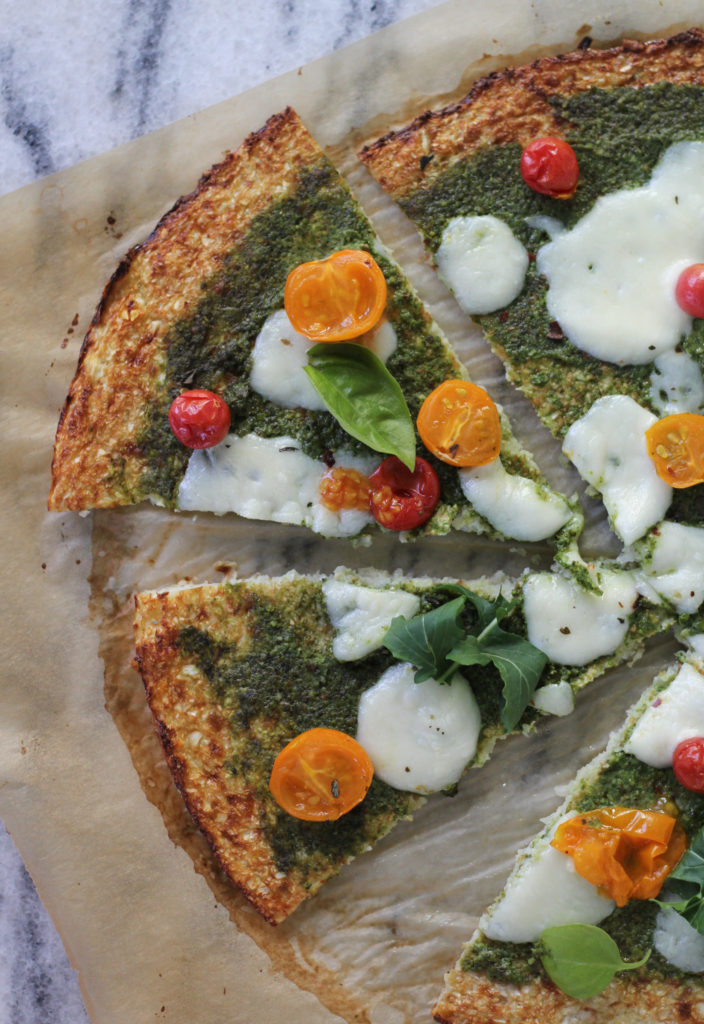 Cauliflower Pizza Crust
2018-02-17 14:07:01
Ingredients
1 head of cauliflower, roughly chopped
2 eggs
1/2 cup parmesan
2/3 cup grated mozzarella or Italian blend cheese*
sea salt and black pepper
1 teaspoon garlic powder
1 tablespoon olive oil
Instructions
Preheat the oven to 425.
Line one rimmed baking sheet (for one big rectangular pizza) or two cookie sheets (for two rounds) with parchment paper.
Pulse the cauliflower in a food processor until it's the size of grains of cooked rice.
Transfer to a large bowl and add the eggs, cheese, salt, pepper, and garlic powder. Mix well.
Spread on the baking sheet or divide in half and spread into two rounds on the cookie sheets. Smooth until it's even with no gaps, about 1/4-inch thick.
Brush olive oil on top.
Bake for 20-25 minutes, or until it begins to brown.
Remove from the oven, add your favorite toppings, and slide it back in to melt the cheese.
Notes
*The bagged stuff works best because it's drier.
**Recipe adapted from Coley Cooks.
Suwannee Rose https://www.suwanneerose.com/
Save
Save
SaveSave
SaveSave
SaveSave
SaveSave