To celebrate a few birthdays this month, I made a cake with two of my favorite flavors: coconut and key lime. They're a match made in heaven. Unfortunately they're often overblown and artificial. I don't want a cake that smells like Hawaiian Tropic. (But I do like a cake that smells like magnolia. We'll get to that.)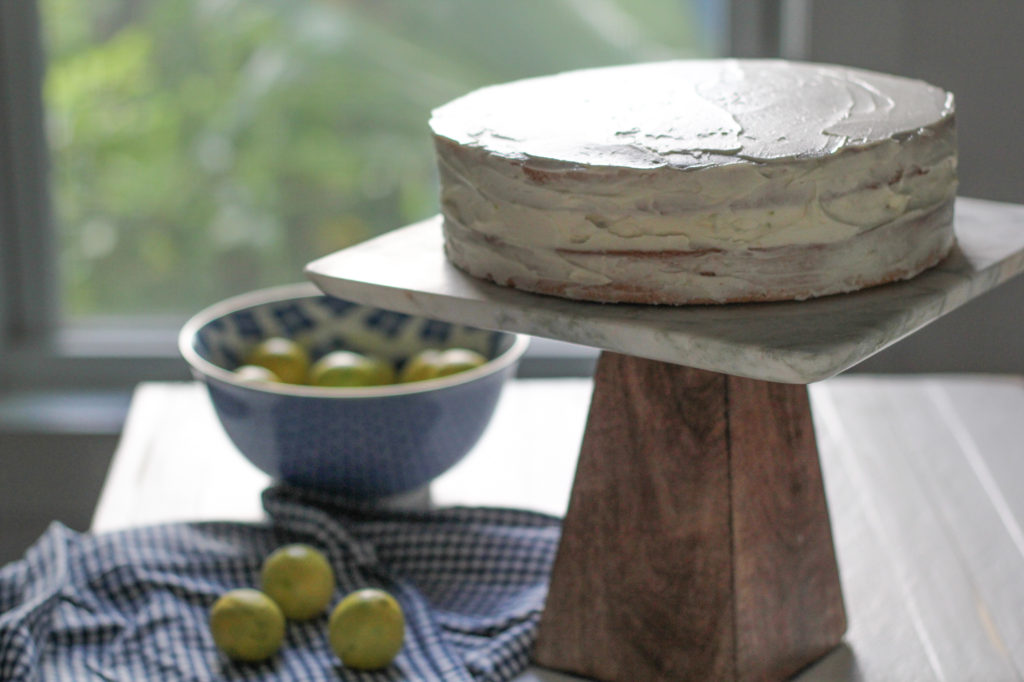 Here's what I came up with. It's a simple coconut cake made with coconut flour and coconut milk. It pops right out of the cake pan and holds up like a dream so you can stack it in birthday cake fashion and move it to a cake stand (if your feeling fancy) without breaking apart.
The coconut flour gives it great texture; somewhere between cupcake and poundcake. The coconut flavor is light and subtle, like a freshly cracked coconut. It's not overly sweet, either. No need, because that's where the icing comes in.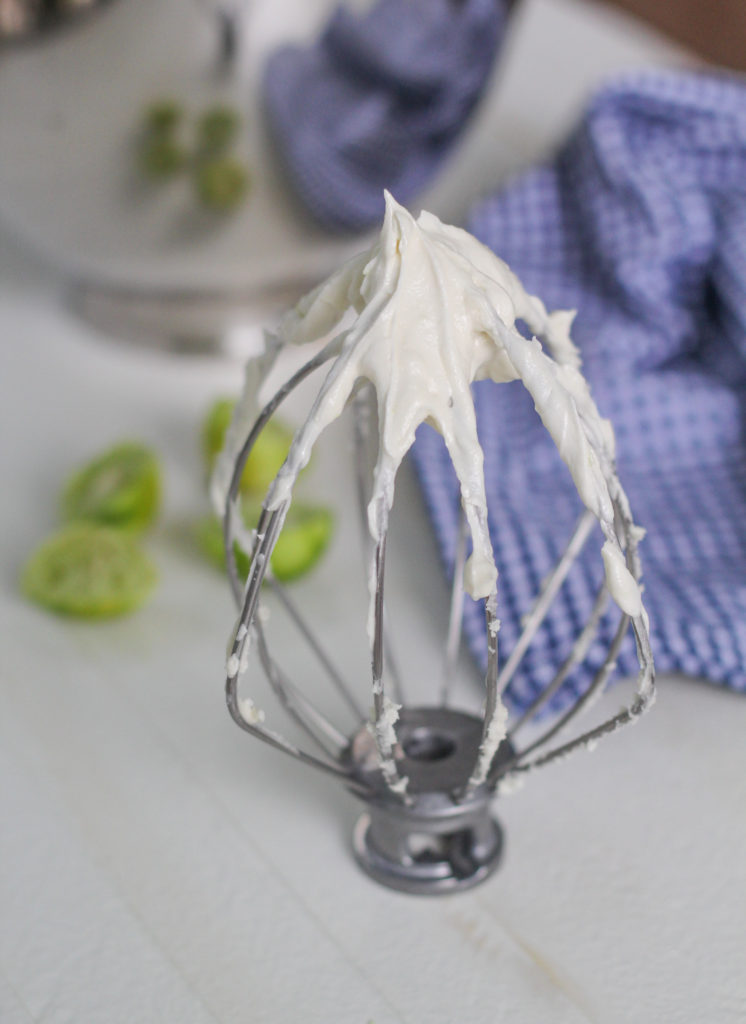 And oh, this icing. It's a buttercream spiked with key lime zest and juice, and it's so good I could… psh, who am I kidding? did eat it by the spoonful.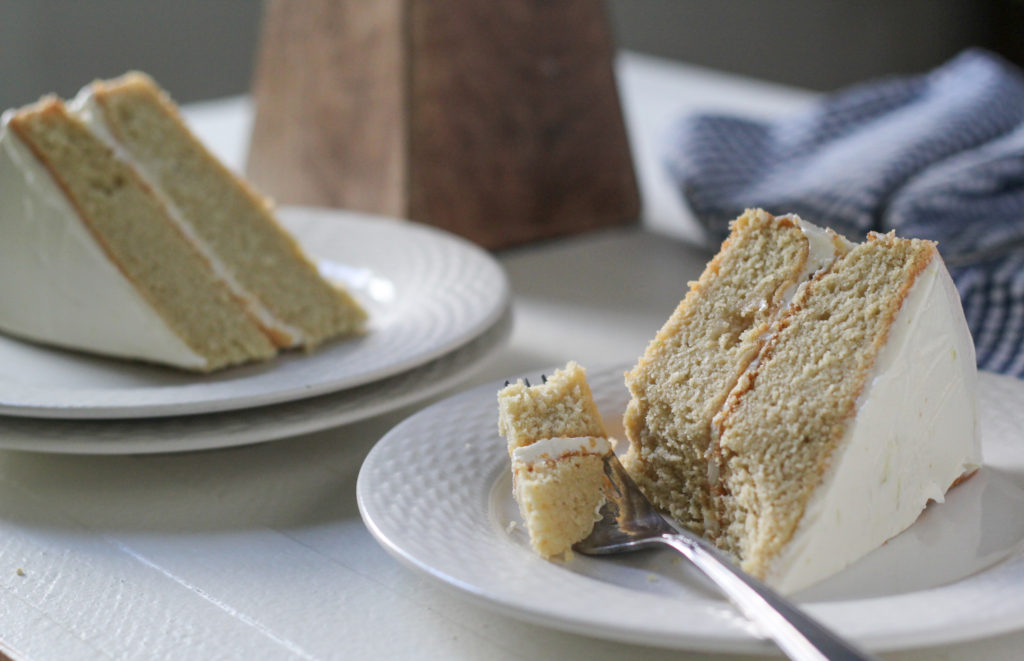 In the end, I left off the coconut flakes on top to let the key lime flavor shine. If you really love those coconut flakes, go for it.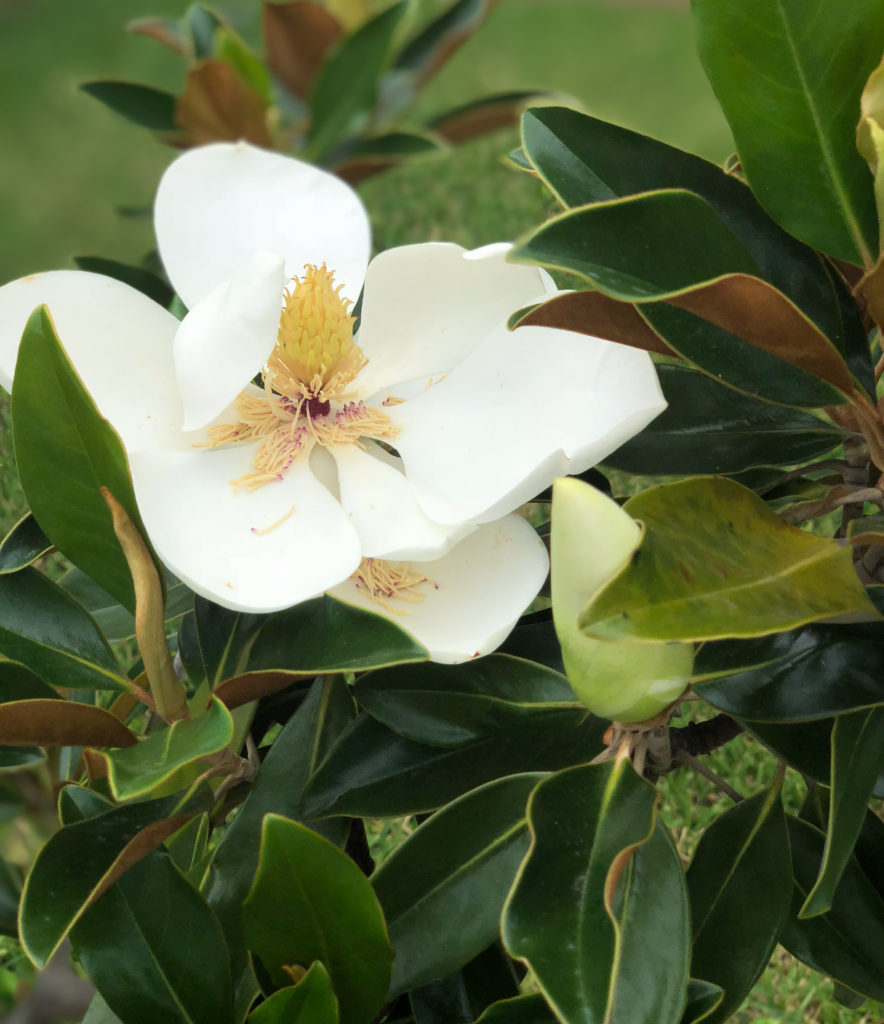 As good as this cake is, I think the most important takeaway from this post is the magnolia on top.
"When, in late April or early May, the pale buds unfold into great white waxy blossoms, sometimes eight or ten inches across, and the perfume is a delirious thing on the spring air, I would not trade one tree for a conservatory of orchids."
– Marjorie Kinnan Rawlings, Cross Creek
That perfume transfixes me, too, every time I stand beneath the towering trees in my neighborhood. It reminds me of lemon blossoms and jasmine. A friend's mom put one on top of my birthday cake when I turned 16. It became a tradition. If you don't feel like baking, I won't judge. Go to Publix (or Wright's if you live in Tampa) and get any cake with white icing. On your way home, pluck a magnolia blossom. Just one.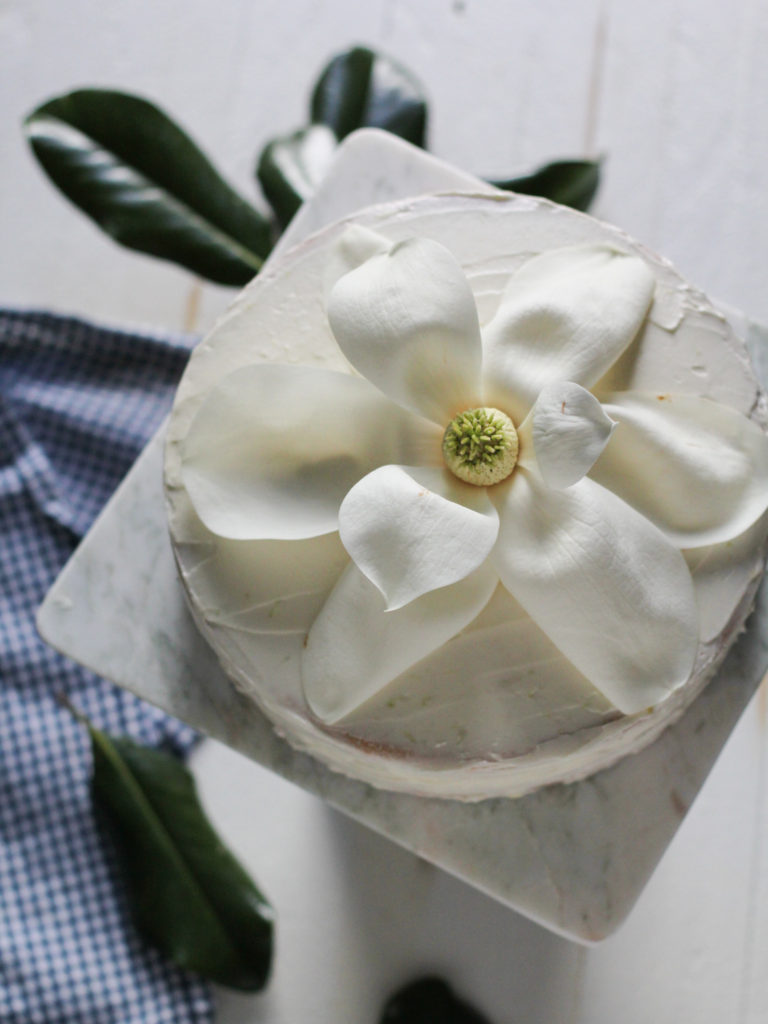 That is all.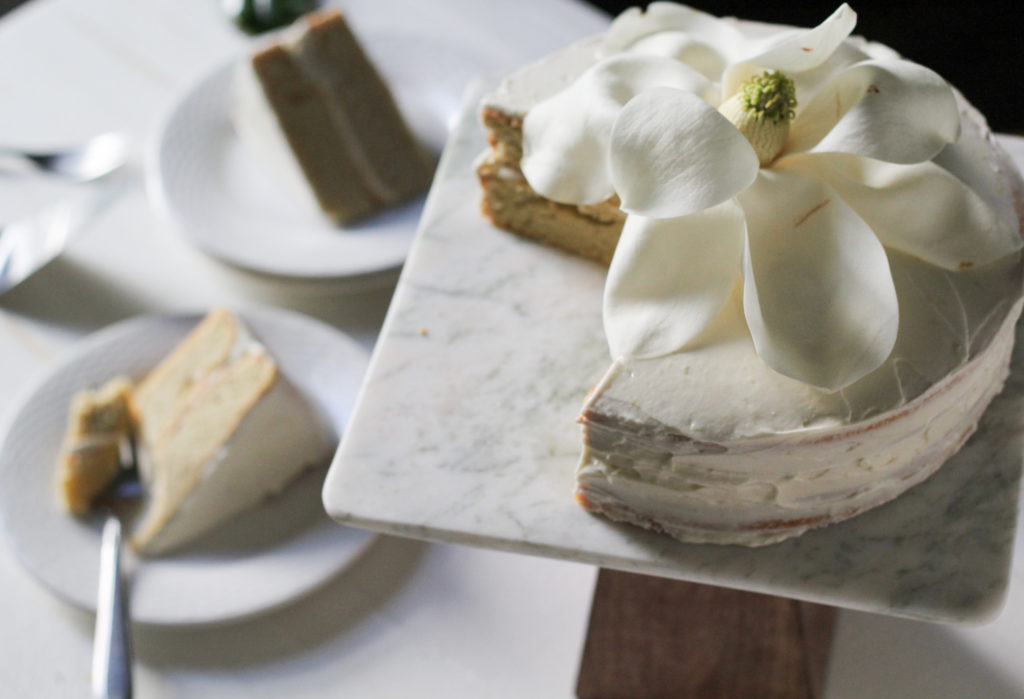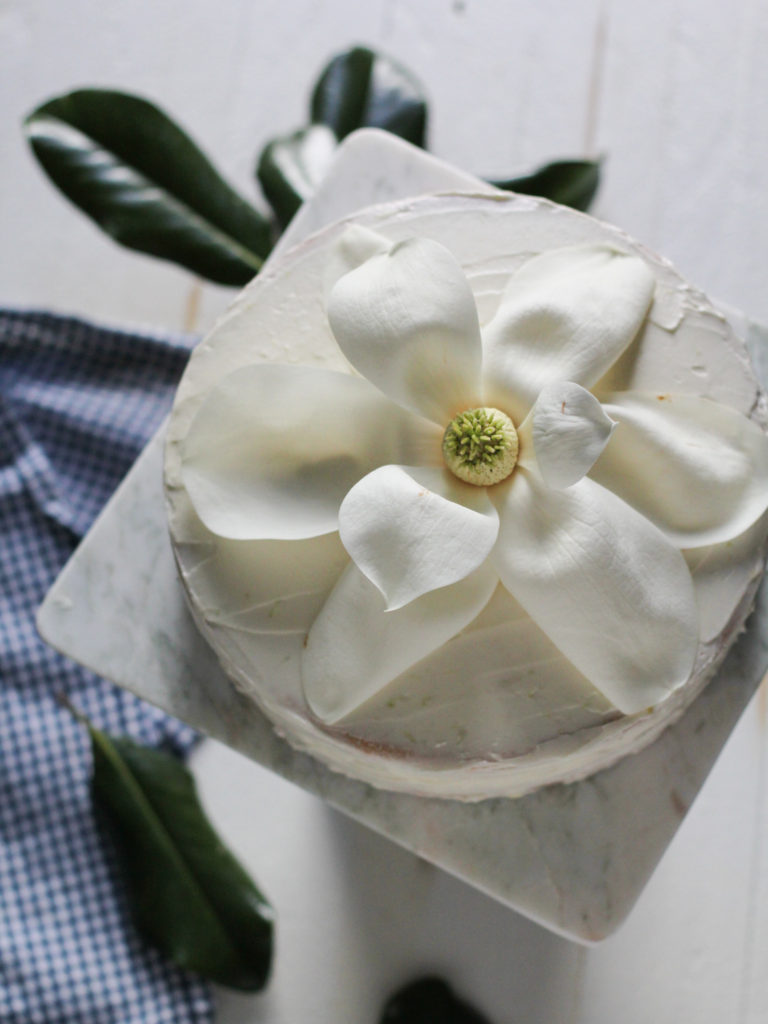 Coconut Cake with Key Lime Buttercream
2018-05-20 18:15:32
For the Cake
2 cups flour*
1 tablespoon baking powder
1 teaspoon salt
12 tablespoons unsalted butter (room temperature)
1 1/2 cups sugar
1 cup coconut flour
2 tablespoons vanilla
2 teaspoons rum
6 large eggs, room temperature
1 3/4 cup coconut milk
For the Key Lime Buttercream
1/2 cup unsalted butter (room temperature)
1/2 cup cream cheese (room temperature)
1 1/2 cups powdered sugar
1 teaspoon vanilla
1 teaspoon rum
2 teaspoons key lime zest
2 teaspoons key lime juice
Make the Cake
To make the cake: Preheat the oven to 350°F. Grease two 8-9" cake pans.
Whisk the flour, baking powder, and salt; set aside.
In a large mixing bowl, beat together the butter, sugar, and coconut flour until well blended, 2 to 3 minutes.
Mix in the vanilla and rum. Add the eggs one at a time, mixing well between each addition.
Add the flour mixture and coconut milk alternately, starting and ending with the flour. Scrape the bowl and mix once more, to fully combine.
Divide the batter evenly between the pans. Smooth the tops with a spatula.
Bake the cake for 35 to 40 minutes, or until the edges are just beginning to pull away from the sides of the pan, and the top is lightly golden. A toothpick inserted in the center will come out clean.
Remove the cakes from the oven and allow them to cool for 5 minutes. Run a spatula or knife around the edges, then turn them out onto a rack to cool completely.
Make the Key Lime Buttercream
Add the butter and cream cheese to a mixing bowl and beat until thoroughly combined. With the mixer on low, add the powdered sugar 1/2-cup at a time. Increase the speed, scraping down the sides as necessary, until it's light and fluffy. Beat in vanilla, rum, key lime zest, and key lime juice at the very end.
Spread the buttercream over the top of one cake. Top it with the second cake and smooth as much of the remaining buttercream as you like over the entire cake.
Top it with a single magnolia blossom.
Notes
*Substitute King Arthur Measure for Measure, Cup-4-Cup, or other gluten-free, equal-measure flour substitute.
Suwannee Rose https://www.suwanneerose.com/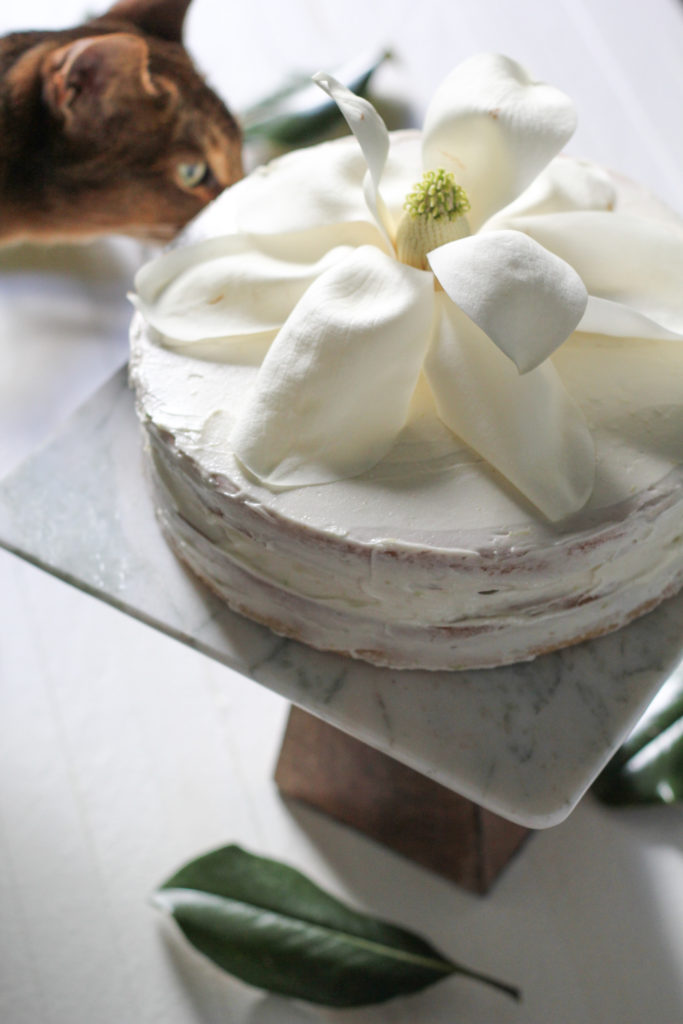 I guess he likes the smell of magnolias, too.
SaveSave
SaveSave
SaveSave
SaveSave