The official salad of Summer 2018.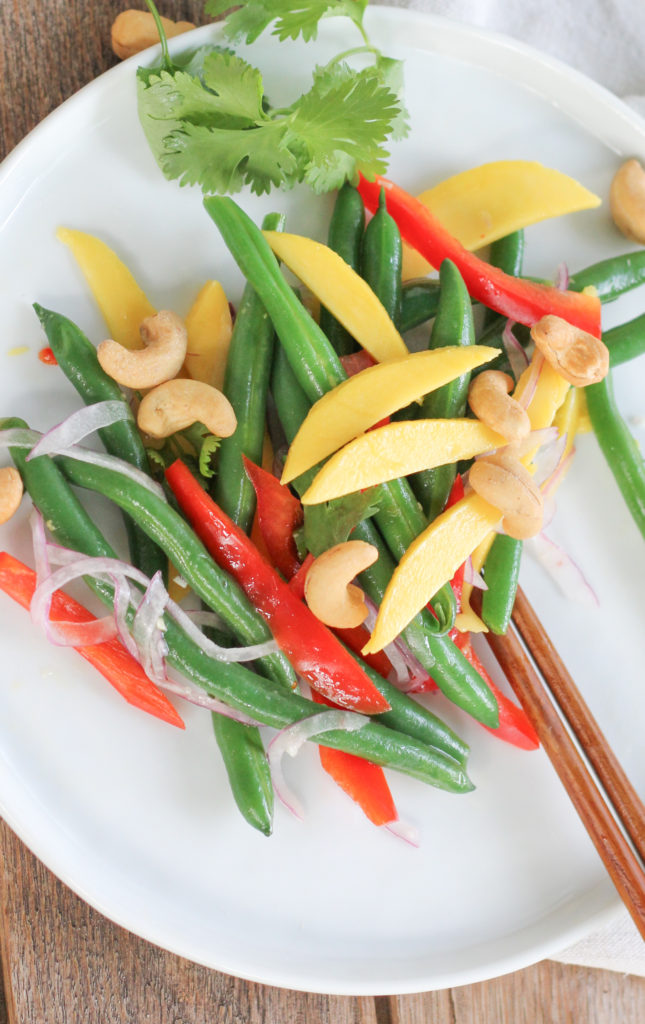 This was the winning salad at this year's Mango Mania, and I promise you it will be a hit at every pool party and barbecue. Double the recipe. Maybe even triple it because it's so good leftover, ice-cold from the fridge.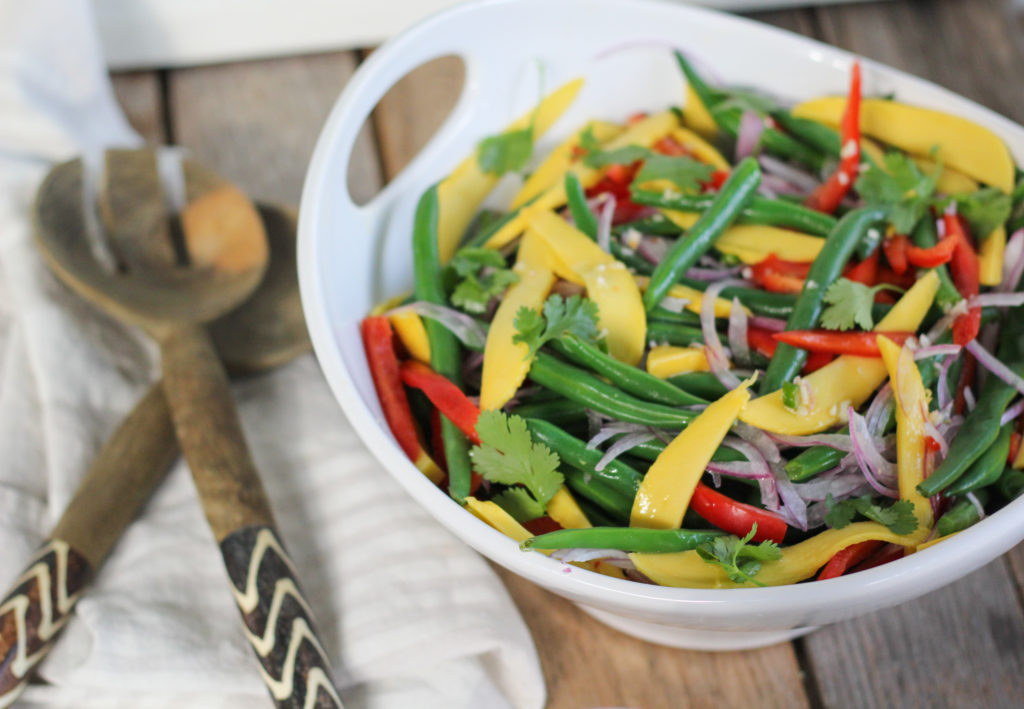 I love the colors: vibrant green beans, slices of ripe mango, bright red peppers, and thin slivers of red onion. Toss all that with a dressing very similar to what you find on green papaya salad, one of my all-time favorites. It's got that heavenly trifecta of fresh key lime juice, funky fish sauce, and sugar. Kick it up with some little Thai chiles or keep it mellow with milder peppers, or none at all. Next toss in finely minced lemongrass, which is so aromatic and fresh.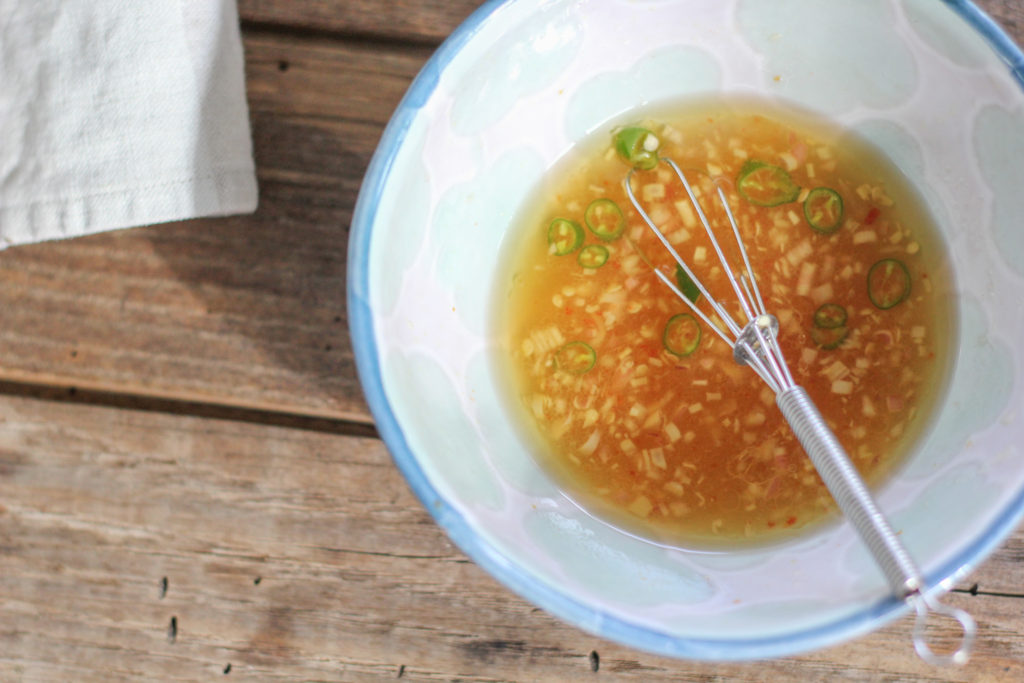 This recipe comes from Mary Anna Murphy, a Mango Mania veteran who elevates the competition each year.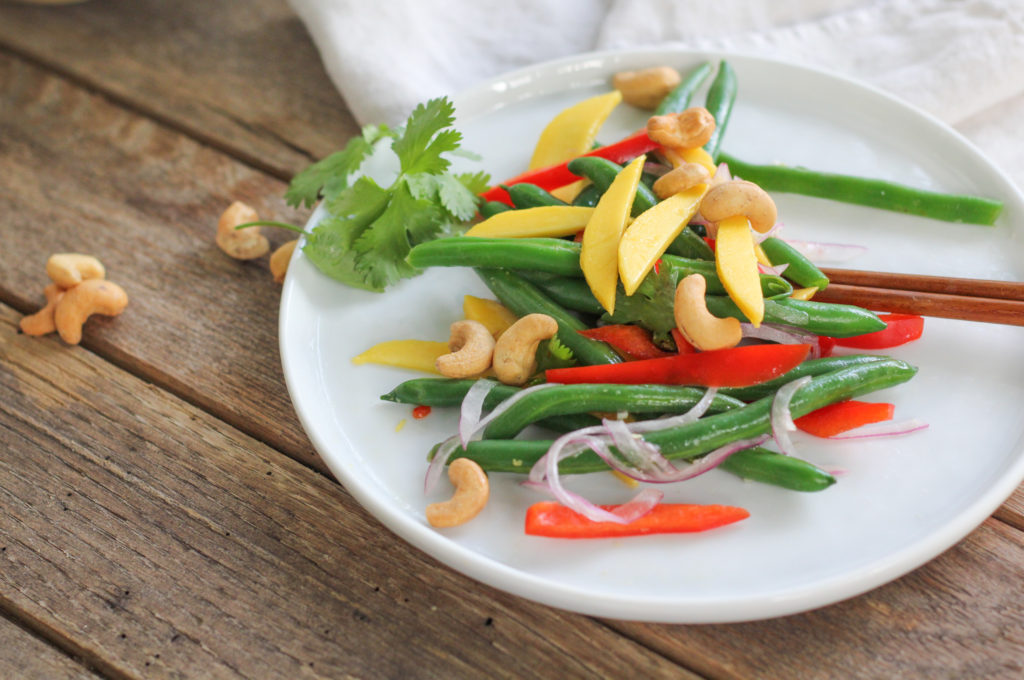 Thanks for sharing it with us, Mary Anna. I can't wait to see what you make next year. Happy Mango Season!
Mango Green Bean Thai Salad
2018-06-23 12:34:16
Ingredients
1 pound green beans, stems trimmed
1 firm-ripe mango, peeled and thinly sliced
1 sweet red pepper, thinly sliced
1⁄2 red onion, thinly sliced (with a mandoline if you have one)
Dressing
1 tablespoon good fish sauce (ideally Red Boat)
2 tablespoons fresh lime juice (ideally key limes)
1 tablespoon sugar
1 clove crushed garlic
1 teaspoon sweet chili sauce
pinch of salt
1 teaspoon lemongrass – pounded and chopped very fine
1-3 Thai chili thinly sliced, seeded for less heat
1 tablespoon chopped cilantro
1/2 tablespoon canola oil
1/2T dark sesame oil
garnish with toasted cashews*
Instructions
Blanch the green beans in boiling water for 3 minutes. Transfer to a bowl of ice water to stop the cooking. Drain and dry.
Toss the green beans, mango, red pepper, and red onion in a large serving bowl.
In a separate bowl, whisk the fish sauce, lime juice, sugar, garlic, chili sauce, salt, lemongrass, chili, and cilantro. Once combined, whisk in the canola and sesame oils.
Pour the dressing over the salad and toss well.
Top with cashews if you like.
Notes
*I added the cashews... totally optional but so good.
Suwannee Rose https://www.suwanneerose.com/