These are supposed to be called compost cookies. Yes, I do realize that doesn't sound any better.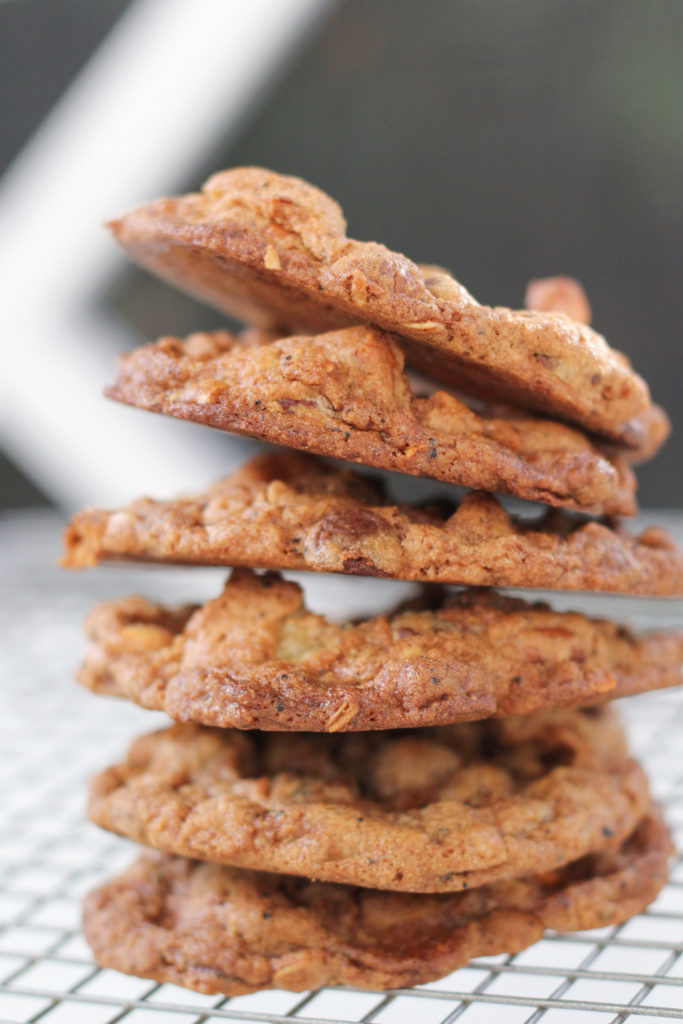 I told my mom I'd bring a batch of these to the Keys, and when I described them it was obvious she thought they sounded gross, but she only said "Oh, they sound interesting." I don't get my sweet tooth from her.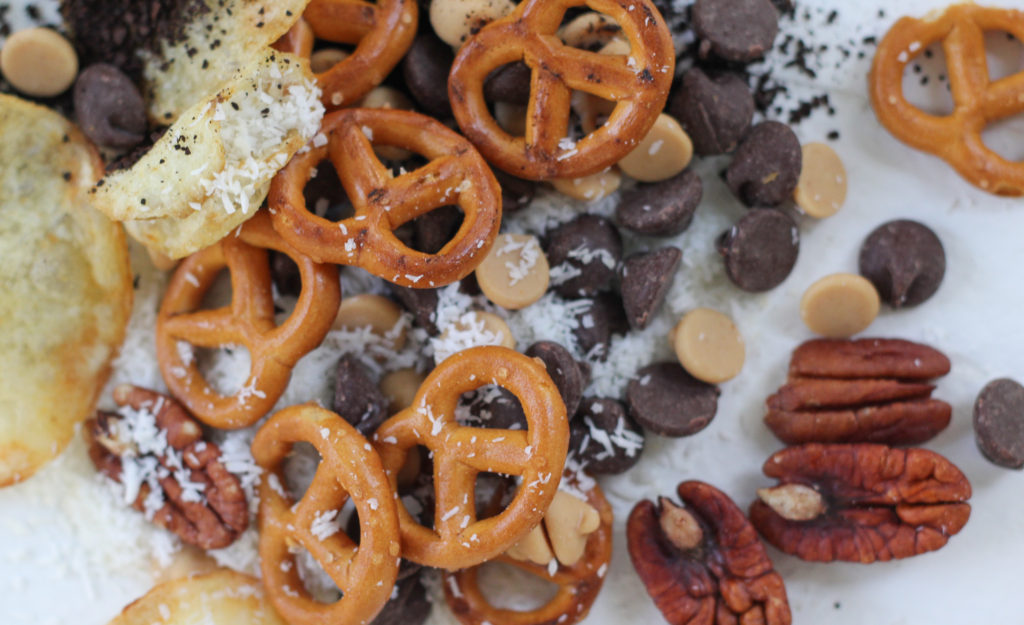 I was game the moment I first heard of compost cookies, the creation of sweet culinary genius Christina Tosi. They're basically a chocolate chip cookie overloaded with pantry snacks and staples like potato chips, oats, and pretzels, and even some coffee grounds (hence the name, compost cookie).
Salty + sweet = all the most delicious things on earth. Chocolate-covered pretzels. Reese's peanut butter cups. Salted caramel anything.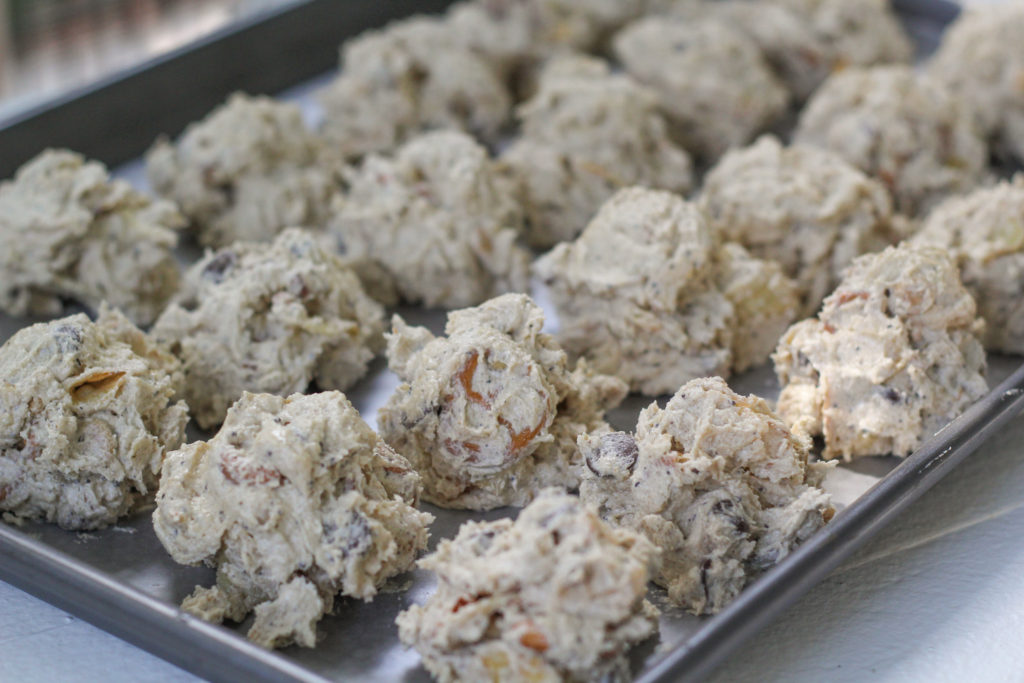 Besides the flavor, there's the crunch factor. The cookies are sturdy with crispy edges and chewy centers. Each bite has it's own little texture surprise. It's just an overall delicious, well-balanced cookie experience.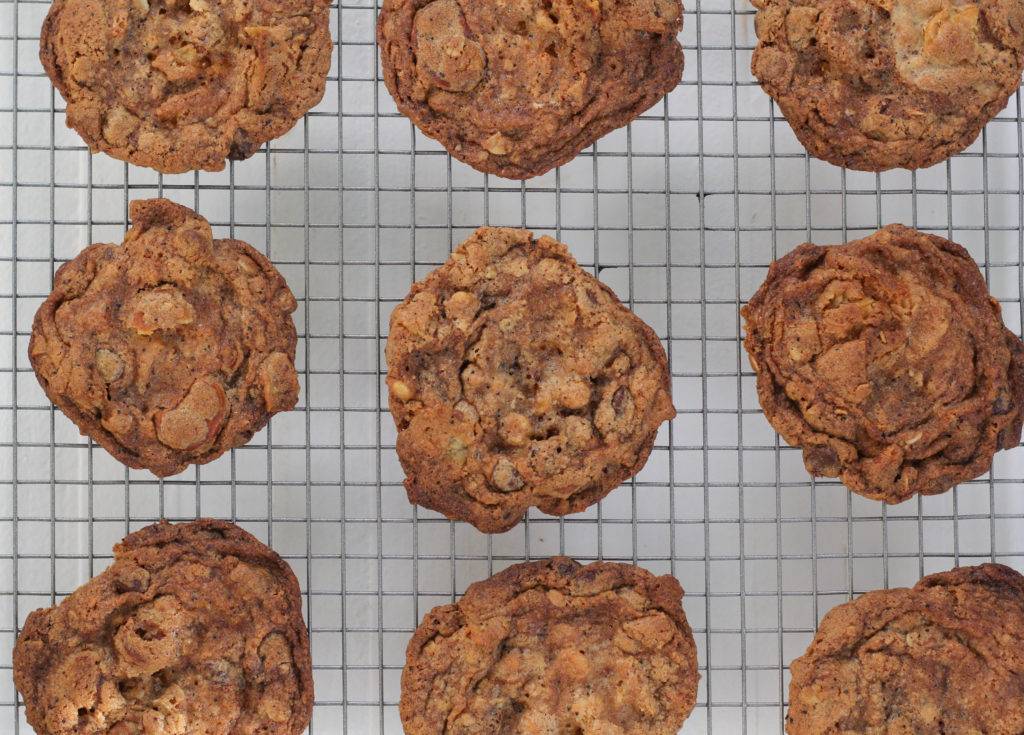 A few days into our trip, after the rest of us already determined these cookies are the bomb, guess who comes waltzing in the kitchen asking, "Are there any more of those dumpster cookies?"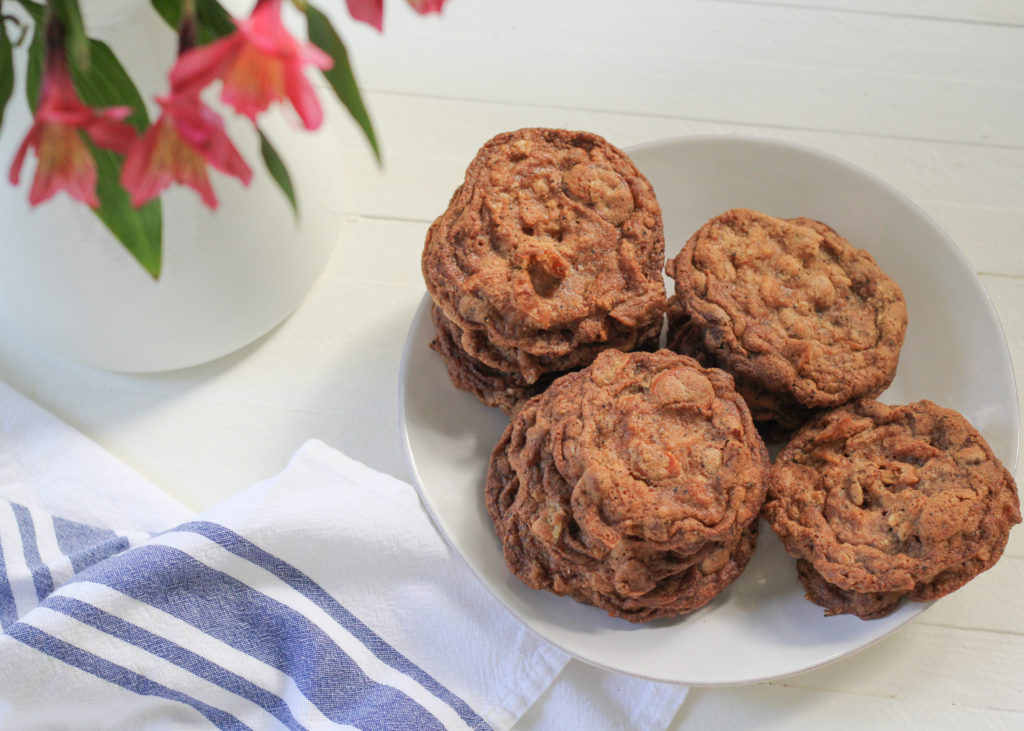 So here we have my version of compost cookies, which will forever be known as dumpster cookies in my family. Make them your own with whatever's in your pantry, and they're easy to make gluten-free. You can even swap out the chocolate for m&m's or chopped mini candy bars.
Happy Halloween!
(I'll update with my recipe card format when it stops acting up on me.)
Dumpster Cookies
2 sticks unsalted butter, at room temperature
1 cup sugar
2⁄3 cup firmly packed light brown sugar
1 1/2 tablespoons corn syrup
1 egg (room temperature)
1 teaspoon vanilla extract
1 1/3 cups flour*
1/2 teaspoon baking powder
1/4 teaspoon baking soda
1 teaspoon kosher salt
3/4 cup chocolate chips
1/2 cup peanut butter chips
1⁄3 cup old-fashioned rolled oats
2 tablespoons shredded unsweetened coconut
2 tablespoons toasted pepitas
2 tablespoons chopped pecans
2 1/2 tsp ground coffee (not instant or already used!)
2 cups potato chips
1 cup mini pretzels*
In the bowl of a stand mixer with a paddle attachment, add the butter, sugars, and corn syrup and beat on medium-high for 2 to 3 minutes. Scrape down the sides of the bowl, add the egg and vanilla, and beat for 7 to 8 minutes.
Whisk the flour, baking powder, baking soda, and salt in a separate bowl and add in just until the dough comes together, no longer than 1 minute. Scrape down the sides of the bowl with a spatula.
On low speed, add the chocolate chips, peanut butter chips, oats, coconut, pepitas, pecans, and coffee and mix just until incorporated, about 30 seconds. Gently fold in the potato chips and pretzels with a spatula. The less they break apart, the better.
Portion out the dough into 1/3-cup scoops onto a parchment-lined sheet pan. Cover with plastic wrap and press down on all the cookie domes to flatten slightly.
Refrigerate for at least 1 hour, or up to 3 days. Don't bake from room temperature, they'll spread too much.
Preheat the oven to 375.
Arrange the cookies on a parchment-lined cookie sheet 3-4 inches apart, about 5 per sheet.
Bake for 15-18 minutes. Monitor for the last few minutes. When the centers are still light and puffed up, you're almost there. The minute that center flattens, take them out. Transfer to racks to cool.
They'll be good for about 3 days at room temperature, or you can freeze them for longer.
*for gluten-free cookies, swap the flour for King Arthur Measure for Measure flour and use gluten-free pretzels.