It's a coastal tradition to deck the halls with beach treasures.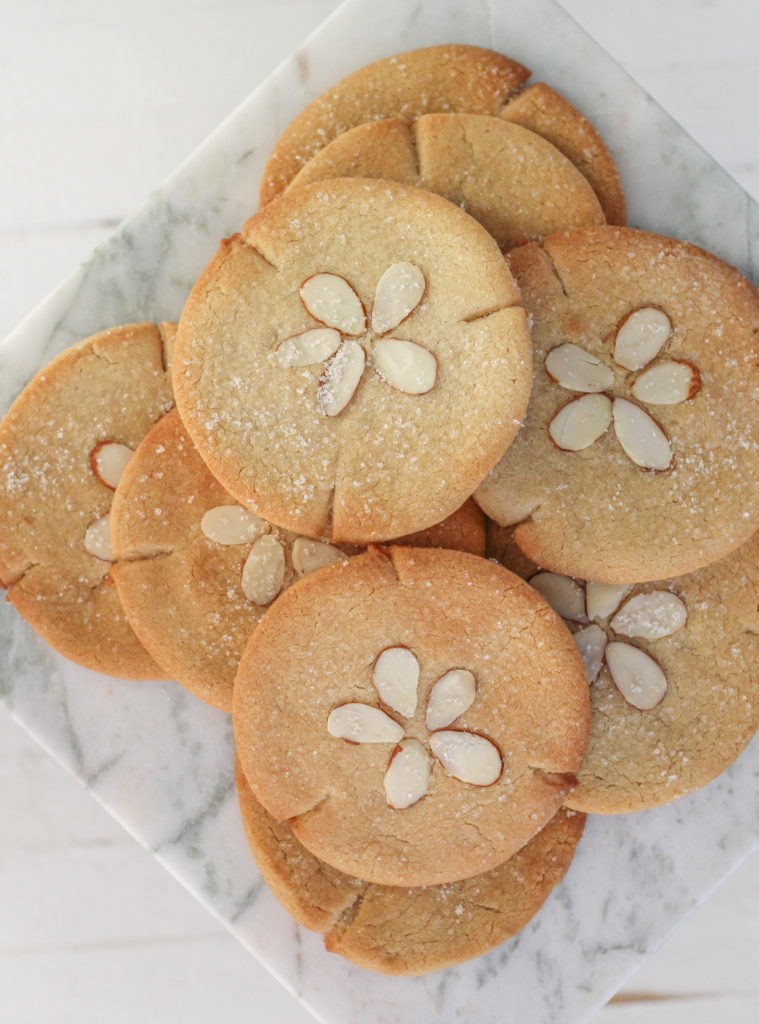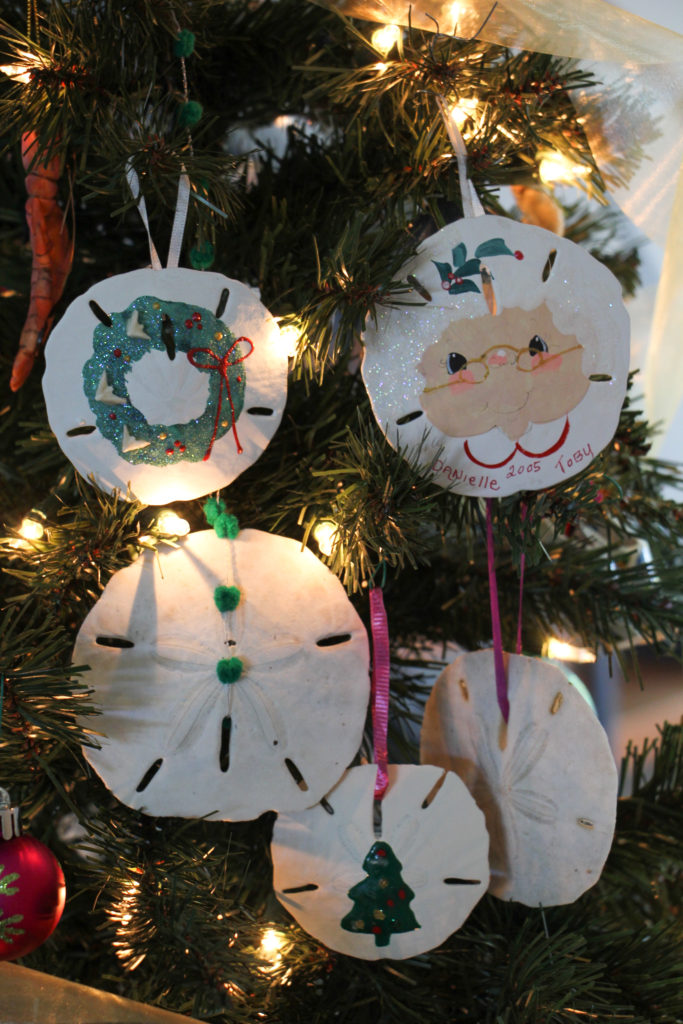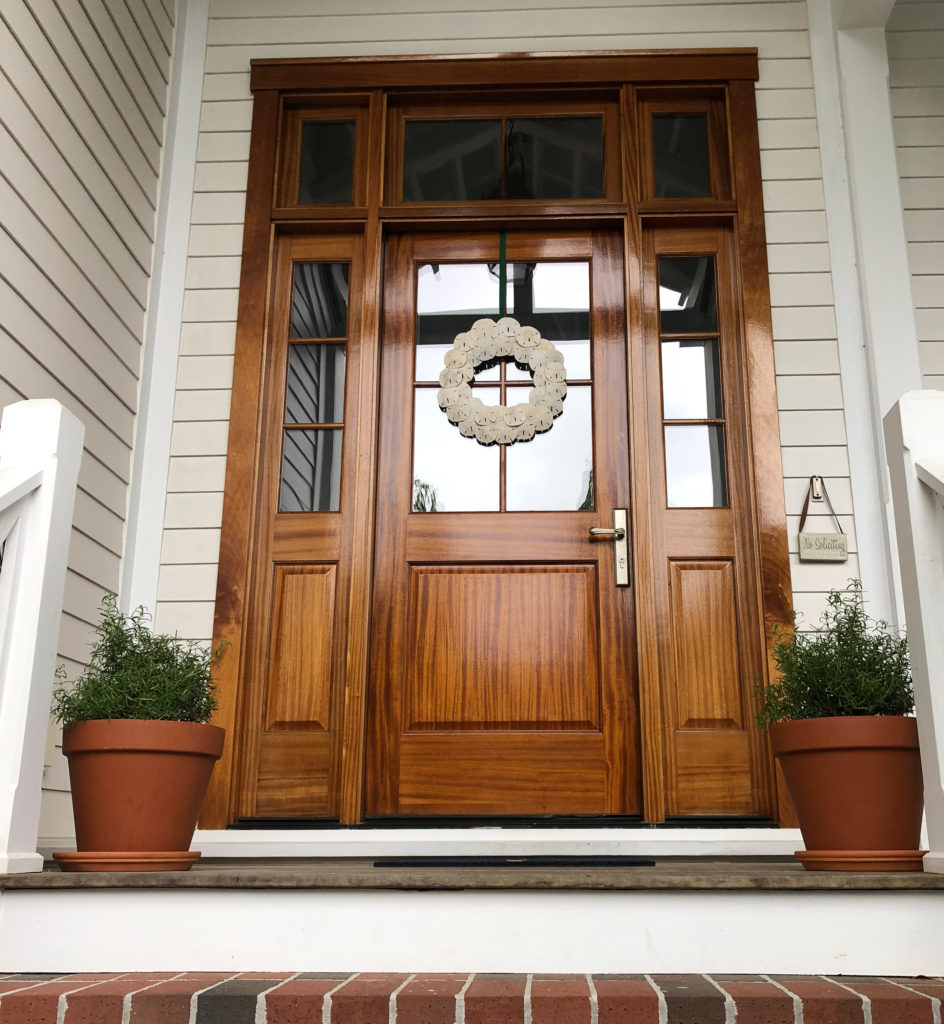 It seems I've got a sand dollar theme around here. You might remember this sand dollar wreath I made last year. I hoped it would last, so I stored it in bubble wrap on a closet shelf. I had my fingers crossed when I unwrapped it this year. None of the sand dollars were broken. Yay!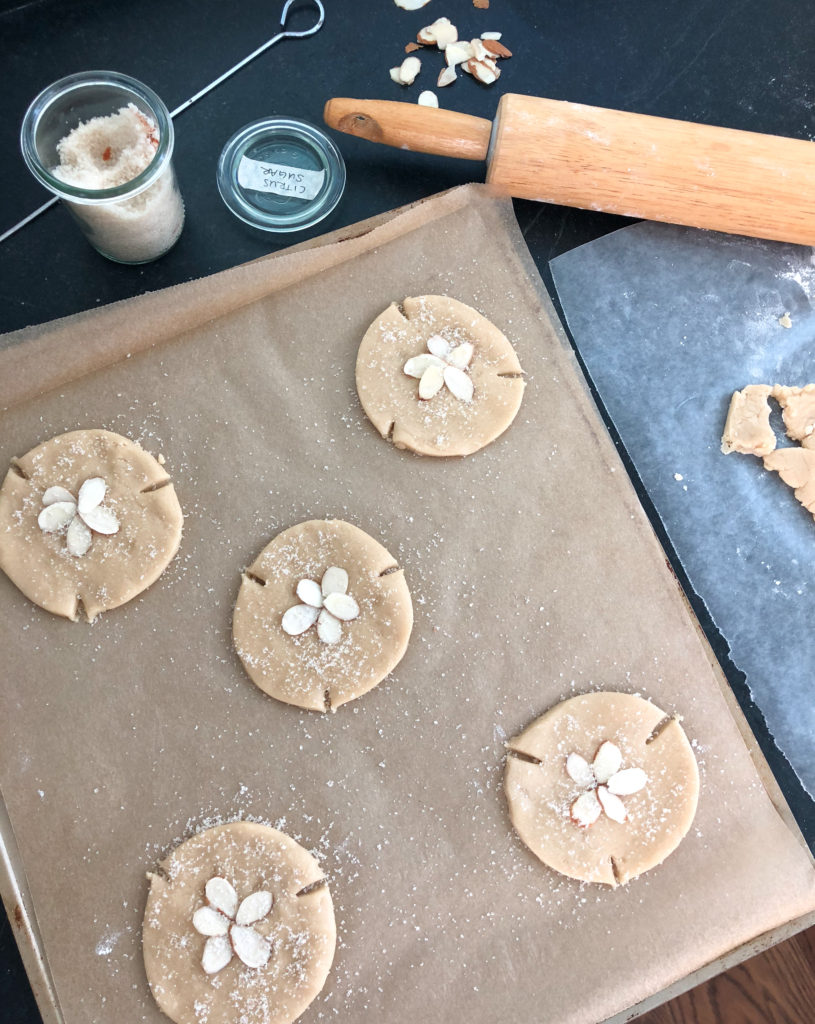 This year I made cookies to match. You may have seen my experiments with this on my Instagram story last week. I had fun with it, and a lot of people asked for the recipe or requested a sample. I know whenever a recipe gets the approval of the tea gals at TeBella, I'm on to something good.
I wanted a sand dollar design, but I didn't want regular old sugar cookies. I landed on a cookie dough recipe made with tahini. I love that sesame flavor, and I knew it would give them a crumbly texture reminiscent of the beach. It was designed to be a drop-cookie dough, but I decided to try rolling it out so I could get some nice round sand dollars that were flat and smooth. It worked like a charm.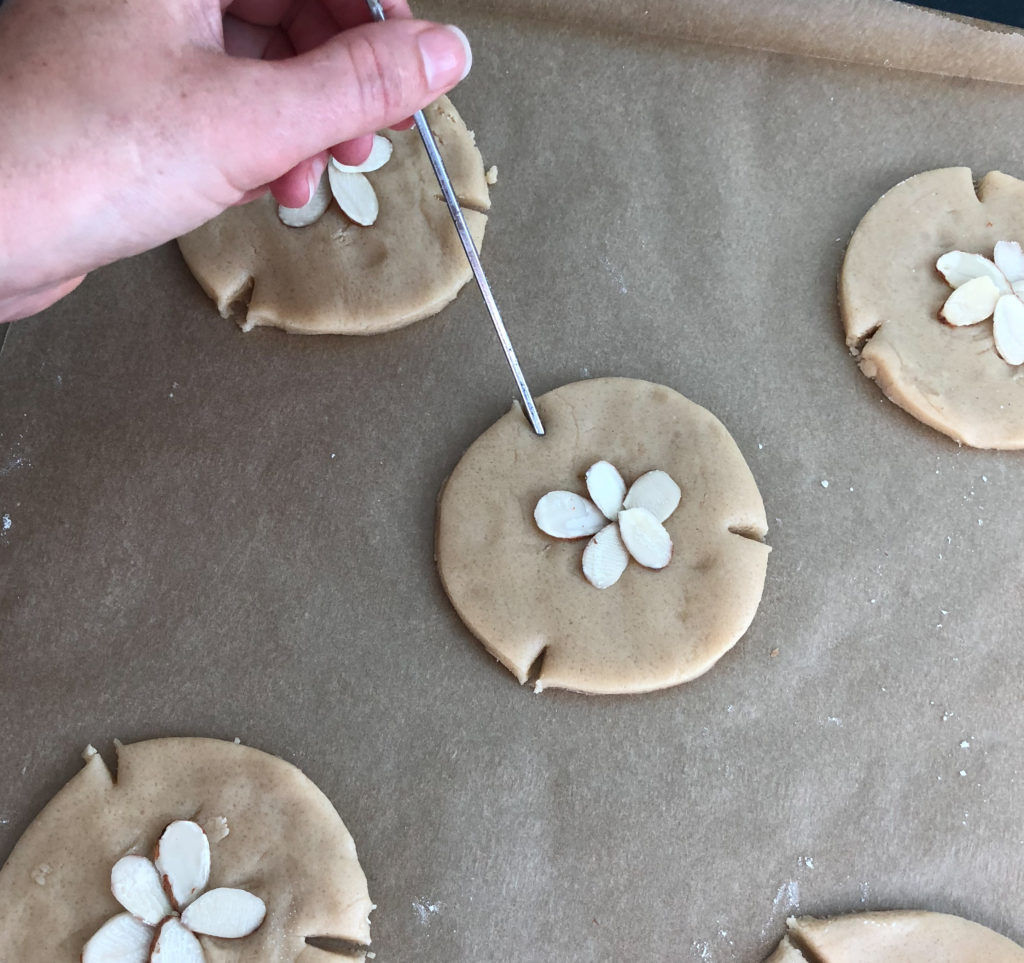 Next, I experimented with the sand dollar pattern. I loved the look of the sliced almonds in a 5-petal flower design in the center (3 work fine, too). But that alone didn't make them look enough like a sand dollar. I used a straw to cut out 3 or 5 tiny holes around the outer edge, which looked much like actual sand dollars, but it was tedious after a dozen cookies. If you're more of a cookier than me, go for it. I settled on 3 simple slits in the sides made with a skewer. They're unmistakably sand dollars, but you can make quick work of them.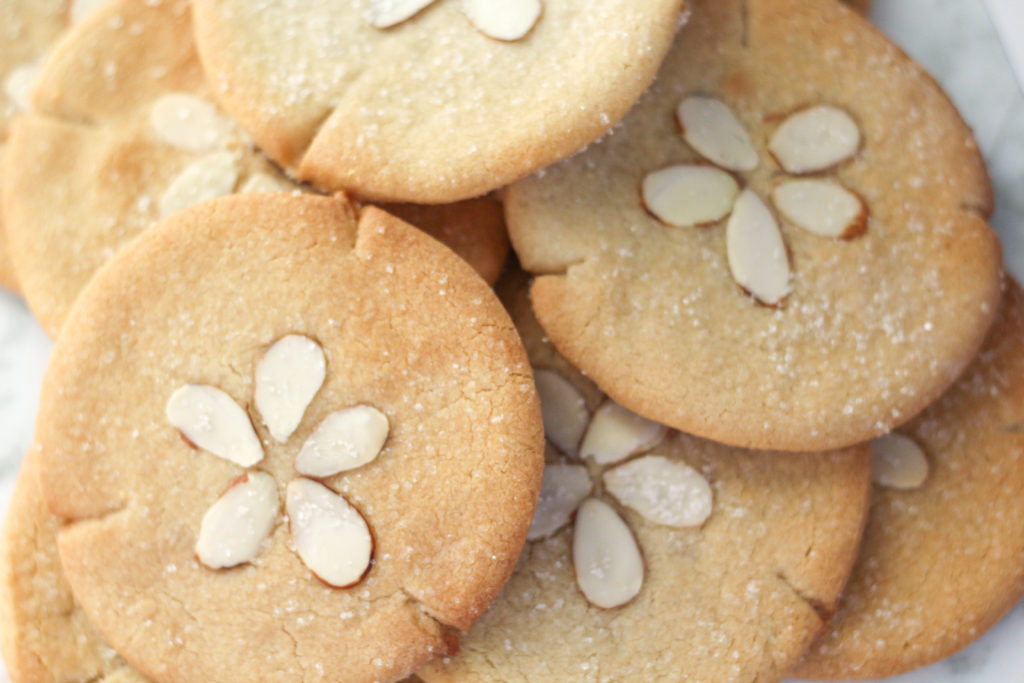 A showering of citrus-spiked sugar makes them look just-plucked from the shoreline, and the combo of tahini and citrus is just divine.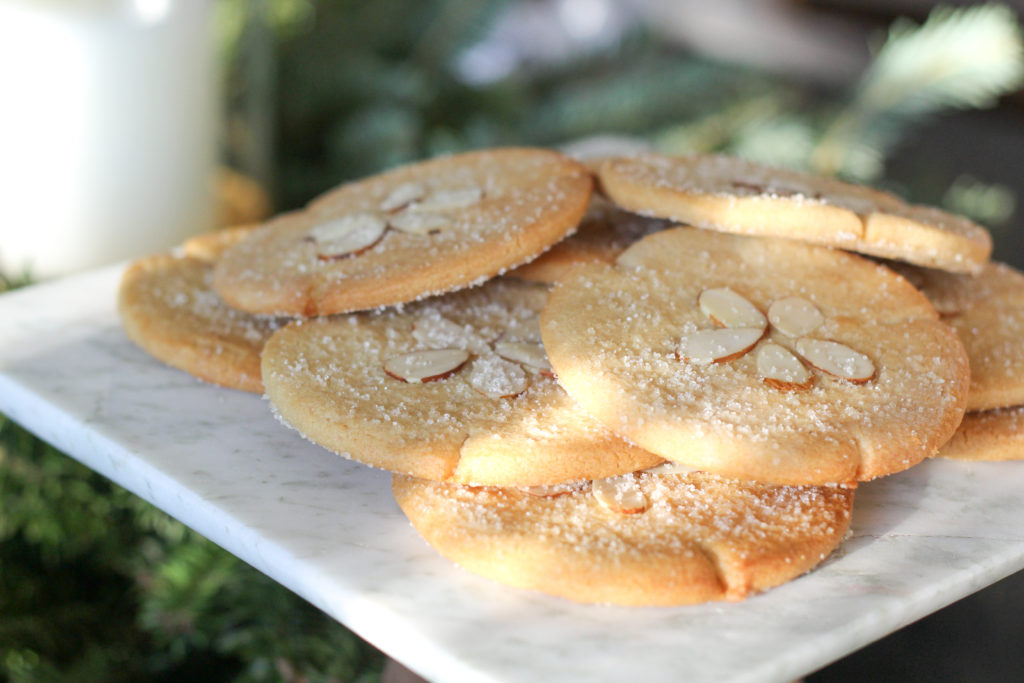 No matter where you are, these give all the coastal Christmas vibes.
Sand Dollar Cookies
2 cups all-purpose flour
1 teaspoon baking powder
½ teaspoon kosher salt
¾ cup (1½ sticks) unsalted butter, room temperature
¾ cup sugar
3 tablespoons honey
1 teaspoon vanilla
¾ cup tahini
sliced almonds, for garnish
2-3 tablespoons citrus sugar*
Preheat oven to 350°.
Whisk flour, baking powder, and salt in a medium bowl. Using an electric mixer on medium speed, beat butter, sugar, honey, and vanilla in a large bowl until light and fluffy, about 3 minutes. Beat in tahini, then add dry ingredients in 2 batches, beating after each addition until fully combined. Dough will be slightly sticky. Divide in half, wrap in plastic wrap, and flatten them into a disc. Refrigerate for at least one hour or overnight.
Sprinkle flour on rolling pin and surface. Roll the dough, adding flour as necessary, until it's 1/4-inch thick. Use a biscuit cutter to cut out as many rounds as possible. Re-roll the scraps and repeat with remaining dough.
Transfer the cookies to a parchment-lined cookie sheet. I bake 5-6 at a time. Place 3-5 sliced almonds in the center in a flower pattern. Use a skewer to make 3 small slits on the outer edges.
Sprinkle the cookies with sugar.
Bake 8-10 minutes, turning halfway and watching closely during the last couple minutes. You want them lightly golden, but not too dark because they won't look as much like sand dollars.
Allow them to cool on the cookie sheet for 2 minutes before sliding the parchment onto the counter or wire racks.
Once completely cool, store in air-tight containers and give them to friends.
*to make citrus-spiked sugar, stir the the zest of an orange into natural sugar or turbinado and allow it to sit overnight before using.
adapted from Bon Appetit tahini cookies.