A fresh, simple salad for these endless summer days.
Yes, it's officially fall in a few days, but that means very little to me. It's hurricane season or it's not hurricane season. It's hot or it's not quite as hot. Maybe next month we'll feel some change in the air. Until then, I don't want to hear about pumpkin or soup. I'm still after fresh salads and a cold glass of rosé. Case in point: sesame shrimp and crunchy veggies tossed with glass noodles, served inside crisp lettuce cups.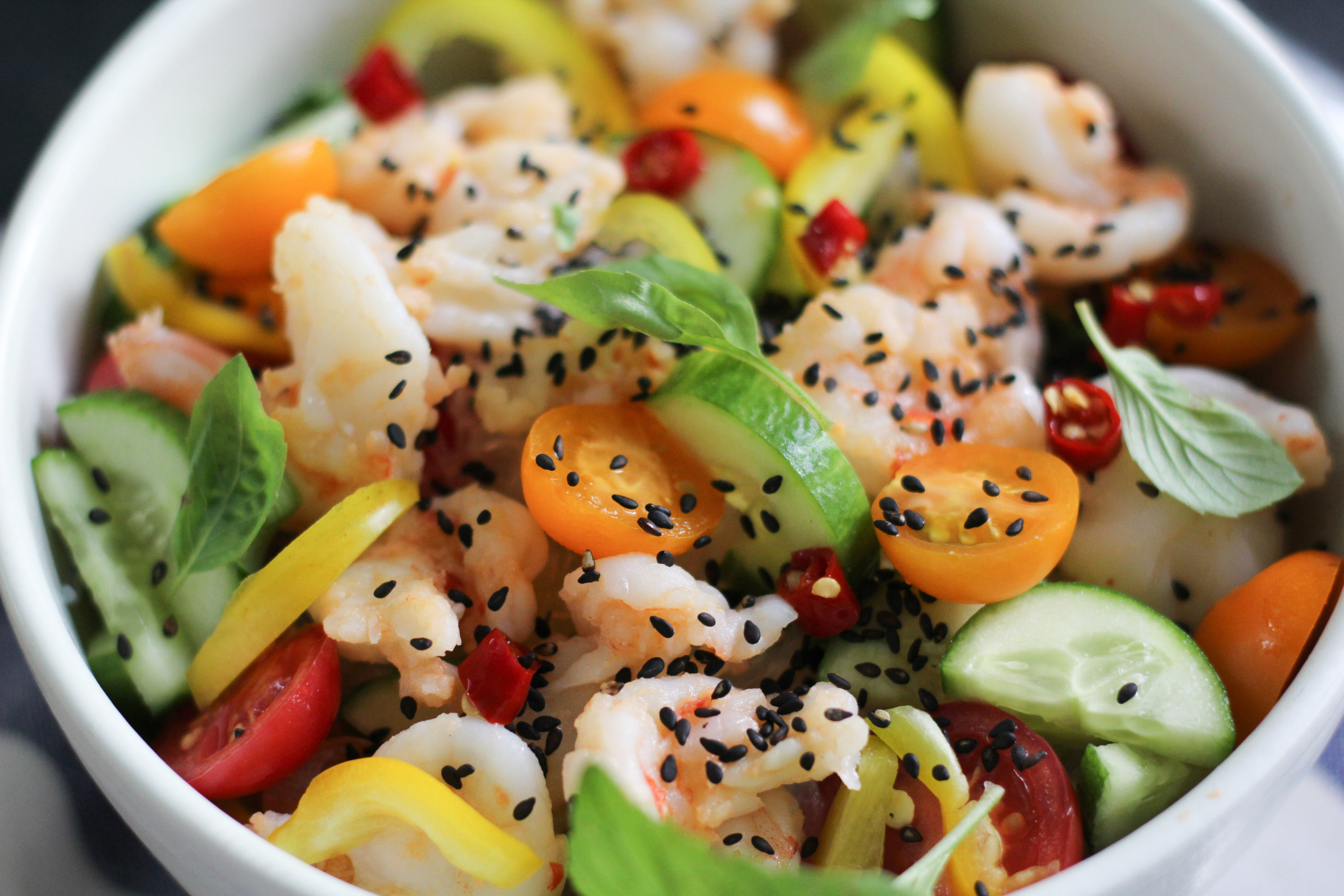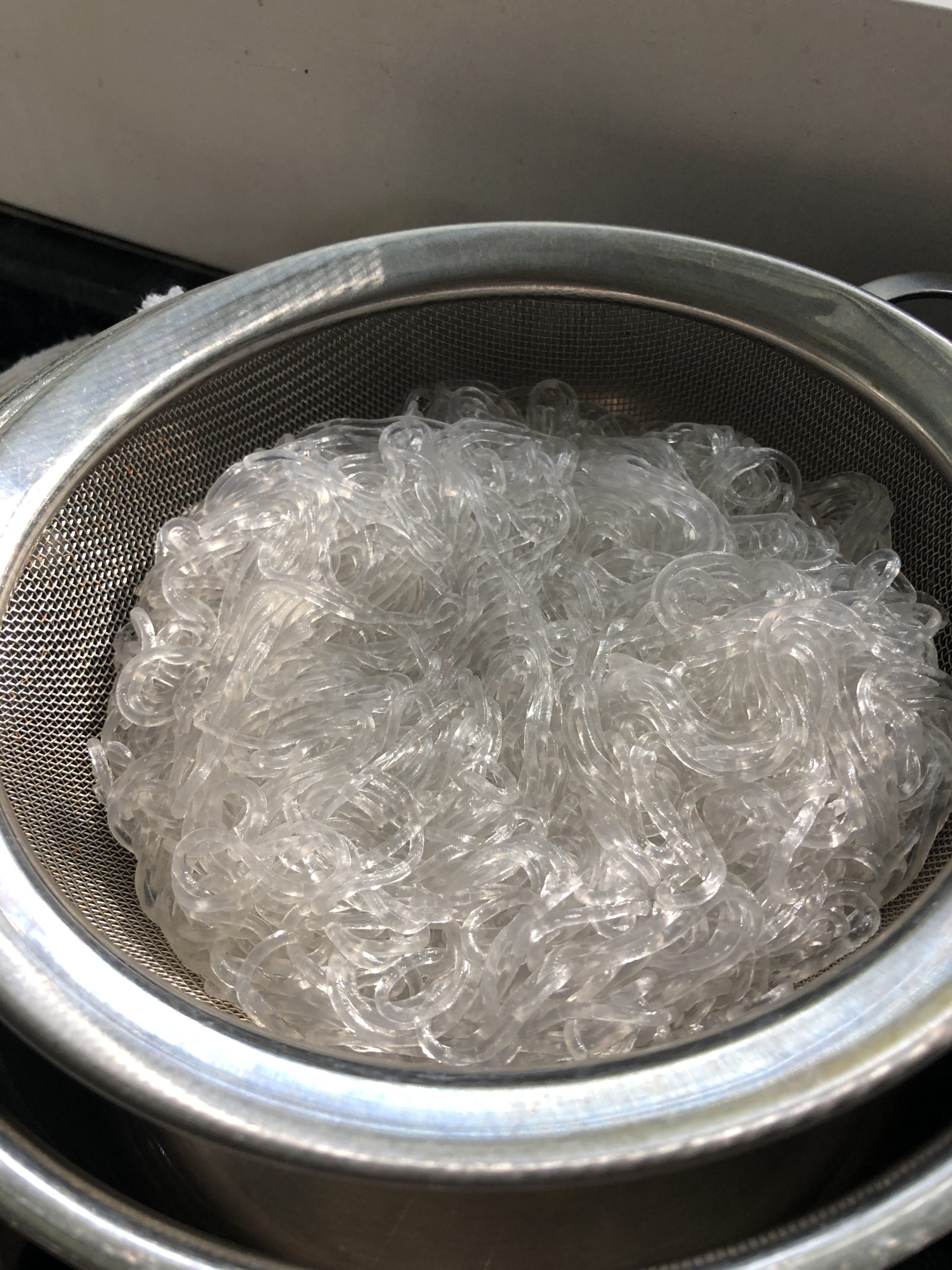 Glass noodles, aka bean thread noodles, aka cellophane noodles, are officially in rotation here. They're a great base for salads, they cook so quickly, and they don't stick together like all the other long noodles. They're made of mung beans, so they must be healthy, right? You can find them at regular ol' grocery stores these days, but Asian markets have the best selection.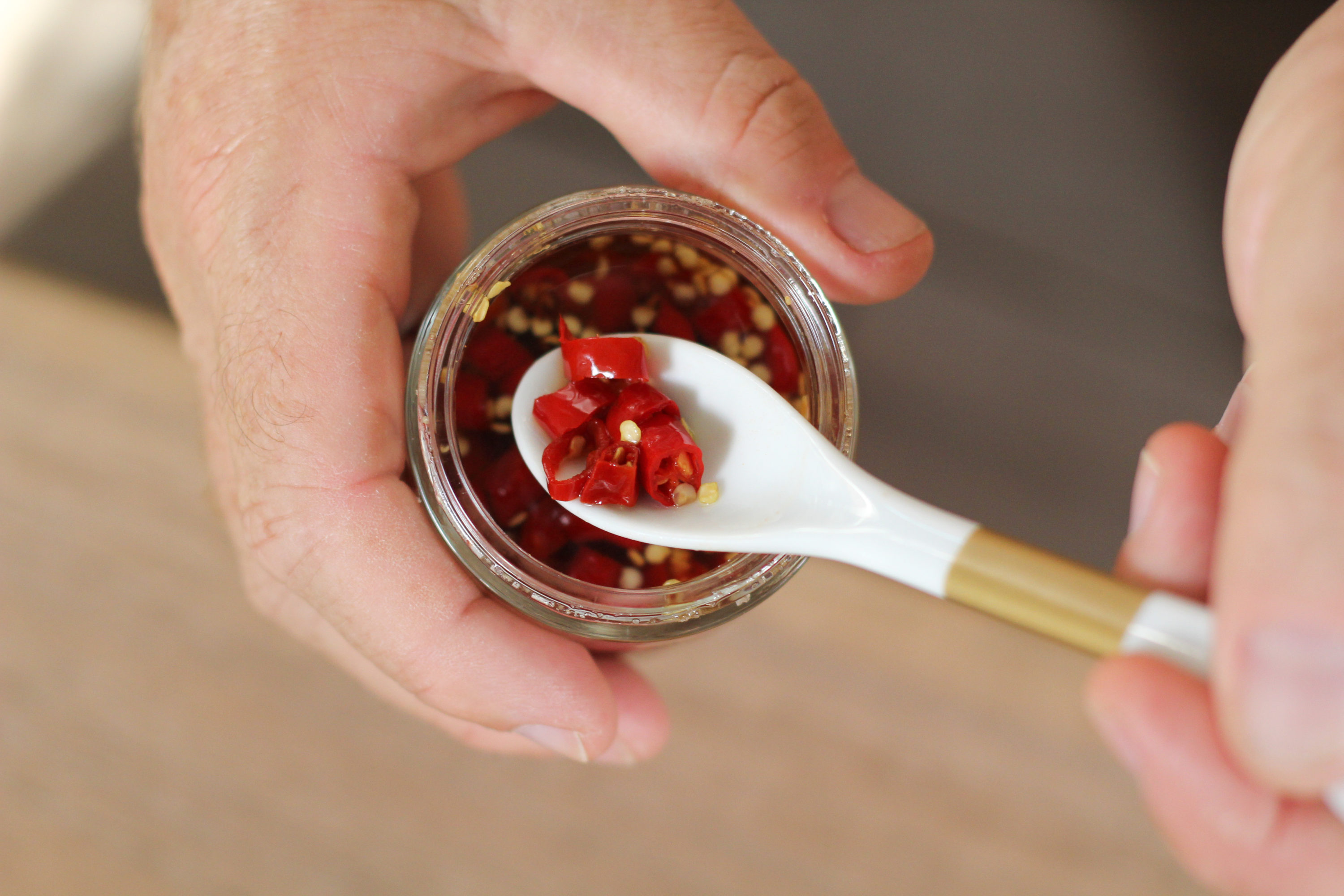 These noodles really soak up tons of flavor. A simple sesame sauce has been our favorite. It's tasty hot or cold, and it goes so well with shrimp and crisp fresh veggies. In addition to that, we also have nam pla prik, the Thai chilis in fish sauce that Toby is obsessed with (and proudly served as hand model for above). We grow the chilis just for this prized condiment, which we keep in a little jar in the fridge at all times. It's a funky, spicy flavor bomb. If you can get past the burn, you'll find an amazing floral essence unique to these chilis. Sometimes they light me up and I cough and cry, but then I'm back for more.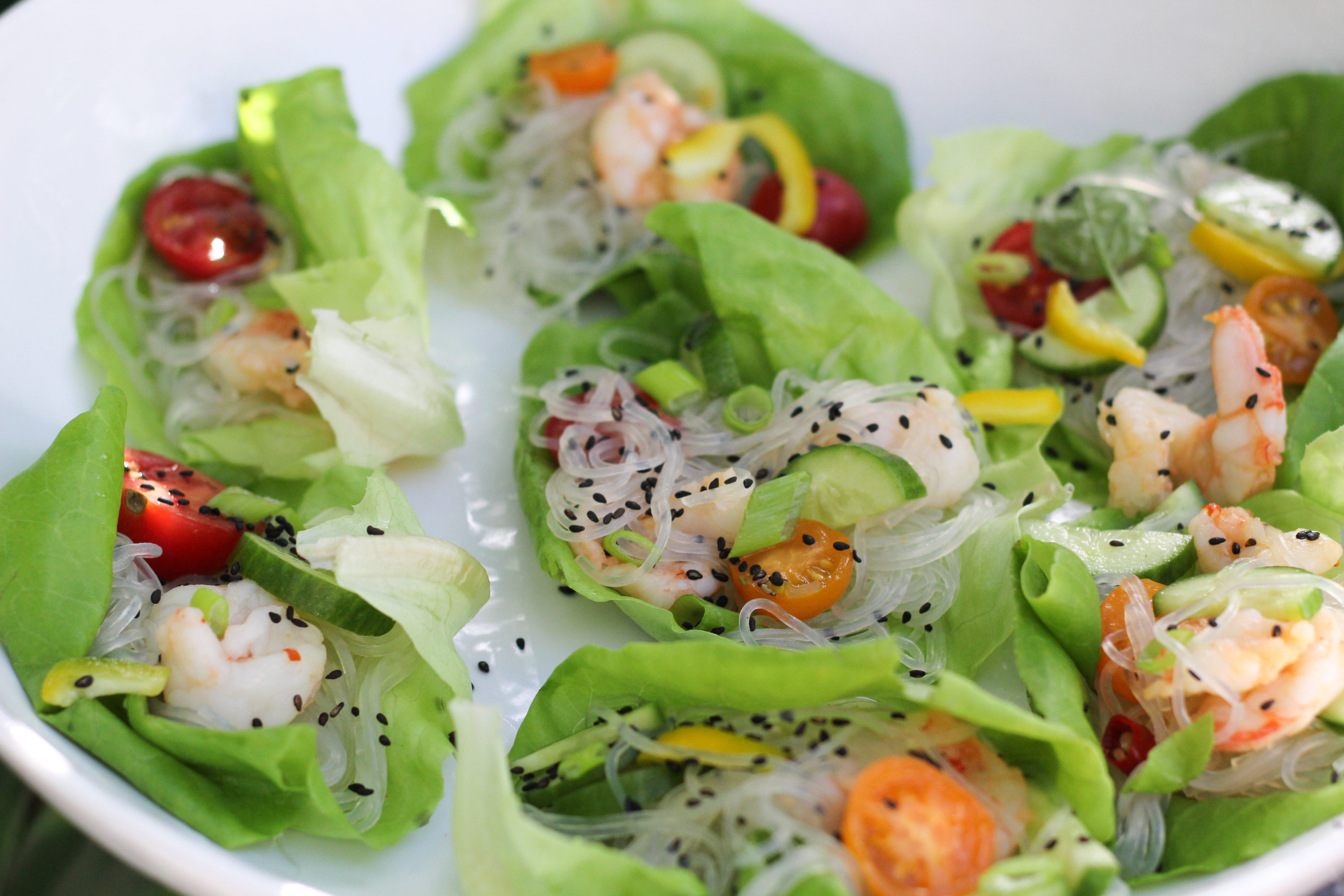 You can use sautéed mushrooms or fried tofu instead of shrimp, and all the fresh veggies are up to you (I'll give you lots of suggestions in the recipe below). Whisk up the sesame sauce and the nam pla prik. The noodles cook in only 5-7 minutes, and once you drain them, take a moment to behold: even without rinsing, they're not a big sticky tangle! Yay. Now just toss the noodles with sauce and shrimp and veggies.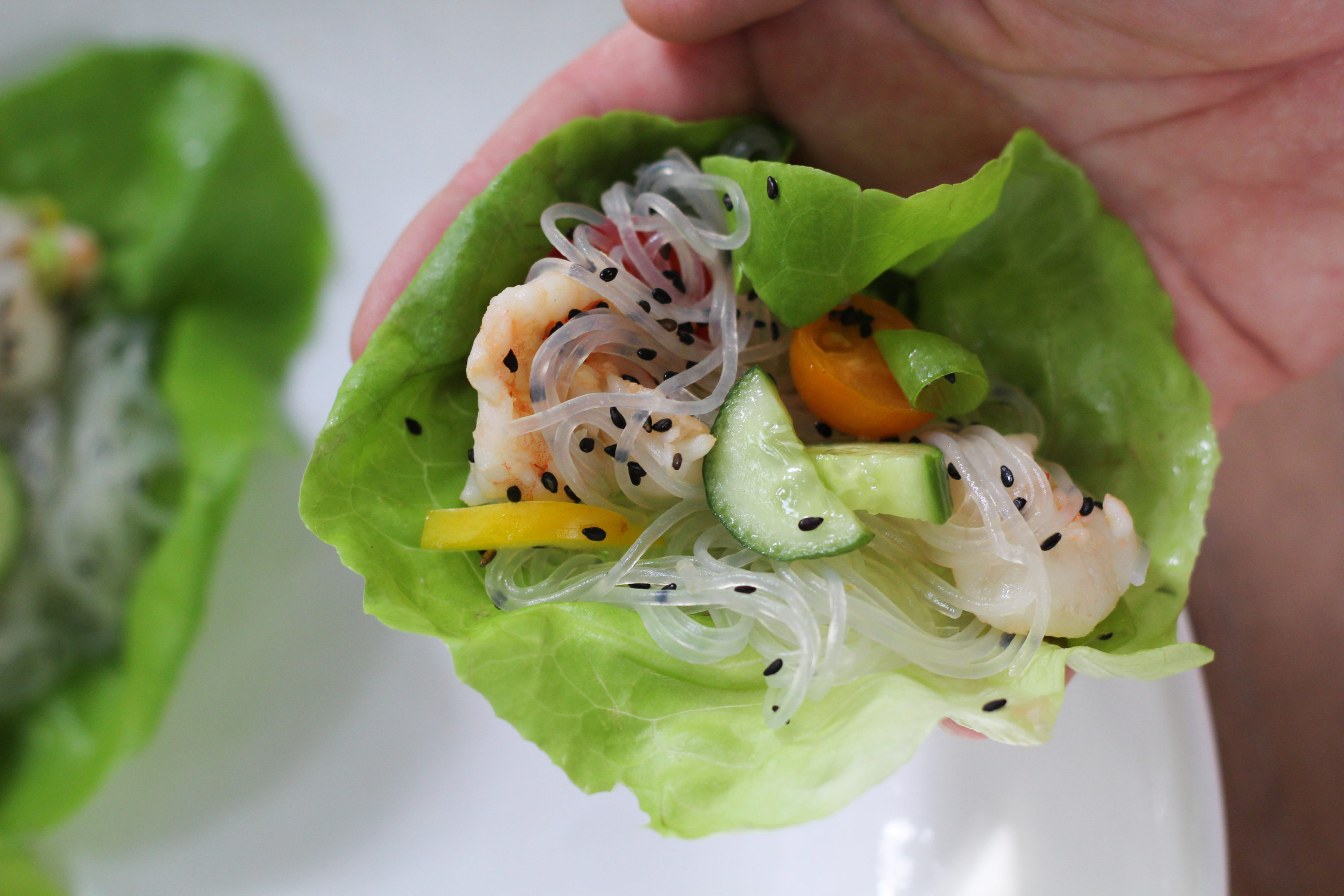 Tuck into lettuce cups for little handheld salads, or serve it on top of a bed of lettuce if you'd rather dive in with a fork.
Sesame Shrimp and Glass Noodle Salad
Ingredients
1

pound

wild American shrimp

peeled, deveined, sliced in half lengthwise

2

tbsp

high-heat oil

pinch

Kosher salt

5 oz

package

glass noodles

(bean thread or cellophane)

3

cups

mix of fresh sliced vegetables

cucumbers, bell peppers, tomatoes, green beans, sprouts, red onion, carrots, corn, snow peas, sugar snap peas, cabbage

handful

sliced scallions and fresh Thai basil, cilantro, and/or mint

1 1/2

tsp

toasted sesame seeds (black or white)

full-sized Bibb or Butter lettuce

for cups or as a bed of lettuce
Sesame Sauce
1

clove

garlic, minced

1/3

cup

soy sauce or tamari

1 1/2

tbsp

sesame oil

1 1/2

tbsp

honey
Nam Pla Prik
1/4

cup

fish sauce

12

sliced Thai chili peppers
Instructions
Boil water and cook the glass noodles according to package instructions (usually 5-7 minutes). Drain and set aside.

Heat the oil in a skillet over medium. Add the shrimp, sprinkle with a pinch of salt, and saute until cooked through. Remove from heat.

Whisk the garlic, soy sauce, sesame oil, and honey. Taste and adjust how you like.

Combine the fish sauce and thinly sliced Thai chili peppers in a small jar.

Toss the noodles, shrimp, sliced vegetables, and sesame sauce. Sprinkle sesame seeds on top, along with scallions and fresh herbs.

Scoop into lettuce cups or serve over a bed of lettuce, with nam pla prik on the side.