You know when life hands me lemons I do not stop at lemonade. I've had a steady supply since October, and now my freezer is stocked with cubes of juice.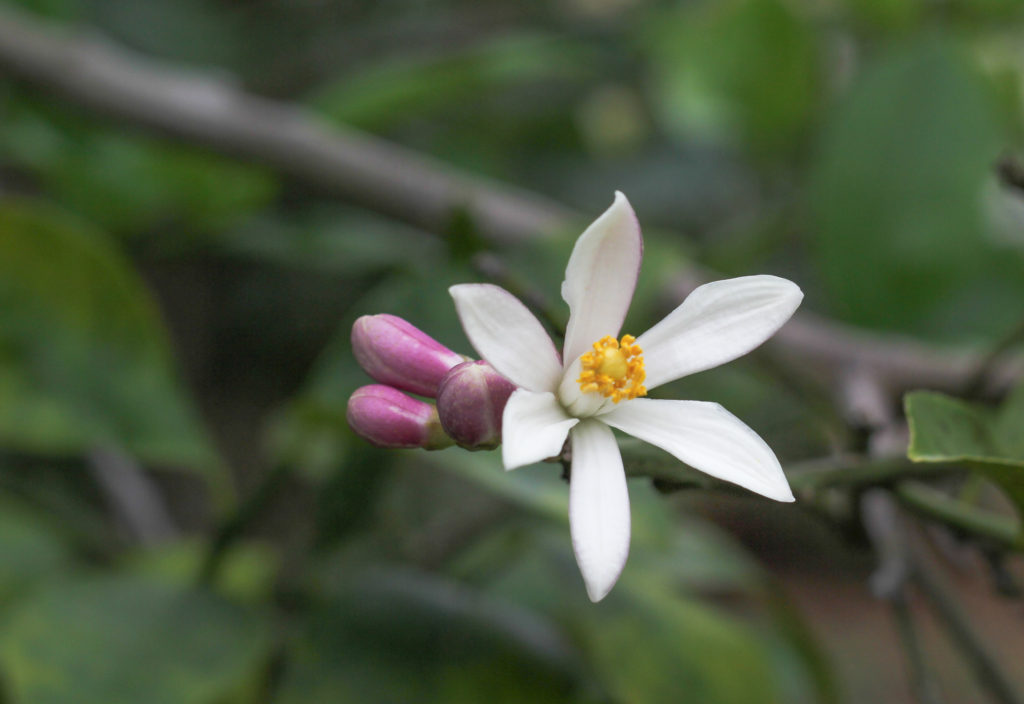 I made limoncello. I made Meyer lemon citrus salt. And for the first time this year, I made a few batches of marmalade.
I picked the last few lemons the other day, and I'm wondering how long it will take these new blooms to become ripe fruit. In the mean time, my kitchen is stocked with lemony goodness, and the marmalade might be the best of the bunch.
Marmalade is jelly's more assertive cousin. It's made with citrus juice and thin slices of citrus peel, so instead of a one-note sweet spread, the flavor is a little more tart, a tad bitter, and with the addition of ginger in this recipe, it's a wee bit spicy, too.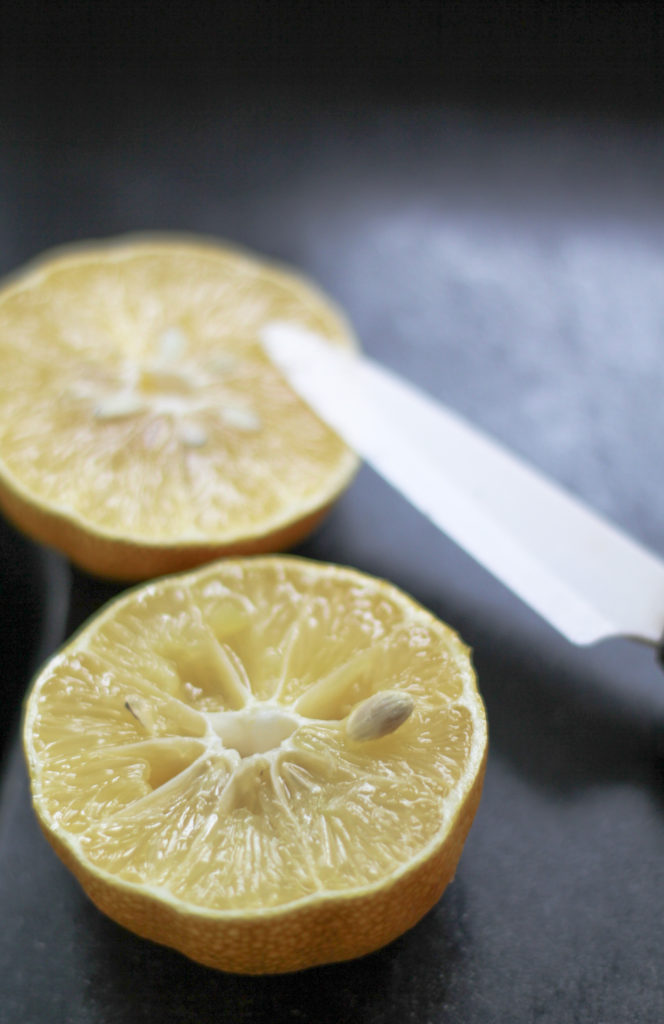 Meyer lemons have a super thin skin. There's very little white pith beneath the yellow rind, which is great, because you don't want a bunch of pith in your marmalade. These lemons are also less acidic than a Eureka (grocery store variety) lemon, so please take that into consideration if you're substituting.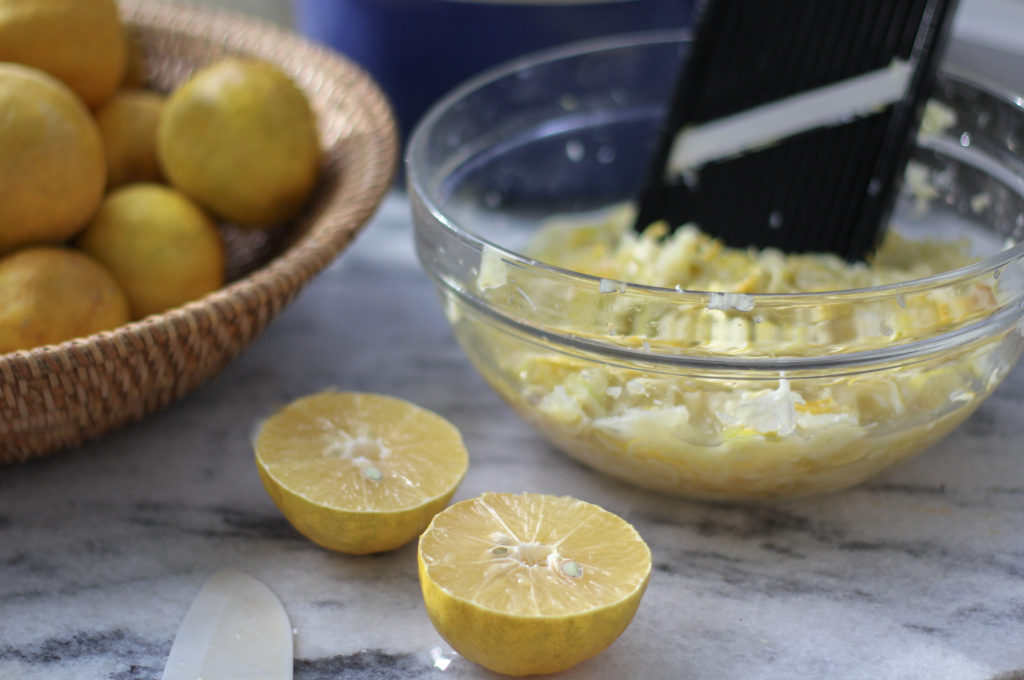 After you slice them in half and pop out the seeds with the tip of a knife, run the lemons across a microplane to shave very thin slices, or you can do all this with a very sharp knife. Catch all the juice in a bowl. Add some water and let it sit overnight.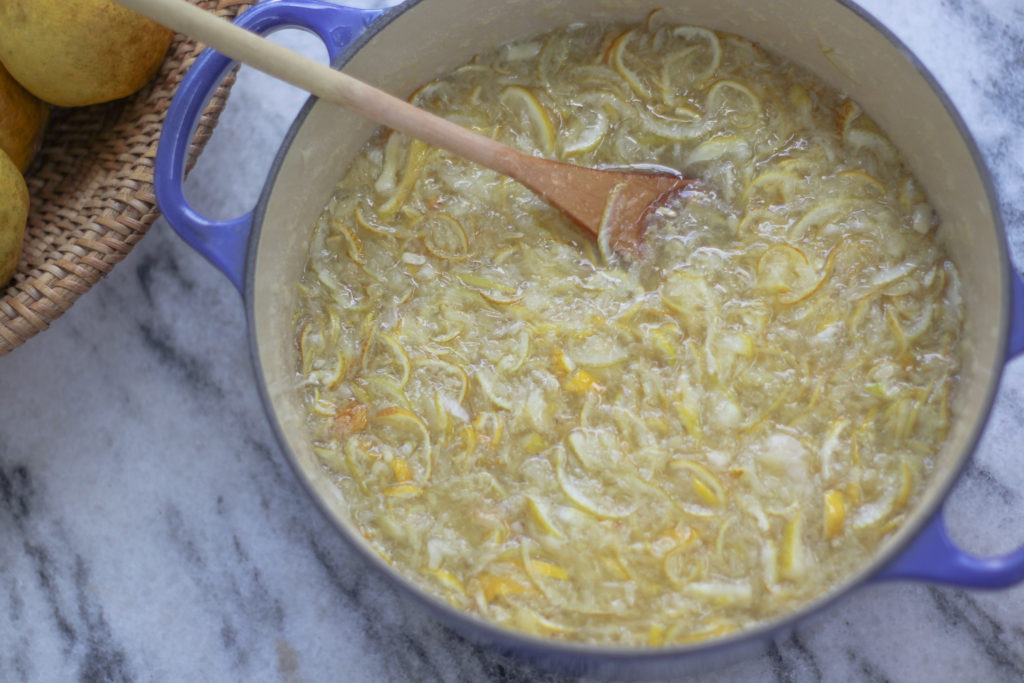 In the morning, it's time to get jamming. Bring the lemons and water to a boil and simmer until they're soft. Next, add some sugar, along with a piece of fresh ginger and some chopped crystallized ginger. You can throw in a vanilla bean for good measure, too.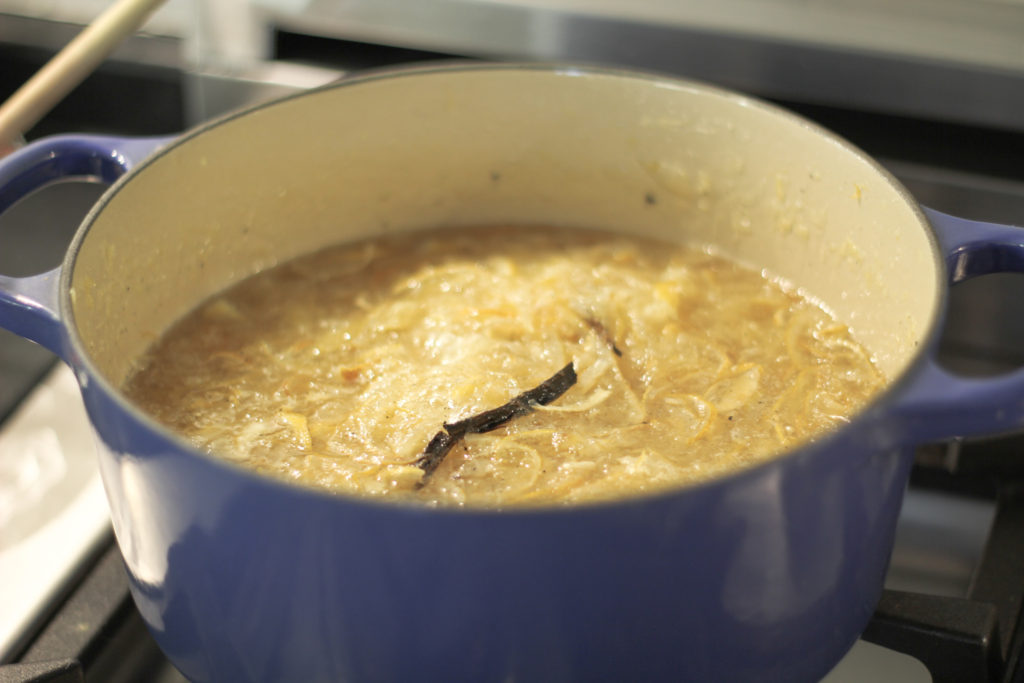 Simmer until it's darker in color and it's set (here's how to test it). Ladle it into jars. You can store it in the fridge to eat now, or put some jars in the freezer, or can it according to this so it's shelf-stable for the next year.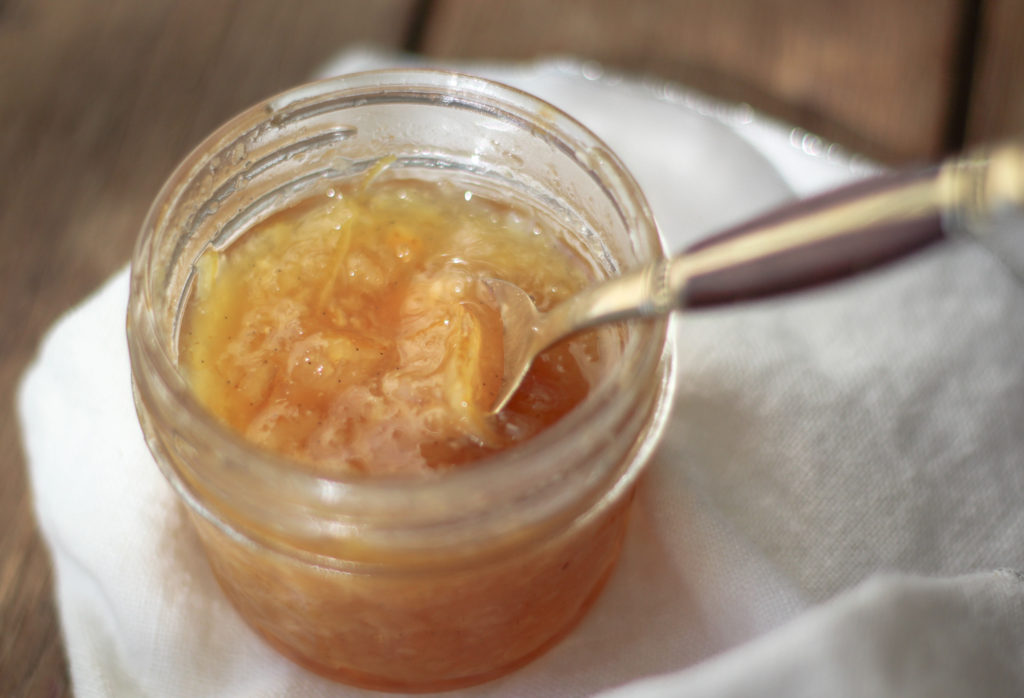 Of course you can eat this on toast or scones, and it makes a soothing drink when stirred into hot tea. You can mix it into dressings and marinades or just slather it over grilled fish. Once I tried some with crackers and brie, and now I'm not sure I can spare my marmalade for any other purpose.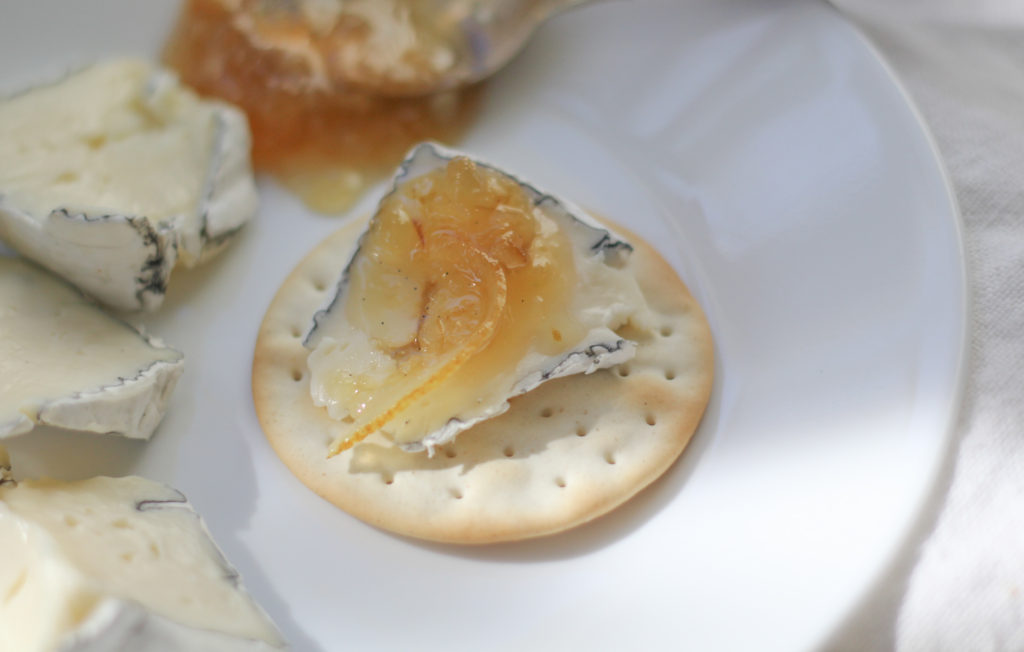 Yes, I think all the jars in my pantry are destined to take center stage on a cheese board.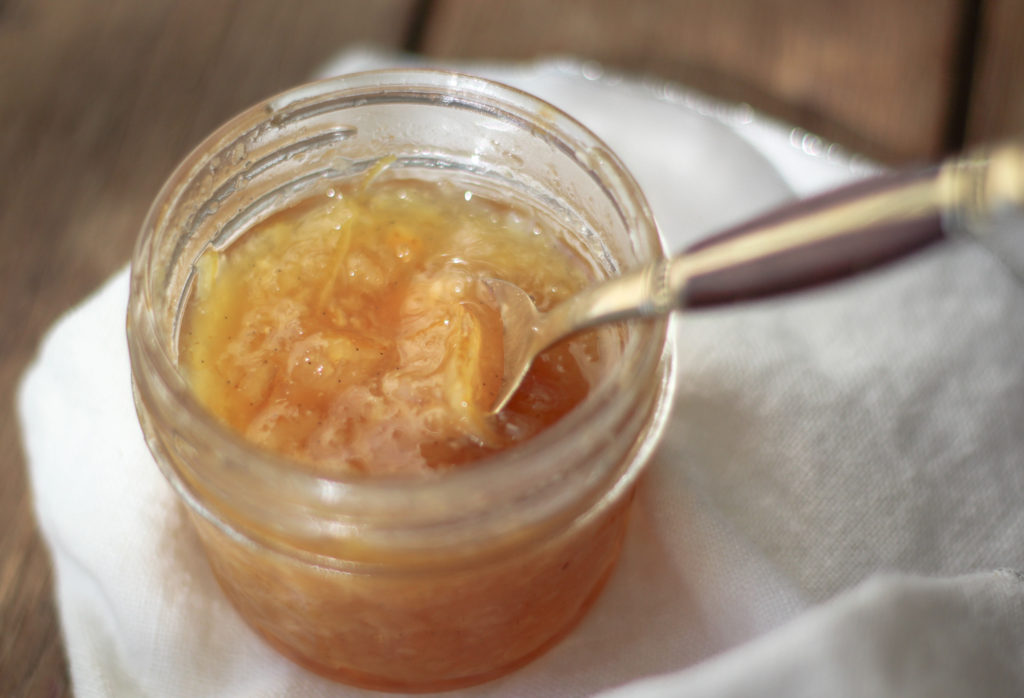 Meyer Lemon & Ginger Marmalade
2017-03-22 12:26:13
Ingredients
1 1/2 pounds Meyer lemons
4 cups granulated sugar
1" piece of ginger, peeled
1/2 cup crystallized ginger, finely chopped
1 vanilla bean, split in half and seeds scraped (optional)
Instructions
Slice the lemons in half and remove the seeds with the tip of a knife.*
Using a microplane or a very sharp knife, slice the lemon halves as thinly as possible, collecting the slices and juice in a bowl. Pour the lemon and 4 cups of water into a large Dutch oven and cover, allowing it to sit at room temperature for several hours or overnight.
Put the pot on the stove over medium heat. Bring it to a boil, then reduce the heat and simmer until it has reduced to about half (45 minutes or so).
Raise the heat and return to a boil. Add the sugar while stirring constantly. Once the sugar is incorporated, add the hunk of fresh ginger, then reduce the heat to a simmer and keep stirring for about 10 minutes.
Add the crystallized ginger and vanilla bean and seeds, and simmer for another 15 minutes, or until the marmalade is set. Test it (I use a plate in the freezer, see link in the post).
Once the marmalade is set, remove the ginger, vanilla bean, and cheesecloth with seeds (if using).
Ladle the marmalade into clean jars and store in the fridge to use immediately or the freezer to use in the coming months.
Alternatively, ladle into sterilized jars and process in a water bath so your marmalade is shelf-stable for the next year.
Notes
*For a firm-set marmalade, you can collect the seeds and tie them up in a cheesecloth and put them in the pot. They contain lots of pectin, which helps firm it up.
Suwannee Rose https://www.suwanneerose.com/